The evidence is clear: Yoga can be an essential tool in improving mental and physical health and strengthening the mind-body connection. Practicing yoga consistently reduces stress, lowers blood pressure, and improves the quality of life.
If you're preparing for a yoga session, the last thing you want is a rumbling stomach or upset gut getting in the way of your flow. If you're feeling peckish, opt for pre-yoga foods that are as nourishing as the routine itself. To help you figure out what to reach for, we rounded up some of the best pre-yoga snack foods that will have you saying "ohm," not, "ugh."
Apple and Hummus
https://www.amazon.com/Fresh-Brand-Organic-Gala-Apples/dp/B08GH7R8CR/
https://www.freshdirect.com/pdp.jsp?productId=dai_pid_2004115&catId=dai_humm
As far as pre-yoga snack foods go, apples and hummus are some of the easiest to put together. Fruits like apples are high in natural sugar, giving you the energy boost you need to get through a workout. Additionally, because apples are made of mostly water, you'll feel hydrated, and the immune-boosting Vitamin-C and three grams of fiber ensure you'll be satiated for the duration of the class. A tablespoon of hummus will add a little flavor and protein, but add this in moderation. Hummus can be salty, possibly leading to heartburn, bloating, and indigestion. You definitely don't want to focus on those as you're flowing through a sun salutation.
Greek Yogurt and Strawberries
https://www.amazon.com/FAGE-TOTAL-Plain-Greek-Yogurt/dp/B00FZHEGGW/
https://www.amazon.com/produce-aisle-Strawberries-1-lb/dp/B000P6J0SM/
Pre-yoga foods should be easy to digest and filling at the same time, so you feel comfortably full from your opening pose to savasana. Opt for meals that combine carbs, protein, and a bit of fiber. Fage Total Plain Greek Yogurt has 23 grams of protein, and it's so creamy it can double as a dessert and is as smooth as your chaturanga flow. Strawberries contain natural sugars and vitamins, which provide the energy boost you'll need to give every pose your best effort. They also have a little fiber to keep you from feeling hungry in the middle of your practice.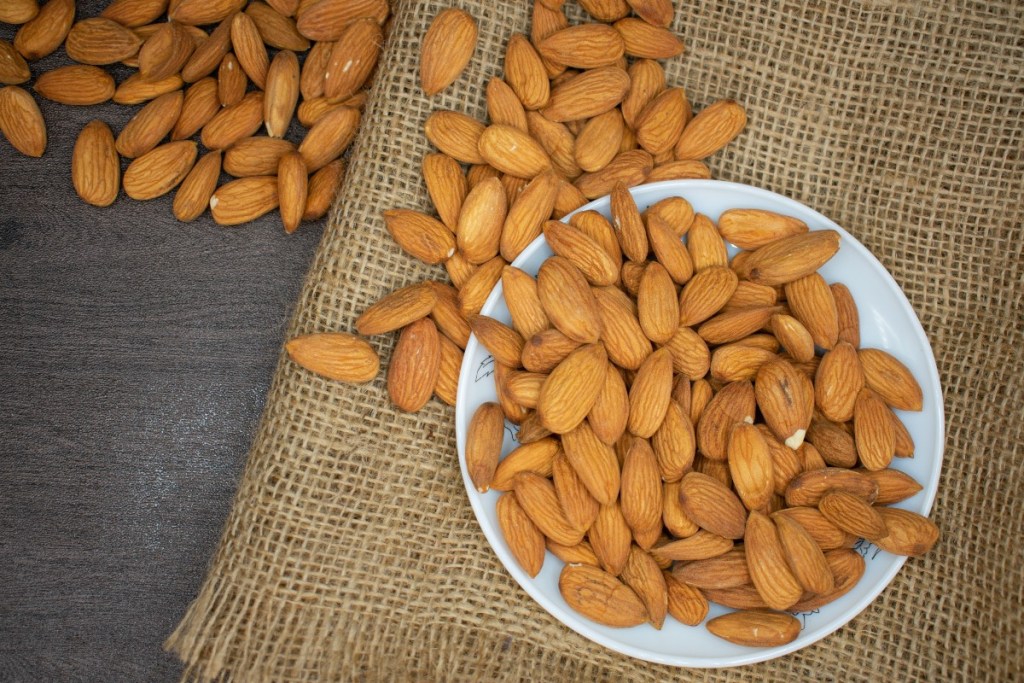 A Handful of Almonds
https://www.amazon.com/Blue-Diamond-Almonds-Natural-Calorie/dp/B0032ZB03G
Low on time? Keep Blue Diamond Almonds' 100-calorie packets handy. Unlike some of these other pre-yoga snack ideas, they don't require any meal prep. They're individually pre-packaged, so it's perfect if you're on the go. These snacks are low in sodium, so you don't have to worry about discomfort from heartburn or dehydration. Almonds are also full of heart-healthy monounsaturated fats, four grams of protein, and two grams of fiber to help keep hunger at bay.
Avocado on Whole-Grain Pita Bread
https://www.freshdirect.com/pdp.jsp?productId=veg_fd_fgavcrdypk&catId=avc
https://www.freshdirect.com/pdp.jsp?productId=bak_pid_4651331&catId=gro_pita_flat
The ever-popular avocado toast is the optimal pre-yoga snack food. The avocado's rich, creamy texture livens up a piece of bread without adding the heartburn-inducing sodium found in other spreads, such as mayonnaise and peanut butter. It also contains healthy fats that reduce inflammation and combat poor cholesterol, as well as fibers that keep you feeling full. Whole-grain pita bread contains more fiber than white toast and also has complex carbs to ensure you'll be satiated longer.
Yoga boasts a bevy of benefits for your mind and body. Before starting a practice, you'll want to chow down on pre-yoga snack foods that are filling, easy to digest, energy-boosting, and nourishing. This ensures you flow smoothly through your poses without feeling too full or hungry, suffering from heartburn or indigestion, or needing to run to the bathroom in the middle of class. Look for healthy fats, fiber, protein, whole grains, and naturally occurring sugars like those found in fruit. Greek yogurts, almonds, avocados, and apples and berries are favorite pre-yoga foods that check many of these boxes.
BlissMark provides information regarding health, wellness, and beauty. The information within this article is not intended to be medical advice. Before starting any diet or exercise routine, consult your physician. If you don't have a primary care physician, the United States Health & Human Services department has a free online tool that can help you locate a clinic in your area. We are not medical professionals, have not verified or vetted any programs, and in no way intend our content to be anything more than informative and inspiring.
Editors' Recommendations