Raise your hand if you think every day should be Taco Tuesday. Tacos are easy to throw together — just sauté a couple of peppers, cook up some meat or fish, and grab some store-bought guac. Stuff it all in a tortilla or taco shell, and you're good to go. As simple and delicious as they are, tacos aren't necessarily the healthiest meal option.
Tortillas are often full of empty, processed carbs. These carbs often lack fiber, the compound that helps digestion and keeps you feeling fuller longer. That doesn't mean you have to nix your favorite food, though. Carbs don't have to be the enemy, and some (like whole-wheat bread) can be good for your gut. There are plenty of alternatives that don't skimp on flavor or texture. We rounded up the top healthy taco shells to help you make your Taco Tuesday (or Wednesday, Thursday, or Friday) a little more nutritious.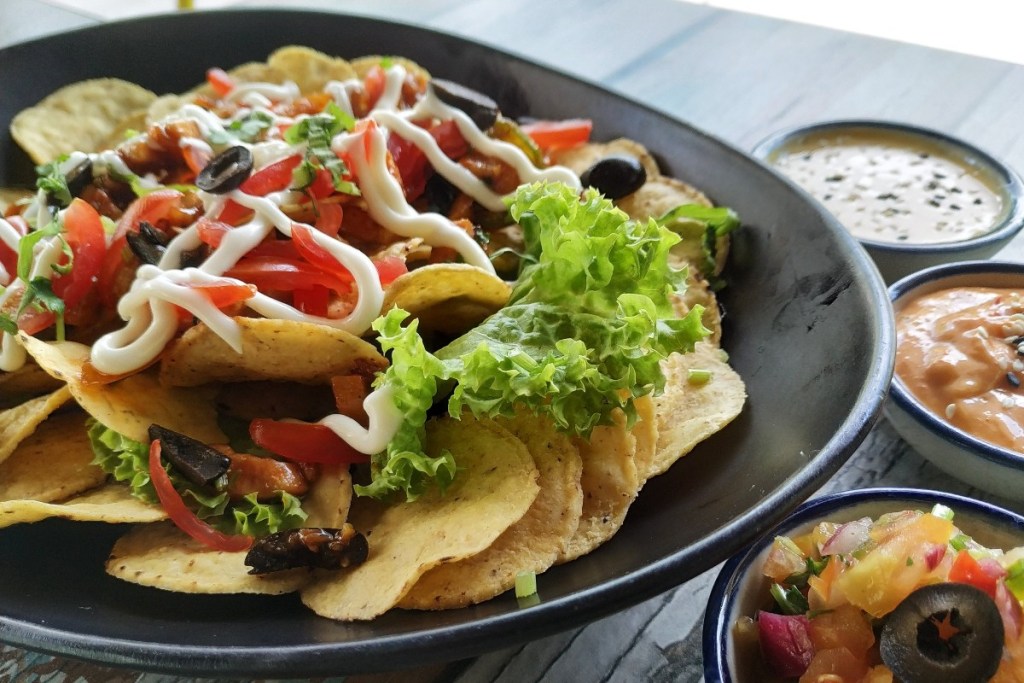 What makes an unhealthy tortilla
Natural, simple carbs like fruits are healthy, but refined carbs, like white tortillas, remove fiber content. They don't keep you full for as long, so you're likely to overeat and consume more empty calories later.
Overeating is a risk factor for obesity, which in turn increases a person's likelihood of developing a host of medical conditions including certain cancers, diabetes, heart disease, and blood sugar spikes in diabetic patients. Refined carb intake is also likely correlated to changes in waist circumference, which is why many fad diets call for cutting down on all carb consumption.
What makes a healthy tortilla
Tortillas are full of carbohydrates, and though carbs have gotten a bad rep over the years, they are essential. Carbs break down into the primary fuel source for your body: glucose. Glucose is particularly critical for your mind since your brain cannot store other types of fuel like fat or proteins.
There are two types of carbs, simple and complex. Simple carbs are found naturally in fruit but also in processed foods like white bread. Complex carbs, like those found in whole grains, break down slowly and are full of fiber that keeps your digestive system running and ensures you feel full and energetic for hours.
Below you'll find our recommendations for replacement tortillas that are healthier options.
Joseph's Wraps
Joseph's makes soft and healthy taco shells that are so tasty people forget they're eating low-calorie and low-carb food. The wraps only have 80 calories and 12 grams of carbs — less than half of what many traditional tortillas have. What's more, Joseph's healthy tortillas boast seven grams of protein and four grams of fiber, two things that keep you feeling full and energized throughout the day. The wraps also contain 266 grams of omega-3s, a compound that reduces your risk of heart disease and may even help your hair grow. These healthy soft taco shells are Weight Watchers and MyDiet-friendly.
Caulipower Frozen Cauliflower Tortillas
Cauliflower tortillas may not sound great on paper, but Caulipower's frozen cauliflower tortillas are known for turning skeptics into regulars. One tortilla contains less than 13 grams of carbs, 60 calories, and no added sugar. Those who maintain a low-sugar diet swear by them and say these wraps have helped them enjoy taco nights (and mornings) again. Caulipower's healthy tortilla alternatives also skip GMOs, artificial flavors, and preservatives, so it's one of the cleanest options out there.
Whole Foods Green Bell Peppers
You may consider ditching the wrap altogether and using bell peppers as a healthy taco shell instead. Simply slice the pepper in half, clean out the seeds, and stuff it with all of your favorite taco fixings. If you're a fan of soft tortillas, roast the peppers in the oven to enjoy your warm and soft "tortilla." Peppers also have a bevy of benefits — they're a good source of vitamin C, which can help bolster your immune system and reduce the risk of heart disease. They're also fat and cholesterol-free, making them super heart-healthy. Whole Foods Market's bell peppers are fresh and crisp, and reviewers say they arrived on their doorsteps quickly, thanks to Amazon's speedy delivery system.
Siete Almond Flour Grain-Free Tortillas
People with grain, soy, and dairy intolerances have found a delicious and healthy tortilla alternative in Siete's grain-free wraps. Folks following Paleo also stock up on them because one tortilla contains 100 calories, 10 grams of carbohydrates, and a punch of flavor. Some people enjoy cooking them in coconut oil for a touch of sweetness and others say they taste just like a real-deal tortilla after heating them in a skillet. One potential caveat: They aren't as strong as traditional varieties, so they can't handle a ton of meat and veggies without falling apart. However, reviewers enjoy them so much that they don't seem to mind.
Raw Wraps, Spinach
Raw Wraps proves it really is easy being green. Their spinach wraps taste delicious but are fat-free, low-carb, and boast 18% of your daily recommended fiber intake. They're also lightweight, making them easy to bring to the office for lunch while staying durable enough to handle all your favorite toppings. The spinach wraps also contain a bit of apple, giving them a touch of sweetness that still manages to pair perfectly with savory tacos. These healthy tortilla alternatives are ideal for people on restrictive diets whether it's due to food allergies or a specialized diet plan. They're gluten-free, egg-free, nut-free, and dairy-free, making them favorites of people following a Paleo or vegan diet.
Taco Tuesday doesn't always offer the healthiest menu. Often, taco shells and tortillas contain refined carbs and not much nutritional value. Luckily, there are many healthy tortilla alternatives that are full of fiber and flavor but low on carbs and calories. There are also healthy taco shells for people following specific diet plans, such as Weight Watchers or Paleo, and those with food allergies, like dairy or eggs. If you're hesitant to switch from a regular tortilla to a healthier alternative, try a few of these options and find the one that tastes best to you.
BlissMark provides information regarding health, wellness, and beauty. The information within this article is not intended to be medical advice. Before starting any diet or exercise routine, consult your physician. If you don't have a primary care physician, the United States Health & Human Services department has a free online tool that can help you locate a clinic in your area. We are not medical professionals, have not verified or vetted any programs, and in no way intend our content to be anything more than informative and inspiring.
Editors' Recommendations