A good breakfast is the easiest way to get your day started on the right foot, and pancakes take the cake when it comes to waking up your taste buds in the morning. Whether you're in it for the short stack with syrup or a tall set with gravy (yes, really), this breakfast is an easy crowd-pleaser.
However, while flapjacks may taste good, many pancake batters are full of calories and empty carbs that can do a number on your waistline and aren't great for your heart, either.
That doesn't mean you have to forgo your favorite breakfast food. Some brands are making pancake batter healthier, and we scoured the internet to bring you the best healthy pancake mix options on the shelves.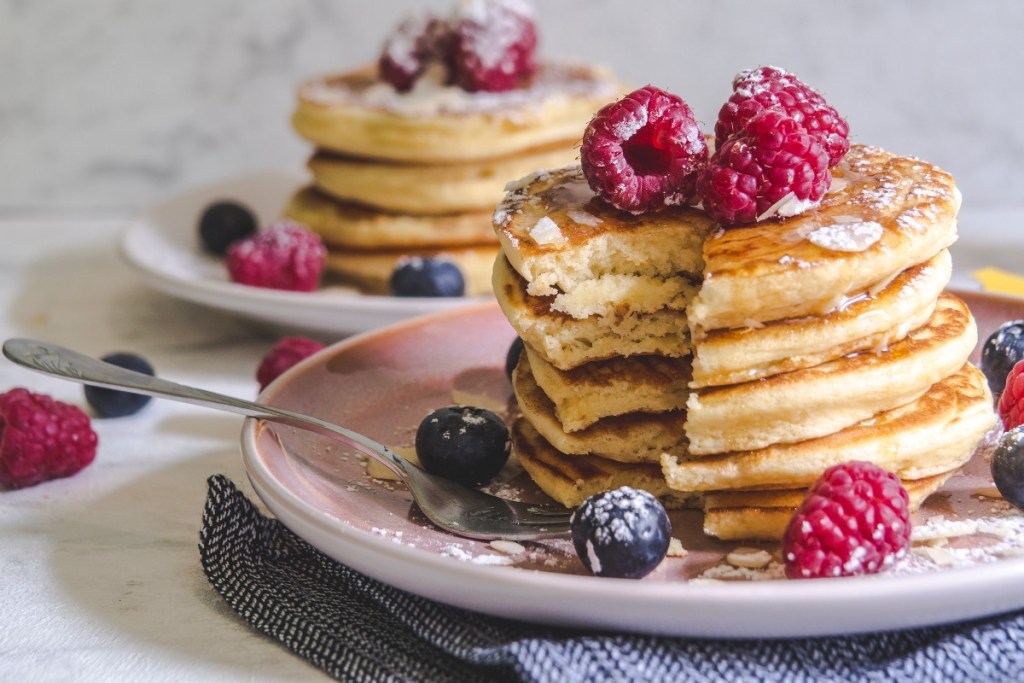 Good: Birch Benders Classic Pancakes
Many pancake batters require you to add milk and eggs, which add to the overall fat, calorie, and cholesterol content of your meal. Birch Benders Classic Pancakes is mixing things up with its batter that only needs water. This mix is fat and cholesterol-free and only contains 120 calories per serving. It also has 8 percent of your daily calcium needs and 3 grams of protein, to keep you more satisfied and energetic than the traditional kind. People, particularly the on-the-go crowd, love how simple it is to make pancakes with the mix. They come out unbelievably fluffy, and all they need are your favorite healthy toppings like bananas, blueberries, or nuts to make them extra-special.
Better: WonderSlim Protein Pancake Mix
Sometimes, you may have a tall stack of pancakes and still find yourself hungry an hour later. That's because refined carbs cause your blood sugar to spike (and then crash), leaving you in need of an energy boost. Your body needs protein and fiber to feel fuller longer, and WonderSlim's Protein Pancake Mix contains both. It boasts 12 grams of protein and 5 grams of fiber (18 percent of the daily recommended intake), all while tasting as delicious as dessert. Some reviewers even say these light, fluffy flapjacks taste just like angel food cake.
Best: Orgain Bundle – Protein Pancake & Waffle Mix
Orgain's Protein Pancake & Waffle mix bundle tops our list, especially because this delicious batter mix also comes with plant-based protein powder. One serving boasts 21 grams of organic plant-based protein, 6 grams of dietary fiber, 3 grams of net carbs, and only 150 calories. They're also vegan-friendly, gluten-free, and dairy-free, making them accessible to a variety of eaters. We recommend adding fruit, like bananas and blueberries, directly into the batter, though reviewers say these pancakes are also delicious all on their own.
A high-carb diet is linked to a number of health issues, including heart disease and Type 2 diabetes. Unfortunately for flapjack fanatics, pancakes are high in carbs. By cutting down on high carbohydrate products with loads of refined sugar, you can fill your diet with delicious protein-packed alternatives that taste as good as the real thing and ensure you start your day with a boost. This list is just a start, so feel free to explore all the healthy pancake mix options that work for your budget.
BlissMark provides information regarding health, wellness, and beauty. The information within this article is not intended to be medical advice. Before starting any diet or exercise routine, consult your physician. If you don't have a primary care physician, the United States Health & Human Services department has a free online tool that can help you locate a clinic in your area. We are not medical professionals, have not verified or vetted any programs, and in no way intend our content to be anything more than informative and inspiring.
Editors' Recommendations