You may have heard about how Peloton's popularity has soared over the last year, but it's not the only fitness trend people are loving these days. Rowing machines have also experienced a surge in interest. For instance, the Financial Times reported that sales of Hydrow's smart rowing machine went up 500 percent in 2020.
For some people, this investment is truly worth making. Rowing is a total-body workout. It strengthens the upper and lower body while also boosting endurance. Though you'll break a sweat, rowing workouts tend to be a lower-impact physical activity than running outside, where you'll often put more pressure on joints and muscles.
Most gyms offer rowing machines, but having your own equipment at home gives you the flexibility to work out when you want, and for however long you want. If you're in the market for a rowing machine, you'll want to give these three a look.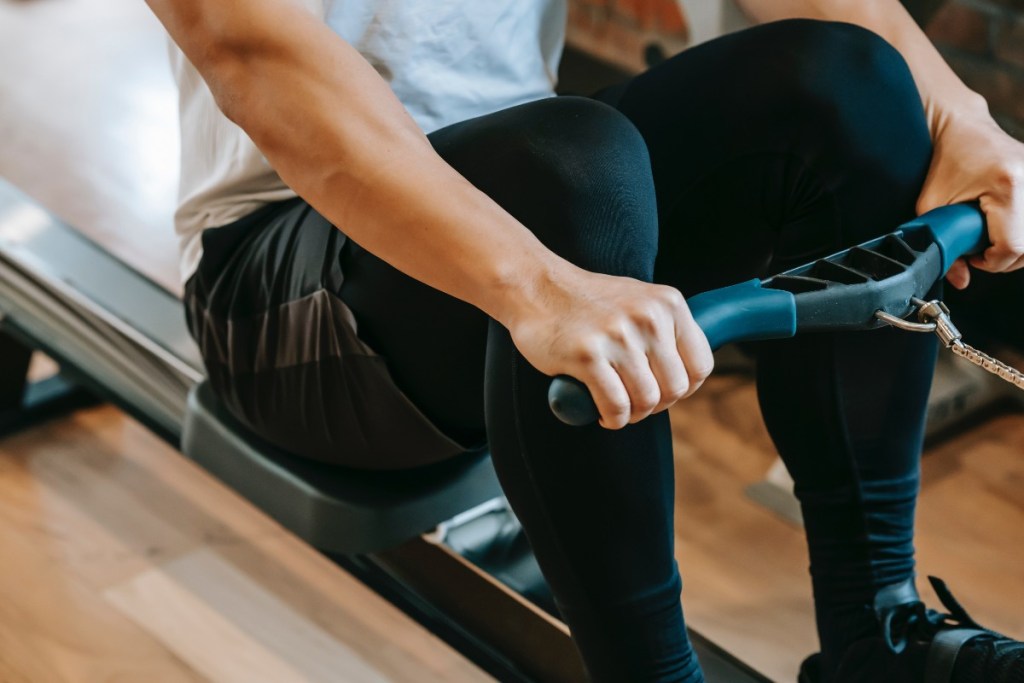 Good: Sunny Health & Fitness Magnetic Rowing Machine Rower With LCD Monitor
One of the most popular, budget-friendly options on the market at under $300
Known for being durable
Digital monitor provides information like calories burned and time spent rowing but is a tad small
In the stationary bike world, Sunny bikes are seen as a formidable, less expensive alternative to Pelotons. Sunny's rowing machines have a similar reputation. Users say they like that it doesn't take up much room, making it a good choice for apartment dwellers or people living in smaller spaces. It also has wheels, so you can easily transport it to another room. The non-slip foot pedals enhance safety and help mitigate injuries, and the brand's customer service is known for being good if you have any malfunctions.
There aren't many frills on this rowing machine, but it does have an LCD screen that will show you calories burned, how long you've exercised, total count (the number of strokes in your rowing workout), and a scan mode that displays your progress toward your fitness goals. That said, reviewers do wish the screen was larger. There are also mixed reviews on how loud it is — some say it's pretty quiet while others find it too loud.
Better: NordicTrack RW900
Instructor-led classes motivate and guide you through rowing workouts at home
Customers say it's easy to set up
Users wish they could turn the bike off rather than unplugging it or leaving it on
Even former collegiate rowers are drawn to this machine, saying it reminds them of being in an actual boat. It rows like the well-oiled machine it is, allowing for a smooth sweat session, and boasts a flywheel that enhances natural movement. The NordicTrack RW900 includes classes led by instructors that inspire users and can also be so entertaining they forget they're exercising. The 22-inch rotating high-definition touch screen is clear and easy to see, making it a cinch to track your speed and power output, set goals, and hold yourself accountable. It's simple to put together, too. The drawback is that the software is sometimes glitchy, and there's no off button. You'll have to leave it on or unplug and reboot it every time you want to hop on the machine.
Best: Hydrow Connected Rower
At about $2,200, it's one of the pricier machines out there
Large screen allows you to dig into your fitness progress
Known for being comfortable and durable
The Hydrow Connected Rower boasts a multitude of perks and features to help you get into and stay in a fitness groove. An all-access membership, which is sold separately, has live and on-demand classes set in gorgeous locations like the Charles River or Miami so you can picture yourself rowing in a boat. The instructors are motivating, and competitive types will love racing against others on the leaderboard. You can also track your progress, like strokes-per-minute and heart rate, while rowing on a machine known for being durable and comfortable. Bonus: There are also other fitness classes like yoga, strength, and stretching, which will enhance your experience on the rowing machine.
The Hydrow Connected Rower may give some people sticker shock. At more than $2,200, it's an investment. However, if you can swing it, consider it a downpayment on your physical and mental health. Plus, if you're going to use it multiple times per week, it may be worth it, particularly if it lets you nix a gym membership.
Rowing is an exercise people of various fitness levels can enjoy, from beginners to habitually active individuals. Having your own machine allows you to exercise at home whenever you have time and may help enhance your ability to commit to a workout regimen. Rowing machines come at various price points, from under $300 to more than $2,000. The more expensive ones tend to have more bells and whistles, but you can still get a quality workout in on the more budget-friendly options.
BlissMark provides information regarding health, wellness, and beauty. The information within this article is not intended to be medical advice. Before starting any diet or exercise routine, consult your physician. If you don't have a primary care physician, the United States Health & Human Services department has a free online tool that can help you locate a clinic in your area. We are not medical professionals, have not verified or vetted any programs, and in no way intend our content to be anything more than informative and inspiring.
Editors' Recommendations