If you're the kind of person who loves sugar and spice and everything nice, the struggle with cravings can be real. There's nothing wrong with indulging every so often — it can actually help keep hankerings at bay. However, the keywords are "every so often."
The American Heart Association recommends no more than six teaspoons of sugar per day for women and that men limit their sugar intake to nine teaspoons per day. However, the association says most American adults consume about three times that amount. Consuming too much sugar increases your chances of developing heart issues or Type 2 diabetes as well as racking up the empty calories.
All of this sounds scary. However, we have some sweet news: You can satisfy your cravings in healthier ways. Many brands make sugar-free foods that taste great. If a craving strikes, reach for one of these sugar-free snacks and desserts instead.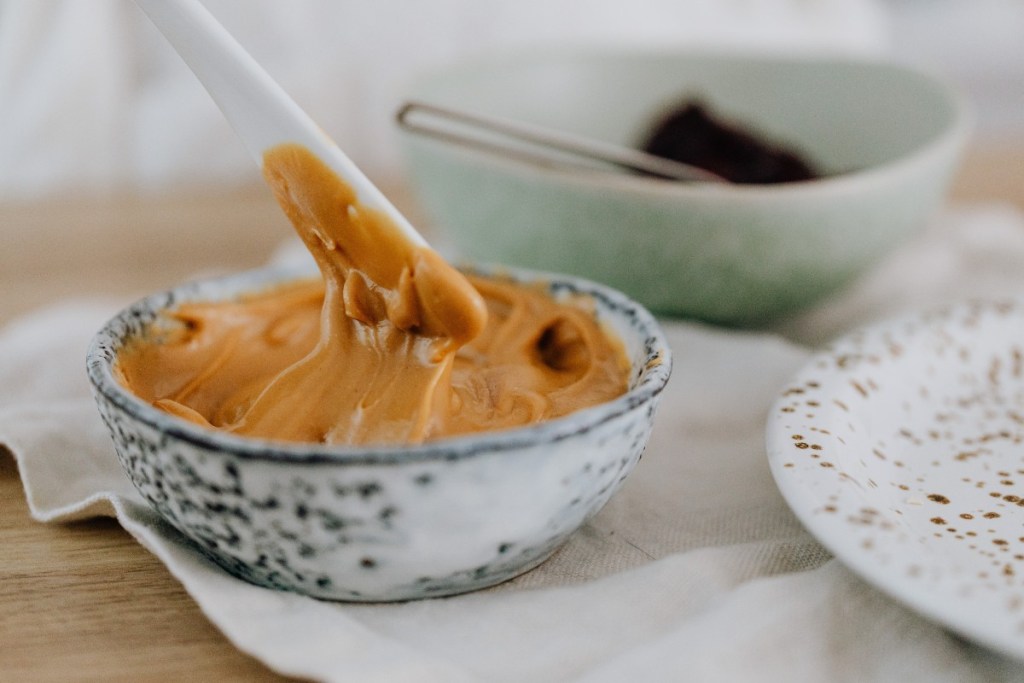 Keto Peanut Butter with Macadamia Nuts and MCT Oil
Peanut butter is sweet, creamy, and full of health benefits. It has proteins and healthy monounsaturated fats that the American Heart Association says can boost heart health. However, it is also often full of sugar. Left Coast Performance has created a peanut butter with many of the benefits without much of the sweet stuff. It has no added sugar and less than one gram of total sugar. People say it reminds them of the peanut butter than grew up eating. It's smooth and sweet but not overwhelmingly so. Spread it on top of an apple to add some sweetness (and fiber) to your snack.
Russell Stover Sugar-Free Chocolates Gusset Bag, Assorted
Chocolate, particularly dark chocolate, has its share of benefits when enjoyed in moderation. Studies show it can help regulate blood pressure and reduce insulin resistance, something that contributes to diabetes. That said, it can be high in sugar. Russell Stover is offering a sweet but sugar-free alternative. The assorted package is sweetened with stevia extract instead. There are multiple flavors to sink your teeth into: dark chocolate mint patties, pecan delights, peanut butter cups, coconut, and caramel. The candies are small, so they're easy to stuff in your purse or desk drawer. People say they taste heavenly and you can't even tell there's no sugar.
Sugar-Free Strawberry Jell-O
If you're craving something sweet, fresh, and fruity, strawberry Jell-O might do the trick. One of the most popular kinds of sugar-free foods, this Jell-O only has 10 calories. There's no fat or cholesterol, making it a snack that won't set you back on your health goals. The strawberry flavor makes it a fun mid-day snack and a good alternative to sugar-loaded desserts like ice cream. There's some prep work involved in making this Jell-O, but people say it's a straightforward process. Reviewers loved the flavor and said the whole family, including kids known for being picky eaters, liked having it in the fridge.
think! High Protein Chunky Peanut Butter Bars
Sometimes, you need a more filling snack than light gelatins or candies. Some experts actually recommend eating six small meals per day rather than three large ones. We recommend adding think! High Protein Chunky Peanut Butter Bars to your rotation. The sugar-free snack will not only satisfy sweet cravings but also tide you over until your next meal. It boasts 20 grams of protein, something that can help you stay fuller longer and avoid cravings. What's more, protein helps increase strength. The only drawback is that the bars are high in fat at 10 grams, so it's best to stick to one per day.
Snack Pack Sugar-Free Chocolate Pudding Cup
If you're craving chocolate ice cream but trying to keep your sugar intake in check, opt for chocolate pudding cups instead. Snack Pack makes a sugar-free chocolate pudding that boasts 4.7 out of five stars from more than 11,700 ratings on Amazon. Each pudding cup only contains 70 calories and 3.5 grams of fat per serving. The pudding has real milk rather than sugar, and you can truly taste the difference. The chocolate is rich, creamy, and luxurious. The cups are portable and easy to grab-and-go or stash in a lunchbox. If you prefer something other than chocolate, Snack Pack also makes sugar-free banana cream pie and butterscotch flavors.
HighKey Protein Cereal
Cereal is not only a good breakfast food but something that is easy to carry in a bag and nosh on throughout the day. However, you may have written off colorful, fruity cereals as a high-sugar food long ago. HighKey is changing that narrative. The cereal has less than 1 gram of total sugar, no added sugar, 3 grams of filling dietary fiber, and 10 grams of protein. Most reviewers love the taste and crunchy texture and say it fit right into their diabetic or otherwise low-sugar diet plan. It's a tad expensive at nearly $12 per box, though.
Though it's generally OK to indulge in a sweet craving every now and then, cutting down on sugar intake can decrease your risk of developing issues like heart disease and diabetes. The good news: sugar-free snacks can actually be pretty sweet. There's an option for every type of sweet craving in the grocery store, from candies to peanut butter bars to gelatins. If you're truly hungry, try to find something that's high in protein and fiber, two things that will keep you satisfied longer and prevent cravings from striking twice in one day. Adding foods with natural sugars, like those found in fruits, to your diet is another way to quell sugar cravings.
BlissMark provides information regarding health, wellness, and beauty. The information within this article is not intended to be medical advice. Before starting any diet or exercise routine, consult your physician. If you don't have a primary care physician, the United States Health & Human Services department has a free online tool that can help you locate a clinic in your area. We are not medical professionals, have not verified or vetted any programs, and in no way intend our content to be anything more than informative and inspiring.
Editors' Recommendations