Cutting down on sugar is pretty sweet for your body. A low-sugar diet reduces the risk of diabetes and heart disease and ensures you won't suffer a mid-day sugar crash. Unfortunately, there is too much added sugar in most American diets, making us prone to inflammation, weight gain, and type 2 diabetes in addition to cardiovascular risk.
A low sugar lifestyle can be a challenge if yogurt is part of your daily diet. Yogurt boasts a plethora of necessary nutrients including calcium, protein, and good-for-your-gut probiotics. The small containers are easy to tote anywhere, making this easy snack food a favorite of the on-the-go crowd.
Yogurt, despite its good reputation, can have double-digit grams of sugar. Dairy products, like cow's milk and yogurt, have healthy natural sugars, so you don't necessarily need to find a sugar-free brand. It is important, however, to find a container that doesn't have any added sugar, so that you can reap its benefits without the not-so-sweet side effects. Ready for a change in your yogurt routine? These no-sugar-added yogurts are essential to morning, snack time, or even dessert routine.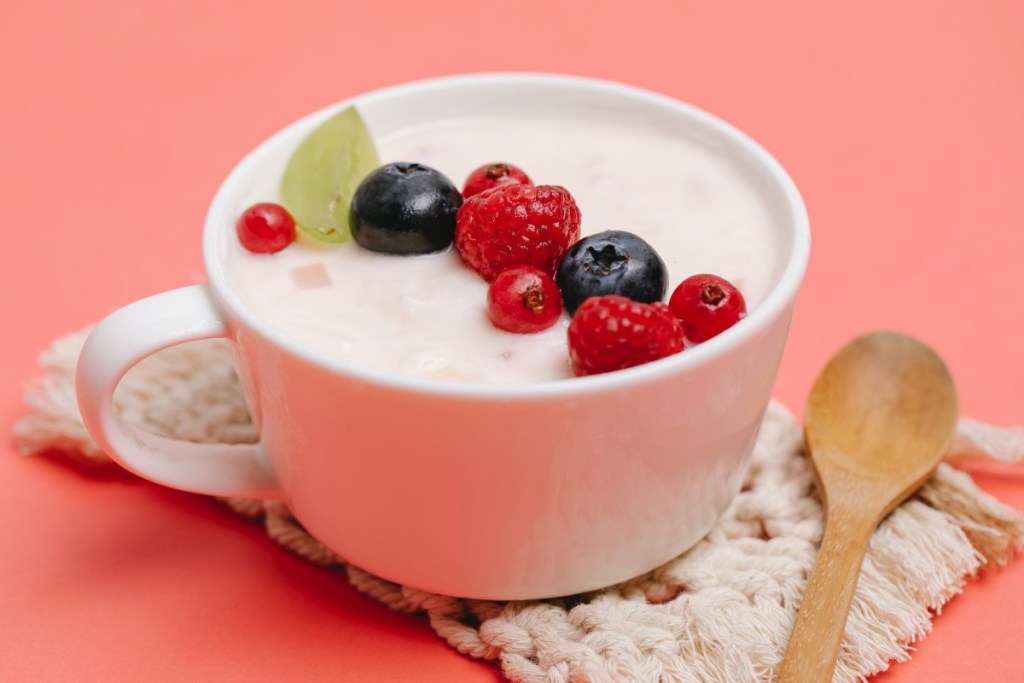 Oikos Triple Zero Vanilla
https://www.target.com/p/dannon-oikos-triple-zero-greek-vanilla-5-3oz-4pk/-/A-24013290#lnk=sametab
True to its name, Oikos Triple Zero Vanilla Greek yogurt avoids added sugar, artificial sweeteners, and fat. This no-added-sugar yogurt also packs in 15 grams of protein (30 percent of the recommended daily value), which keeps you feeling fuller longer while also strengthening muscle tissue. The natural sugars in this Greek yogurt keep it lightly sweet, and the texture is perfectly creamy and dreamy. While it doesn't taste quite like vanilla ice cream, it is a lighter, healthier substitute. If you're looking to liven it up a bit, consider adding some fresh berries, granola, or dark chocolate.
Siggi's Raspberry & Apple Icelandic Yogurt
https://www.instacart.com/landing?product_id=136913&retailer_id=1391
Greek yogurt is a popular super snack because it is full of probiotics, protein, and has a creamier texture than the traditional kind. But, some say Icelandic yogurt is even better. It's also, tangy, creamy, and high in protein with a thicker texture. This results in a luxurious, dessert-like taste. Siggi's is one of the most popular national brands. It contains four grams of total sugar, but none of which is added. Further, it also boasts 11 grams of muscle-boosting protein. The raspberry and apple combo is a little tart, a little sweet, and completely delicious. Like Greek yogurt, it has live cultures, like L. acidophilus, probiotics which promote gut health and aid in digestion.
Two Good Strawberry Yogurt
https://www.target.com/p/two-good-strawberry-greek-style-yogurt-5-3oz/-/A-53860407
Fruit-on-the-bottom products are typically high in sugars because of the fruity syrups, so Two Good created an added-sugar-free alternative to your favorite brands. Instead of adding sweeteners, this brand uses a patent-pending, slow-straining batching process to remove most of the sugar that is naturally present in milk while it makes the yogurt. This Greek yogurt, is high in protein (12 grams), low in calories (80), and contains live cultures that keep your digestive system functioning well. The strawberry-flavored variety is a fan favorite, but Two Good also offers blueberry, lemon, mango hibiscus, raspberry, coconut, and many other yogurt flavors.
Maple Hill Organic Yogurt
https://www.instacart.com/landing?product_id=1558647&retailer_id=235
Maple Hill's organic added-sugar-free yogurt is a favorite of low-sugar and eco-conscious consumers. This brand uses milk from 100 percent grass-fed cows. Their free-range, grazing farming technique is applauded by animal rights activists and environmentalists alike. We love this thick, full-bodied, creamy, yogurt that is the perfect addition to your breakfast table, at-home snack bar, or dessert. What's more, it contains 15 grams of protein per serving (30 percent of the daily recommended value) and promotes bone health with its high calcium content.
Sugar naturally occurs in dairy products like yogurt, so yogurt lovers often struggle to significantly cut down on sweets. Luckily, there are low-sugar options that allow you to enjoy your favorite food while keeping your health in mind. Check the nutrition label for no-sugar-added yogurts, and do your own research to discover what brands, flavors, and toppings work well for you.
BlissMark provides information regarding health, wellness, and beauty. The information within this article is not intended to be medical advice. Before starting any diet or exercise routine, consult your physician. If you don't have a primary care physician, the United States Health & Human Services department has a free online tool that can help you locate a clinic in your area. We are not medical professionals, have not verified or vetted any programs, and in no way intend our content to be anything more than informative and inspiring.
Editors' Recommendations