During the height of the pandemic, many people decided to forego takeout and became amateur cooks. They made Instagram-worthy bread and experimented with spicy sauces. A luxe brunch may be on your home-chef bucket list, and there are plenty of pancake recipes out there.
However, if you want to eat pancakes and stay healthy, too, you may feel a bit torn. Flapjacks are generally high in enriched carbs and sugar, increasing the risk of heart disease and diabetes. Yet, they're delicious. In moderation, run-of-the-mill pancakes generally won't hurt. There are also many healthy pancake mix options on grocery store shelves. However, you can also go the homemade route. These are the best healthy pancake recipes we found on the Internet.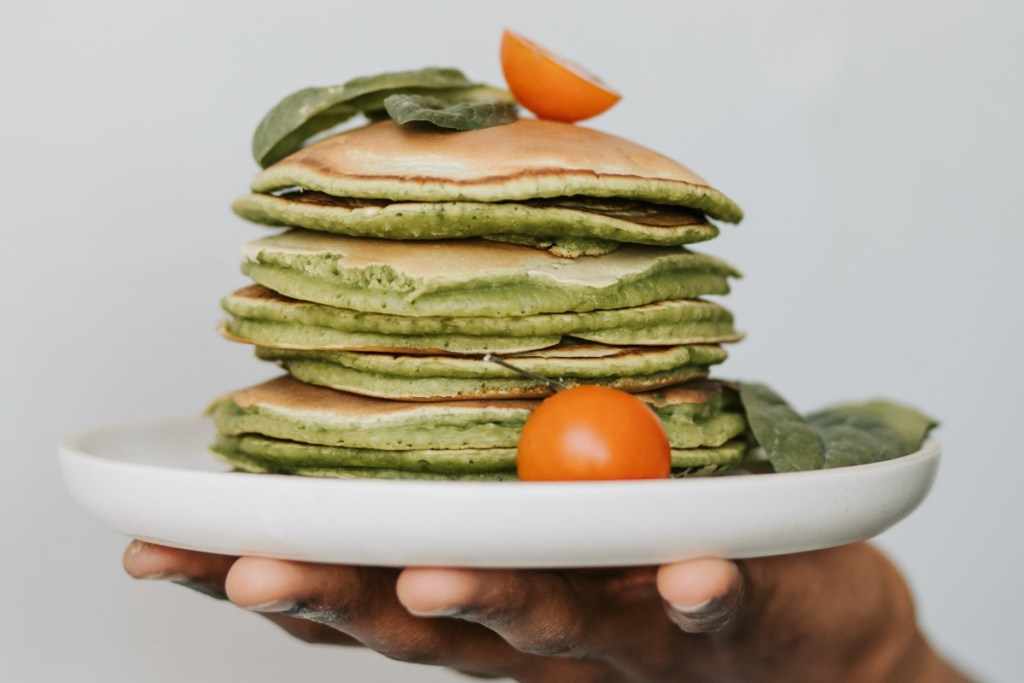 Ina Garten's Zucchini Pancakes
This recipe, produced by celebrity chef Ina Garten and published by Food Network, gets some added nutritional value from zucchini. The green squash is rich in vitamins and antioxidants that may reduce your cancer and cardiovascular disease risk. You'll get 10 three-inch pancakes in 24 minutes from this recipe.
Ingredients
3/4 lb of zucchinis (usually about 2 medium ones)
2 tbsp of red onion, grated
2 extra-large eggs, lightly beaten
6 to 8 tbsp all-purpose flour
1 tsp baking powder
1 tsp Kosher salt
1/2 tsp black pepper, freshly ground
Vegetable oil
Unsalted butter
Instructions
Turn on the oven and preheat it to 300 degrees Fahrenheit.
It's time to make the batter. First, grab a large box grater. Use it to grate the zucchini over a bowl.
Add the onion and eggs to the bowl. Stir.
Add six tablespoons of flour, baking powder, salt, and pepper. Stir.
Gauge the batter. The liquid in the zucchini can sometimes make it watery and thin. If you notice that's the case, add two more tablespoons of flour and stir.
Melt a 1/2 tablespoon of butter and 1/2 tablespoon of oil over medium heat in a saute pan.
Turn the heat down to medium-low and scoop the batter into the pan, creating three-inch circles as you go. Cook on one side for about two minutes or until browned. Repeat on the other side. Continue to do this until you've used all of your batter.
Whole Grain Pancakes
This recipe from The New York Times' Melissa Clark makes about 10 pancakes in 45 minutes, so it's best for a morning when you have a bit of time to spare. These pancakes contain seven grams of protein, which increases muscle mass and strength. Whole grains are heart-healthy alternatives to enriched carbs.
Ingredients
1 cup whole-wheat flour
3/4 cup all-purpose flour
1/2 cup cornmeal
1/4 cup rolled oats
2 tsp baking powder
1 tsp Kosher salt
1/2 tsp baking soda
2 1/4 cups buttermilk or plain, regular yogurt
3 large eggs
1/4 cup unsalted butter, melted, plus more for cooking
1 tbsp honey
Low-sugar maple syrup (optional. If you're looking to cut down on sugar, opt for fruit on top of your pancakes instead.)
Instructions
You'll start by making the flour mixture. Add whole-wheat flour, all-purpose flour, cornmeal, oats, baking powder, salt, and baking soda. Stir.
Next, you'll make an egg mixture by adding eggs, buttermilk, butter, and honey to a medium bowl and stirring.
Combine the egg and flour mixture in the large bowl. Stir until it looks even.
Grab a griddle or cast-iron skillet. Put it on the stove, and turn the heat to medium. Melt some butter in the pan.
Put as much batter into the skillet as you can while still leaving enough room for pancakes to spread. You might start with about 1/3 cup of batter at one time.
Cook for about three minutes on each side. You want them to look golden brown.
Put pancakes on a plate or in an oven, so they maintain heat as you finish. Keep going until you've used all of the batter. Pro tip: If the skillet or griddle needs a bit more grease, melt more butter in it.
Healthy pancake recipe
This Epicurious recipe only calls for seven ingredients (plus one optional), including a whole wheat flour that helps eaters up their fiber content and reduces empty carb intake. It makes six pancakes.
Ingredients
1 cup whole wheat flour
1 egg
1 tsp baking powder
1/4 tsp baking soda
1/2 cup yogurt
2 tsp vanilla extract
Olive oil
Optional: Fruits, like berries, for garnish
Instructions
Throw all the ingredients in a bowl and combine to create a thick batter. If it's too thick for your liking, you can pour in some milk. Not thick enough? Extra flour should help.
Place a skillet over medium heat.
Add olive oil over the entire cooking surface.
Pour in 1/4 cup of batter and cook until golden brown on both sides.
Top with berries if you wish.
When it's time for breakfast, you can always opt for a healthy pancake mix, but sometimes it's fun to roll up your sleeves and get creative in the kitchen. Some of the best healthy pancake recipes put nutritious and fun twists on the classic food. Zucchini and whole-grain pancakes can add valuable antioxidants and minerals to your morning meal. Keeping added sugar to a minimum can also make the meal more nutritious and reduce your risk of developing diabetes and heart disease. For a more balanced meal, opt for fruit, like strawberries or bananas, on the side.
BlissMark provides information regarding health, wellness, and beauty. The information within this article is not intended to be medical advice. Before starting any diet or exercise routine, consult your physician. If you don't have a primary care physician, the United States Health & Human Services department has a free online tool that can help you locate a clinic in your area. We are not medical professionals, have not verified or vetted any programs, and in no way intend our content to be anything more than informative and inspiring.
Editors' Recommendations