If you can still catch a whiff of your body odor oozing past the natural deodorant you're donning, it doesn't really matter whether you've chosen the best natural fragrance in the market. The stink is still there. But don't let that propel you into repurchasing traditional deodorants. The Journal of Inorganic Biochemistry published a study concluding that aluminum, one of the main ingredients in most deodorants containing an antiperspirant, interferes with estrogen receptors. With a handful of other early studies researching the link between aluminum and breast cancer, many people are searching for a natural deodorant that works as well as traditional brands.
Natural deodorant uses ingredients that soak up odor-causing bacteria rather than inhibit sweat production. So how do you find an effective natural deodorant? We gathered our top tips for finding an aluminum-free deodorant that will keep your pits fresh throughout the day.
What makes natural deodorant effective?
Natural deodorant doesn't obstruct your sweat glands or mask the odor with artificial fragrances, like leading deodorant brands. Instead, natural deodorants use plant-based ingredients with antimicrobial properties like sage, clove, mint, and basil, to prevent bacterial growth from occurring. Many natural deodorants also incorporate moisture-wicking ingredients like corn starch and silica into their formulas to prevent excess sweating without clogging your sweat ducts.
A word of caution: You'll probably experience a transition period as your body adjusts to the new product. You won't be plugging up your sweat glands anymore, so it may take a couple of days, or even a couple of weeks, for your deodorant to work as effectively as possible. Once your armpits have had the chance to detox, your new deodorant will leave you smelling as fresh as a daisy (or a rose if you prefer that scent).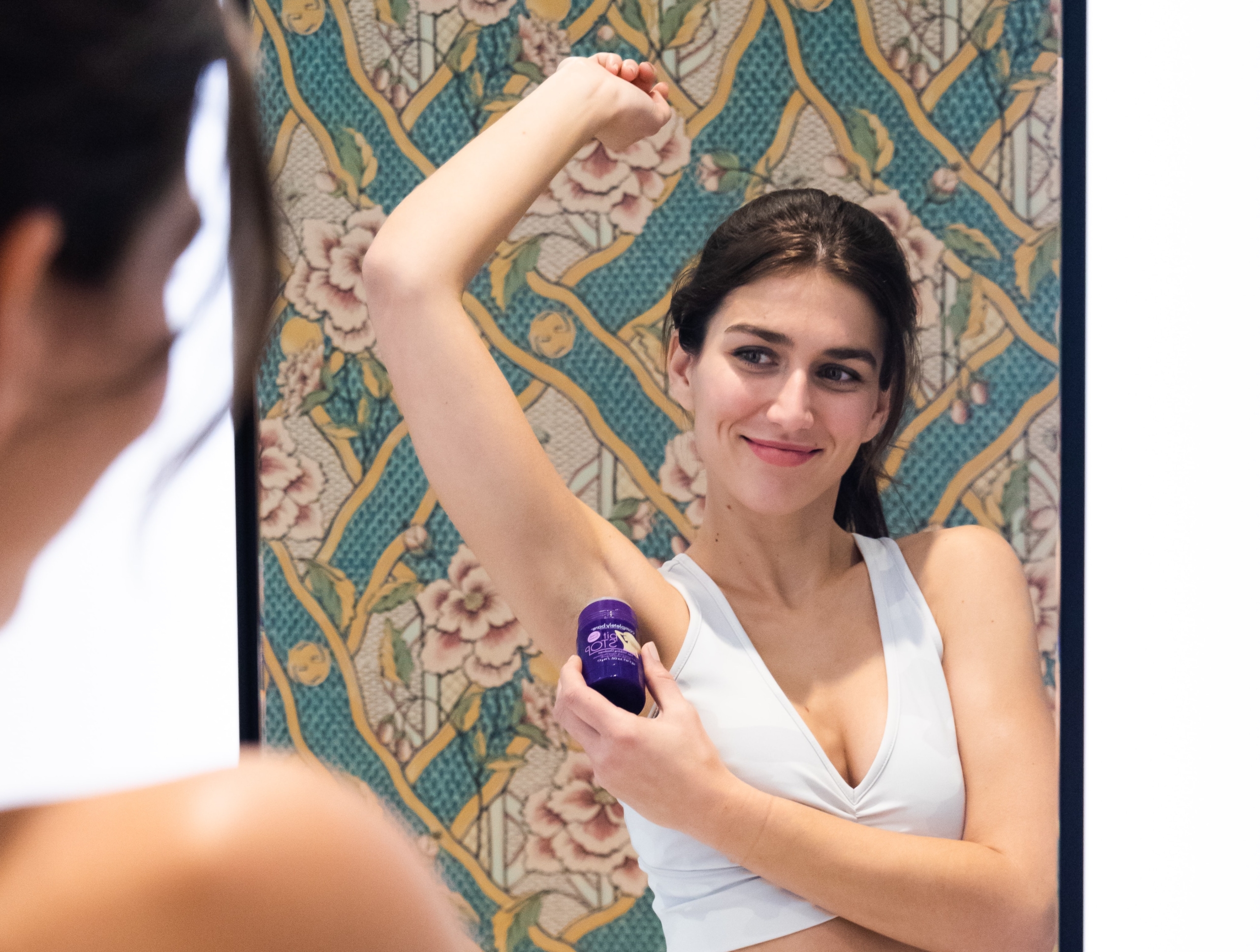 Which natural deodorants really work?
Whether you're worried about potential health problems or simply want to find the best natural deodorant, we're here to help. We tested a wide assortment of natural deodorants in the balmy city of New Orleans, sometimes with stinky results. Here are the brands that we found effectively keep odor at bay, even in 95% humidity.
Megababe Rosy Pits Daily Deodorant: Made with skin-nourishing ingredients like coconut oil, green tea, corn starch, and sage, Megababe's rose-scented deodorant prevents bacteria formation, stopping odors at the source. It's aluminum-free, alcohol-free, and paraben-free. We also give this product an award for Most Adorable Packaging.
CORPUS Natural Plant-Based Deodorant: Vegan, cruelty-free, and made with certified organic ingredients, this deodorant comes in a 100% recyclable tube created using renewable energy. It's eco-friendly, non-toxic, and free of aluminum, baking soda, talc, phthalates, and parabens. We especially love the scent "California," which contains notes of sea salt, bergamot, white musk, and jasmine.
Schmidt's Sage + Vetiver Aluminum-Free with 24-Hour Odor Protection: This certified organic, vegan, and cruelty-free deodorant uses a blend of coconut oil, hemp seed oil, and magnesium to keep you fresh throughout the day. Antimicrobial sage inhibits bacterial growth, while arrowroot powder absorbs excess moisture, and both provide a slightly spicy, earthy scent. Best of all, you won't find any phthalates, parabens, or filler ingredients here.
Type:A Deodorant: Instagram-favorite Type:A is free from parabens, aluminum, and toxins, so you can slather on this award-winning formula without fear. We love the Crisp Citron scent, which carries citrus and herbal notes that keep you smelling fresh and clean throughout the day. Type:A uses a patented, sweat-activated formula that releases an extra dose of fragrance to mask any odor. This deodorant is also certified cruelty-free.
Anthony Alcohol-Free Deodorant: If you're prone to sensitive skin, alcohol is one of the worst offenders. This cruelty-free deodorant uses botanical extracts to prevent odor and soothe freshly-shaved pits. It contains antimicrobial ingredients like basil and wild mint, and the added grapefruit, orange, wintergreen, and ylang-ylang provide a delicate herbal scent. This product is allergy and dermatologist-tested and doesn't contain parabens, phthalates, or GMOs.
Final say
While the transition period can be a downer, natural deodorants work if you give them time. If making the switch is especially stinky, try using a clay mask under your arms to remove build-up and bacteria so your deodorant can do its thing. We recommend stashing your deodorant in your gym bag for a mid-day refresh while you adjust, particularly after you work out.
Our best piece of advice? Don't give up. After a brief adjustment period, you'll leave your smelly days behind you.
Editors' Recommendations