We spend a lot of time talking about the importance of using natural and organic products on our faces when there's a whole lot of skin below our necks that deserves some love too. Isn't it time to treat our bodies as well as our faces?
The sheer number of lotions out there is overwhelming. When you look for natural ones, the prices can be ridiculously high. But are inexpensive natural lotions just as effective? Let's take a look at some natural body lotions that cost under $10 and really are good for your skin.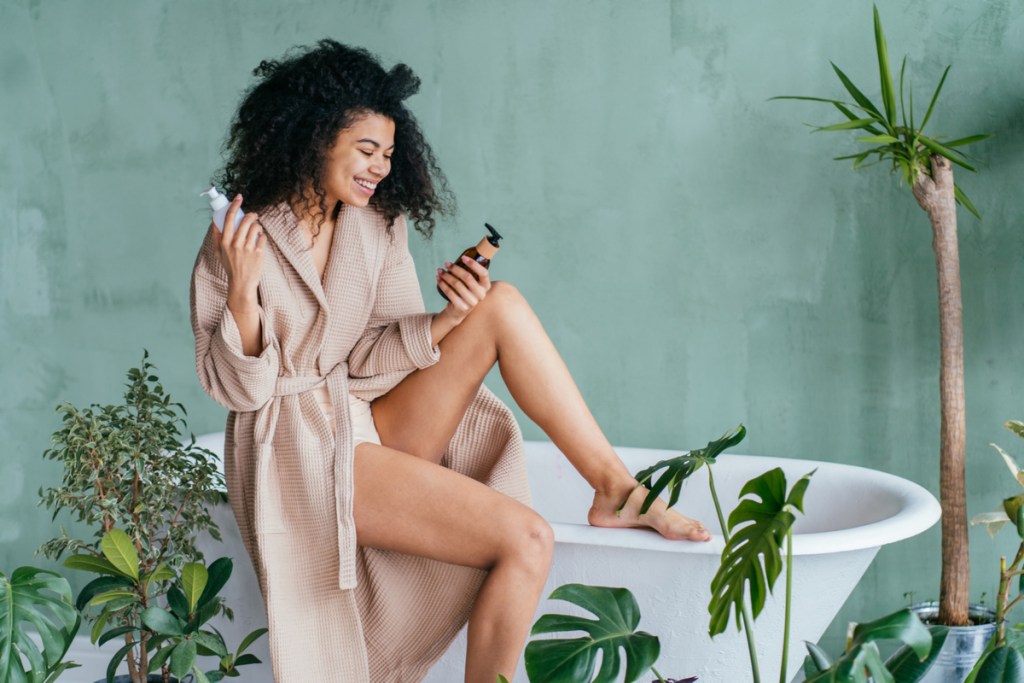 Love Beauty & Planet Shea Butter and Sandalwood Hand and Body Lotion
Important ingredients
Shea butter
The fat extract shea butter is absorbed quickly into your skin, creating a protective barrier to keep your skin hydrated.
Sandalwood
Sandalwood helps improve skins elasticity evening out skin tone with continuous use.
Love Beauty & Planet should be on your radar for more than lotion, but let's look at why this body lotion is an amazing natural product you should be using. Cruelty, dye, aluminum, and paraben-free, this body lotion uses plant-based ingredients to alleviate your dry skin and keep it soft for a full 24 hours.
If you like the consistency of the lotion but are not crazy about the scent, they have dozens of others to try.
Burt's Bees Cocoa and Cupuacu Butters Body Lotion
Important ingredients
Vitamin E
Vitamin E repairs damage to your skin cells from the sun and helps heal scar tissue.
Natural botanicals
Natural botanicals have antioxidant benefits that help protect your skin from pollution and free radicals.
Cupuacu butter
Cupuacu butter helps carry water to your skin to improve elasticity and hydrate your skin.
Burt's Bees never fails to deliver when it comes to needing a natural product at a price you can afford. With 98.9% natural ingredients, you can be sure that your dry skin will feel more moisturized. With continued use, you will notice your skin healthier because it's healing it from within.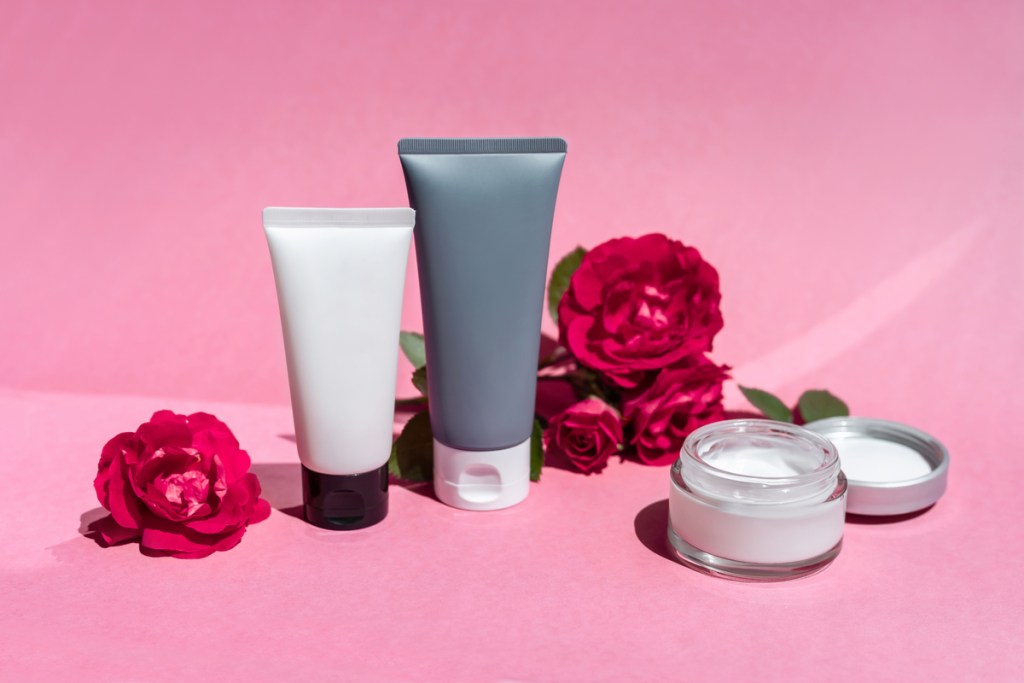 Hey Humans Body Lotion Lavender Vanilla
Important ingredients
Shea butter
Vitamin E
Aloe vera
Aloe vera soothes irritated skin and adds moisture while helping to regrow new and heal damaged cell tissue.
All Hey Humans products are $6 and under! That's a pretty amazing price for a 14-ounce bottle of natural lotion. We love that It doesn't go on greasy and a little goes a long way.
Renpure Plant-Based Body Lotion for Dry Skin
Important ingredients
Vitamin E
Coconut oil
Coconut oil will act as a protective sealer, locking in moisture. It also blocks free radicals and can help tighten your skin.
Coconut milk
Coconut milk is high in vitamin C so it will help firm saggy skin and reduce the appearance of wrinkles.
If you love the scent of coconut then this natural lotion is for you. It's infused with coconut milk and coconut oil to replenish your skin's moisture level. With over 80% of its ingredients being plant-based, this is a safe lotion for most skin types. You won't find dyes, parabens, phthalates, formaldehyde, or gluten in this. Just ingredients that your skin will love.
Dr. Bronner's Organic Lotion
Important ingredients
Coconut oil
Jojoba oil
Jojoba oil forms a layer of water on your skin to alleviate dry skin without clogging pores.
Avocado oil
Avocado oil is high in vitamin E and potassium which will moisturize the skin. It also speeds up the production of collagen which rejuvenates skin cells.
Dr. Bronner's lotion is USDA organic, non-GMO, and uses fair trade ingredients. From dry to rough to combination skin, this lotion will hydrate it all. If you have sensitive skin or find other lotions irritate you, give this a try. The orange lavender scent might sound like a unique combination, but it works. Only organic essential oils create the scent so you don't have to worry about added fragrances.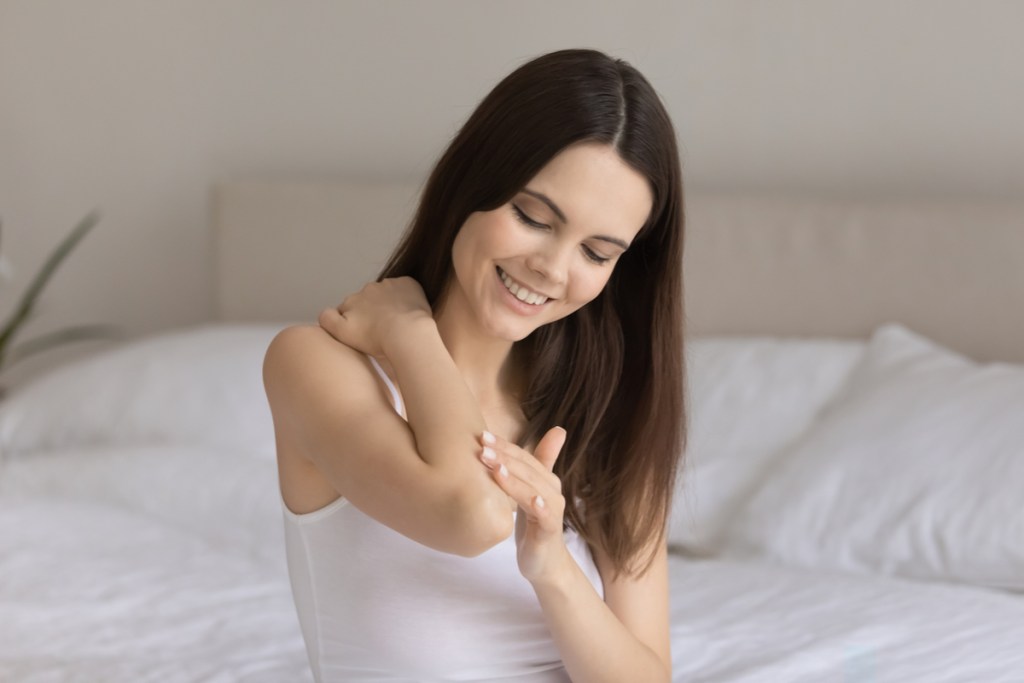 Palmer's Coconut Oil Body Lotion
Important ingredients
Coconut oil
Vitamin E
Green coffee extract
Green coffee extract is packed with antioxidants that will help keep your skin look more youthful.
With no parabens, dyes, gluten, mineral oil, phthalates, or sulfates, this hypoallergenic lotion from Palmer's will make your skin feel luxuriously smooth. The ethically sourced ingredients will have your skin looking radiant without any irritation. Palmer's always brings out the glow in your skin while also calming symptoms from skin conditions like eczema. Rough spots like your knees and elbows will thank you for using this lotion.
If you are worried about inexpensive natural body lotions not living up to their promise, take a breath. These six amazing natural body lotions are each packed with ingredients that are good for your skin and will leave it healthier. Switch to one of these natural lotions under $10 that will bring out the beautifully healthy glow your skin deserves.
BlissMark provides information regarding health, wellness, and beauty. The information within this article is not intended to be medical advice. Before starting any diet or exercise routine, consult your physician. If you don't have a primary care physician, the United States Health & Human Services department has a free online tool that can help you locate a clinic in your area. We are not medical professionals, have not verified or vetted any programs, and in no way intend our content to be anything more than informative and inspiring.
Editors' Recommendations