Even though skin cancer is the most common cancer in the U.S., only about one-third of adults are concerned about developing the disease, according to a new American Academy of Dermatology survey. While there are risk factors we can't control — including having light skin that burns or freckles easily, blond or red hair, or a family history of skin cancer — the most preventable risk factor for skin cancer is unprotected exposure to ultraviolet rays, says the AAD.
Sunscreen is our biggest weapon in protecting against harmful UV rays that not only cause skin cancer, but signs of premature aging such as lines, wrinkles, and dark spots. Here, we shed some light (pun intended) on the different types of sun protection, recent safety concerns, and some new buzzworthy trends you'll want to check out.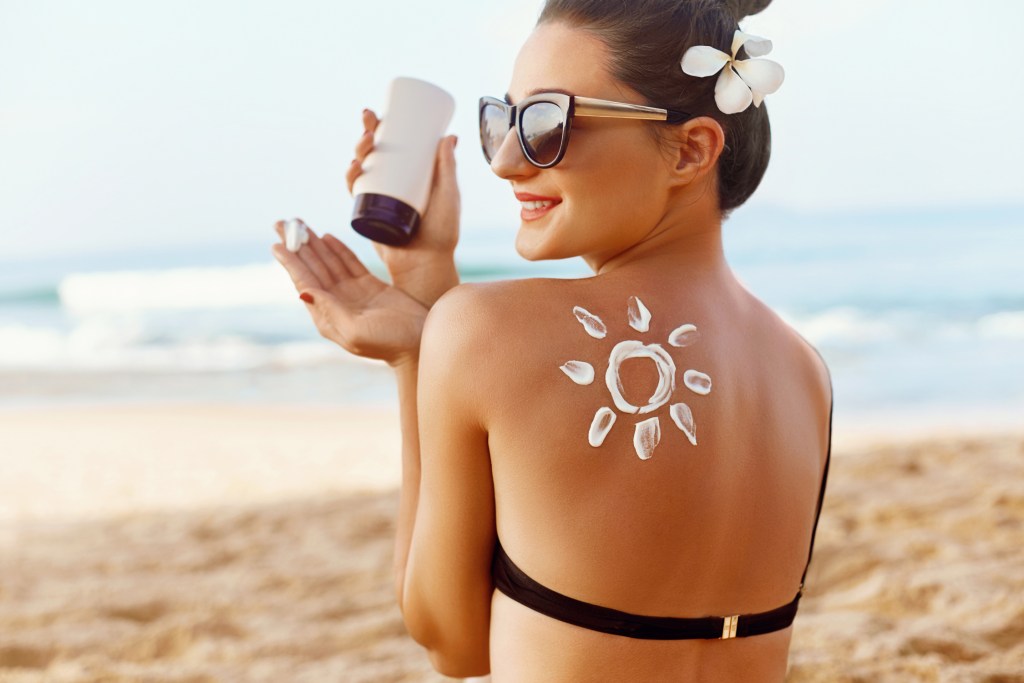 Not all sunscreens are the same
There are two main types of sunscreens: mineral sunblocks, which use zinc oxide and/or titanium dioxide to form a physical barrier that blocks UV rays from the skin, and chemical sunscreens, which use ingredients such as avobenzone and oxybenzone, penetrate into the skin, absorb UV rays, convert them to heat, and release them from the body.
Several recent studies have raised concerns about the safety of certain chemicals used in sunscreens. A 2019 FDA proposal to update over-the-counter sunscreen regulations stated that of the 16 currently marketed active ingredients in sunscreens, only two — the mineral blocks zinc oxide and titanium dioxide — are what the FDA refers to as "GRASE," or "generally recognized as safe and effective." The FDA concluded that there is insufficient safety data to make a GRASE determination for the other 12 active ingredients currently used in chemical sunscreens, including the common ingredients avobenzone and oxybenzone, and that more information is needed. (Two ingredients, PABA and trolamine salicylate, are not GRASE due to safety issues, but neither is available in the U.S.)
However, that doesn't mean those sunscreen ingredients aren't safe, just that more data is needed, according to Dr. Marisa Garshick, a dermatologist with MDCS Dermatology in New York. "That said, at this time, [choosing a sunscreen] can be based on personal preference because the best sunscreen is the one that you will use," she says, adding it's OK to continue using chemical sunscreens if that's what you prefer.
Adding to safety concerns was an FDA study published in the medical journal JAMA that found four active sunscreen ingredients enter the bloodstream at levels exceeding the FDA recommended "Threshold of Toxicological Concern." Researchers measured the blood levels of four ingredients — avobenzone, oxybenzone, octocrylene, and ecamsule — in participants who applied one of four different sunscreens four times a day for four days to see if absorption exceeded the recommended 0.5 ng/mL, beyond which the clinical effect is currently unknown. All four ingredients exceeded the level on the study's first day, and three of the ingredients were still found in participants' bloodstreams on day seven, including oxybenzone.
Again, the results shouldn't lead you to ditch your sunscreens, but instead indicate more study is needed, cautions Garshick. "Just because the ingredients were found in the bloodstream, does not necessarily mean the ingredient is associated with harmful effects or should be considered unsafe," she says. "It is also unknown if there is a certain level of the particular ingredient detected in the bloodstream that would be considered unsafe. Because more information is still needed, it is still recommended to wear sunscreen and UV protective clothing. If you are concerned or have any doubts regarding the findings in this study, you can consider using a mineral-based sunscreen which is considered safe and effective by the FDA."
The Environmental Working Group has raised concerns about the possible endocrine-disrupting effects of the sunscreen ingredients homosalate, avobenzone, and oxybenzone, which can mimic hormones. One study on the long-term effects of oxybenzone exposure found it produced long-lasting changes to the morphology and function of mammary glands in pregnant and lactating mice at doses relevant to human exposures.
If you want to dig deeper, The Environmental Working Group Annual Guide to Sunscreens contains a plethora of information on sunscreen ingredients and gives scores to hundreds of sunscreens based on assessments of health hazards, protection, and stability. (For the record, EWG states it has always recommended consumers choose products with zinc oxide and titanium dioxide.)
The truth about benzene
The media was also abuzz recently with a report that high levels of benzene, a known human carcinogen, were found in 78 of 294 sunscreen products tested by the online pharmacy Valisure. Benzene has a clear association with the development of some blood cancers, including leukemia, in humans. Benzene contamination was detected in sprays, gels, and lotions with both chemical- and mineral-based formulations, including those from popular brands like Neutrogena, Banana Boat, and Sun Bum, and led to the company urging the FDA to recall those products. In July, Johnson & Johnson voluntarily recalled all lots of five product lines of Neutrogena and Aveeno aerosol sunscreens due to low levels of benzene being found in some product samples.
It's important to note that benzene isn't a sunscreen ingredient and wasn't intentionally put into the products themselves. Instead, the products were likely contaminated during the manufacturing process. However, benzene is classified by the FDA as a Class 1 solvent and should not be used in the manufacturing of drugs or drug products (sunscreen is regulated as a drug by the FDA), according to Garshick.
"At this time, it is best to avoid the specific recalled products listed and it is important to remember it does not apply to all sunscreens or even to other products within the same brands found to have benzene detected in [them]. Of the products tested, there were many confirmed to have no benzene present, so for now, it is best to stick with those sunscreens until we learn more," she says.
The Valisure report also noted that certain sunscreen chemicals and benzene pose a serious environmental risk including to marine ecosystems. According to the National Ocean Service, the chemicals threaten coral reefs, fish, dolphins, and other marine life by accumulating in their tissues and other bodily systems. Hawaii and some countries have banned the use of sunscreens that contain chemicals known to harm coral reefs. However, the term "reef friendly" isn't regulated, so it's best to check active ingredients, according to Save the Reef, which provides a list of substances that are harmful to marine life.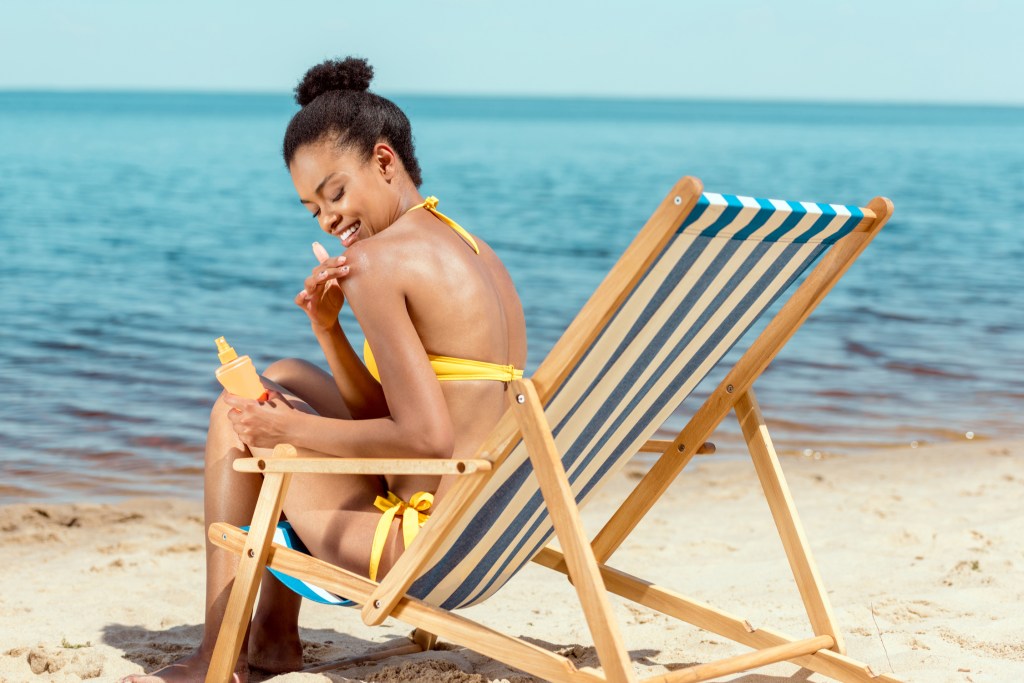 The latest in sun protection
Because cumulative sun exposure contributes to both skin cancer and skin aging, it's important to wear sun protection daily year-round, even if you aren't going outside, says Garshick. "It is important to remember even when indoors or driving as UVA can penetrate window glass," she adds.
Garshick advises looking for products with SPF 30 or higher that provide broad-spectrum coverage against UVA and UVB rays to protect the skin from sunburn, sun damage, skin cancer, and signs of photoaging such as brown spots, fine lines and wrinkles.
Some of the newest sun protection products combine SPF with skin-boosting ingredients, such as Kate Somerville Daily Deflector Mineral Sunscreen SPF 40, which contains ceramides, vitamin E, ecotin, and other ingredients to restore the skin's protective barrier and combat against signs of aging. If you have sensitive or breakout-prone skin, or rosacea, CōTZ Flawless Complexion SPF 50 dishes out mineral sun protection in a sheer, lightweight, non-comedogenic tinted vanishing cream. For extra protection, you can try a makeup product with SPF, such as Inika Loose Mineral Foundation SPF 25 that can be worn alone or over foundation to even skin tone and provide sun protection. And don't forget to use an SPF product on your lips — you can get skin cancer and sun damage there, as well.
Other new sun-safe finds target groups that may be less likely to use sun protection. Though light-skinned people get skin cancer at a much higher rate than those with darker skin, research shows that in patients with skin of color, the disease is often diagnosed at a more advanced stage, when it's more difficult to treat, making sunscreen a must. AbsoluteJOI, a skincare line designed for melanin-rich skin and darker skin tones, has a Daily Hydrating Moisturizing Cream with SPF 40 Mineral Sunscreen, that combines makeup, moisturizers, and sun protection, and also calms acne and protects against breakouts.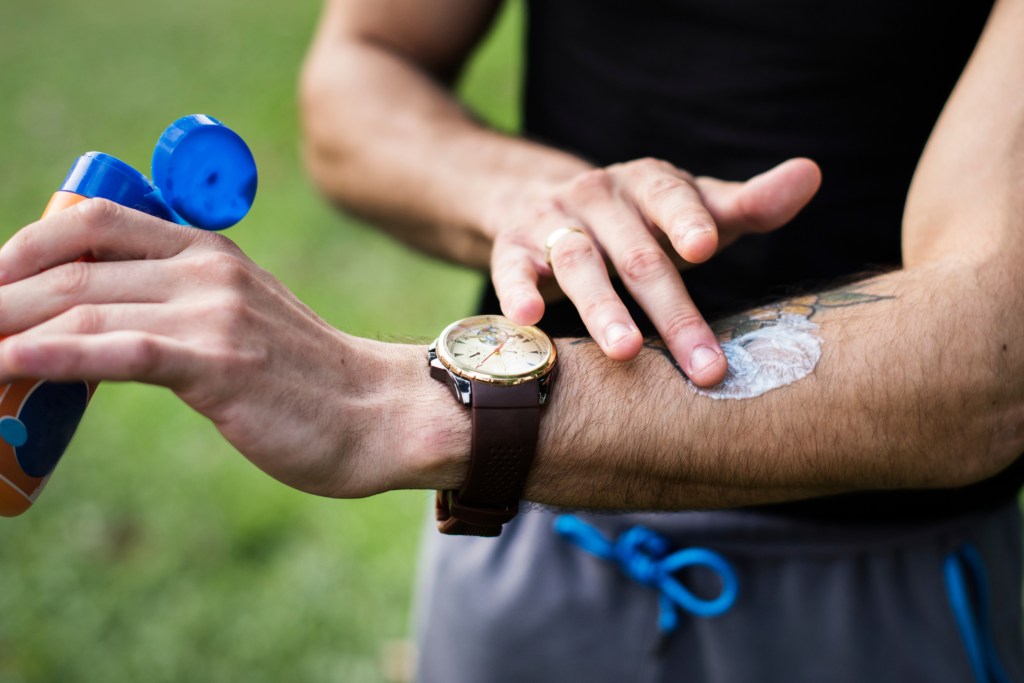 Men can also be known to overlook wearing sunscreen, but male skincare companies have added products to the lineup, such as the ocean- and reef-safe Every Man Jack Face Shield Sun Protection Stick in SPF 50.
And, for outdoor lovers who know all about the double summer whammy of sun and bugs, Avon has combined its famous Skin so Soft sunscreen with its DEET-free Bug Guard Plus formulas in a line of lotions, sprays, and towelettes that offer two-in-one protection against UV rays and insects including mosquitoes and deer ticks.
Word of advice: If you use any of these convenient multi-taskers, remember to read the label and use as directed. "These other products that may contain SPF only provide the SPF indicated on the label if enough is applied, so it is important to follow the rules for sunscreen application when using these types of products to ensure proper SPF benefit," says Garshick.
BlissMark provides information regarding health, wellness, and beauty. The information within this article is not intended to be medical advice. Before starting any diet or exercise routine, consult your physician. If you don't have a primary care physician, the United States Health & Human Services department has a free online tool that can help you locate a clinic in your area. We are not medical professionals, have not verified or vetted any programs, and in no way intend our content to be anything more than informative and inspiring.
Editors' Recommendations