For most of us, it's been a long, cold winter. Now, warm weather is finally here, and that certainly gives us something to smile about. However, months of frigid air outside and dry air inside, along with regular mask-wearing, can do quite a number on our lips. Now that the sun is shining and experts are saying it's okay to go without your mask in certain settings, your pout is probably ready for some TLC. Here's everything you need to know about how to revitalize, nourish and protect your lips — so the only way they'll be cracking is in a smile.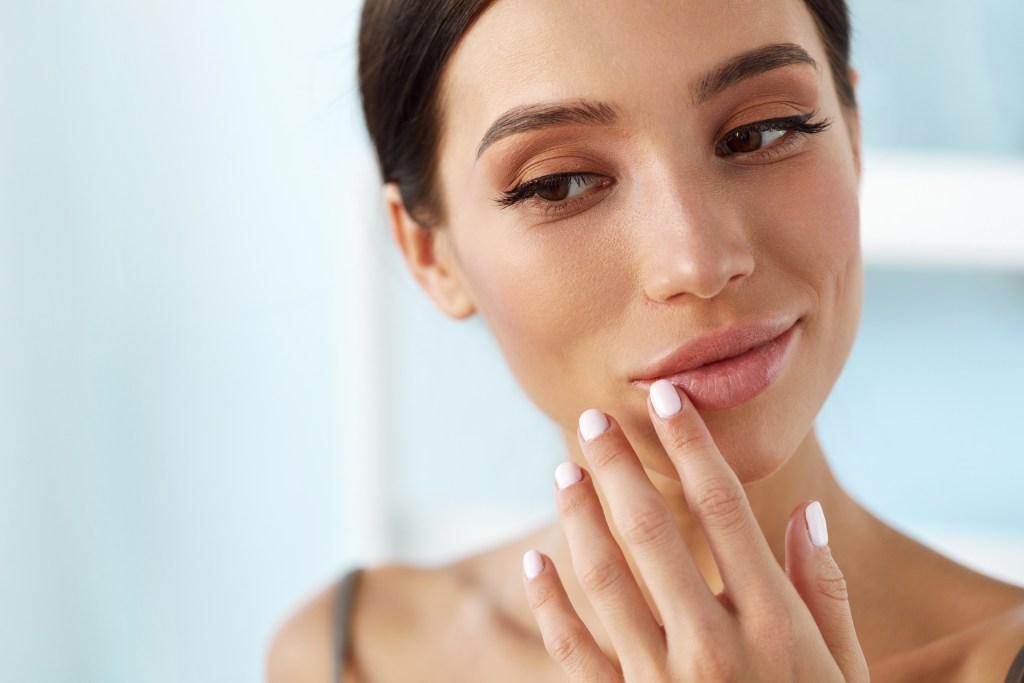 What the sun and cold do to our lips
Ever wonder why your lips get so dry and cracked in the winter? Turns out they are quite delicate, according to Dr. Gretchen W. Frieling, a dermatopathologist in Wellesley, Mass. "Lip skin is very thin, like the skin under our eyes," she says. "There are also no sebaceous (sweat) glands in the lips, so they don't produce moisture and can't hydrate on their own. That's why lips are so prone to dryness."
The lips are lined with mucous membranes, which allows more evaporation of moisture than other areas of the body, according to Dr. Stuart H. Kaplan, a dermatologist in Beverly Hills, Calif. "This is why one of the first things you notice when you are in unusually dry weather is that your lips are very dry. Winter season is especially damaging to lips because of wind and air with less humidity," he says.
Medications such as antihistamines, diuretics, and topical acne meds can also cause lip dryness, says Frieling. And, though wearing masks during the pandemic protects our health, it can also cause skin irritation, and lead to very dry lips due to poor air circulation, according to Kaplan.
"Lips don't like extremes, whether it's extreme dryness or extreme enclosed moisture" from wearing masks, says Frieling.
If your lips are dry, "self-moisturizing" by licking your lips only makes it worse. "When we lick our lips, the saliva evaporates and takes more moisture with it, making our lips even dryer, so it's a cycle that continues," says Frieling.
While most of us realize cold air wreaks havoc on our lips, many aren't aware that the sun is an even bigger threat. "I would rank UV damage as the biggest issue since this not only causes premature skin aging — including dryness, wrinkles, and hyperpigmentation — but skin cancer as well," says Kaplan, who's also an assistant clinical professor of medicine at UCLA Medical Center, and an assistant clinical professor of dermatology at West Los Angeles Veterans Hospital. "Patients are often shocked when I diagnose a little brown spot on their lips, or a scab on the lips that never seems to heal, as a skin cancer."
Though skin cancer on the lips is rare and accounts for less than 1% of all skin cancers, according to Frieling, Kaplan says having a practice in sunny southern California means it's something he sees regularly. Skin cancer on the lips is more common in men, Caucasians, and on the lower lip, says Frieling. Both doctors say if you notice any spots, moles, bumps, ulcers, or sores on your lips — especially if they bleed or don't heal — to see your dermatologist right away.
Steps to a smile-worthy pout
Keeping your lips healthy and looking good isn't difficult as long as you take several key steps. They include:
Hydration
Using a hydrating lip product several times daily is a must to bring needed moisture to your lips. Frieling says to look for ingredients such as beeswax, ceramides, and petrolatum. Natural ingredients that do the trick include aloe, cucumber, and green tea, all of which have antioxidants and are anti-inflammatory; coconut oil, which has anti-inflammatory and emollient properties; and honey, which is antioxidant and antibacterial. Many lip balms combine hydrating ingredients, such as Vaseline Lip Therapy tins with varieties that include aloe or cocoa butter along with petrolatum, and LUSH Honey Trap Lip Balm, which combines beeswax, and cocoa and shea butters with other natural moisturizers.
CBD has also found its way into lip products and can be an option for its anti-inflammatory and soothing properties, says Frieling. If you want to give CBD a try on your pout, FLOWER Beauty (founded by actress and talk show host Drew Barrymore) Chill Out Lip Glaze combines hemp-derived cannabis sativa oil with coconut and other plant-based oils. It comes in six shades.
Finally, Frieling says to avoid lip products that contain drying alcohols, such as ethyl alcohol or SD alcohol, added fragrances, or menthol, camphor, phenol, and mint, all of which can exacerbate dryness.
Sun protection
To avoid skin cancer, you want to use a lip product that contains an SPF 30 or more and wear it year-round because UVA rays can penetrate through clouds, says Kaplan. Many brands, from low-cost drugstore finds to high-end exclusive brands, have added SPF to their lip products.
Kaplan does warn to avoid wearing lip products with castor oil and petroleum jelly outdoors if they don't contain sunscreen because they can exacerbate sun damage to the lips, much like "frying your lips in oil."
"Lip moisturizers without sunscreen will magnify the effects of UV light, without providing any sun protection," he adds.
Exfoliate
Though lip scrubs are all the rage, Frieling says they should only be used if you have dry, flaky lips, and no more than two to three times per week. Look for scrubs that combine exfoliants with moisturizers, such as LUSH Honey Lip Scrub, with a combination of honey, jojoba oil, and white chocolate made from cocoa butter; or FLOWER Beauty Petal Pout Lip Scrub, which mixes ultra-fine sugar crystals with a softening blend of coconut oil and cocoa butter.
Kaplan says he actually prefers a lip mask that uses fruit enzymes over a lip scrub to remove dry, flaky skin because the enzymes break up and dissolve skin instead of physically exfoliating.
If your lips are continually dry, scrubs and masks can be a good way to help things along, but the bottom line is you should be drinking more water and using a humidifier, says Frieling. "Hydrators don't work overnight, so exfoliators can help," she says. "But you're not getting to the cause; you're remedying the symptoms. You need hydration."
Plump up
Although this step is optional, our lips thin as we age, and lip plumpers can be an easy way to restore fullness. If last time you tried one, you felt like you'd been stung by a bee, you'll be happy to learn formulations have evolved. Those old-school products actually caused a mild allergic reaction on the lips, which could lead to irritation and redness, according to Kaplan. Today, it's all about hyaluronic acid, which adds instant moisture, and ceramides, which stimulate collagen over time. "That way, you get immediate and long-term effects," adds Frieling.
Peptides and vitamin E are two other often-used plumping ingredients. Theraderm Anti-Aging Lip Complex combines both of those ingredients with avocado oil and can be used daily. Or, if you like a pop of color, Lancôme L'Absolu Rouge Drama Ink Liquid Lipstick combines hyaluronic acid with rose oil and comes in 13 shades.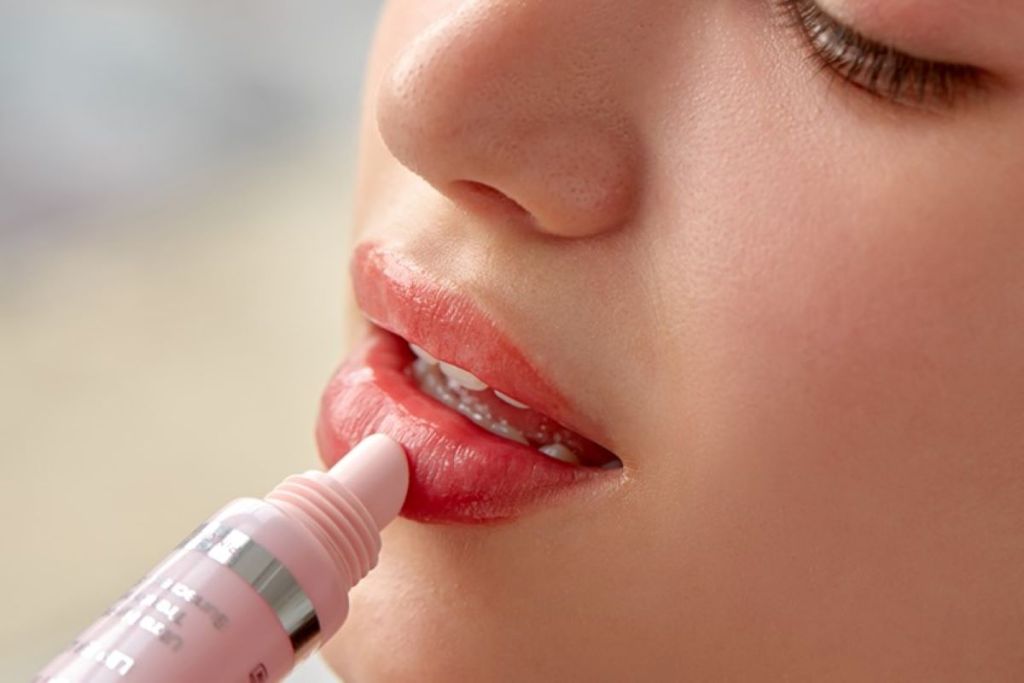 Multitasking products: Your lips' new best friend
If you don't have the time or money to invest in multiple lip products, the good news is, you don't have to. Today, it's all about multitasking products. For example, Frieling's own line, Soyier Skin Collection, offers the Levres Pure: Precision Plumping Lip Polish with two types of hyaluronic acids, ceramides, hydrating ingredients, and SPF 30, to create an all-in-one hydrator, plumper, and sun protector.
Kaplan also designed lip products to address multiple concerns. Kaplan MD Perfect Pout Lip Balm moisturizes, plumps, and has an SPF 30. Hydrating and plumping ingredients were combined with papaya enzymes in the Kaplan MD Perfect Pout Lip Mask.
"I made this lip mask for patients who not only suffered from dry lips, but also wanted fuller lips," he says. "Especially as we age, our lip contour flattens, which is why lipstick bleeds on older people."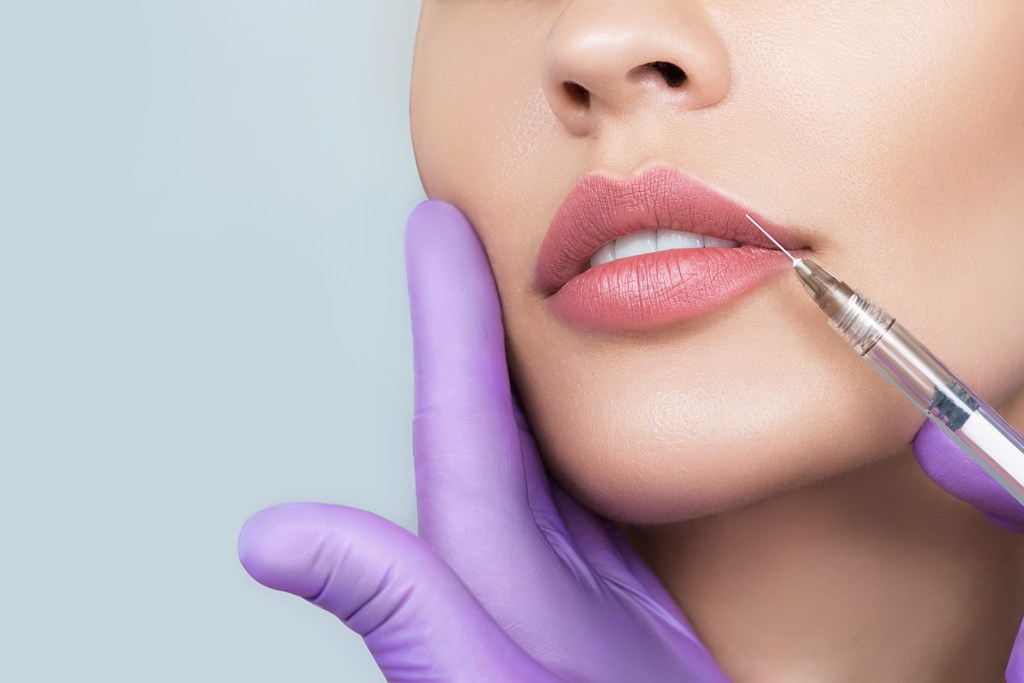 If you want to take things up a notch
If you want to enhance your lips beyond what a plumping product can do, your derm can use a hyaluronic-acid-based filler to do the trick, says Frieling. "I give the analogy of going from a raisin to a grape," she says. "Fillers can restore lost hydration and natural volume without overfilling."
To avoid an overdone look, it's important to treat both lips, says Kaplan. "Remember, our lower lip is naturally larger than our upper lip," he says. "If you only treat your upper lip and make it too large, it will not look natural. I believe the best way to enlarge lips is to make them look fuller, but always balanced with the rest of your face."
One treatment can run from $500 to $2,000 depending on where you live and who you go to for the procedure, says Frieling. Results should last eight to 12 months, depending on your age, metabolism, if you smoke, and other factors, she adds. Just make sure to go to a qualified provider and do your research — procedures like these are not where you want to look for a bargain.
Cold weather, dry indoor air, mask-wearing, and certain medications can all contribute to dry, cracked lips. The sun can also cause major damage. Hydrating and using SPF 30 or higher daily are keys to healthy lips. Exfoliators, such as scrubs and masks, can combat dryness, while lip plumpers can add fullness. Look for effective ingredients while making lip care part of your daily routine, and you'll have a smile that shines all year.
BlissMark provides information regarding health, wellness, and beauty. The information within this article is not intended to be medical advice. Before starting any diet or exercise routine, consult your physician. If you don't have a primary care physician, the United States Health & Human Services department has a free online tool that can help you locate a clinic in your area. We are not medical professionals, have not verified or vetted any programs, and in no way intend our content to be anything more than informative and inspiring.
Editors' Recommendations