Working from home certainly has its plus sides. Living in yoga pants is already a great perk, and not having a hectic commute every morning is just icing on the cake.
There is one drawback, though: You're on your own for lunch. Without catered in-office lunches or colleagues to grab a bite to eat with, the lunch hour can feel surprisingly daunting and maybe even isolating. Though you may not be able to whip up a meal that's quite as good as your favorite place to eat out, there are tons of midday meal ideas that taste delicious and are nutritious enough to keep you energized for the rest of the workday. Get ready to chow down on these fantastic under-400 calorie recipes that will have you enjoying your favorite healthy lunches at home.
Hummus wrap
If you're looking for simple but tasty lunch recipes, look no further than this hummus wrap from The New York Times. Instead of buying hummus at the grocery store, make your own with the help of a food processor. Making hummus at home may be more time-consuming, but it can cut down on the added sodium, which reduces blood pressure and increases heart health. The hummus keeps three to four days, so you can also share it with family members or get a couple of easy lunches and snacks for the week out of one batch.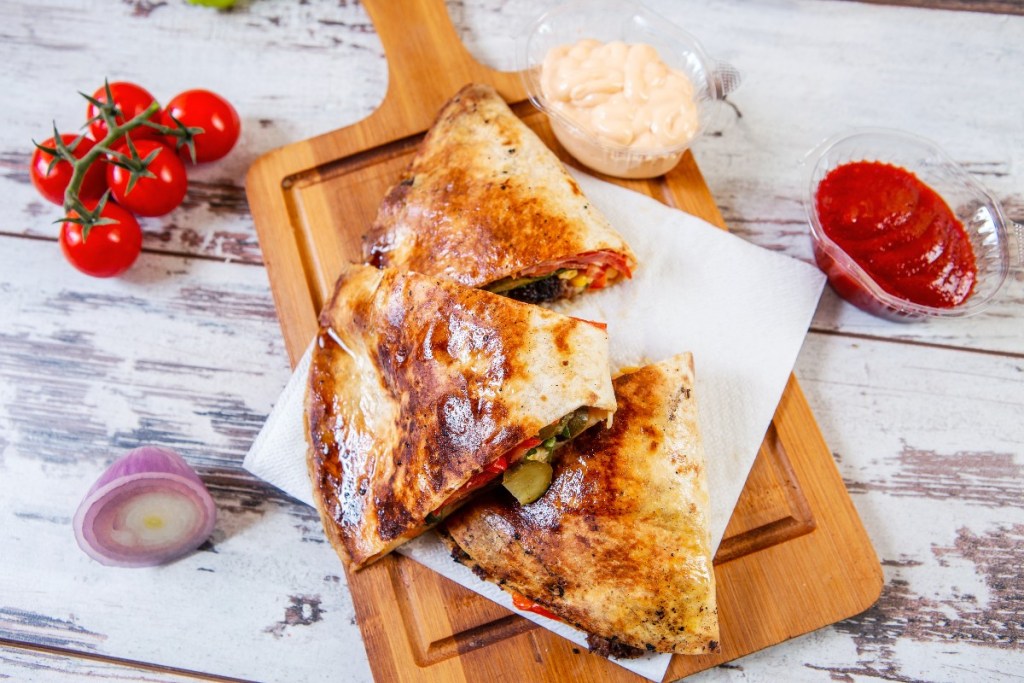 Toaster-oven quesadillas
Quesadillas are easy to whip up, but they're often full of cheese, sour cream, flour tortillas, and other ingredients that aren't the world's most nutritious items. This recipe from Eating Well has an alternative recipe that loads up on peppers, avocados, and only a quarter cup of cheese. In all, it only contains about 336 calories.
Greek salad sandwich
Salads are a light, healthy lunch, but they often lack the carbs we need to stay energized. This Greek Salad sandwich recipe from The New York Times gives you the best of both worlds: a ton of veggies as well as complex carbs, courtesy of whole-wheat English muffins. The sandwich calls for tomatoes, a hydrating fruit that reduces inflammation, as well as cucumbers, which can regulate blood sugar. This recipe makes two servings, and with each serving is only 176 calories, you may need to consume both to gain enough energy for the day.
Kidney bean, red onion, and tomato salad
This recipe from The New York Times bucks the notion that salads are just overhyped plates of lettuce. The kidney beans in this recipe provide protein and fiber to keep you full, as well as folate to help your body produce healthy red blood cells. To assemble this sandwich, first, combine the onions and vinegar. Then, halve the cherry tomatoes, sprinkle with a little salt, and mix in the kidney beans, onion mixture, and olive oil. Toss the fixings together, and you're ready to eat another one of your easy lunches at home. The recipe contains 301 calories and makes six servings, making it easy for meal prep or a small group appetizer.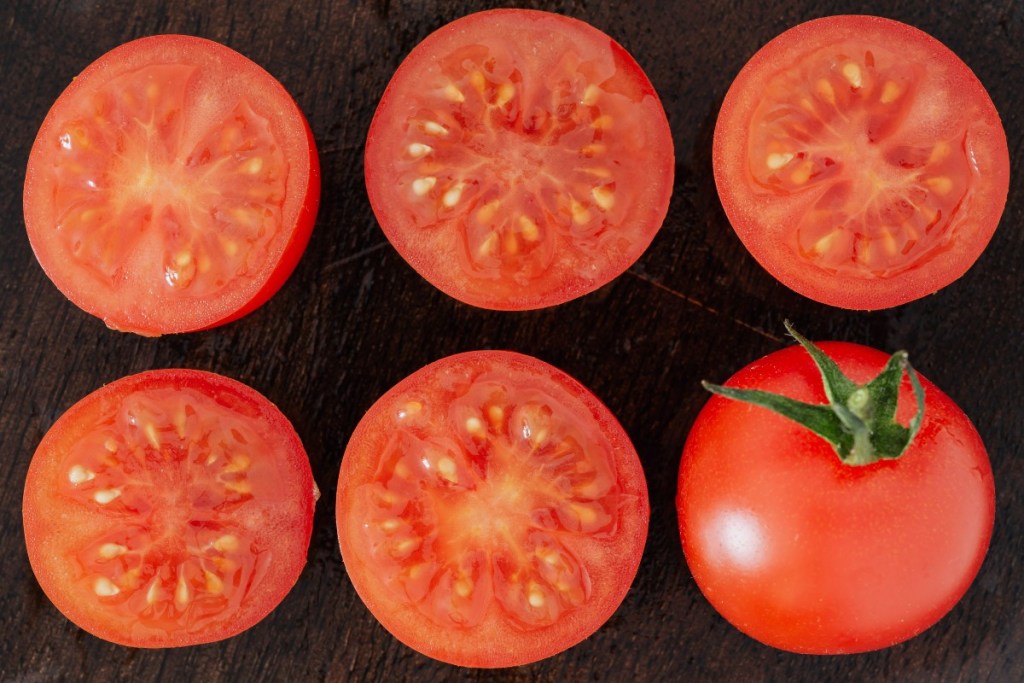 Healthy toasted tomato sandwich
If you barely have fifteen minutes between Zoom calls for lunch, this six-minute recipe from Spruce Eats will ensure you get a healthy bite to eat. It calls for two slices of whole wheat bread, one medium tomato, a quarter of an avocado, and some salt and pepper to taste. Once you have all the ingredients, all you have to do is lightly toast the bread, slice the produce, add some seasoning, and enjoy.
Edamame hummus wrap
We highly recommend this edamame hummus wrap from Eating Well for vegetarians and anyone else looking to cut their meat intake. It calls for plant-based protein sources of chickpeas and edamame, both of which are heart-healthy, fibrous ingredients that may lower cholesterol and protect against breast cancer. The wrap takes 35 minutes to whip up, in part because you'll be making your own hummus. You can cut down on this time tremendously by buying this spread in advance.
Lunch ideas can be surprisingly difficult. Since this meal falls in the middle of often busy days, we tend to resort to fast food and other quick meal sources to satiate our appetites. However, there are plenty of ideas for healthy lunches at home that are simple, delicious, and take just a few minutes to make. All of these recipes are also healthy, low-calorie meals so you can indulge in decadent meals without the calorie-counting guilt.
BlissMark provides information regarding health, wellness, and beauty. The information within this article is not intended to be medical advice. Before starting any diet or exercise routine, consult your physician. If you don't have a primary care physician, the United States Health & Human Services department has a free online tool that can help you locate a clinic in your area. We are not medical professionals, have not verified or vetted any programs, and in no way intend our content to be anything more than informative and inspiring.
Editors' Recommendations