It's soup season! While there are tons of great spring and summer soups, the warm and hearty nature of soup is the perfect easy meal for chilly days. Soups are usually simple to make on the stovetop or in a crockpot and are endlessly variable using different combinations of meats and vegetables. Three of our favorite types of soups are chicken, beef, and vegetable, simply because there are so many recipes to try. If you love soup and are ready to say goodbye to store-bought canned meals, keep reading. Here are the eight best hearty soup and stew recipes you should cook this season.
Easy soup recipes for chicken lovers
Chicken noodle soup seems to get all the love, but there are so many delicious chicken soup and stew recipes to add to your repertoire. These three are some of our all-time favorites. If you're in the mood for Asian cuisine, check out this recipe from Damn Delicious for Thai Green Curry Chicken Soup. The dish is loaded with tasty ingredients like ginger, snow peas, lime juice, cilantro, and rice noodles.
You may also enjoy this Easy Chicken Posole recipe from Allrecipes. This Mexican staple is made from chicken and hominy and relies on onion, garlic, and chili powder for its fantastic taste. If you're tired of tacos on Tuesdays, swap them out for this soup and you'll get no complaints from the family.
Chicken Quinoa Soup is another filling and delicious option. This recipe from Chelsea's Messy Apron recommends using a crockpot, so all you have to do is toss in the ingredients and wait. The dish uses Italian herbs, like garlic, oregano, and thyme, to flavor the chicken and vegetables in the soup. For an extra boost, try using sprouted quinoa instead of the standard version.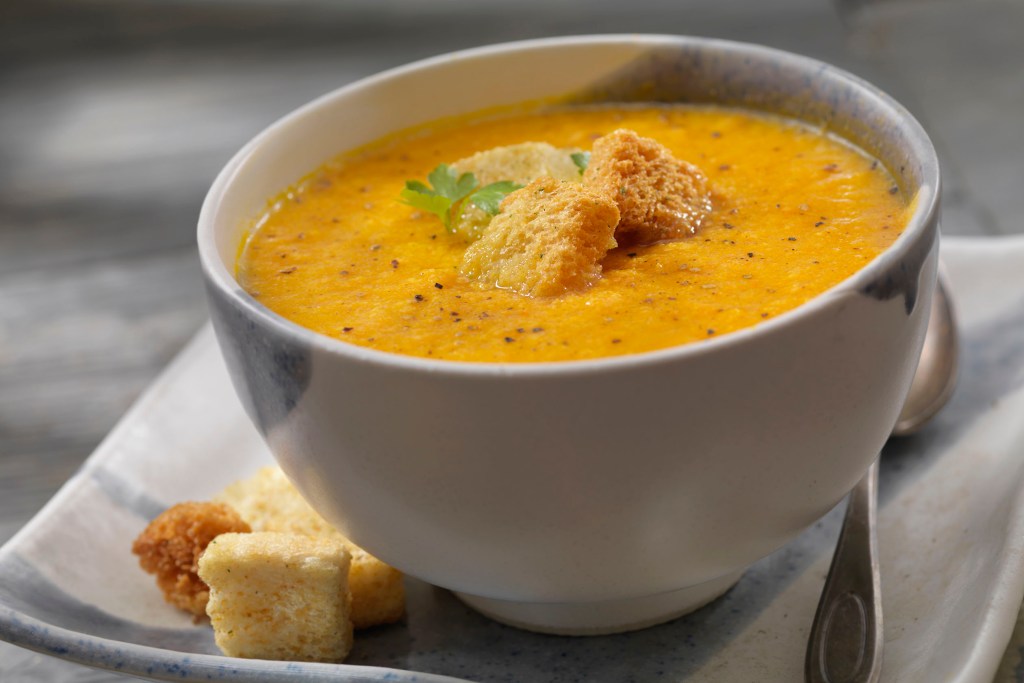 Best vegetable soup recipes
Hearty vegetables like squash and cauliflower come into season during the colder months of the year. With these seasonal flavors, you can make tons of delicious, filling soups like these three. To make these dishes vegetarian, replace the chicken broth with vegetable broth; it won't have a significant impact on the overall flavor of the soup.
One of our favorite recipes combines two autumn produce essentials, butternut squash and apples, to create the perfect seasonal veggie soup. Try out this comforting recipe for Butternut Squash Apple Soup with Sage Parmesan Croutons from Well Plated.
If you prefer creamy, cheesy, and dairy-filled soups, this recipe from Whole and Heavenly Oven is for you. The Roasted Cream of Cauliflower Parmesan Soup is sure to warm you up on chilly days.
This next soup comes from The Mediterranean Dish. The Creamy Roasted Carrot Soup with Ginger offers a unique twist on the traditional carrot soup, using ginger, garlic, and Mediterranean spices to pack in a ton of flavor.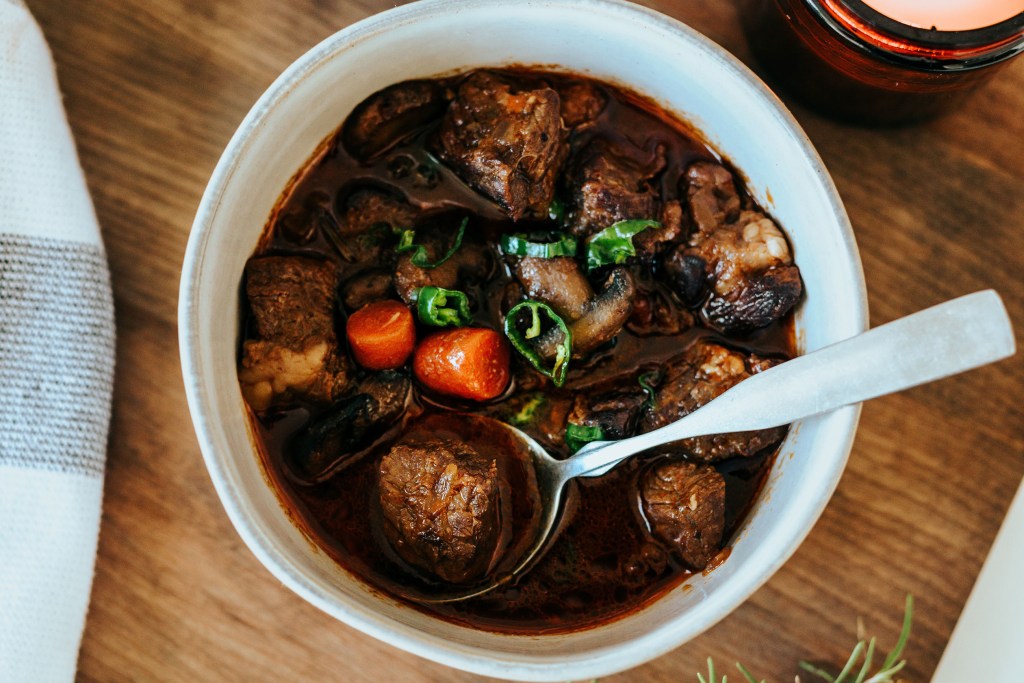 Stew and beef soup recipes
Soups and stews made using beef are typically heavier and more filling, making them great for the colder months. And nothing says cozy winter meal more than Old-Fashioned Beef Stew. The recipe from Insanely Good only requires about 20 minutes of prep time. Plus, the combination of beef stew meat with potatoes, carrots, onion, and celery creates a classic and utterly delicious stew.
How can you make stuffed peppers into a heartier meal? Transform the dish into a soup. Our next favorite beef soup recipe is the Stuffed Pepper Soup from Cooking Classy. It is simple to cook and comes together comparatively quickly with a 40-minute cook time. The crowd-pleasing dish uses ground beef, red and green bell peppers, and plenty of seasoning to create a fall-friendly soup version of the classic dish. The recipe also suggests using low-sodium beef broth. For more tips about switching to a low-sodium diet, check out our recommendations for the best salt substitutions.
These are just eight of our favorite fall and winter soup and stew recipes. They're perfect for lunch or dinner on chilly days. The hearty chicken, veggie, and beef soups will warm you up from the inside out, making you feel cozy and full while the temperature drops outside. Plus, these soups don't require a lot of active prep time, just a bit of patience while the dishes cook. Are you ready to fully embrace soup season? Now is the time to dust off your big pot or crockpot and try out some new soup and stew recipes.
BlissMark provides information regarding health, wellness, and beauty. The information within this article is not intended to be medical advice. Before starting any diet or exercise routine, consult your physician. If you don't have a primary care physician, the United States Health & Human Services department has a free online tool that can help you locate a clinic in your area. We are not medical professionals, have not verified or vetted any programs, and in no way intend our content to be anything more than informative and inspiring.
Editors' Recommendations