A 9×13 pan is essential in any kitchen, especially if you enjoy cooking for others. This large dish isn't just great for making casseroles and holiday favorites, it's also perfect for baking large portion desserts. You can bake a huge sheet cake, tasty dessert bars, and so much more. In fact, there's a sweet treat for everyone that you can create with this baking pan.
Keep reading to discover 10 of the best desserts to make in a 9×13 pan, no matter what kind of sweets you like.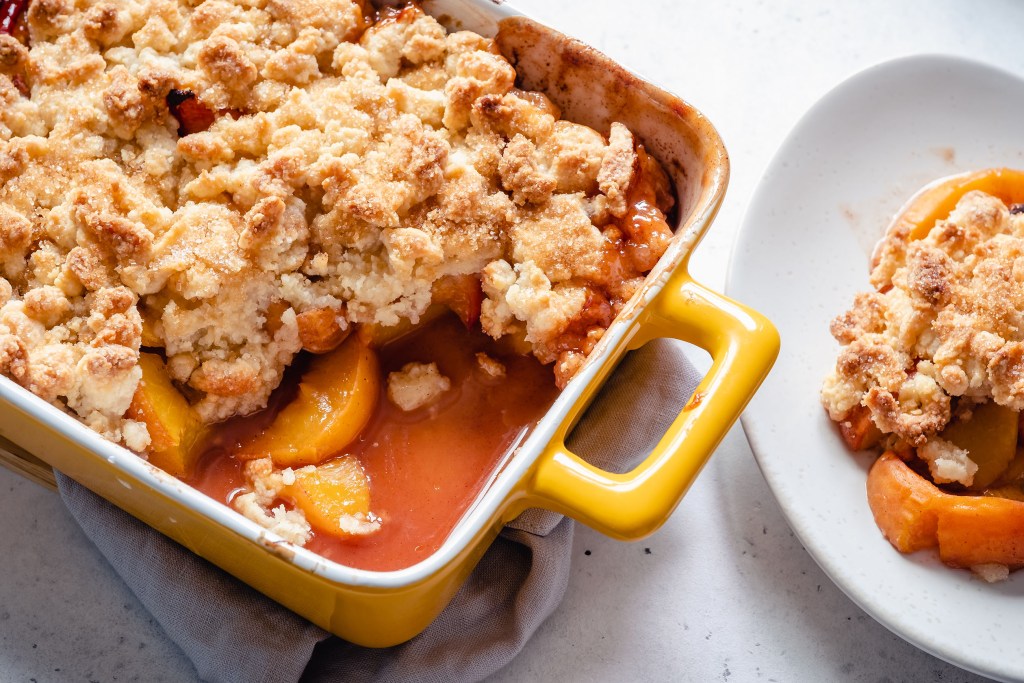 For times you're feeling a little fruity
Fruity desserts are naturally sweet, and the fresh produce offers so much flavor. This list wouldn't be complete without at least one sheet cake recipe, and this Strawberries-and-Cream Sheet Cake idea from MyRecipes is one of the best. The dish is simple to replicate, and the end result is incredibly light and airy. Another classic 9×13 dessert to try is a peach cobbler. This recipe from Tastes Better From Scratch is easy to bake and perfectly encapsulates summer flavors (no matter when you make it).
For chocoholics
Who can resist a decadent chocolate dessert? For a fluffy and indulgent treat, try baking the Chocolate Pecan Delite from Allrecipes. This chilled dessert features a pecan crust, pudding center, and whipped cream topping, which comes together to create a light and tasty treat. You may also love this recipe from Bake or Break for Nutella-Salted Shortbread Brownies. The hazelnut and chocolate brownies sit on a base of shortbread, which offers the perfect combination of sweet and salty.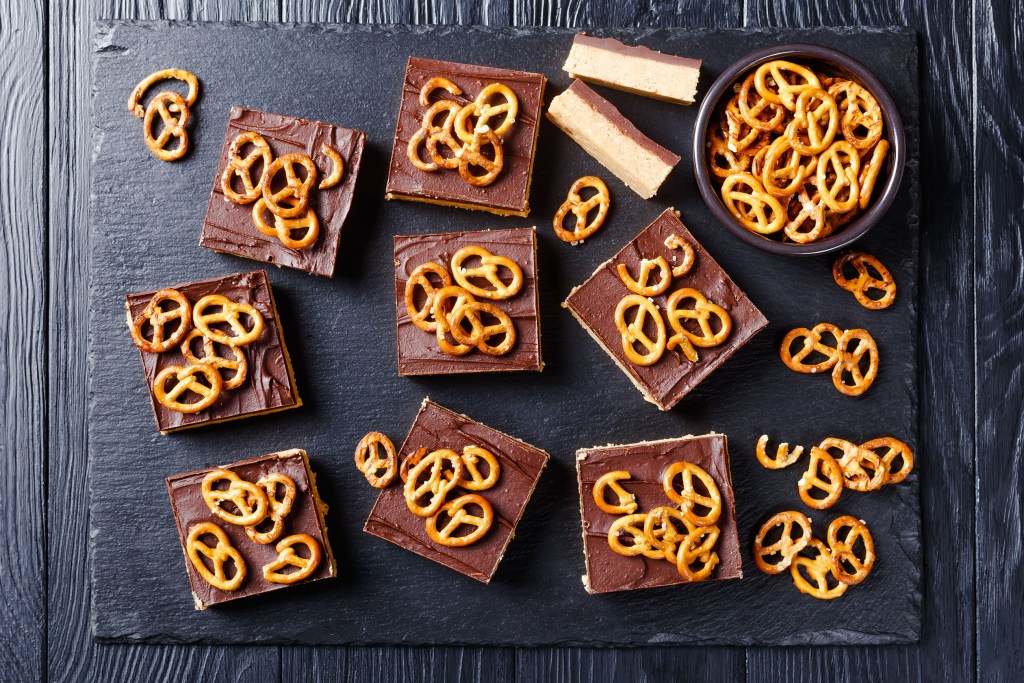 For days when you need a quick treat
If you need to whip up a dessert fast or your oven is otherwise occupied, these no-bake desserts are simple, quick, and delicious. Sweets that don't need to be baked typically take less than half an hour of active cooking and a little bit of time in the fridge to set. What could be better on a lazy afternoon?
Peanut butter and chocolate make one of the best flavor pairings for desserts. Add in the crunch of pretzels, and you'll have these incredible Peanut Butter Pretzel Bars from Taste of Home. Make sure to buy extra ingredients because these will not last long in your house. Or, for a cool and refreshing dessert, consider this recipe from Sweet Ordeal for No-Bake Lemon Blueberry Dessert. Lemony pudding and blueberry pie filling top a buttery graham cracker crust.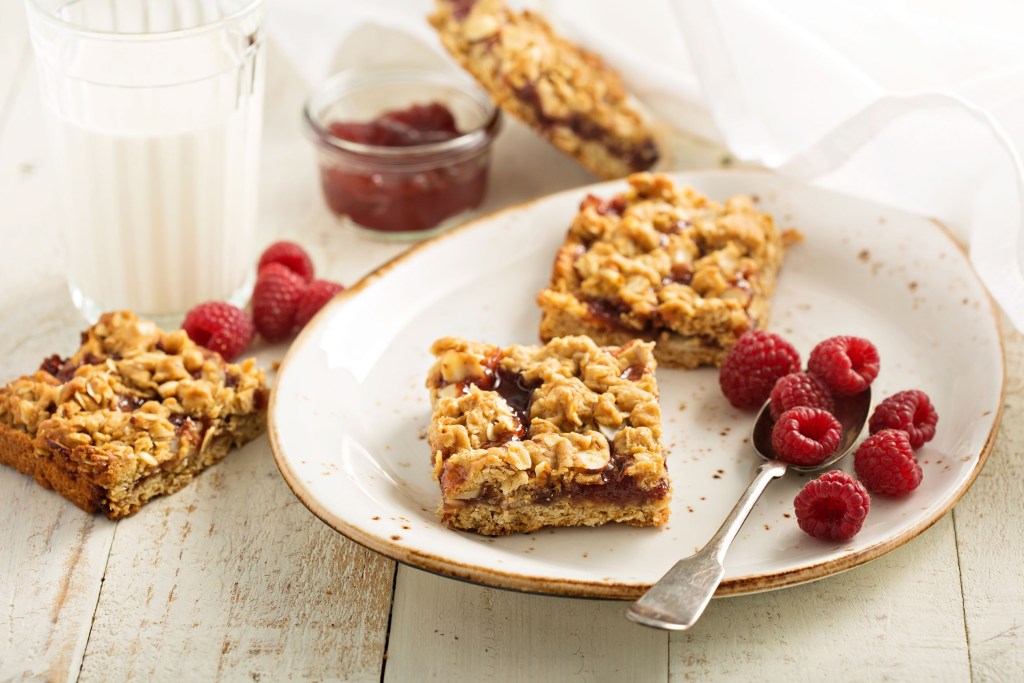 For health-conscious dessert lovers
You can enjoy these healthy 9×13 pan desserts totally guilt-free. These heart-healthy Dried-Fruit Bars from Eating Well are high in fiber and low in sodium. You can include any nuts and dried fruit you prefer in the recipe. And with the large pan, you can make enough bars to last your whole family a week. Those with more of a sweet tooth will love As Easy As Apple Pie's Raspberry Oatmeal Crumb Bar recipe. The bars are filled with raspberry jam and topped with an appetizing oat crumble. They make great for snacks or after-dinner desserts.
For when you have a problem only cheesecake can solve
The Golden Girls were right about a lot of things, especially the healing power of cheesecake. With a 9×13 pan, you can create cheesecake bars, which are easier to portion and make a lot of. This first recipe is super simple; you don't even need to bake it. The No-Bake Lime Cheesecake Bars from Completely Delicious have a tangy flavor thanks to the lime juice and zest. Or, if you prefer a holiday flavor profile, try these Keto Cranberry Cheesecake Bars from The Best Keto Recipes. You don't have to be on the keto diet to enjoy this low-carb treat; the combination of cranberry, pecan, and vanilla is delicious enough for anyone to enjoy.
These are just 10 ideas to inspire your next crowd-pleasing sweet. Regardless of which type of dessert is your favorite, you can make it in a 9×13 pan. From cakes and brownies to cobblers and dessert bars, this large pan will come in handy more often than you think. So dust off your 9×13 dish and start baking for your family and friends today.
BlissMark provides information regarding health, wellness, and beauty. The information within this article is not intended to be medical advice. Before starting any diet or exercise routine, consult your physician. If you don't have a primary care physician, the United States Health & Human Services department has a free online tool that can help you locate a clinic in your area. We are not medical professionals, have not verified or vetted any programs, and in no way intend our content to be anything more than informative and inspiring.
Editors' Recommendations