Everyone adores Trader Joe's Everything but the Bagel seasoning. The salty and savory flavor is perfect for more than just bagels; you can use it to punch up your avocado toast, add crunch to your favorite salad, or season chicken breast. The everything bagel seasoning is available at Trader Joe's stores for only $1.99 or at Amazon for slightly more.
However, it's straightforward and convenient to make at home, too! Using just a few basic ingredients, most of which you likely already have in your pantry, you can use this Trader Joe's bagel seasoning hack. Read on to view the DIY everything bagel seasoning recipe and get a few ideas on what you can make with it.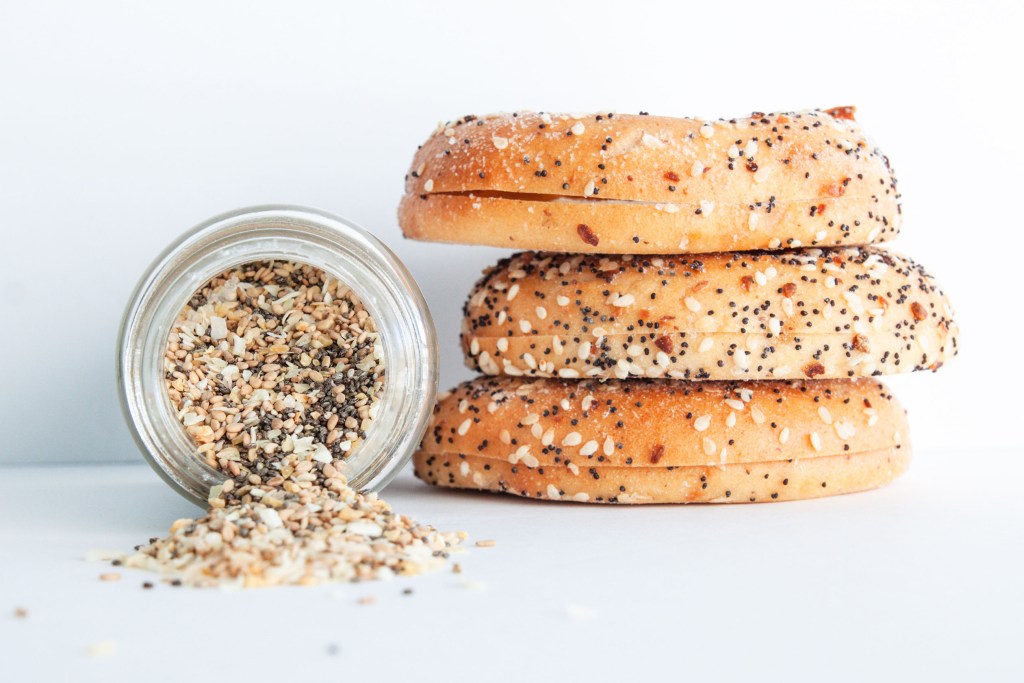 Why is Everything but the Bagel seasoning so popular?
Anywhere you look online, from Instagram to Pinterest, you'll see people talking about the viral product from Trader Joe's. Though people love everything bagels, the Everything but the Bagel seasoning has reached a level of Internet virality that few food products ever enjoy. So why do people go nuts for this seasoning?
Many of the spice blends most vocal fans have been those on the keto diet who, with the help of this seasoning, can enjoy the flavor of an everything bagel without the carbs. Foodies and others on specialty diets like the Whole30, vegan, and gluten-free soon realized how versatile the blend is, adding tons of flavor to any dish it's added to. Thanks to its multipurpose nature, coupled with its affordability and simplicity, Everything but the Bagel blew up, amassing millions of posts on Instagram, TikTok, and Pinterest.
Trader Joe's Everything but the Bagel Copycat Recipe
Ready to make your own version of the Trader Joe's fan-favorite? This recipe was originally posted by 30Seconds Food and uses the same ingredients as the original store-bought version. With this recipe, you can easily replicate the original whenever you please!
Ingredients
• 2 tbsp poppy seeds
• 2 tbsp dried minced garlic
• 1 1/2 tbsp sea salt
• 1 1/2 tbsp dried onion flakes
• 1 tbsp white sesame seeds
• 1 tbsp black sesame seeds
Instructions
As promised, this DIY Trader Joe's Everything But the Bagel seasoning is incredibly simple to make. The recipe makes a little more than half a cup of seasoning. It only takes about two minutes to throw together, and you can easily make more whenever you run out. To begin, add all the ingredients into a bowl and mix to combine. And that's it! Store the seasoning in a spice jar or other airtight container, so it stays fresh until you need it.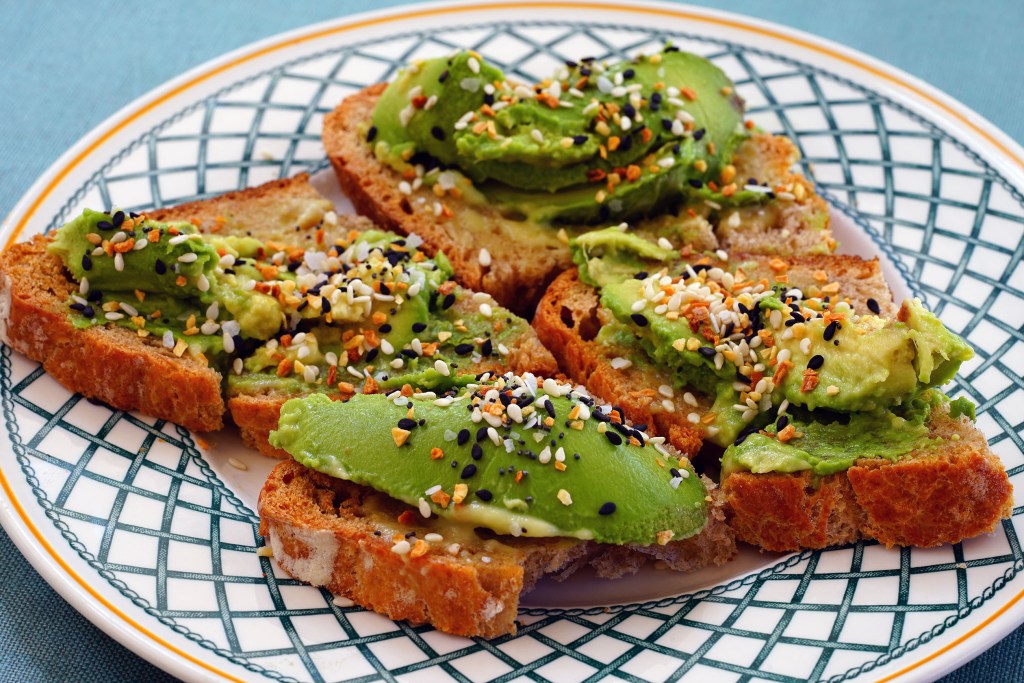 How to use everything bagel seasoning
You don't need to be a baker — or even a bagel lover — to enjoy everything bagel seasoning. The stunning spice blend is incredibly versatile; you can use it to enhance endless savory dishes. Aside from baking everything bagels, here are a few of our favorite ways to use the Everything But the Bagel copycat recipe.
For breakfast: Sprinkle it over avocado toast, eggs, or hash browns, or mix it into waffle batter or overnight oats for a savory twist on these sweet morning classics.
For lunch: Add the salty seasoning to a salad or inside a grilled cheese sandwich.
For dinner: Season your favorite roasted veggies, use it with panko bread crumbs to coat chicken breast, or swirl it into pesto sauce before pouring it over pasta.
For a snack: Use it to top store-bought hummus, sprinkle some on popcorn, or use it to season homemade pita chips.
Baking: To tone down the sweetness in some of your home-baked favorites, consider adding the seasoning to shortbread cookies, biscuits, and cornbread, or using it to top freshly baked hamburger buns.
Everything bagel seasoning is a must-have in any kitchen. And while Trader Joe's Everything But the Bagel seasoning is the internet's new favorite spice blend, the seasoning is simple enough to make at home. With just poppy seeds, sea salt, garlic, onion, and black and white sesame seeds, this incredible seasoning adds a flavor punch to just about anything. Blend this delicious seasoning at home and see firsthand why everyone raves about everything bagel seasoning.
Editors' Recommendations