Your mom was wrong — you can eat cake for breakfast! Baked oats are giving avocado toast a run for its money for the title of best trendy breakfast food. #Bakedoats have exploded on TikTok with over 623.4 million views at the time of writing and tons of how-to videos for different variations on the recipe. TikTok has quickly become our go-to site for new recipes, and this one does not disappoint. You only need a few basic ingredients, a blender, and some ramekins or a muffin tin to try out this tasty treat. Read on to learn more about TikTok baked oats, their health benefits, and how to make them at home.
What are baked oats, and why are they so popular?
When you think of oats for breakfast, you probably imagine oatmeal, granola, or something of the like. But this dish could not be further from it. Baked oats are fluffy and cake-like, more similar to an oat-based muffin than mushy oatmeal. This texture is thanks to the blender, which delivers a super smooth and airy batter that is endlessly versatile.
With just a cursory glance at TikTok, you'll see tons of different takes on this basic recipe, with some home cooks adding chocolate or fruit, and others creating varieties like strawberry cheesecake and birthday cake. Plus, this breakfast is a super filling dish with lots of fiber and not a lot of sugar. What's not to love?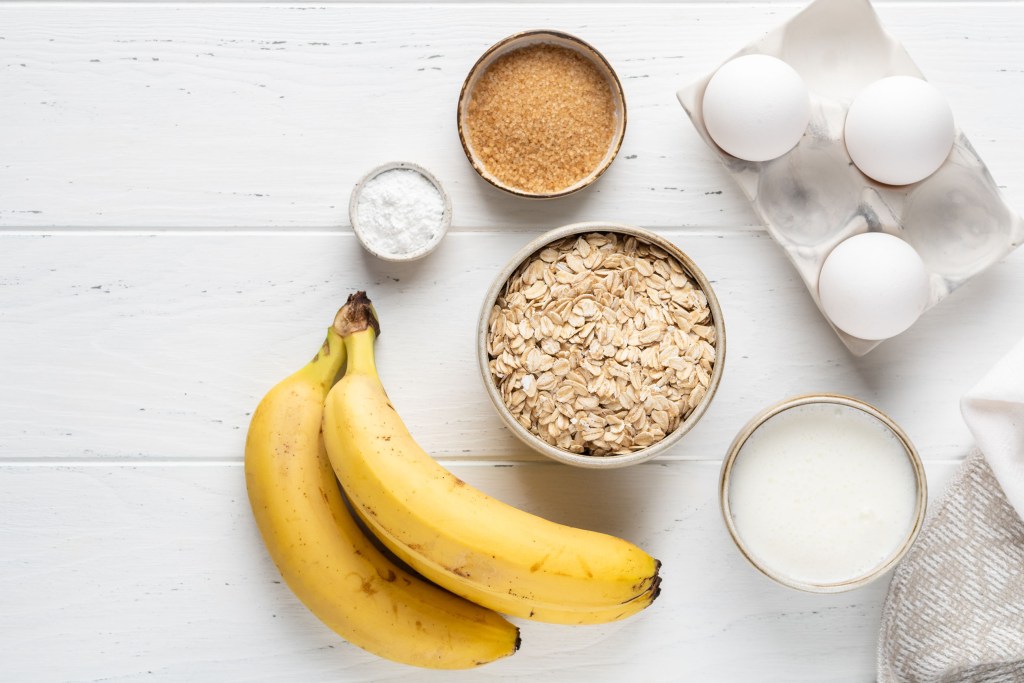 Health benefits of baked oats
Despite having the texture and flavor of cake, baked oats are pretty healthy. Nutritionally, they're similar to standard oats, which are naturally gluten-free whole grain. Oats are an excellent source of soluble fiber and carbohydrates, both of which make you feel fuller and more energized, two great characteristics of any breakfast.
Baked oats also make a great addition to your skincare routine, keeping your skin as smooth as a baby. Oats have anti-inflammatory properties, which can reduce wrinkles and other visible signs of aging. This is why oatmeal is such a popular ingredient in a lot of skincare products, as it can have as much of a positive impact when eaten as when applied directly to your skin.
How to make TikTok baked oats
Ready to try out baked oats? Try out this basic recipe first, and once you're comfortable with the simple version, start experimenting with new and interesting flavor combinations. Just be sure to share your creation on TikTok!
This recipe comes from Savory Nothings and produces one serving of baked oats.
Ingredients
1/2 cup rolled oats
1 ripe medium-large banana
1 large egg
1 tbsp honey or maple syrup
1/2 tsp baking powder
1 pinch salt
Instructions
Preheat the oven to 350 degrees Fahrenheit.
Spray an eight-ounce ramekin or muffin tin with non-stick spray.
Add all of the ingredients to the blender and mix until completely smooth.
Pour the mixture into your ramekin or tin.
Bake for 20 minutes or until the batter has grown and cooked through. Enjoy while hot for the best flavor.
Flavor combos to try out
Ready to upgrade your breakfast? Check out some of these fun variations that are sure to add more fun and flavor to your breakfast creation.
Chocolate chip and peanut butter from Eating Bird Food: Add 1 tbsp peanut butter and 1/4 cup almond milk to the mixture, then stir in chocolate chips before putting in the oven.
Blueberry muffin from TikTok user @amberkhealth: Incorporate almond milk, vanilla extract, and blueberries into your recipe.
Coffee Cake from TikTok user @traceoats: This variation adds cinnamon and coffee to the recipe, plus a tasty crumble topping.
https://www.tiktok.com/@tracesoats/video/6939171587195260166?_d=secCgYIASAHKAESMgowNXr32Et03B3kBEf4iHz2O5%2BHQdFAkAiCb8BTKGyLtPx%2BA5e3BZMaAjgiiMrf7ozrGgA%3D&language=en&preview_pb=0&sec_user_id=MS4wLjABAAAAWjhN_SHEHZ19HphjMWqR-R6-YbVhEgoxLeIAXW9X4LUCJ93HOn6TfvUeAGWOmUM6&share_app_id=1233&share_item_id=6939171587195260166&share_link_id=AB75C23B-A03D-41E4-AA12-0B8BFA92ECE0&source=h5_m&timestamp=1620178370&tt_from=copy&u_code=dck799hbmjbl8a&user_id=6834811353925403653&utm_campaign=client_share&utm_medium=ios&utm_source=copy&_r=1
Take some time to scroll through the #bakedoats hashtag on TikTok to discover even more ways to take your breakfast game to the next level. Whether you want something sweet or savory, you're bound to find something that'll excite your palate.
If you've always wanted dessert for breakfast, you're in luck. Baked oats are a tasty, versatile, and super healthy breakfast food that will give you all the energy you need to take on the day. If you give this easy recipe a chance, we bet that it will quickly become a staple of your morning routine.
BlissMark provides information regarding health, wellness, and beauty. The information within this article is not intended to be medical advice. Before starting any diet or exercise routine, consult your physician. If you don't have a primary care physician, the United States Health & Human Services department has a free online tool that can help you locate a clinic in your area. We are not medical professionals, have not verified or vetted any programs, and in no way intend our content to be anything more than informative and inspiring.
Editors' Recommendations