Planning for the holidays is so much simpler with Pinterest. The social media site is home to lots of interesting ideas for Thanksgiving desserts (and so much more). We searched all over the website to find the tastiest, simple-to-bake treats for your holiday feast. These six desserts feature classic fall flavors, like pumpkin, apple, and cranberry, but many of them are presented in ways you may not have thought of before. Wow your guests this Thanksgiving with one of these delicious and easy Thanksgiving desserts from Pinterest.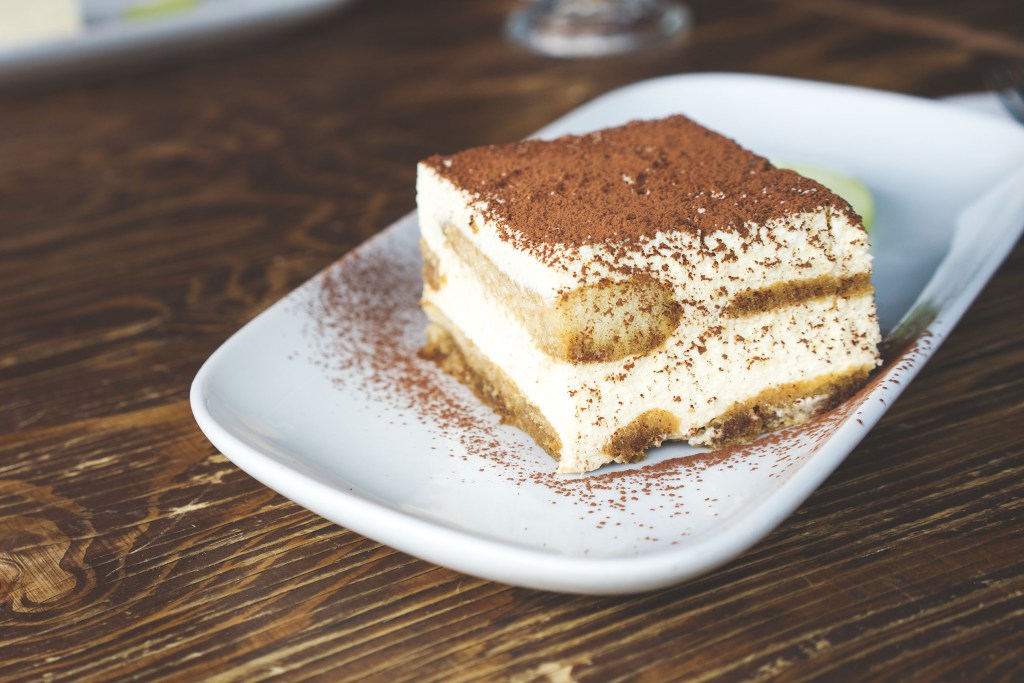 No Bake Pumpkin Spice Latte Tiramisu
Tiramisu and pumpkin spice lattes are a match made in heaven. And this tiramisu recipe is so indulgent and sophisticated, your family will think you spent hours making it.
Ingredients
30-36 ladyfinger cookies
26.5 oz mascarpone cheese
1 2/3 cup whipping cream
4-5 cups strong coffee
1 cup powdered sugar
1 cup canned pumpkin puree
1-2 tbsp instant coffee granules
1/2 tsp pumpkin pie spice
1/4 tsp vanilla extract
Cinnamon
Instructions
In a large bowl, whip the cream until it has stiff peaks, then set it aside. In a separate bowl, whisk the mascarpone, powdered sugar, and instant coffee until combined. Mix in the pumpkin puree, pumpkin pie spice, and vanilla. Gently fold the whipped cream into the mascarpone mixture until it is well combined.
Dip each of the ladyfinger cookies into the coffee briefly and use them to line the bottom of a large 9×13 baking dish. Once the bottom layer is in place, Pour half the cream mixture on top and smooth it evenly. Add one more layer of coffee-soaked ladyfingers and then the remainder of the cream mixture. Chill the tiramisu overnight and sprinkle with cinnamon before serving.
Caramel Apple Dump Cake
The caramel apple dump cake is simple to make and only requires five ingredients. Serve it with a scoop of vanilla ice cream or a dollop of whipped cream.
Ingredients
1 15.25 oz box of yellow cake mix
2 21 oz cans of apple pie filling
1 cup butter (2 sticks), melted
1/4 cup caramel syrup
1 tbsp ground cinnamon
Instructions
Preheat the oven to 350 degrees Fahrenheit. Grease an 8×11 casserole pan and pour the apple pie filling into it. Sprinkle the cinnamon evenly over the pie filling. Then, pour the caramel syrup on top. Dump in the dry cake mix and drizzle the melted butter on top of it. Place the pan in the oven to bake for 50-60 minutes.
Pie Crust Cookies
Don't get rid of your pie crust scraps; turn them into a delicious treat! While you can use pie crust cookies to top your favorite holiday pie, they make a great dessert on their own, especially when paired with a tasty dessert dip.
Ingredients
1 unbaked pie crust, chilled
1 large egg
1 tbsp milk or water
Cinnamon
Sugar
Instructions
Begin by preheating the oven to 350 degrees and prepping a baking sheet with parchment paper. Roll out the dough on a lightly floured surface until it's about an eighth of an inch thick. Then, use your favorite fall cookie cutters to make your cookies the desired shapes. Place the finished pieces on the baking pan. Whisk the water and egg together and brush the tops of the cookies with the egg wash. Sprinkle them with cinnamon and sugar. Bake for 8-12 minutes, or until the crust is flaky and golden brown.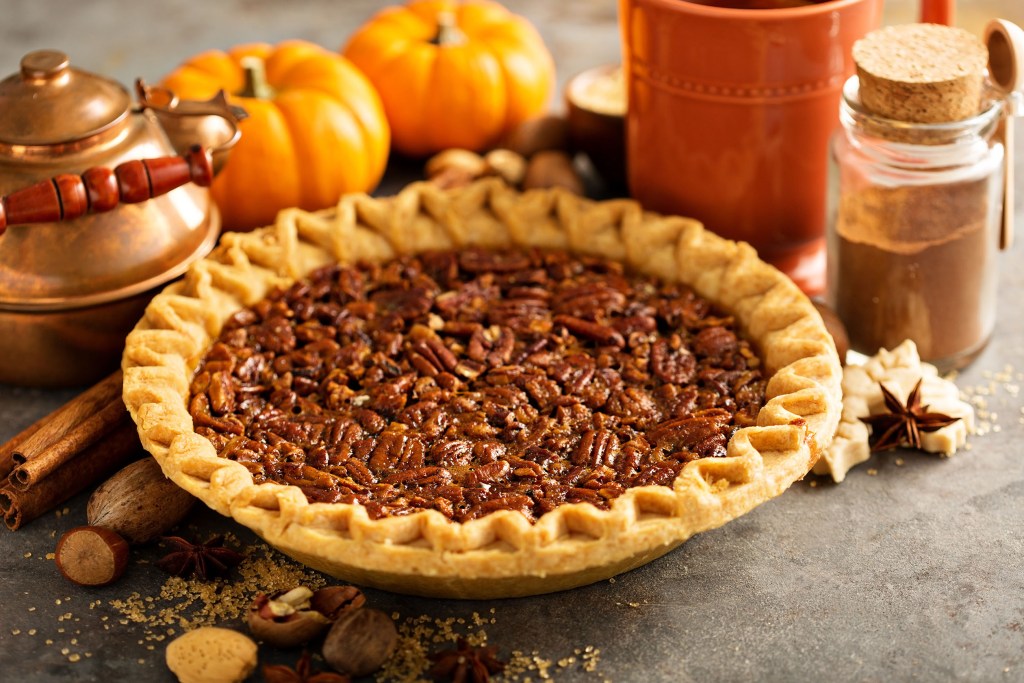 Easy Southern Pecan Pie
This easy pecan pie recipe only takes about 10 minutes of prep work to create a traditional and tasty treat.
Ingredients
1 unbaked pie crust
3 large eggs
2 1/2 cup pecans, coarsely chopped
1 cup corn syrup
3/4 cup packed brown sugar
3 tbsp butter, melted
1 tsp vanilla extract
1 tsp ground cinnamon
Instructions
Preheat the oven to 350 degrees and line a 9-inch pie plate with the unbaked crust. Pour the chopped pecans into the pie crust. Whisk together the eggs, corn syrup, brown sugar, butter, vanilla, and cinnamon in a large bowl. Pour the mixture over the pecans. Bake for 55-60 minutes and allow the pie to cool before slicing.
Cranberry Bars
With a delightful combination of sweet and tart, these flavorful cranberry bars are just the treat your holiday lineup needs.
Ingredients
1 60 oz bag of cranberries, fresh or frozen
1 egg
3 cups flour
2 cups sugar
1 cup butter, cold
1 tbsp cornstarch
1 tsp baking powder
1/2 tsp ground cinnamon
Instructions
Preheat the oven to 375 degrees and prepare a 9×13 pan by coating it with butter or cooking spray. In a large bowl, whisk the flour, baking powder, and one cup of sugar together. Cut the butter into small chunks and add it to the flour mixture. Use a pastry blender or your hands to blend the mixture until crumbs form. Add the egg and work the mix until it's thoroughly combined. Press about three cups of the mixture firmly into the bottom of the pan and put aside the rest.
For the filling: Mix the cranberries, cornstarch, and the remaining cup of sugar in a large bowl. Add the cranberries on top of the crust and the leftover sugar from the bowl on top of that. Sprinkle the remainder of the crumb mixture atop the cranberries. Bake until the top is golden brown or about 50 minutes. Let the bars rest to room temperature before serving.
Easy Pumpkin Pie Twists — One Little Project
This recipe features a unique twist on traditional pumpkin pie that your kids will love.
Ingredients
1 container crescent roll dough
1/2 cup pumpkin puree
1/4 cup brown sugar
2 tbsp butter, melted
1 tbsp maple syrup
1 tbsp sugar
1 tsp pumpkin spice
1/2 tsp ground cinnamon
Whipped cream for dipping
Instructions
Line a baking sheet with parchment paper and preheat the oven to 375 degrees. Combine the pumpkin puree, brown sugar, pumpkin spice, and maple syrup in a small bowl. On a cutting board, unroll the crescent dough and cut it in half, so you have two identical rectangles of dough. On one of the rectangles, evenly spread the pumpkin mixture. Place the second rectangle on top to sandwich the pumpkin. Cut the dough into 3/4-inch-wide strips. Twist the strips and place them on the parchment paper. Brush each twist with butter and sprinkle sugar and cinnamon on top. Bake for 8-11 minutes and serve with whipped cream.
Impress your family this holiday season by serving any one of these sweet dishes. With such incredible flavors and unique designs, your loved ones will think you spent hours on these holiday desserts. Little do they know these recipes can be completed with half an hour or less of prep work. Don't worry; your secret is safe with us.
BlissMark provides information regarding health, wellness, and beauty. The information within this article is not intended to be medical advice. Before starting any diet or exercise routine, consult your physician. If you don't have a primary care physician, the United States Health & Human Services department has a free online tool that can help you locate a clinic in your area. We are not medical professionals, have not verified or vetted any programs, and in no way intend our content to be anything more than informative and inspiring.
Editors' Recommendations