Apples always taste better in the fall. But if you're like us, you may have gone a little overboard picking too many apples this year. Those bushel baskets have a sneaky way of looking a lot smaller when we see them at the orchard.
If you're looking for unique ways to use up those apples, look no further than Pinterest. The site is one of our favorite destinations on the web for finding delicious and interesting recipe inspiration. Without further ado, here are five of our favorite apple recipes on Pinterest that you should try out this autumn.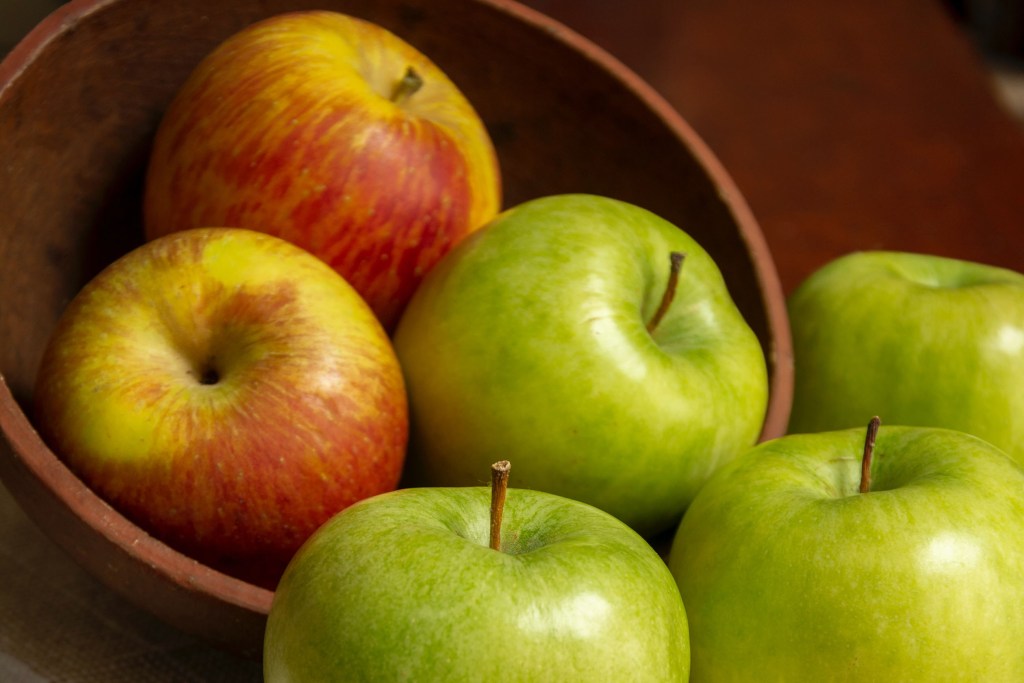 Easy Baked Cinnamon Apples
Originally posted by Inspired Taste, this simple recipe for baked apples makes the perfect weeknight treat. And you can follow along with the video right in the post.
Ingredients
• 3 firm, sweet apples
• 3/4 cup old fashioned rolled oats
• 3/4 cup all-purpose flour
• 9 tbsp brown sugar
• 1/2 tsp ground cinnamon
• 1/8 tsp salt
• 8 tbsp unsalted butter
Instructions
Preheat the oven to 375 degrees F and prep a large baking dish with non-stick spray. Halve the apples vertically and scoop out the core, seeds, and stem. Place the apple halves in the baking dish, skin down, then top with 1 tbsp brown sugar and 1/4 tsp cinnamon. Next, prepare the topping. In a saucepan over medium heat, melt the butter. Remove the pan from the heat and stir in the flour, oats, brown sugar, cinnamon, and salt. Divide the topping evenly between the six apple halves, lightly pressing it down. Cover the dish with aluminum foil and bake for 25 minutes. Then, remove the foil and cook for an additional 20 to 30 minutes or until the apples are soft and the topping is brown. Serve with a scoop of vanilla ice cream and a drizzle of caramel sauce.
Apple Thyme Bourbon Smash
This delicious cocktail from Short Girl Tall Order is sure to be a hit at your next autumn get-together. The recipe makes one cocktail, so remember to multiply the ingredients.
Ingredients
• 1 cup diced apples
• 1 cup water
• 4 sprigs dried thyme
• 1/2 cup sugar
• 1 1/2 oz bourbon
• 1 oz lemon juice
• 3 oz soda water
• ice
Instructions
To start, you will need to make the apple thyme simple syrup. In a small saucepan, add the diced apples, water, thyme, and sugar and bring the mixture to a boil. Reduce heat to a simmer and cook for 10 to 15 minutes, stirring continuously. When the apples soften and the liquid is a light brown, the syrup is ready. Set aside the liquid and allow it to cool completely before using it. In a cocktail shaker, add the syrup and muddle the apples until the juice has been released. Fill the shaker with ice and shake forcefully. Add some ice to a cocktail glass. Then pour in 3 oz of the simple syrup, along with the bourbon, lemon juice, and soda water. Stir to combine and garnish with apple slices.
Easy Crescent Roll Apple Dumplings
It may seem strange to add Mountain Dew to a dessert, but you'll just have to trust Maria Tarrant from Maria's Kitchen on this one.
Ingredients
• 2 cans of refrigerated crescent roll dough (8 rolls each)
• 2 sticks of butter
• 1 1/2 cups brown sugar
• 2 large Granny Smith apples, peeled, cored, and sliced into 8 pieces each
• 1 tsp vanilla extract
• 1 tsp cinnamon
• 1 can Mountain Dew or 7 Up
Instructions
Preheat the oven to 350 degrees F and grease a large baking dish. Prepare the apples. Unwrap the crescent rolls and separate the triangles. Place one apple slice on the wider end of each dough triangle, then roll it into a croissant. Mix the butter, cinnamon, vanilla, and brown sugar until it becomes a lump-free liquid in a bowl. Pour the mixture over the crescent rolls. Pour the soda between the rolls, not over them, and bake for 35 to 45 minutes or until the pastry is golden brown.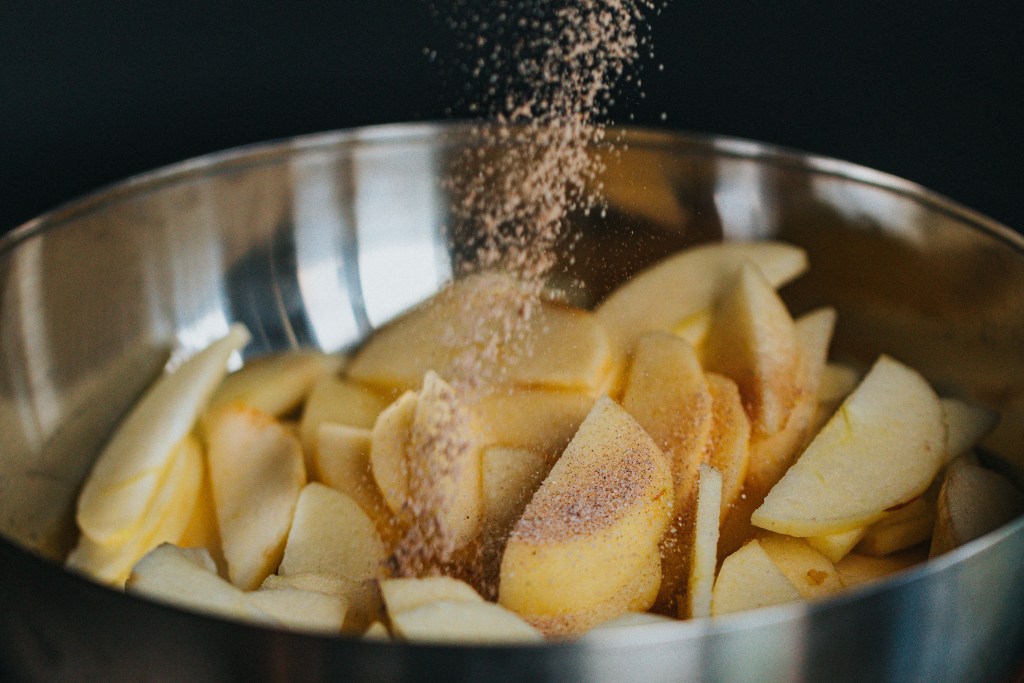 Old Fashioned Apple Crisp
You can't go wrong with a good old-fashioned apple crisp, and this recipe from Spaceships and Laser Beams has more than a thousand loves.
Ingredients
• 6 apples, peeled, cored, and thinly sliced
• 1/2 cup flour
• 1 cup sugar
• 3/4 cup light brown sugar
• 2 1/2 tsp cinnamon
• 2 tsp lemon juice
• 3/4 cup old fashioned oats
• 1/2 tsp nutmeg
• 4 tbsp cold butter, cubed
Instructions
Begin by preheating the oven to 350 degrees. Spray an 8-in by 8-in baking dish with a cooking spray. Then, make the topping. Add the oats, 1/4 cup flour, 1/4 cup brown sugar, 1 tsp cinnamon, 1/4 cup sugar, and nutmeg in a medium-sized bowl. Using your hands or a fork, work the cold butter into the mixture until it becomes crumbly, then set it aside. In a separate bowl, drizzle lemon juice over the apple slices and toss to coat. In a small bowl, combine the remaining flour, sugar, brown sugar, and cinnamon. Sprinkle this mixture over the apples and again toss to coat. Spread the apples evenly in the dish, then sprinkle the topping over them. Bake until the crisp is golden brown for 35 to 40 minutes, then serve.
Apple Candied Walnut Salad
If you're sick of apple dessert, this tasty apple candied walnut salad recipe from Carlsbad Cravings is perfect for you. You can view the full recipe to learn how to make the complementary apple poppy seed dressing.
Ingredients
• 2 apples, thinly sliced
• 1 small head of romaine, chopped
• 8 oz spinach or spring mix
• 1 cup dried cranberries
• 1 red bell pepper, chopped
• 1/2 small red onion, thinly sliced
• 6 slices of bacon, cooked and crumbled
• 1/3 cup feta cheese crumbles
• 3/4 cup caramelized walnuts
• 1/2 cup roasted salted pepitas
Instructions
Prepare all your fresh ingredients. Combine them all in a large bowl; this recipe makes enough salad for six to eight servings. Toss the salad to mix all the ingredients. Top with the recommended apple poppy seed dressing or your preferred dressing, then toss again to coat.
Autumn is the season for apples, but at this point, you've probably worn out your favorite apple pie recipe. Pinterest is here to provide all the tasty recipe inspo you need to use up your extra apples. With delicious fall desserts, festive cocktails, and unique autumnal salads, you can't go wrong with any of these fantastic dishes. Impress your guests or treat yourself to a nice fall meal, and get cooking.
BlissMark provides information regarding health, wellness, and beauty. The information within this article is not intended to be medical advice. Before starting any diet or exercise routine, consult your physician. If you don't have a primary care physician, the United States Health & Human Services department has a free online tool that can help you locate a clinic in your area. We are not medical professionals, have not verified or vetted any programs, and in no way intend our content to be anything more than informative and inspiring.
Editors' Recommendations