When the temperature drops and there's a chill in the air, nothing hits the spot quite like a warm bowl of soup. While many soup recipes call for chicken, beef, or meat-based broth, there are loads of vegan options available, too. These dishes are just as simple to make and will leave you feeling full and satiated. These are five of our favorite vegan stews and soups that even your family omnivores will love.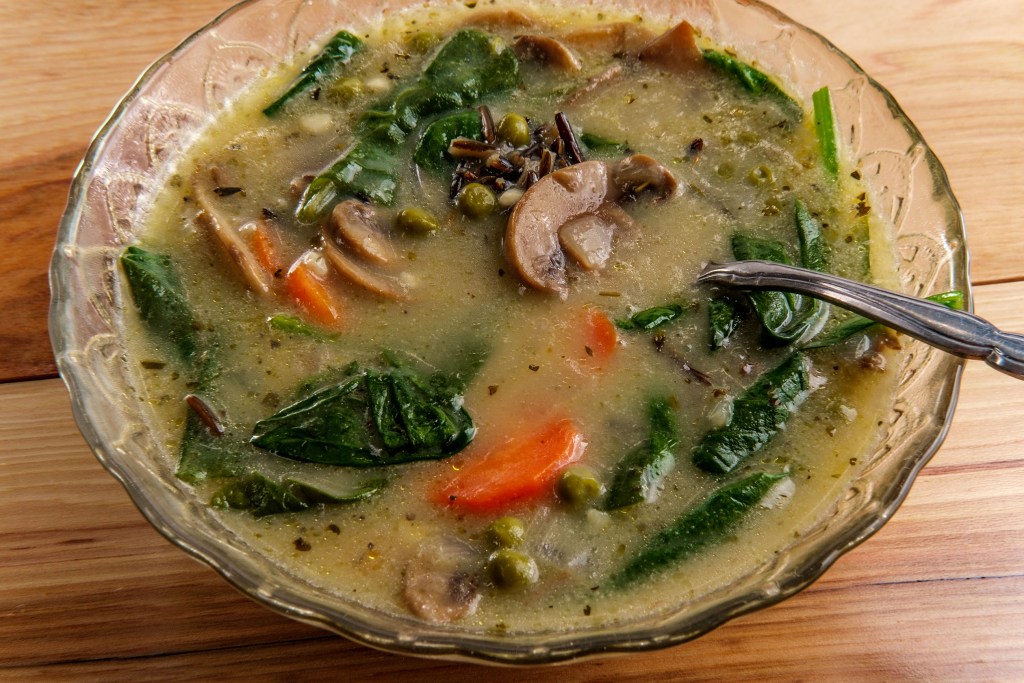 Instant Pot Wild Rice Soup with Mushrooms and Spinach
With an instant pot, you can quickly and easily make this wild rice soup from Feasting at Home.
Ingredients
1 onion, diced
16 oz mushrooms, sliced
4 garlic cloves, roughly chopped
2 bay leaves
4 cups vegetable broth
3-4 cups carrots, chopped
3-4 cups celery, chopped
1 cup wild rice
1 cup water
1/2 cup coconut milk
2 tbsp olive oil
1 tbsp fresh thyme
1 1/2 tsp salt
1 tsp cracked pepper
1/8-1/4 tsp turmeric
4 cups baby spinach, chopped (optional)
1/4 cup white wine (optional)
Pinch of cayenne (optional)
Instructions
Use the sauté setting on the instant pot to cook the onions and mushrooms in olive oil for 5-7 minutes. Add in the garlic and sauté for an additional 1-2 minutes. Once the onions and mushrooms soften, add the rice and cook for 1 minute. If desired, deglaze the pot with white wine, then cook it off for 1-2 minutes. Dump in the carrots, celery, vegetable broth, water, bay leaves, thyme, salt, pepper, cayenne, and turmeric, and stir. Set the instant pot to high and cook for 24 minutes. Naturally release the steam for 10 minutes, then manually release it. Stir in the coconut milk. Season with salt and pepper to taste. Stir in the spinach right before serving.
Creamy White Bean Soup with Kale
This creamy bean soup recipe from The First Mess is hearty with just the right amount of spice.
Ingredients
1 yellow onion, diced
1 carrot, diced
1 celery stick, diced
2 garlic cloves, minced
1 sprig rosemary, minced
4 cups cooked navy beans, drained and rinsed
4 cups vegetable stock
3 cups kale, chopped
1/4 cup flat-leaf parsley, chopped
2 tbsp lemon juice
1 tbsp olive oil
Chili flakes, salt, and pepper, to taste
Instructions
Heat the olive oil over medium heat in a large soup pot. Sauté and stir the onions, carrots, and celery for about 5 minutes. Stir in the garlic, rosemary, and chili flakes until they become fragrant. Add in the navy beans and vegetable stock, and stir. Bring the mixture to a boil. Then, ladle half of the soup into a blender, pour in the lemon juice, and blend well until it's liquified. Pour it back into the pot and season with salt and pepper. Dump in the kale and bring the soup to a boil once again. Stir in the chopped parsley and serve hot.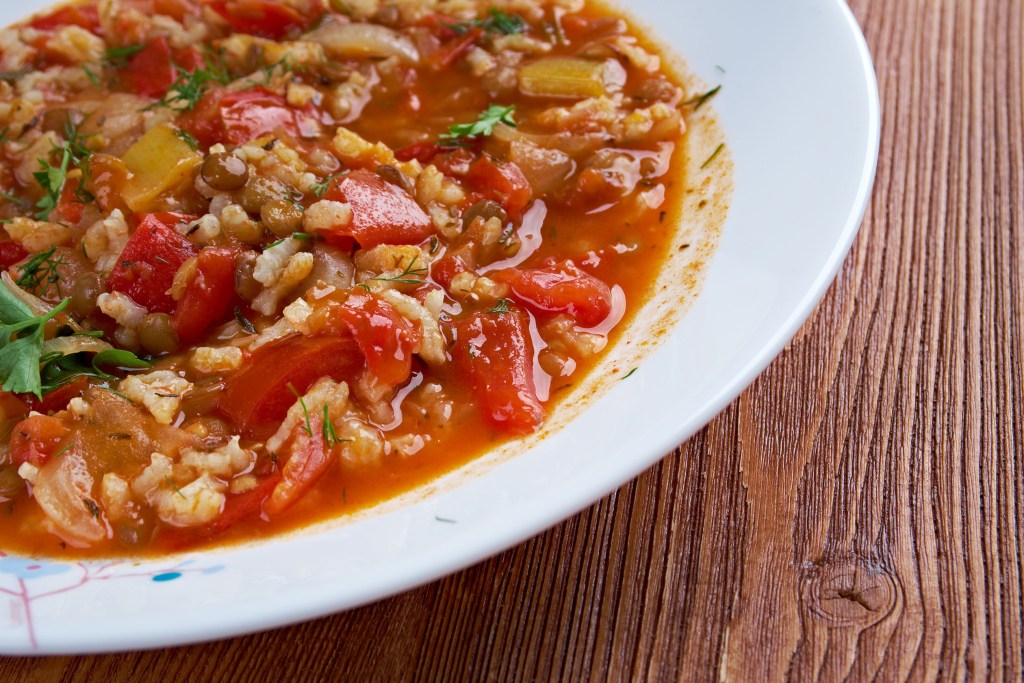 Spicy Lentil and Brown Rice Soup with Essential Oils
This lentil and brown rice soup recipe from Food and Wellness by Tippy relies on essential oils for flavor.
Ingredients
1 red onion, chopped
5 celery sticks, chopped
4 garlic cloves, minced
1 14 oz. can of diced tomatoes with jalapeno and habanero peppers
8 cups low-sodium vegetable broth
1 1/2 cup dry brown lentils, sorted and rinsed
3/4 cup short-grain brown rice
1/3 cup flat-leaf parsley, minced
3 tbsp red wine vinegar
1 ½ tbsp extra-virgin olive oil
1 tsp smoked paprika
1/2 tsp ground basil
1/2 tsp ground thyme
1/4 tsp ground oregano
3 drops black pepper essential oil
3 drops basil essential oil
3 drops thyme essential oil
2 drop oregano essential oil
Salt and pepper, to taste
Instructions
Bring the vegetable broth to boil in a large soup pot. While the broth is boiling, sauté the onions and celery in the olive oil over medium-high heat for 5-6 minutes. Add in the garlic and sauté for another 3-4 minutes. Pour the brown rice and lentils into the boiling veggie broth and reduce to low heat. Next, add the sauteed veggie mixture, canned tomatoes, basil, thyme, oregano, paprika, red wine vinegar, and all the essential oils. Cover the pot and let the soup simmer over low heat for 50-60 minutes, stirring occasionally. Season with salt and pepper as needed, and garnish the soup with parsley.
Tex-Mex Quinoa Vegetable Soup
This crockpot Tex-Mex soup recipe is perfect for cold nights. View the recipe from Simple Veganista to learn how to cook this soup on the stovetop or in an instant pot.
Ingredients
3 large carrots, sliced
2 celery sticks, sliced
1 medium zucchini, sliced
1/2 large yellow onion
2 bay leaves
1 14 oz. can of corn, drained
1 14 oz. can of diced tomatoes with green chilies
2 14 oz. cans of beans, drained and rinsed
6 cups vegetable broth
1 cup dried quinoa
3-4 tbsp tomato paste
2 tsp chili powder
1 tsp cumin
1/2 tsp garlic powder
Salt and pepper, to taste
Instructions
Add all of the ingredients into a large 5-quart crockpot, pouring the vegetable broth in last. Stir to combine the ingredients and cook on low for 5-6 hours or on high for 2-4 hours. You can add more broth or water as needed. Season the soup with salt and pepper to taste. Then, serve it with tortilla chips, diced avocado, chopped cilantro, and a squeeze of fresh lime.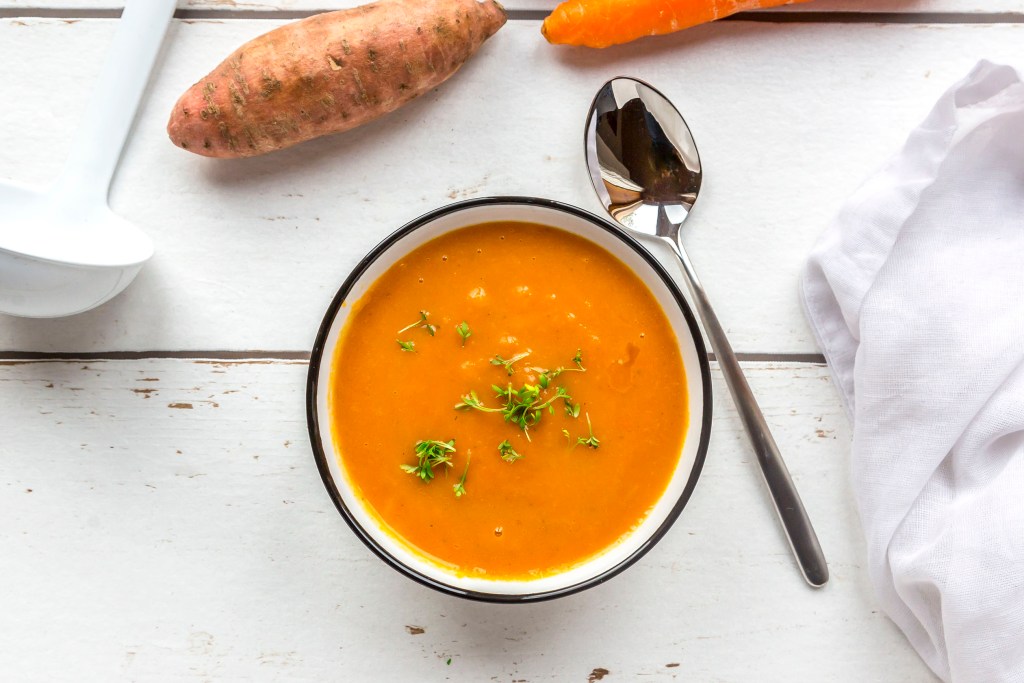 Vegan Sweet Potato Soup
Loving It Vegan's recipe for Vegan Sweet Potato Soup is a fantastic comfort dish to serve around the holidays.
Ingredients
4 large sweet potatoes, peeled and chopped
2 large carrots, chopped
1 onion, chopped
1 14 oz. can of coconut cream, unsweetened
2 cups vegetable stock
1 tbsp olive oil
1 tsp garlic, crushed
1 tsp ginger, minced
1/4 tsp nutmeg
1/4 tsp cayenne pepper
1/4 tsp almond butter
Salt and pepper, to taste
Instructions
Heat the olive oil in a large pot, then sauté the onions, garlic, and ginger until the onions soften slightly. Sprinkle in the cayenne and nutmeg and continue sauteing. Stir in the carrots and sweet potatoes. Pour the coconut cream and vegetable stock into the pot and bring to a boil. Cover the pot, reduce the heat, and allow the soup to simmer until the potatoes soften and cook through. Stir in the almond butter. Use an immersion blender to liquify the mixture. Season with salt and pepper and top with fresh cilantro.
These five hearty vegan soup recipes are some of our favorites for vegans and non-vegans alike — and hopefully soon-to-be your favorites, too! The homemade dishes are protein-packed with lentils and beans to make you feel full and satisfied. Plus, there's nothing better on a chilly day than a hearty bowl of soup. And with these fantastic recipes, you'll be warm and cozy all season long.
BlissMark provides information regarding health, wellness, and beauty. The information within this article is not intended to be medical advice. Before starting any diet or exercise routine, consult your physician. If you don't have a primary care physician, the United States Health & Human Services department has a free online tool that can help you locate a clinic in your area. We are not medical professionals, have not verified or vetted any programs, and in no way intend our content to be anything more than informative and inspiring.
Editors' Recommendations