Summer is strawberry season! Though these delectable little berries taste great on their own, there is so much more you can do with them. They can be the star of your dessert, a welcome addition to a simple salad, or an interesting sandwich ingredient. The sky is the limit with these amazing little berries. To get started, here are six of our favorite unique strawberry recipes that you can use to take your farmer's market favs to the next level.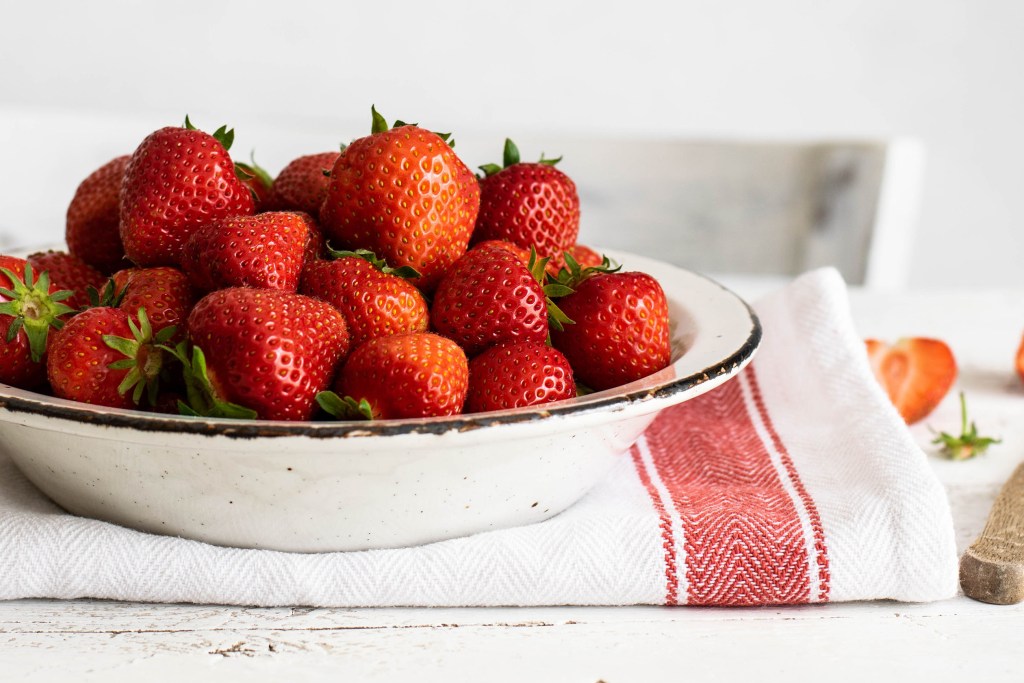 Strawberry and Watercress Salad
Strawberries are the perfect addition to any summer salad. This recipe from Bon Appetit pairs the berries with peppery watercress to cut some of the sweetness.
Ingredients
• 6 oz strawberries, hulled and halved
• 1/2 medium rhubarb stalk, thinly sliced
• 1 bunch watercress, stems removed
• 2 tsp honey
• 2 tbsp lemon juice
• 2 scallions, thinly sliced
• 1/2 cup fresh basil leaves
• 1/2 cup cilantro
• 2 tbsp extra virgin olive oil
• Kosher salt
• Crushed red pepper flakes
• Poppy seeds
Instructions
Toss the strawberries and rhubarb in a medium-sized bowl with honey and lemon juice to combine. On a platter, arrange the watercress, cilantro, and basil. Distribute the scallions on top and season with salt and red pepper flakes. Add the berry/rhubarb mixture with the extra juices. Top with a drizzle of olive oil and a sprinkling of poppy seeds.
Strawberry Icebox Cake
On sweltering days, this no-bake icebox cake from Amanda's Cookin' is an effortless and refreshing treat.
Ingredients
• 1 lb. strawberries, sliced
• 7.2 oz. or 1.5 sleeves graham crackers
• 2 cups heavy cream
• 1/2 cup powdered sugar
• 1 tsp vanilla
Instructions
Begin by making the whipped cream. Beat the heavy cream, sugar, and vanilla with a hand-held or stand mixer until stiff peaks form. In a square 9-in. by 9-in. pan, place a thin layer of whipped cream. Next, add a layer of graham crackers topped with 1/3 of the whipped cream. Place 1/3 of the strawberries on top. Repeat this sequence of layers two more times. Cover the pan and refrigerate for at least four hours before serving.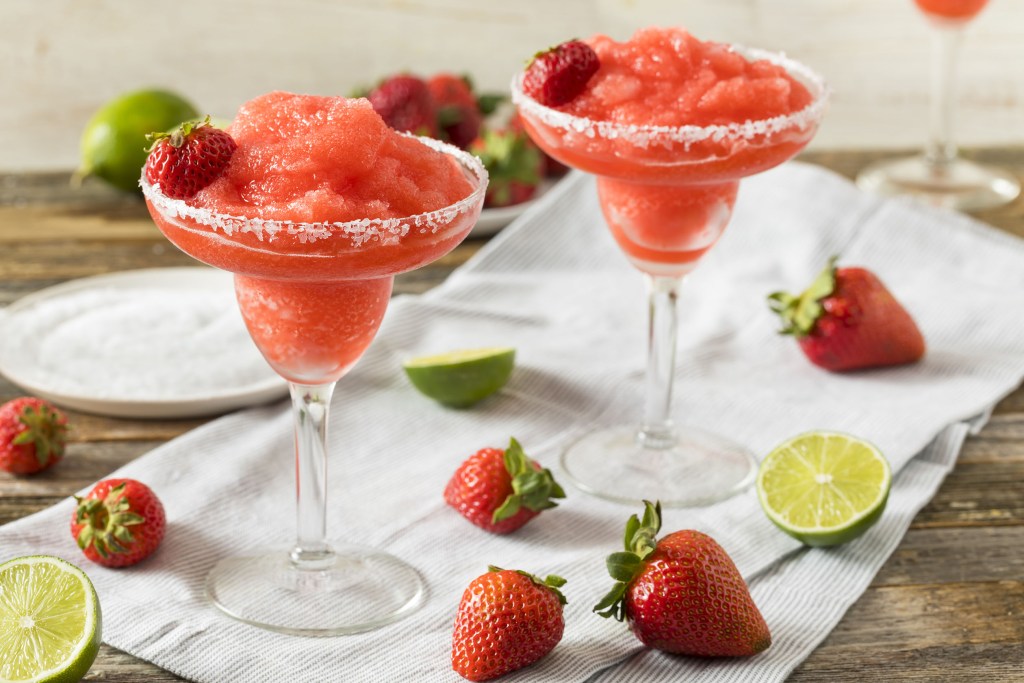 Best Strawberry Daiquiri
Served with or without the rum, this strawberry daiquiri recipe from Allrecipes is perfect, no matter if you're going on a summer getaway or just hanging out in the backyard.
Ingredients
• 4 oz. strawberries
• 6 cups ice
• 1/2 cup sugar
• 1/2 cup lemon juice
• 1/8 cup lime juice
• 1/4 cup lemon-lime flavored carbonated drink
• 3/4 cup rum
Instructions
In a blender, begin by combining the strawberries, ice, and sugar. Then, add in the lemon juice, lime juice, lemon-lime soda, and rum. Blend the drink until it's smooth and pour into the serving glass of your choice. This recipe yields eight cocktails.
Strawberry-Turkey-Brie Panini
Looking for something new to try for lunch? Check out this tasty panini recipe from MyRecipes.
Ingredients
• 8 oz. Brie
• 8 oz. thinly sliced smoked turkey
• 1/2 cup strawberries, sliced
• 8 fresh basil leaves
• 8 slices of Italian bread
• 2 tbsp red pepper jelly
• 2 tbsp butter, melted
Instructions
Prepare the Brie by trimming the rind. Cut the cheese into 1/2-inch slices. Lay out four pieces of bread and top evenly with the turkey, basil, strawberries, and Brie. Spread red pepper jelly on the remaining slices of bread, then place the pieces on top of the Brie. Brush both sides of the sandwich with melted butter. In a preheated panini press, cook the sandwiches for two to three minutes or until golden brown. If you don't have a panini press, you can cook the sandwiches in a preheated grill pan over medium-high heat for two to three minutes.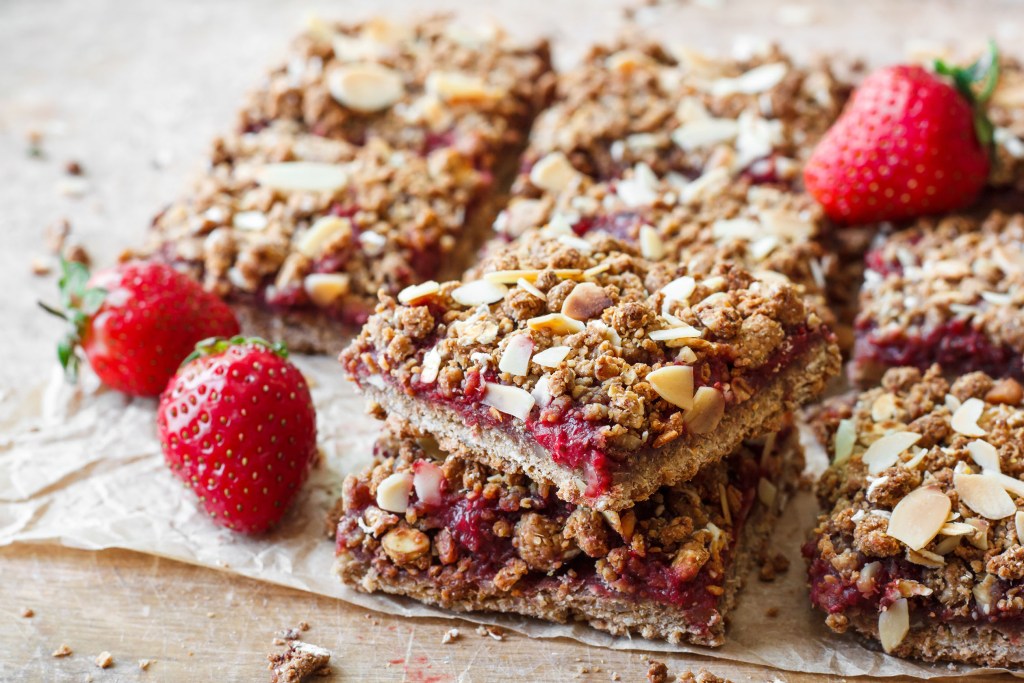 Strawberry Oatmeal Bars
These oatmeal bars from Well Plated make a great snack or dessert, and they're actually healthy too!
Ingredients
• 1 cup old-fashioned rolled oats
• 3/4 cup white whole wheat flour
• 1/3 cup light brown sugar
• 1/4 tsp kosher salt
• 1/4 tsp ground ginger
• 6 tbsp unsalted butter, melted
• 2 cups diced strawberries
• 1 tbsp sugar
• 2 tsp cornstarch
• 1 tbsp lemon juice
Instructions
Preheat the oven to 375 degrees Fahrenheit. Line an 8-in. by 8-in. baking pan with parchment paper. Combine the oats, flour, brown sugar, salt, and ginger in a medium bowl. Add the melted butter and stir until the dry ingredients are evenly moistened. Set aside 1/2 cup of the mixture and press the rest in an even layer at the bottom of the pan. Evenly distribute half of the strawberries on top and sprinkle the cornstarch over them. Next, add the lemon juice and 1/2 tbsp sugar. Then, add in the remaining berries and sprinkle the rest of the sugar on top. Finally, pour the 1/2 cup of oat mixture evenly over the top. Bake the bars for 35 to 40 minutes until the fruit bubbles, and the crumb topping is golden brown. Allow the bars to cool completely before serving.
Spicy Strawberry Kiwi Peach Salsa
This simple and refreshing salsa recipe from Allrecipes goes great with tortilla chips as a snack or grilled fish as a delicious dinner.
Ingredients
• 1 ripe peach, peeled and pitted
• 4 strawberries
• 1 kiwi, peeled
• 1/2 jalapeno pepper, seeded
• 1 green onion
• 2 tbsp cilantro
• 1 tbsp lime juice
• 1 pinch salt
Instructions
Start by preparing your fruits, veggies, and herbs. Dice the peach, strawberries, kiwi, and jalapeno into small pieces. Chop the green onion and cilantro into small pieces as well. In a bowl, combine all the ingredients. Stir gently to combine and serve.
There are so many recipes with strawberries that you can enjoy for any meal; this is just a sampling of the variety of ways to cook with these berries. Whether you want to make a refreshing beverage or a healthy dessert, strawberries can add some much-needed sweetness and flavor to your summer table. So, instead of noshing on berries raw, try one of these yummy dishes!
BlissMark provides information regarding health, wellness, and beauty. The information within this article is not intended to be medical advice. Before starting any diet or exercise routine, consult your physician. If you don't have a primary care physician, the United States Health & Human Services department has a free online tool that can help you locate a clinic in your area. We are not medical professionals, have not verified or vetted any programs, and in no way intend our content to be anything more than informative and inspiring.
Editors' Recommendations