By now, you've probably heard of TikTok's famous baked feta pasta. The viral recipe has taken the world by storm, inspiring tons of professional and amateur chefs alike to make the pasta dish, create their own variations, and share the final results on social media. It's so popular that it even led to a feta cheese shortage at grocery stores nationwide. It's easy to see why everyone is so enamored with the recipe — after all, who doesn't love cheesy, tomato-y pasta? Plus, it's super fast and straightforward to make, so kitchen novices can enjoy this dish as well! Ready to get started? Here's the original recipe for baked feta pasta and some tips to help you cook your new favorite meal.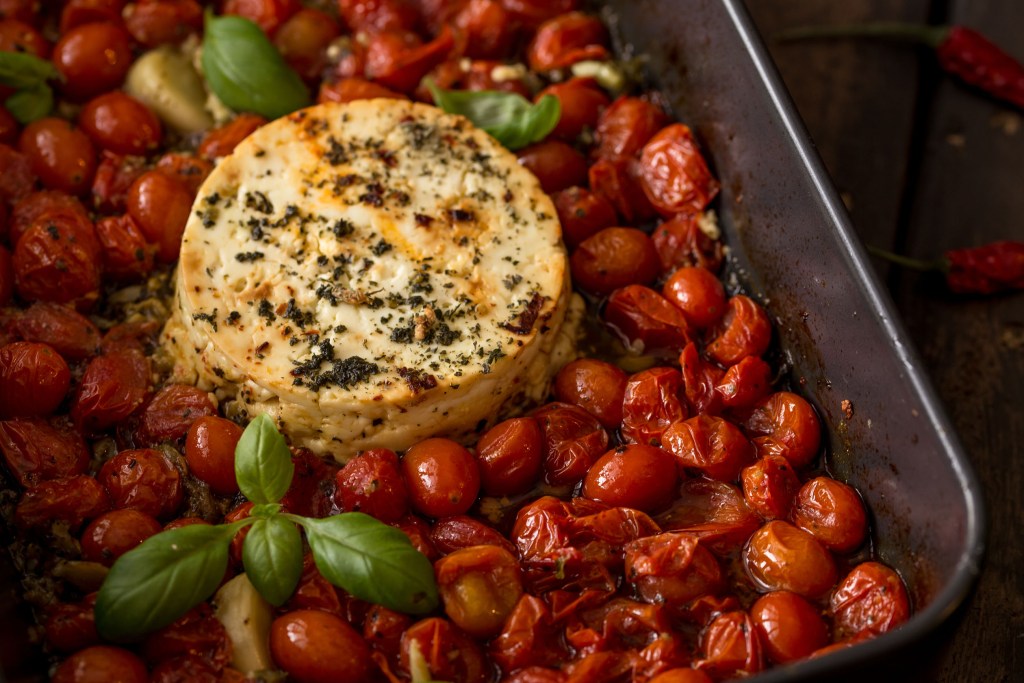 The original baked feta pasta recipe
Before TikTokers got a hold of this recipe, it was incredibly popular in Finland. One of the first recipes appeared back in 2019 on Jenni Hayrinen's food blog. She even made the hashtag #uunifetapasta for it! Since then, it's been shared by TikTokers, like @grilledcheesesocial, and the dish has gone viral.
This pasta dish only takes about 45 minutes to cook and yields four servings. Here's the original recipe:
Ingredients
500 grams (about 2 pints) cherry tomatoes
1 block Greek feta cheese
1/2 cup olive oil
1/2 red chili pepper
1 lb pasta of your choice
1 bunch of fresh basil leaves
Salt
Black pepper
4 garlic cloves (optional)
Instructions
Preheat your oven to 400 degrees Fahrenheit.
Pour most of the olive oil in the bottom of a medium skillet or large baking dish. Place the block of feta in the center of the dish. Chop the red chili pepper and add on top of the feta. Add the remainder of the olive oil onto the feta block.
Add the cherry tomatoes around the sides of the feta block and coat in olive oil. Season to taste with salt and pepper. If desired, chop up the garlic cloves lengthwise and add them with the tomatoes.
Bake at 400 degrees Fahrenheit for 30 minutes on the center rack. Then, turn up the heat to 440 degrees Fahrenheit, move the dish to the top rack, and cook for another ten minutes.
While the feta and tomatoes are in the oven, cook the pasta al dente.
Stir the tomatoes and feta to break up the cheese. Pour in the pasta and stir again. Add the basil leaves.
Enjoy!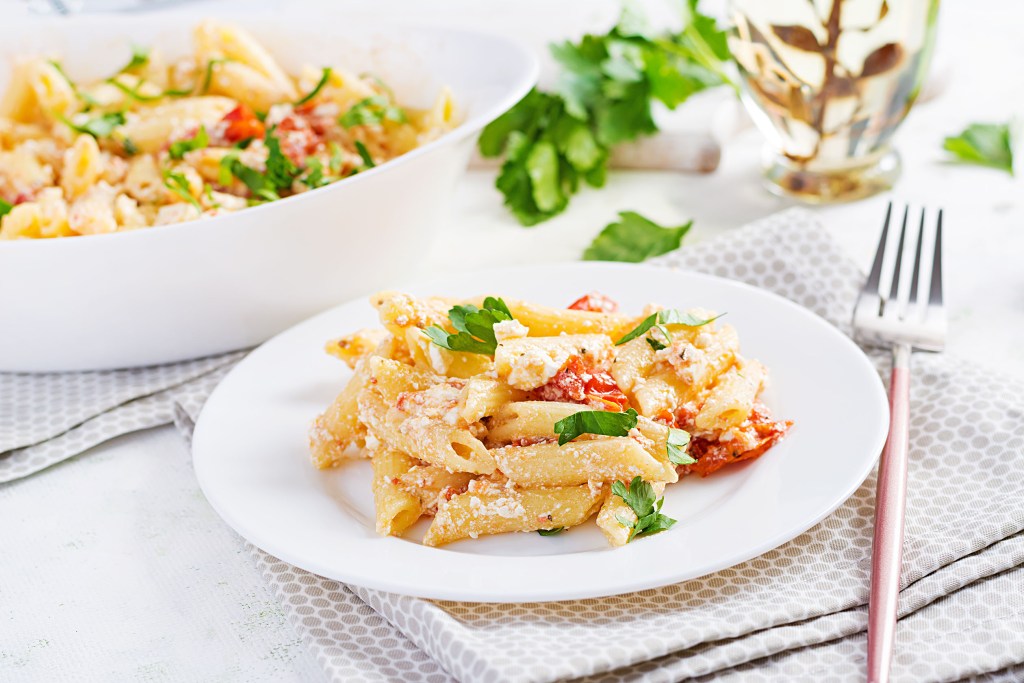 Cooking tips
With so many different versions of this recipe on the web, it's easy to become overwhelmed. If you want to try out this delicious dinner idea, here are a few tips to help you make the best possible dish.
Select a high-quality feta
Since it's the main ingredient in this dish (and the most prominent flavor), make sure you're using good-quality feta. Choose a medium or firm Greek feta. We recommend using a sheep's milk feta since cow's milk feta is usually crumblier and sourer.
Substitute a different type of cheese
Don't like feta? You can still enjoy this delicious recipe! Consider subbing the Greek feta for French feta, which has a milder and creamier flavor. Or you can use a different type of cheese entirely. This pasta recipe also works with mozzarella, ricotta, and brie.
Use short pasta
Though you can use any type of pasta you want, short pasta like penne, rigatoni, and fusilli tend to work better. These kinds of pasta are easier to stir into the hearty sauce and hold the sauce better, too.
Don't worry about the amount of oil
We know, a half cup of olive oil sounds like a lot, but it's actually crucial for the recipe. It prevents the tomatoes from burning onto the pan and ensures they cook down to that desired, smooth texture.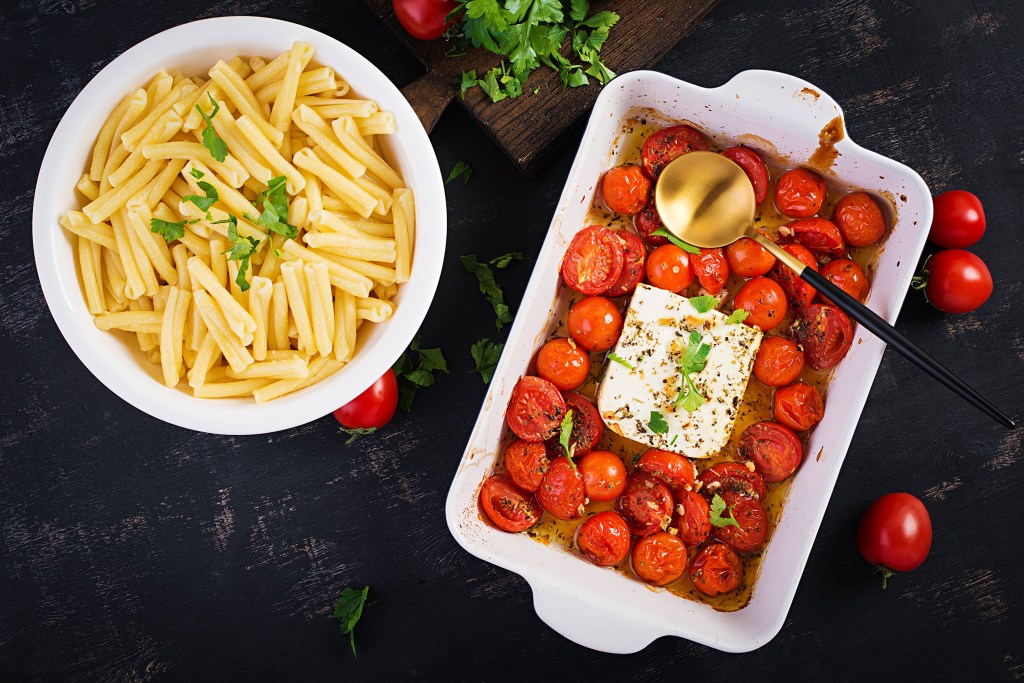 Keep some pasta water
After your pasta is done cooking, set aside some of the pasta water before draining the rest in the sink. A bit of this starchy water can loosen up the sauce if it gets too thick.
Add protein
Want to add some protein to your dinner? Since it bakes for 30 minutes at 400 degrees Fahrenheit, you can add almost any protein to the dish, and it will cook safely and thoroughly. Try adding cubed chicken, pancetta, or tofu to boost your protein intake.
Try out different seasonings
The seasoning on this dish is relatively simple, calling for only salt, pepper, red chili pepper, and basil. Feel free to get creative with the seasoning and add your own twist to the recipe that better reflects your palate. Consider adding dried oregano, Italian seasoning blends, or thyme to the dish for an earthy flavor. Just avoid vinegar, parmesan, or lemon juice since this dish is already so acidic and flavorful.
It's easy to see why so many people are raving over this TikTok recipe. The dish is delicious and creamy, with the perfect combination of tang and savoriness. Plus, it's a versatile recipe that really lets you personalize the flavors to suit your own tastes. Chefs and amateur cooks alike love this viral recipe, and now you can too! Using the easy recipe and the handy tips above, you can add this dish to your repertoire with ease. Just don't forget to share your process on TikTok — we'll keep an eye out for it!
BlissMark provides information regarding health, wellness, and beauty. The information within this article is not intended to be medical advice. Before starting any diet or exercise routine, consult your physician. If you don't have a primary care physician, the United States Health & Human Services department has a free online tool that can help you locate a clinic in your area. We are not medical professionals, have not verified or vetted any programs, and in no way intend our content to be anything more than informative and inspiring.
Editors' Recommendations