Rotisserie chicken is a perfect weeknight dinner. It's inexpensive, low effort, and usually delicious. But even if you're feeding a family of four, you may still have some chicken leftover.
Instead of simply reheating it or tossing it out, transform that chicken into an incredible meal. And no, we're not going to tell you to use the remaining carcass to make chicken soup (although you can if you want). There are lots of creative meals you can make with this basic leftover, like salads, pizza, and more. Here are three ideas for using leftover rotisserie chicken in your meals throughout the week.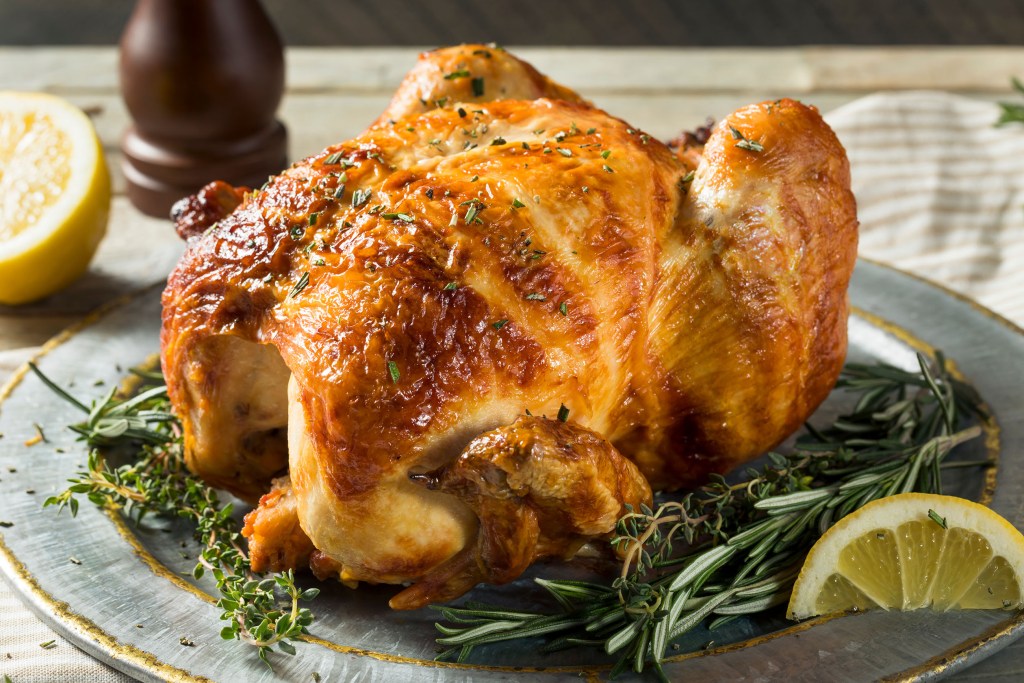 BBQ Chicken Flatbread Pizza
For an easy meal that you can make with your leftover rotisserie chicken, try this barbeque flatbread pizza recipe from Girl Heart Food. This pizza is faster and tastier than delivery; it only takes about 15 minutes to make! You can customize the toppings to suit your tastes, too.
Ingredients
• 2 7oz flatbreads
• 1 cup cooked chicken
• 4 oz fresh mozzarella
• 1/2 cup BBQ sauce
• 1/4 cup red onion, thinly sliced
• 1/4 cup baby arugula
• 1/4 cup pickled banana peppers
• 2 or 3 Baby Bella (cremini) mushrooms, thinly sliced
Instructions
Preheat the oven to 425 degrees Fahrenheit. Lay the flatbreads on a large sheet pan and spread the barbeque sauce on both pieces of bread. Then, layer on the cheese, red onions, mushrooms, chicken, and banana peppers in that order. Drizzle the top with extra BBQ sauce, if desired. Bake for eight to 10 minutes or until the cheese is melted. Top with arugula before slicing the pizza and serving.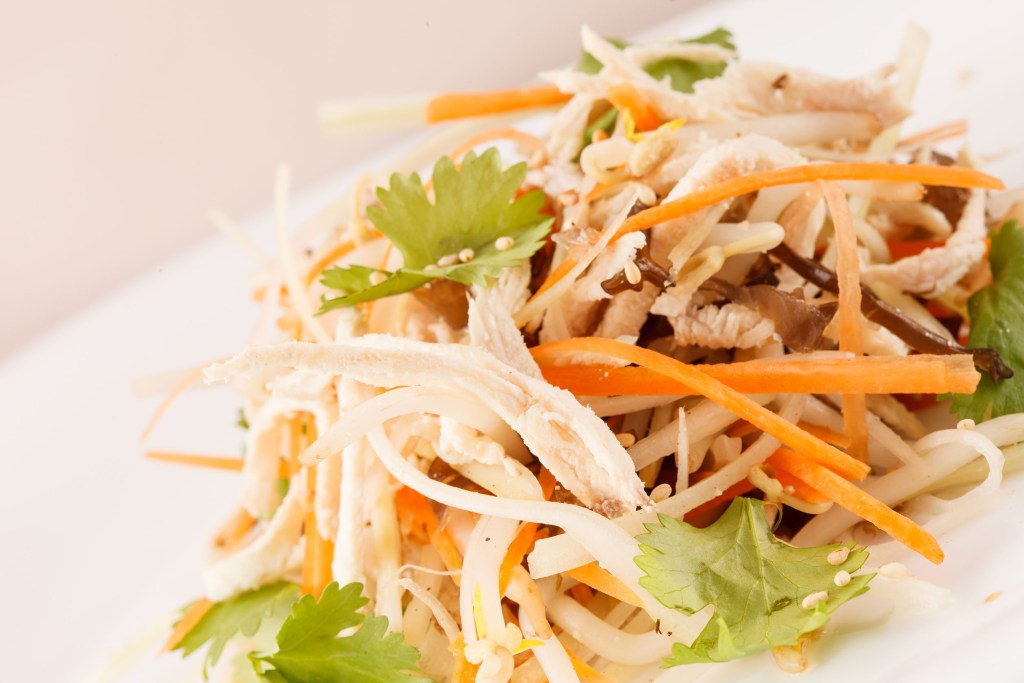 Chinese Chicken Salad with Asian Peanut Salad Dressing
You can use your leftover chicken to add some protein to your favorite salad, and this Chinese chicken salad is one of our favs. It's crunchy, salty, spicy, and healthy — what more could you want from a salad? To view the full recipe from RecipeTin Eats, including the Asian Peanut Salad Dressing, click here.
Ingredients
• 1 1/2 cups cooked chicken, shredded
• 1 1/2 cups Chinese cabbage, shredded
• 1 1/2 cups carrots, julienned
• 1 1/2 cups bean sprouts
• 1 cup red cabbage, shredded
• 1/4 cup peanuts, roughly chopped
• 1/4 cup crunchy fried noodles
• 1 shallot, green onion, or scallion, finely sliced
• Asian Peanut dressing
Instructions
To make this salad, first prep all of the vegetables and the chicken. Then add all the ingredients, minus the dressing, to a large bowl and toss to combine. Set aside some peanuts, shallots, and fried noodles for garnish. Drizzle the salad with the peanut dressing and toss. Top it with the extra shallots, peanuts, and noodles before serving.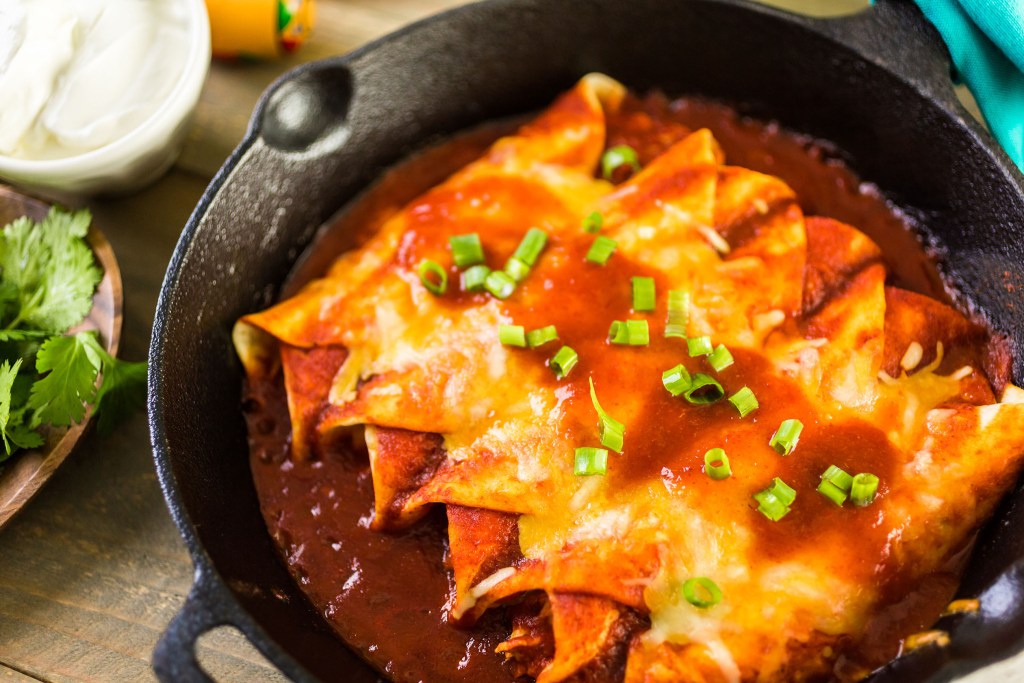 One Pan Chicken Enchilada Skillet
For another quick dinner idea, check out this enchilada recipe from The Girl Who Ate Everything. Though these aren't traditional enchiladas, this family-friendly version is still delish. Plus, the dish only takes about 10 minutes to cook.
Ingredients
• 2 cups shredded rotisserie chicken
• 1 10oz can red enchilada sauce
• 4 soft flour tortillas, cut into 1-inch strips
• 1 cup shredded Mexican blend cheese
• 1/2 cup chunky salsa
• 1/4 cup water
• 1/2 cup sour cream
• 1/4 cup green onions, sliced
• 1/2 tsp dried oregano
• 1/2 tsp ground cumin
• Guacamole (optional)
Instructions
Add the shredded chicken to a large 12-inch skillet, then season with cumin and oregano. Pour in the water, enchilada sauce, and salsa. Bring the mixture to a simmer over medium heat to warm up the chicken and thicken the sauce. Stir in the tortilla strips and sprinkle the top with cheese. Remove the pan from heat and allow the cheese to melt without burning. Top with sour cream, green onions, and guacamole if desired. Serve right away.
Leftovers don't have to be boring, especially when you're working with rotisserie chicken. While it's tasty on its own, rotisserie chicken's versatility lets it really shine. You can incorporate it in barbeque flatbread pizza, Chinese chicken salad, and easy enchiladas. These are three of our favorite leftover rotisserie chicken recipes, but there are endless dishes that make use of your leftovers. Add a little pizzazz to your old chicken. From here on out, rotisserie chicken deserves a permanent place on your weekly grocery list.
BlissMark provides information regarding health, wellness, and beauty. The information within this article is not intended to be medical advice. Before starting any diet or exercise routine, consult your physician. If you don't have a primary care physician, the United States Health & Human Services department has a free online tool that can help you locate a clinic in your area. We are not medical professionals, have not verified or vetted any programs, and in no way intend our content to be anything more than informative and inspiring.
Editors' Recommendations