If you have ever experimented with hair color, then you're familiar with the off-putting smell of the powerful chemicals that often accompany the process. One of the most recognizable chemicals in DIY dyes is ammonia. With what can be described as intense aroma, this compound can fill a home with its presence. Ammonia and its signature smell can be found in household cleaners, refrigeration and air conditioning gases, fertilizers, waste treatment, and plastics. Though, the concentration is much more diluted and safe for human application in hair color.
So why is such a strong chemical necessary on something as delicate as hair? The answer lies in the two different types of hair dye, permanent and semi-permanent (also known as demi-permanent). Permanent hair color must do two things: open the hair cuticle and deposit color. Certain chemicals can open the hair strands to allow the color to pass through the cuticle, and ammonia is one that does this job very well. So well, companies find it hard to replace ammonia. After the cuticle is opened and the color is deposited (or lifted, in the case of bleaching), the hair is rinsed and the cuticle is closed. Unfortunately, it can leave hair mildly damaged.
Ammonia isn't used in semi-permanent colors because the cuticle does not need to be opened. Instead, semi-permanent color coats the hair with a highly concentrated color that is absorbed through its strands, something akin to osmosis. This makes semi-permanent coloring much less damaging to the hair. This hair coloring option is only temporary however, and can struggle to cover resistant gray hairs or maintain a vibrant color. While this can be a less desirable choice for those looking for full and lasting coverage, it is referred to as the safer option.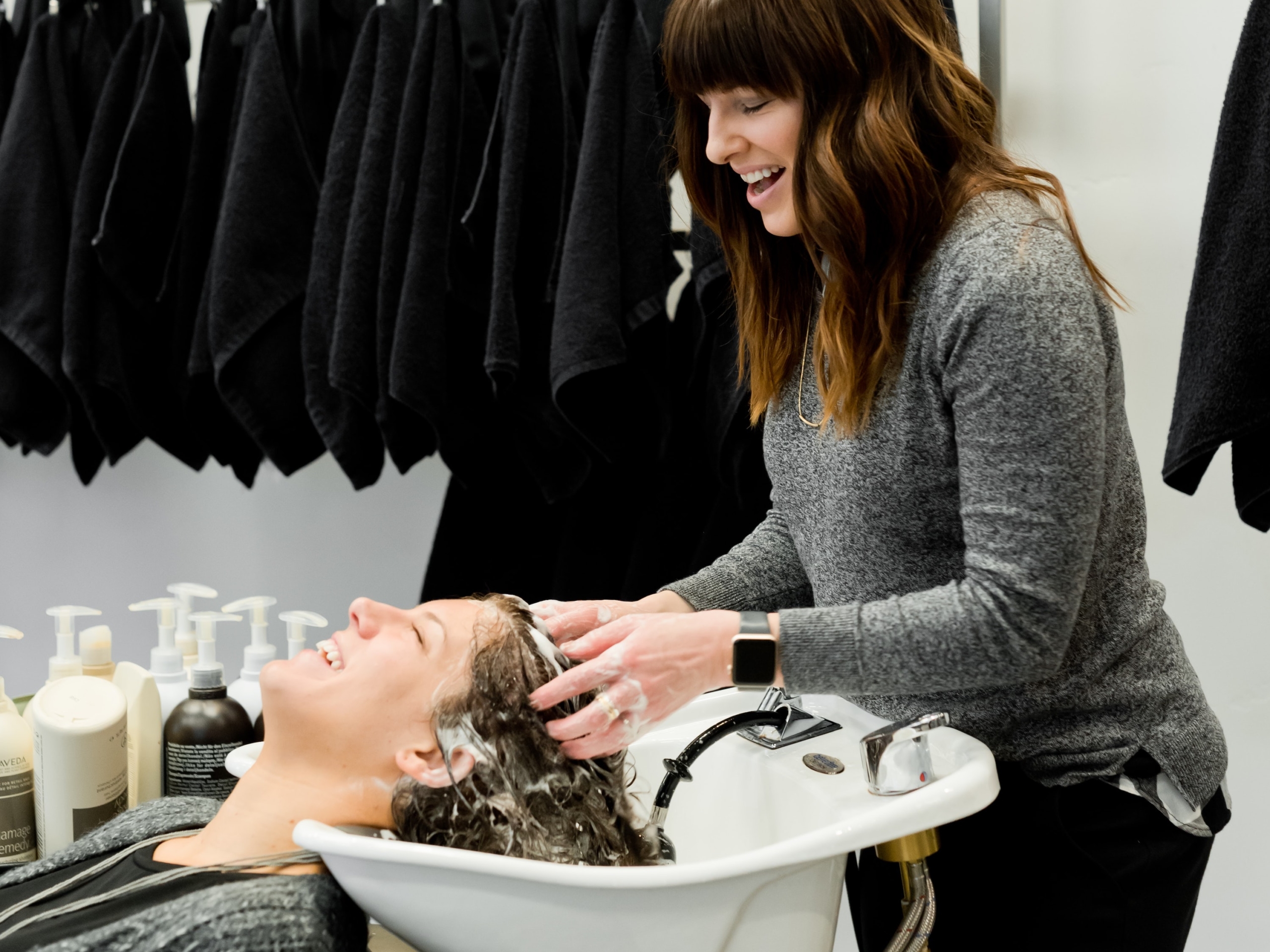 Is there a win-win for permanent color without permanent damage? Not necessarily. Even ammonia-free hair dyes merely replace it with something that could be equally damaging. According to The Environmental Working Group, an online beauty product database, ammonia is listed as a level 4-6 toxicity on a scale of 10, with 10 being the most toxic. The chemical replacement used for ammonia, monoethanolamine (MEA), is listed as 5-6 toxicity. It would appear that according to the EWG, ammonia's replacement doesn't seem to be much safer to apply in small doses to your hair and scalp.
When deciding which choice is best for you and your personal needs, it simply comes down to weighing the pros and cons of each type of hair dye. Once you know all of the possible risks and benefits of permanent and semi-permanent coloring, you can decide what works best for your hair and lifestyle. To give you a head start on your research, we put together a list of some of our favorite, least harmful hair dyes that contain no ammonia or MEA based on the same recommendations and standards as we mentioned above. Remember, these won't lift your hair from brown to blonde, so if you are thinking about lifting or bleaching your hair, please seek advice from a trained cosmetologist for the best results.
Clairol Professional Beautiful Collection – This semi-permanent and ammonia/MEA free hair color wraps your strands in lustrous product to quickly deposit color and nourish your hair. The Beautiful Collection is enriched with vitamin E, Jojoba, and aloe to keep your hair soft and silky. The bottle design allows for easy application straight from the bottle, without any mixing or secondary products required. Simply apply, cover your hair with a cap, heat for ten minutes, cool for five, and rinse.
Wella Colorcharm Demi Permanent Hair Color – This demi-permanent hair color from Wella, like our other top-picks, contains no ammonia or MEA and is available in fifteen shades. The Colorcharm cream technology penetrates hair deeply to deposit more color and fuse with the hair for long-lasting results. This color must be used in conjunction with Wella's Colorcharm Activating Lotion, so don't forget to invest in both products.
Revlon Total Color – This hair color from Revlon is a vegan, nourishing cream formula designed to deposit color without the use of ammonia, MEA, parabens, silicones, phthalates, gluten, or mineral oil. Revlon's Total Color is available in sixteen glossy shades and provides long-lasting color for up to six weeks. It also boasts 100% gray coverage, something many non-permanent colors struggle to provide.
Disclaimer: BlissMark provides information regarding health, wellness, and beauty. The information within this article is not intended to be medical advice. Before starting any diet or exercise routine, consult your physician. If you don't have a primary care physician, the United States Health & Human Services department has a free online tool that can help you locate a clinic in your area. We are not medical professionals, have not verified or vetted any programs, and in no way intend our content to be anything more than informative and inspiring.
Editors' Recommendations