Are you someone who considers tacos a food group? Well, you're not alone: Tacos are delicious, and the ingredients, like peppers, meat, guacamole, and salsa, are accessible and easy to whip together.
Unfortunately, tacos aren't always healthy, and the salty, over-processed tortillas and taco shells are a big reason why. They often contain loads of refined carbs which lack fiber, so you digest these tortillas more quickly, get hungrier sooner, and often overeat as a result.
That doesn't mean you have to find a whole new dish to replace your weekly Taco Tuesday celebration. Instead, replace your usual tortillas with brands that are high in fiber, low in carbohydrates, and taste just as good.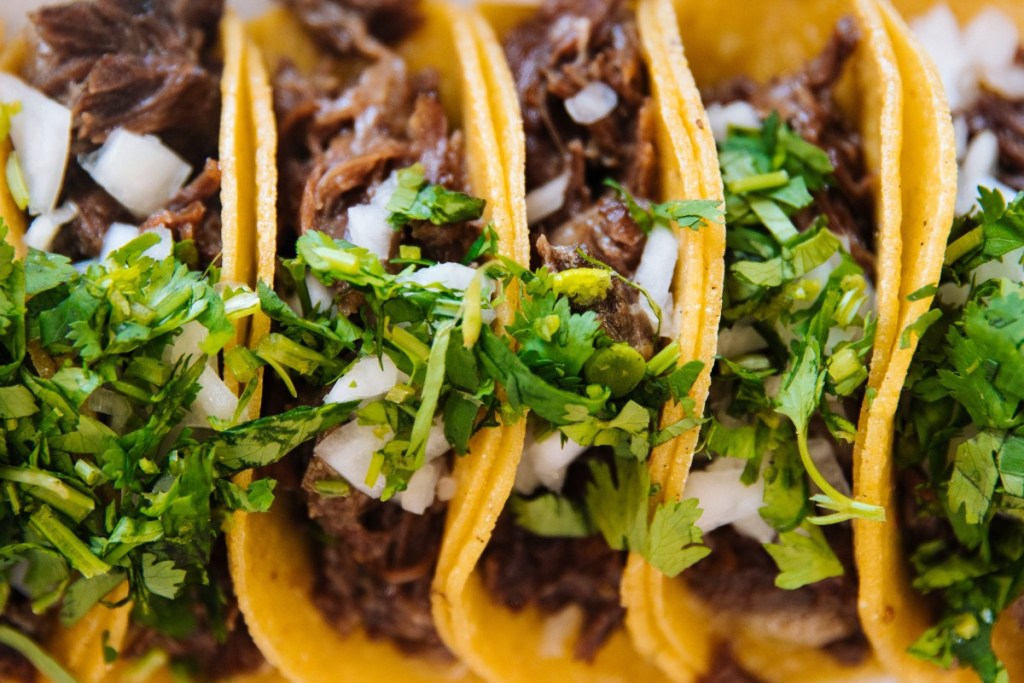 Good: Siete Grain Free, Gluten Free Taco Shells
Siete is one of the most popular healthy taco shell brands with a whopping 4.7 stars out of five on Google reviews. While these shells are fairly thin and break easily, it seems reviewers barely mind. They're a favorite of TODAY show's Jenna Hager Bush, and fans love how light and crispy they are.
Siete makes these shells with Cassava flour, a gluten-free, grain-free, and nut-free flour replacement that's ideal for people with allergies and food sensitivities. They're also vegan and paleo-friendly, so they're safe for many restrictive diet plans. Though they don't have any fiber, they are relatively low-carb, and you can always fill your taco with fiber-rich toppings like peppers. One shell only contains 7 grams of carbs and 60 calories, so they are a healthier, lighter option than many popular brands.
Better: La Banderita WW Carb Counter Tortillas
These low-carb tortillas contain 11 grams of fiber to keep you feeling full and 4 grams of protein to keep muscles strong. Plus, each wrap only has 50 calories and 1.5 grams of fat. Because they're so low in calories, some people use them for sandwiches instead of bread to cut down on refined carbs. They're also ideal for breakfast burritos, quesadillas, and even pizza. Reviewers, who gave them an average of 4.7 stars out of 5 on Google, say their kids loved them, especially because they can be filled to the brim without falling apart.
Best: Nuco Organic Coconut Wraps Variety Pack
If you're indecisive or unsure about what to purchase, consider grabbing a variety pack. We recommend the Nuco Organic Coconut Wraps pack that includes 20 total wraps in four flavors: original, turmeric, moringa, and cinnamon. They're low-carb and boast about 7 percent of your daily fiber intake with no added sugar and only 70 calories per wrap. As a bonus, the turmeric-flavored wraps contain a compound called curcumin, which may reduce inflammation. People also swear that warming up the cinnamon ones make for a delicious breakfast. With a little bit of reduced-fat cream cheese, you have an ideal swap for carb and calorie-dense morning staples like cinnamon bagels and English muffins.
Tacos can still have space on your menu, even if you're trying to eat well and avoid allergens. You can make your favorite food a bit more nutritious by looking for low-carb, high fiber tortillas, using lean meat, such as chicken breast, and loading up on fiber-rich veggies. Taco night can still be delicious, filling, and fun for any guest, on any diet, with any palate.
BlissMark provides information regarding health, wellness, and beauty. The information within this article is not intended to be medical advice. Before starting any diet or exercise routine, consult your physician. If you don't have a primary care physician, the United States Health & Human Services department has a free online tool that can help you locate a clinic in your area. We are not medical professionals, have not verified or vetted any programs, and in no way intend our content to be anything more than informative and inspiring.
Editors' Recommendations