Get a pen and some paper ready because you're going to want to make a grocery list. Snacking is a classic work-time distraction we all can get behind, but what to pick for your next round of afternoon munchies? No worries, we're here to inspire you. From salty and sweet to savory and sour, this list has you covered. We picked these snacks with their nutritional benefits in mind, so nothing on this list will make you sluggish and sleepy when you need to be on your game.
As always, keep your personal dietary needs in mind when choosing your next favorite snack. Everything is best enjoyed in moderation and it's never a bad idea to double-check with your physician before making any huge changes to your diet. That being said, with a little culinary creativity, work can become a lot more delicious.
Pumpkin seeds
If you tend to reach for the nearest bag of chips when you're feeling peckish, try another crunchy, salty snack. Pumpkin seeds have the same satisfying texture but without a lot of the oils and fats that are in most potato chips. Whether raw or toasted, just add a pinch of salt and you're set! An even healthier and more rewarding option is to roast your own seeds if pumpkins are in season. It's definitely more work than grabbing a bag off the shelf, but you can add your own toppings and spices and make them exactly how you want.
Avocado
If loving avocado toast is wrong, we don't want to be right. This Instagram-able dish is not only delicious but healthy too! Avocados are fruits full of monounsaturated fats that encourage blood flow throughout the body and keep you feeling fuller longer.

Bagel
Your brain and body get energy from the breakdown of glucose, and since carbohydrates are the most common source of glucose in food, high carb snacks are a great source of brainpower. Plus, eating breakfast will give your brain the jump start it needs to begin the day, so you won't be counting the minutes until lunch! However, make sure you choose the right carbs since many refined grains lack the nutritional value that whole grain products have.
Dark chocolate
Apart from being a wonderful balance between sweet and bitter, dark chocolate can also give your brain a boost. A 2017 study observed that there is a possible correlation between flavonoids, a plant-derived antioxidant that is present in cocoa, and increased memory and motor function. Plus, the caffeine naturally present in chocolate gives your energy a small lift as well! This doesn't mean you should be consuming mountains of chocolate because it is still high in sugar, but it certainly can be a motivating treat on a slow afternoon.
Banana
This is truly the ultimate on-the-go fruit. Since bananas have a peel, there's no prep work or container involved if you need a snack between meetings. They're loaded with potassium and vitamin B6, both of which aid with memory and focus, and have virtually zero cholesterol. This makes it a great snack for those with high blood pressure. On average, a large banana has just half a gram of fat and 121 calories (via SFGate).
Veggies + hummus
You've been hearing about the importance of vegetables since childhood, but don't underestimate their beloved companion: hummus. Some of your favorite finger-friendly veggies such as carrots, celery, snap peas, bell peppers, etc. are perfect for scooping your favorite chickpea dip. Hummus is a wonderful source of protein, calcium, and omega-3 fatty acids, which have similar effects as antioxidants.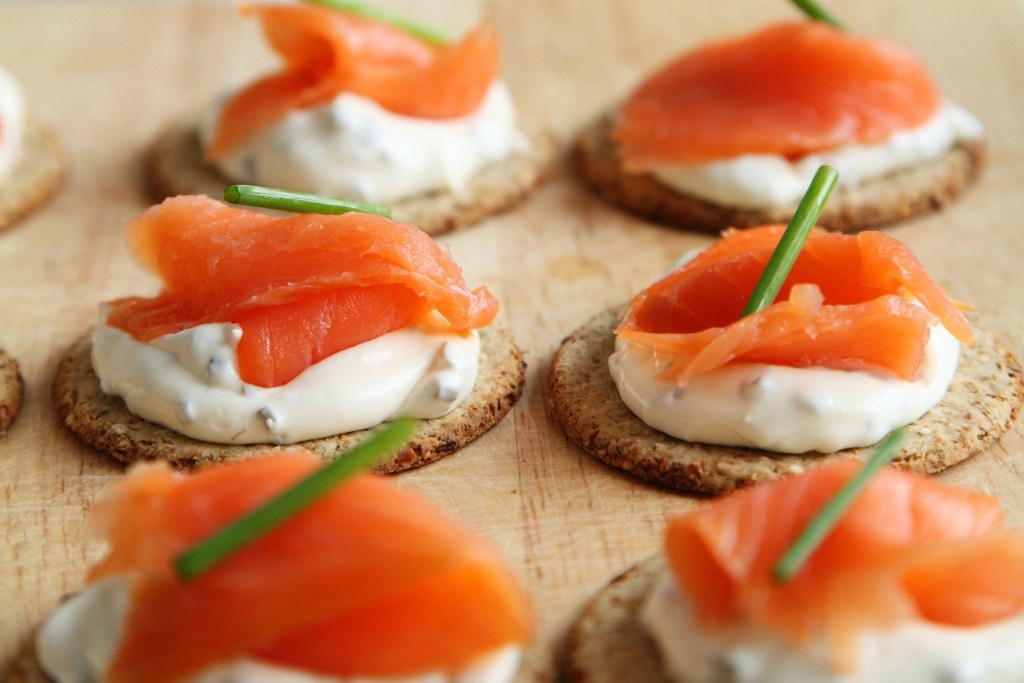 Salmon
Another great source of omega-3 fatty acids is salmon, which gets a lot of its benefits from Docosahexaenoic acid, or DHA. DHA contributes to brain health alongside other minerals like vitamin A, vitamin D, and selenium. There are countless ways to prepare salmon, and even just some packaged smoked salmon on a bagel can go a long way in keeping you alert and focused throughout the day.
Feeling hungry yet? These clean snacks are just a few of the nearly endless culinary options available today, but they're on the list for a reason. Each contains ingredients that are meant to keep you full and focused. Snacking should be quick, not hard; you've got a lot to take care of! Make sure your snack is working for you, not against you, so you can stay alert and focused all throughout the day!
BlissMark provides information regarding health, wellness, and beauty. The information within this article is not intended to be medical advice. Before starting any diet or exercise routine, consult your physician. If you don't have a primary care physician, the United States Health & Human Services department has a free online tool that can help you locate a clinic in your area. We are not medical professionals, have not verified or vetted any programs, and in no way intend our content to be anything more than informative and inspiring.
Editors' Recommendations