Did you know there's an easy way to beat the afternoon slump? Eat a healthy snack! Lots of foods, like leafy greens, dark chocolate, and berries, contain essential nutrients that can give you a natural energy kick. But more so than that, these foods can boost your memory power so that you can complete your task with ease. Keep reading to learn about some foods that improve memory and the tasty snacks you can make with them.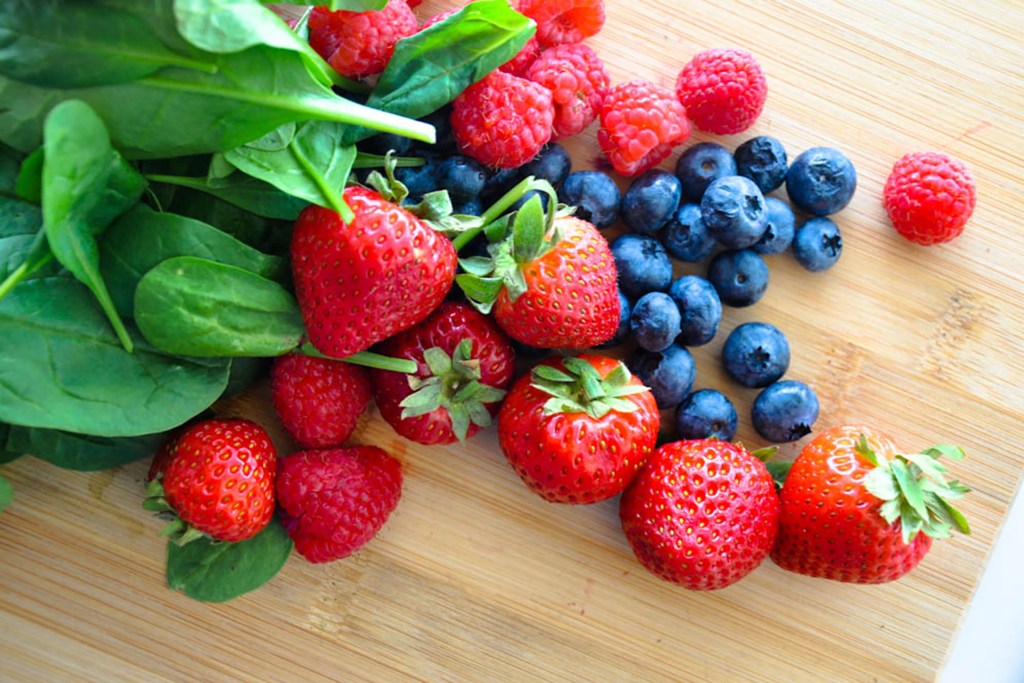 Which foods help boost brain function?
Lots of foods contain nutrients that help with memory and cognitive function. These are some of the best to try when you need a boost:
Berries: These fruits contain antioxidants that protect against oxidative stress and prevent premature aging in the brain. Blueberries are especially good for your brain.
Leafy greens: Vegetables like kale, spinach, and collard greens are also full of antioxidants. They also contain iron, beta carotene, and folate, which decrease inflammation and improve blood circulation to the brain.
Food rich in omega-3 fatty acids: In addition to oily fish, chia seeds, flax seeds, and some nuts have high levels of omega-3s. These fatty acids help to build brain cells and lessen age-related brain decline.
Pumpkin seeds: These healthy seeds are packed with antioxidants, copper, iron, magnesium, and zinc, all of which are essential for brain health.
Green tea and matcha: Green tea improves memory, focus, alertness, and brain performance thanks to the caffeine, L-theanine, and polyphenols it contains.
Dark chocolate: The caffeine in dark chocolate is a natural stimulant. Additionally, the flavonoids in chocolate enhance memory and slow age-linked degeneration.
Now check out six of our favorite brain-boosting snacks that contain some of these incredible foods.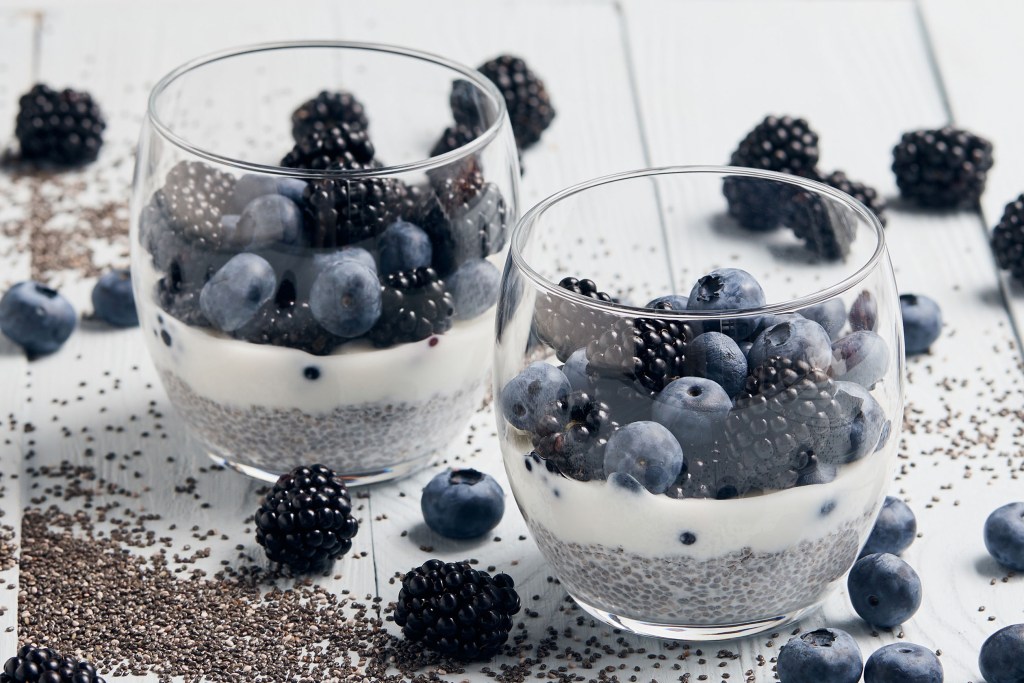 Berry Yogurt Parfait with Chia and Hemp Seeds
With antioxidant-rich berries and chia seeds full of omega-3 fatty acids, this yogurt parfait is sure to give you a lift.
Ingredients
1 13.5 oz. can full-fat coconut milk
3 cups fresh berries
1/2 cup plain Greek yogurt
1/4 cup chia seeds
1 tbsp honey
1 tsp vanilla extract
Hemp seeds, granola, flax seeds, as preferred
Instructions
Combine the coconut milk, chia seeds, honey, and vanilla extract in a bowl. Let it chill in the fridge for at least an hour or overnight. Layer the fruit, yogurt, and other favorite toppings atop the chia seed pudding. Garnish with unsweetened shredded coconut and enjoy.
Pumpkin Seed and Dried Cherry Trail Mix
Trail mix is an excellent memory-boosting treat, especially when it has pumpkin seeds.
Ingredients
2 cup baby pumpkin seeds (pepitas)
1 cup slivered almonds
1 cup dried cherries or cranberries
3/4 cup raw sunflower seeds
6 tbsp maple syrup
Coarse salt
Instructions
Preheat the oven to 300 degrees Fahrenheit and prep two baking sheets with parchment paper. Pour the pepitas, almonds, and sunflower seeds into a large bowl. Drizzle the syrup on top and toss until the nuts are evenly coated. Spread the nuts and seeds in an even layer on the baking sheets. Season with salt to taste. Bake for about 20 minutes, stirring frequently. Let the nuts and seeds cool, then add the cherries and toss. Store the trail mix in an airtight container.
Green Smoothie
If you need some afternoon energy, try drinking this brainpower-supporting green smoothie.
Ingredients
1/2 avocado, pitted and skinned
2 1/2 cups almond milk
2 cups spinach
1 cup frozen pineapple chunks
1 tbsp chia seeds
Instructions
Add all the ingredients into the blender. Puree for 2-3 minutes until the ingredients take on a smooth texture. If the drink is thicker than you prefer, add more almond milk and blend again. Pour the smoothie into a cup and drink cold.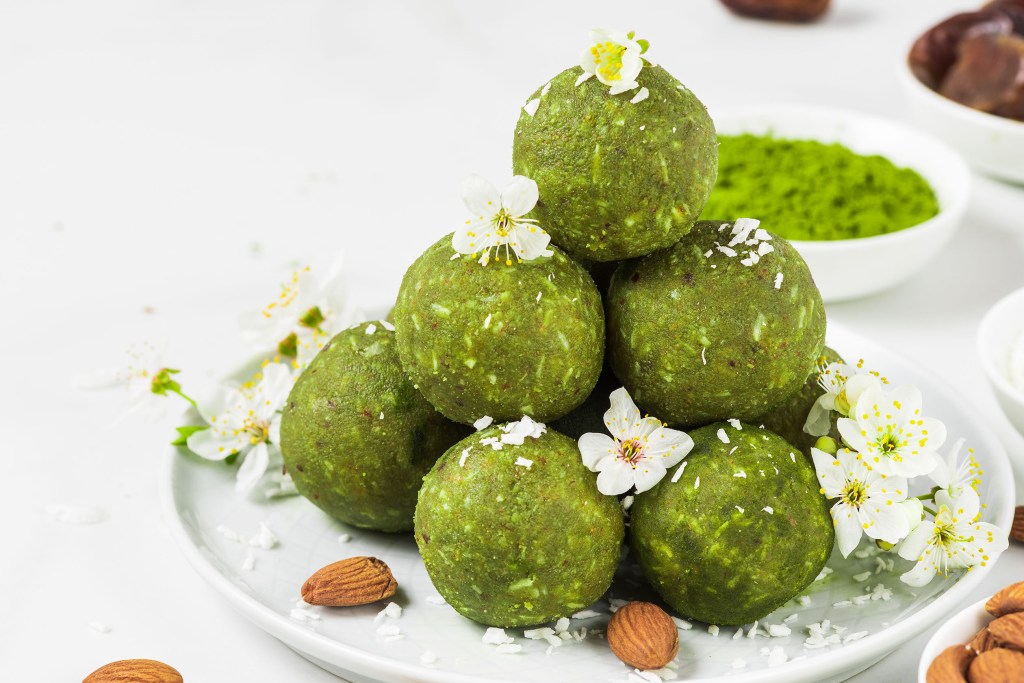 Matcha Chia Seed Energy Bites
Matcha is a derivative of green tea leaves and has many of the same benefits for the brain. Check out this simple recipe for matcha chia seed energy bites.
Ingredients
1/3 cup cashew butter
1/4 cup rolled oats
1/4 cup matcha powder
1/4 cup agave syrup or honey
2 tbsp chia seeds
2 tbsp vanilla protein powder
2 tbsp unsweetened shredded coconut
Instructions
In a large bowl, mix the cashew butter, oats, matcha powder, agave, chia seeds, and vanilla protein powder until the mixture becomes smooth. Use your hands to roll small portions of the mix into bite-size balls. Roll each ball in shredded coconut until it's evenly coated. Refrigerate the bites for 10-15minutes before eating them.
Apple nachos with peanut butter and chocolate
These fruit nachos are the perfect sweet snack for kids and adults alike.
Ingredients
1 apple, thinly sliced into 32 pieces
1/4 cup smooth peanut butter, melted
1/4 cup dark chocolate chips, melted
1 extra handful of chocolate chips
Instructions
Melt the peanut butter and chocolate chips in separate bowls in the microwave. Arrange the apple slices on a plate. Drizzle the melted peanut butter over the apples using a spoon. Next, drizzle the dark chocolate. Sprinkle a few dark chocolate chips on top, and serve immediately.
Kale Chips
Enjoy all the benefits of leafy greens with this delicious and easy-to-make snack.
Ingredients
1 large bundle curly green kale
1-2 tbsp melted coconut or avocado oil
Seasoning of choice (a pinch of sea salt, 1 tsp chili powder, etc.)
Instructions
Preheat the oven to 225 degrees. Rinse and dry the kale. Tear the leaves into small pieces and get rid of any large stems. Put the leaves in a large bowl, then drizzle with the oil and your chosen seasoning. Toss to combine and use your hands to ensure each leaf is evenly coated. Lay the kale in an even layer on baking sheets. Bake for 15 minutes, toss the kale, then bake for another 5-10 minutes until it's crispy and slightly golden brown. Let cool before snacking.
These are six of the best brain food recipes that you can enjoy every day. These delicious snacks can improve your memory function (in the short and long term) and improve your overall cognitive function, thanks to the antioxidants, omega-3 fatty acids, and other nutrients that occur naturally in the recipes' ingredients. So the next time you're feeling low, or you need to up your brainpower, grab one of these simple treats to munch on.
BlissMark provides information regarding health, wellness, and beauty. The information within this article is not intended to be medical advice. Before starting any diet or exercise routine, consult your physician. If you don't have a primary care physician, the United States Health & Human Services department has a free online tool that can help you locate a clinic in your area. We are not medical professionals, have not verified or vetted any programs, and in no way intend our content to be anything more than informative and inspiring.
Editors' Recommendations