Sweatpants were once reserved only for lounging around the house or sleeping. But thanks to the growing popularity of athleisure wear and our work from home pandemic year, this is no longer the case. Sweats and joggers now have a place in everyday fashion. With the right outfit and accessories, you can dress up your sweatpants to go almost anywhere from the grocery store to the office. So how can you transform your sweats from PJs to stylish wardrobe staples? Keep reading to discover nine tips for how to look good in sweatpants.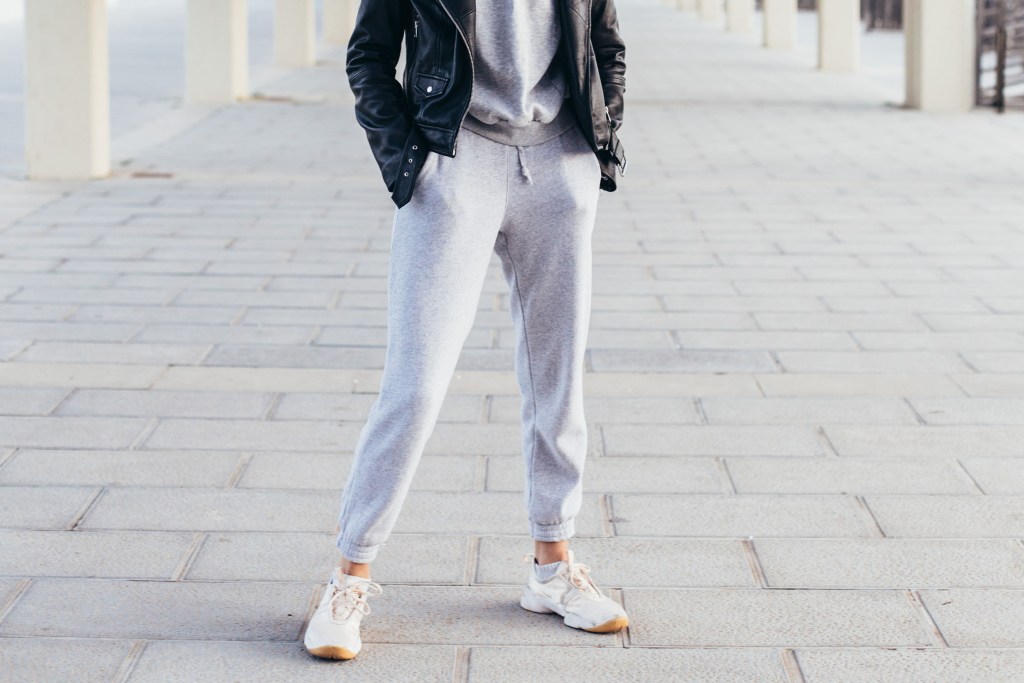 Choose fitted sweatpants, not baggy ones
If you want to dress up your sweats, the first step is to choose the right pair to wear out. Baggy, fleece sweatpants might be cozy to wear around the house, but they can make you look schlubby when you wear them out. Choose a pair of joggers that are tapered around the ankle or sweatpants that are fitted around the waist and thighs.
Dress up your joggers with heels or boots
Sneakers and joggers are a match made in heaven. But, if you're trying to make your sweatpants look dressier, wear them with heels or ankle boots instead. These shoes will instantly elevate your outfit and make you look fashionable no matter the occasion.
Treat them like jeans
Think of your sweatpants like your favorite pair of casual jeans; you can pair them with almost any top. Wear them with a cute sweater, button-down shirt, or simple tank top. This styling method works best with black, beige, or other neutral-colored sweatpants so you can let your top draw most of the attention.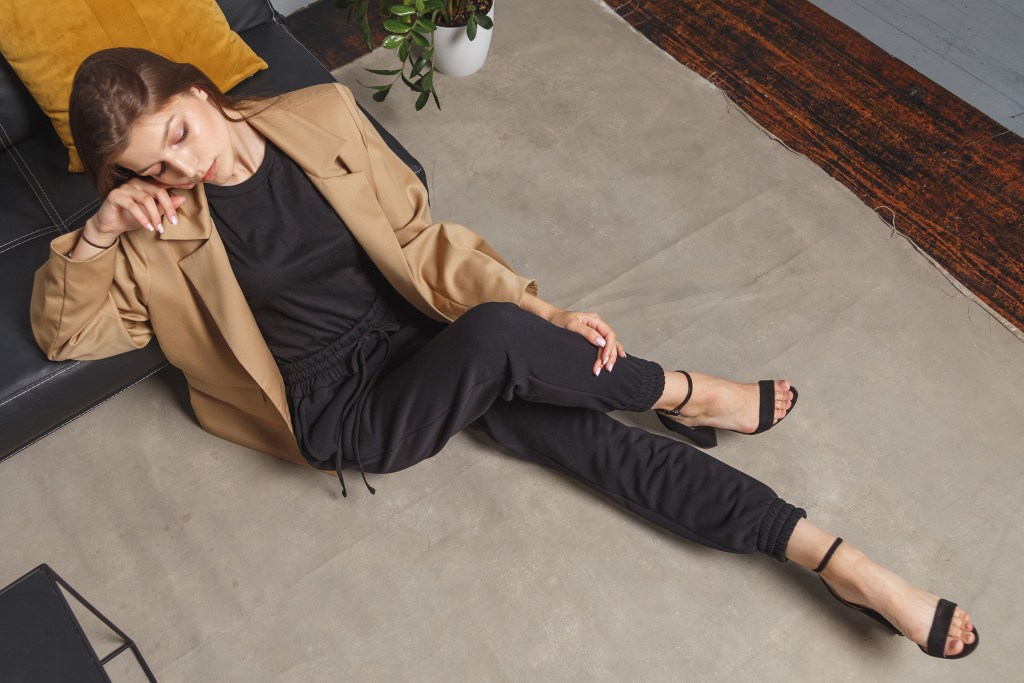 Wear your sweats with a long coat or oversized blazer
On chillier days, you can instantly elevate your joggers with an oversized blazer or a long coat. Plus, with this style, you'll stay warm and cozy from head to toe. Choose a trendy trench coat or blazer for work or more formal occasions. When you're running errands, consider wearing a hoodie under your favorite oversized jean jacket.
Style the rest of your look
If you plan to keep it casual with your bottoms, you can still look put-together by styling the rest of your look. Doing this can make your casual outfit appear more intentional and less like you just rolled out of bed. Add some jewelry, a statement bag, or other accessories to your ensemble. And don't forget to style your hair.
Choose a neutral hue
While bold colors can be fun, they're not always easy to dress up. Dark shades and neutral-colored sweatpants are typically simpler to make look more elegant and refined. With the right styling, most people won't even be able to tell you're wearing joggers. Top your sweats with a sweater or silky blouse and throw on your favorite heels.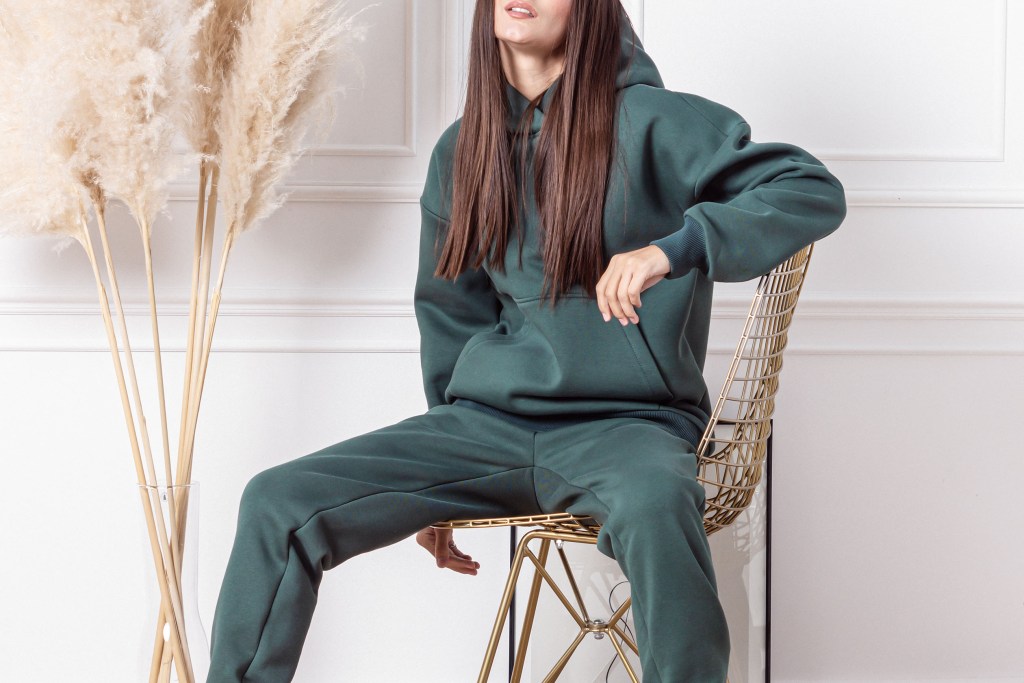 Try a monochromatic color palette
For a comfy and chic look, stick with a monochromatic color palette. Pair your sweats with a coordinating sweatshirt or tee of the same color. You can choose a bold color like Kelly green or a more subdued hue like ballet pink. Some retailers sell matching sweatpants and sweatshirt sets, making it even more straightforward to achieve this style.
Layer up
Layers aren't just great for keeping you warm on cold days. You can make your sweatpants outfit look more intentional by adding on a few extra layers. You can wear a button-up shirt under a sweater or cardigan. Or top off your ensemble with a cozy scarf.
Try sweats in a luxe material
Forgo the classic cotton sweats for a pair made of more luxurious fabric. Look for a pair made of cashmere or velvet for the colder seasons. For warmer months, try a pair of joggers with a silk or satin finish. An uncommon fabric choice can add some dimension to your outfit and instantly make your pants feel less casual.
Who knew your lazy pants could look so good? With these simple styling tips, you can take your sweatpants from casual to dressy with ease. All it takes is the right pair of joggers, a cute top and jacket, and some great accessories. Now that you know how to style sweatpants, you can be comfy and fashionable every day of the week.
BlissMark provides information regarding health, wellness, and beauty. The information within this article is not intended to be medical advice. Before starting any diet or exercise routine, consult your physician. If you dont have a primary care physician, the United States Health & Human Services department has a free online tool that can help you locate a clinic in your area. We are not medical professionals, have not verified or vetted any programs, and in no way intend our content to be anything more than informative and inspiring.
Editors' Recommendations