Blazers are no longer just for stuffy offices or preppy ensembles; they are quickly becoming one of the most essential wardrobe staples. This versatile outerwear piece can be worn on almost any occasion, no matter if you're going on a job interview or you're running errands. A classic blazer can elevate your sweatpants (yes, really!) or seamlessly blend with a cute mini dress for a night out. But no matter where you're going, you can take your outfits to the next level with these interesting and creative ways to wear a blazer.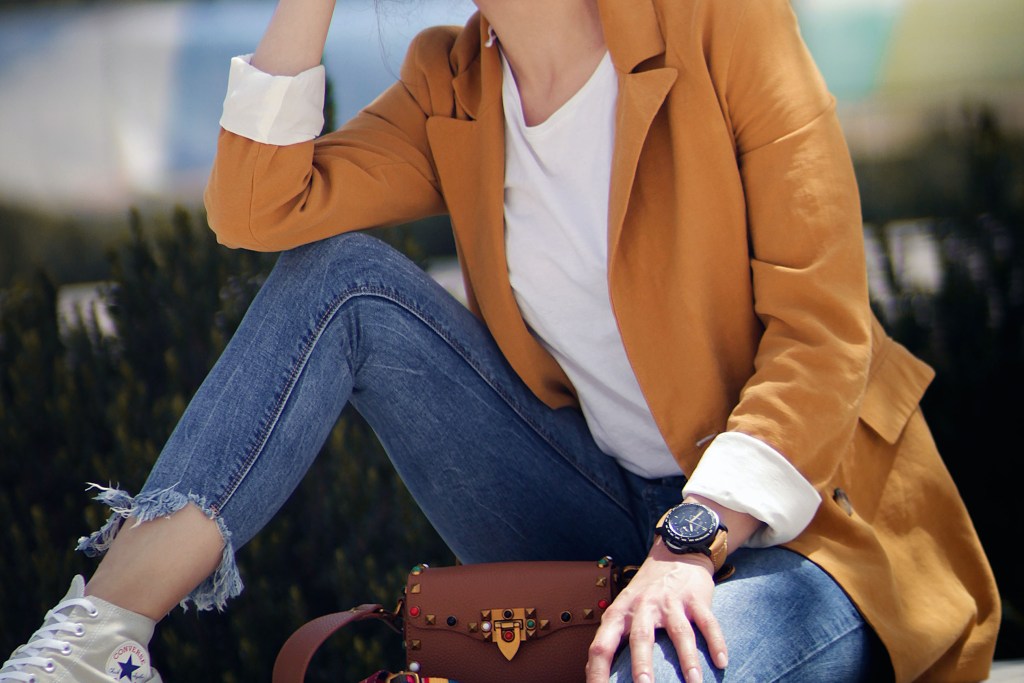 Pair it with jeans
Let's start with a casual look. Try matching your favorite blazer with a cute pair of jeans. Loose-fitting or straight leg, your blazer will look great all the same. On top, you can layer a plain white tee or a cute graphic t-shirt underneath the structured coat. Or, if you want to dress it up a little bit more, wear a basic turtleneck with your jeans for a simple business casual look. When you're creating your outfit, make sure to pay attention to the fit of each individual piece. If you match an oversized blazer with a loose-fitting tee and slouchy jeans, your outfit may overpower your frame. Instead, try to create balance in your look by combining fitted and loose-fitting pieces.
Create a comfortable outfit
Blazers also look great with athleisure wear. A tailored jacket can elevate your casual outfit and make even your comfiest sweats look chic. Layer a cute blazer over a matching sweatsuit. Or, you can wear it with your favorite sweatshirt or t-shirt and bike shorts, leggings, or sweatpants. And don't forget your favorite sneakers! With this extra layer, your whole ensemble will look more put-together, and enjoy a polished look while staying comfy.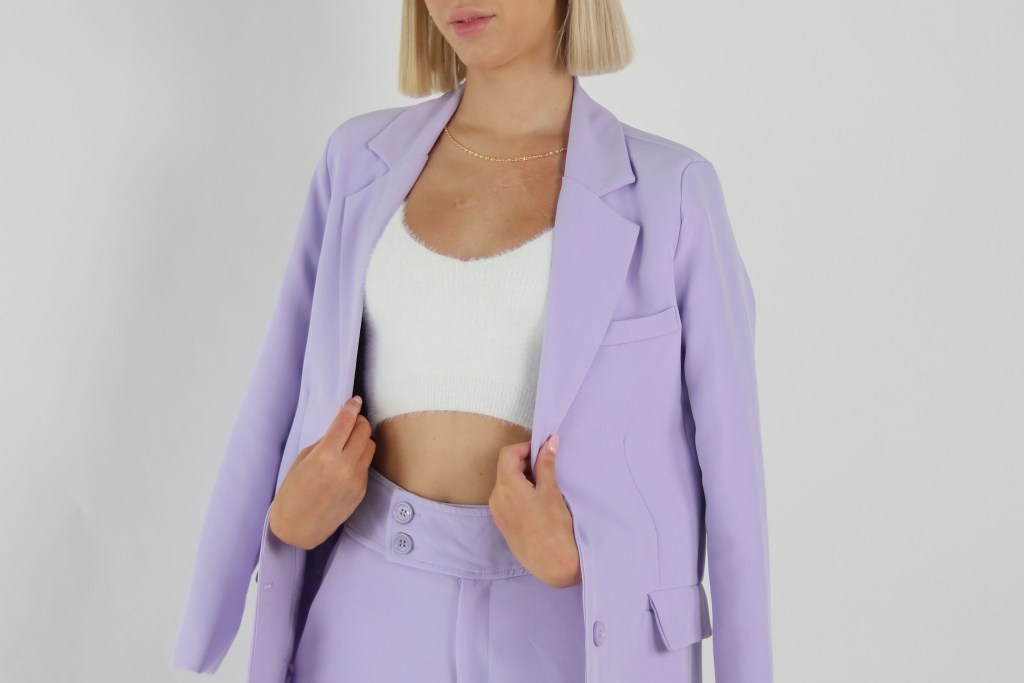 Go the monochrome route
If you're not sure how to style your blazer, you can't go wrong with a full suit. Create a monochrome look with matching trousers or shorts. To have some fun with this style, choose a trendy color like soft lilac or bold red. With your top, you can dress your suit up or down. For an office-appropriate outfit, wear a button-up blouse, solid-colored turtleneck, or a flowy and chic tank top. If you want something a little more casual, you can wear a crop top, t-shirt, or a blouse with a bold pattern.
Dress it up with a mini
The structured, boxy shape of a blazer can tend to appear a little masculine. To give your coat a feminine touch, consider wearing it over a minidress. Styling your blazer like this creates a sophisticated and womanly silhouette, especially if you cinch the jacket at the waist. Plus, the coat can give your favorite mini a little something extra and keep you warm on chilly autumn evenings.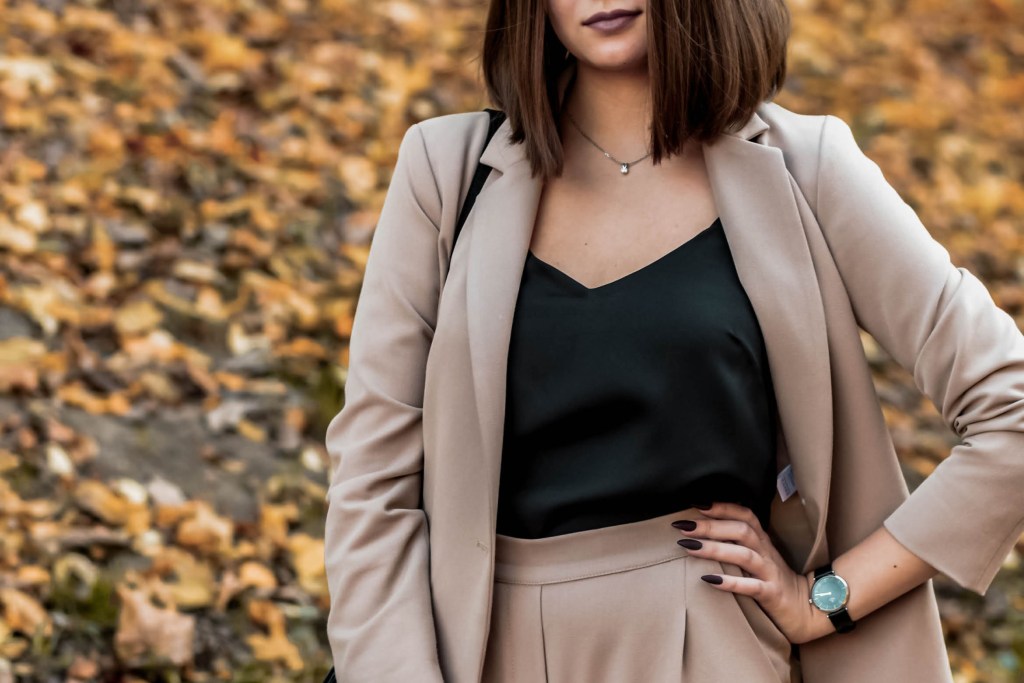 Layer with timeless neutrals
Blazers are incredibly easy to style if you choose to stick with sophisticated neutrals. Complete your outfit using clothes and accessories in black, white, brown, and beige hues. Doing so creates a timeless and polished look that you can wear to work or any upscale event. If you want to experiment with neutrals, you can choose pieces with unique textures or volumes. Pair a peplum blazer with leather pants (all in neutral shades, of course) to add some visual interest.
Show some skin
Get ahead of this year's most popular fashion trends and layer your blazer over a bralette, bandeau, or crop top. The bra as a top look isn't everyone's cup of tea, but if you're feeling a little daring, give it a shot! This look can be super sexy if you leave the jacket open, or you can create a subtler look by buttoning up the coat. You can wear your bra top with a matching suit for a more upscale look or wear it with bike shorts or jeans for casual occasions.
There are countless ways to style a blazer. Whether you're going out with friends or running errands on the weekend, you want to look comfy and relaxed or sultry and alluring, a blazer can help pull your whole outfit together. No matter how you wear your blazer, with these tips, you will be chic and stylish anywhere you go.
BlissMark provides information regarding health, wellness, and beauty. The information within this article is not intended to be medical advice. Before starting any diet or exercise routine, consult your physician. If you don't have a primary care physician, the United States Health & Human Services department has a free online tool that can help you locate a clinic in your area. We are not medical professionals, have not verified or vetted any programs, and in no way intend our content to be anything more than informative and inspiring.
Editors' Recommendations