People with rectangle or athletic bodies have shapes that resemble celebrities like Cameron Diaz and Zoe Kravitz. This body shape is characterized by having fairly uniform shoulder, bust, and hip measurements and a straight waistline instead of a curvy one. Whether you're wearing a swimsuit or pantsuit, the key to dressing is to create balance with your bone structure and draw the eye to the features you want to accentuate. By choosing the right bathing suit for your body, you can create the illusion of curves using just designs, patterns, and cuts. Here's how to find the best bathing suit for rectangle shapes.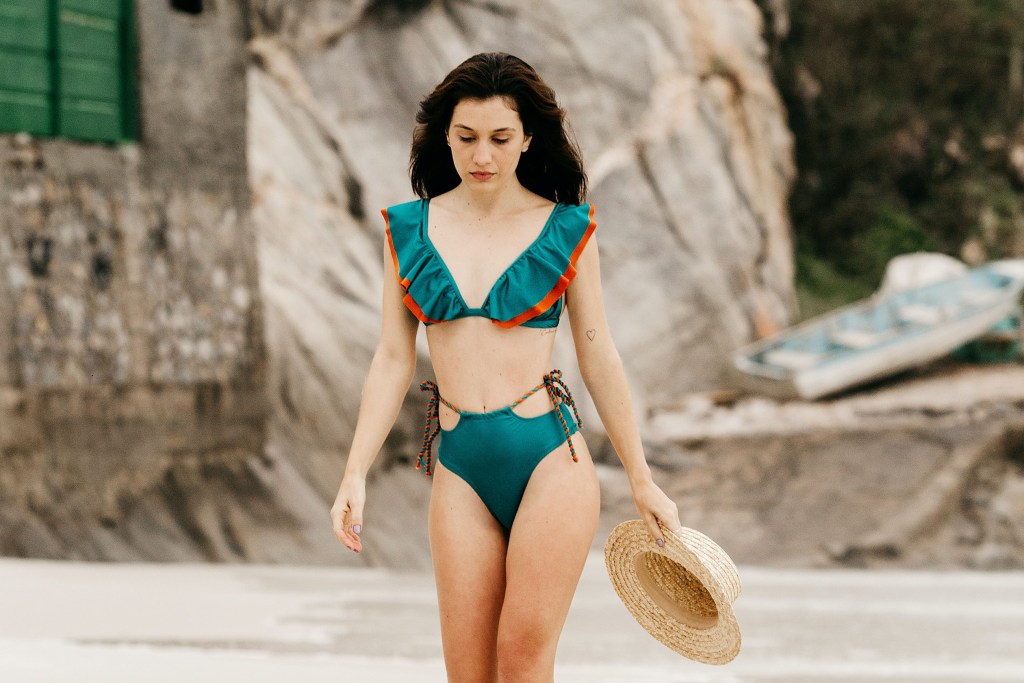 Choosing swimsuit tops
If you want to add more shape to your bust area, there are a few styles of swimsuit top that can help you achieve this goal. Choose triangular tops that offer coverage but still show a little bit of cleavage. For those who want an extra lift and support, select a balconette or push-up swimsuit top. You can also create the appearance of volume by wearing a top with ruffles or frills. These design features create more of a contrast between your bust and waist, making your figure look fuller and your waist look slimmer.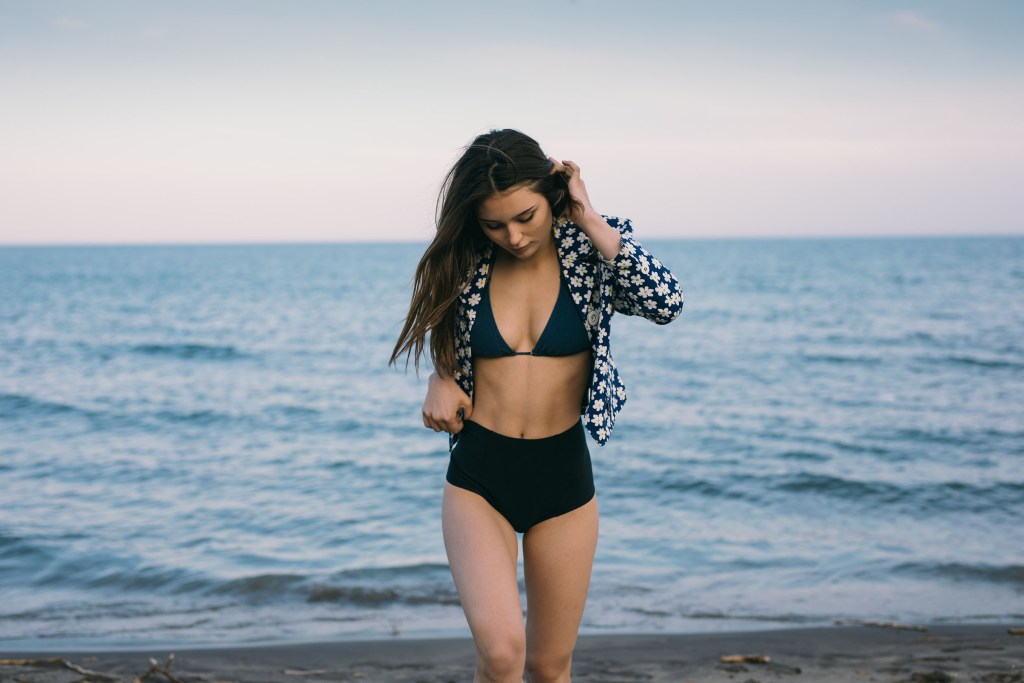 Finding bikini bottoms
Certain swimsuit designs can also fill out your hips and give your booty a little boost. High-waisted bottoms are a great option for people with athletic body types. The full-coverage design enhances the volume of your hips, especially when the bottoms are in a bold color or pattern. High leg cut (also called French cut) swimsuits are another great option since they create the image of an hourglass silhouette and make your legs look longer. Or, if you're feeling brave, you can try a cheeky bikini. This style exposes more skin, making your backside look more defined.
Patterns and features to look for
You can also improve the curves of your body using guiding lines, colors, and patterns. These features can be used to attract attention to the areas you want to emphasize. Diagonal and vertical stripes help create the illusion of a slimmer waist and a longer torso. Busy patterns and bright colors can draw the eye to areas you want to highlight. Choosing a feminine floral print or a bold color can balance the straight lines of your bone structure and make you look curvier.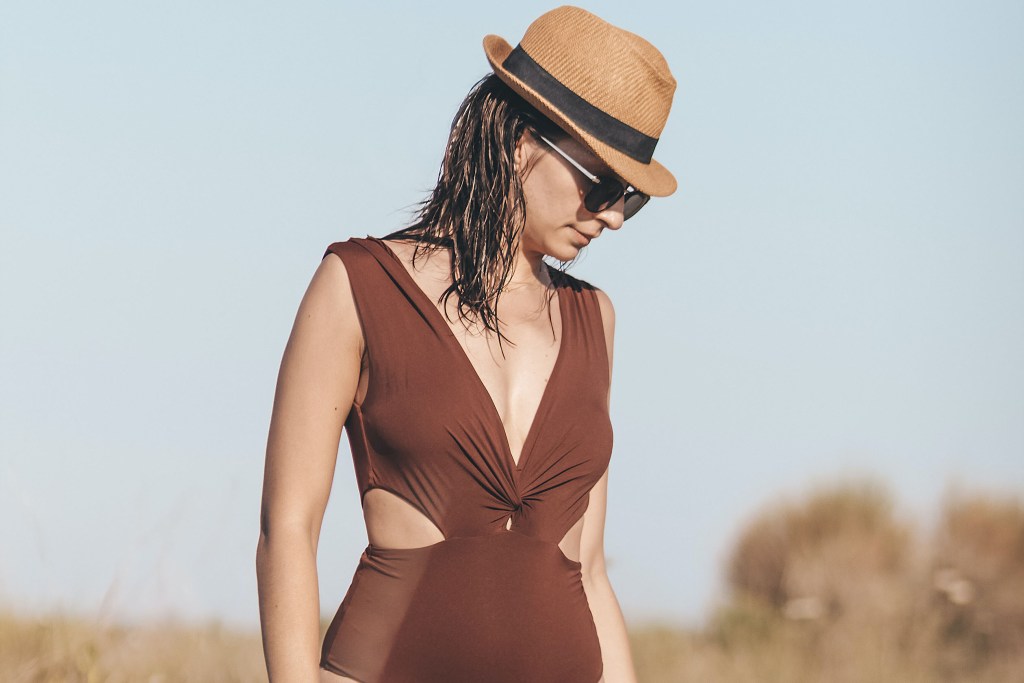 Picking out one-piece suits
For women who don't feel comfortable wearing two-piece styles, one-piece swimsuits can be just as figure-flattering. One of the best styles to look for—and one of the trendiest this season—are suits with cut-outs. Select a bathing suit with cleverly placed cut-outs on the trunk that mimics an hourglass body shape and slims the waistline. Swimsuits with adornments on the hips, like ties and laces, can have a similar impact. You should also consider trying a bathing suit with a plunging neckline. One-pieces with V-necks can draw the eye upward and boost the appearance of your bust.
Swimsuits to avoid
Some swimsuit styles are less flattering to your body shape. Of course, you can (and should) wear whatever you're comfortable in! But, specific swimsuit designs can create unappealing lines and draw attention to features you may not want them to. With a rectangle body, it's best to stay away from any pieces with harsh, straight lines. Avoid plain bandeau tops with straight lines. If you do want to wear a bandeau, choose one with a rounder shape. You should also stay away from boy shorts, which can flatten the curves you're trying to create. Horizontal stripe patterns can have a similar effect. Whereas vertical, diagonal, and curved lines can make you look taller and curvier, horizontal lines do the opposite.
If you are looking for a bathing suit for an athletic build, there are plenty of options to choose from. Triangle tops and v-necklines can enhance your bust, whereas high-waisted or cheeky bottoms can do the same for your behind. For one-piece swimsuits, look for ones with strategic cut-outs. You should also use interesting adornments like ruffles, patterns, and bold colors to draw the eye and enhance your favorite features. With these helpful tips, you can find the perfect swimsuit for your unique body type.
BlissMark provides information regarding health, wellness, and beauty. The information within this article is not intended to be medical advice. Before starting any diet or exercise routine, consult your physician. If you don't have a primary care physician, the United States Health & Human Services department has a free online tool that can help you locate a clinic in your area. We are not medical professionals, have not verified or vetted any programs, and in no way intend our content to be anything more than informative and inspiring.
Editors' Recommendations