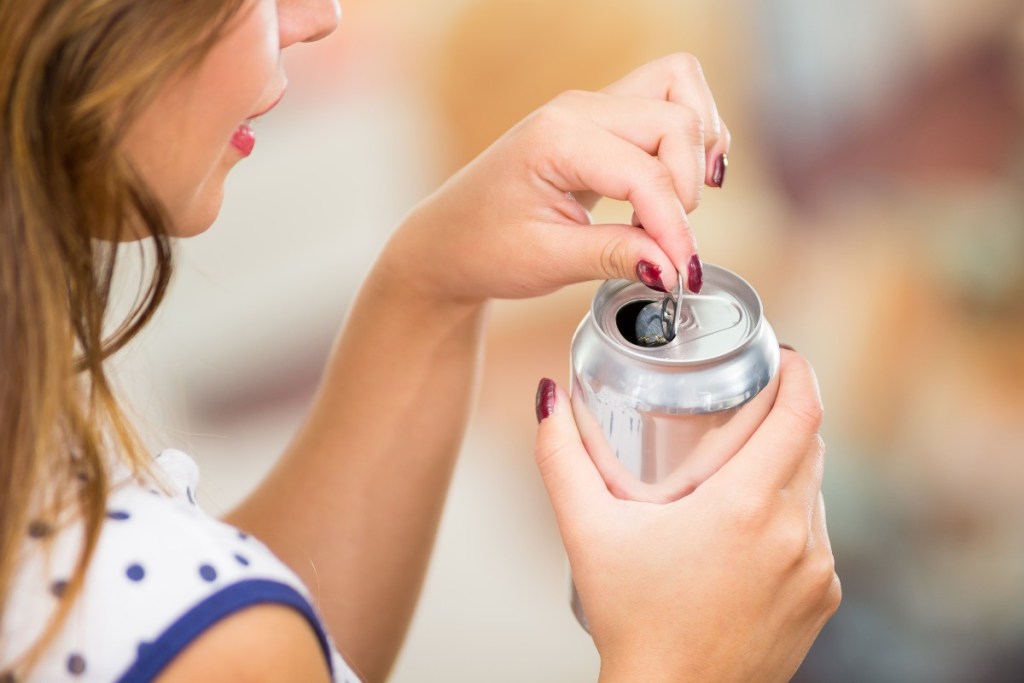 You're just going about your day when — bam — the clock strikes 3 p.m., and it might as well be midnight.
The mid-afternoon slump is deflating, especially once the coffee's run dry. Energy drinks provide a much-needed pick-me-up, but many are full of excessive calories and sugar that give a temporary jolt, followed by the dreaded caffeine crash. While it's best to include natural foods to boost energy, you don't need to swear off energy drinks entirely. Some brands offer natural energy drinks that keep you hydrated, refreshed, and ready to take on your last few Zoom calls of the day.
Good: MatchaBar Hustle Matcha Energy Drink, Sparkling Peach
Brick-and-mortar matcha juice bars have become a favorite of city-dwelling millennials. Derived from green tea leaves, matcha boasts antioxidants and energy-boosting properties. Now, you can sip on your cafe favorites at home thanks to MatchaBar, which created a line of lightly caffeinated natural energy drinks powered by matcha, not sweeteners. These are also fat-free, sugar-free, and have no cholesterol. The peach-flavored sippers are a favorite, with fans saying that they are refreshing to the palette and satisfying for the sweet tooth. The drinks are also carbonated, so if you start feeling the need to hit the soda machine, consider this a healthier, natural alternative to boost your energy.
Better: SOUND Sparkling Organic Yerba Mate
SOUND developed a natural energy drink that's a little tangy, a little tart, and completely healthy. The Yerba Mate flavor combines citrus and hibiscus and contains fewer than 10 ingredients. With no fat or sugar, this sparkling beverage gets its energy from 70 milligrams of caffeine, to tide you over for the rest of the day but not keep you up at night. The light, crisp bubbles mimic the refreshing taste and energy boost of soda without the excessive amounts of sugar and caffeine.
Best: Proper Wild Clean All-Day Energy Shots
Proper Wild Clean All-Day Energy Shots have two times more caffeine than a cup of coffee but don't leave you with the jitters a few hours after finishing it. Reviewers say it enhances focus and productivity, allowing them to plow through their to-do lists in no time. This natural energy drink contains clean, plant-based ingredients without any preservatives or artificial sweeteners. The six-shot variety pack has something for every taste, whether you're a fan of tart blackberry, sweet peach mango, or semi-spicy ginger.
If you're struggling to combat feelings of sluggishness, consider investing in natural energy drinks to boost your energy. This will give you all the mood and focus-boosting properties of caffeine without all the extra sweetener and calories. Get ready to wake up and start your day on the right foot with these energy and mood-boosting drinks.
BlissMark provides information regarding health, wellness, and beauty. The information within this article is not intended to be medical advice. Before starting any diet or exercise routine, consult your physician. If you don't have a primary care physician, the United States Health & Human Services department has a free online tool that can help you locate a clinic in your area. We are not medical professionals, have not verified or vetted any programs, and in no way intend our content to be anything more than informative and inspiring.
Editors' Recommendations