Charcuterie boards had a bit of a renaissance during the pandemic, but there just might be another surge in popularity as more people learn about Calabria's best-kept secret — nduja. This up-and-coming treat is one of the hottest (literally) types of Italian salumi that you should be adding to your grocery list. Nduja is a salty and spicy spreadable pork that works just as well on toast as it does in pasta sauce. Its recent rise in popularity has made it easier to find in the U.S. But what exactly is nduja?
What is nduja?
Nduja (pronounced en-doo-ya) is a spreadable fermented pork-based salume that is spiced with hot chilies. It originated in Spilinga, a small municipality in Calabria which is known for its hot and spicy foods. Nduja is one of its most piquant creations. Originally, it was made from what some may consider the least appetizing parts of the pig. Poor pig farmers would sell the prime cuts of meat to the upper classes and be left with a mixture of offal, extra fat, and meat trim. From these scraps, nduja was born. Today, the cuts that make up the delicacy typically come from the throat, underbelly, head and shoulder. While you can thank the excess fat for its soft, spreadable texture, all the credit for its characteristic color goes to the bright red Calabrian chili peppers that season it. When added together with other spices inside of a casing and left to cure, you get authentic Italian nduja.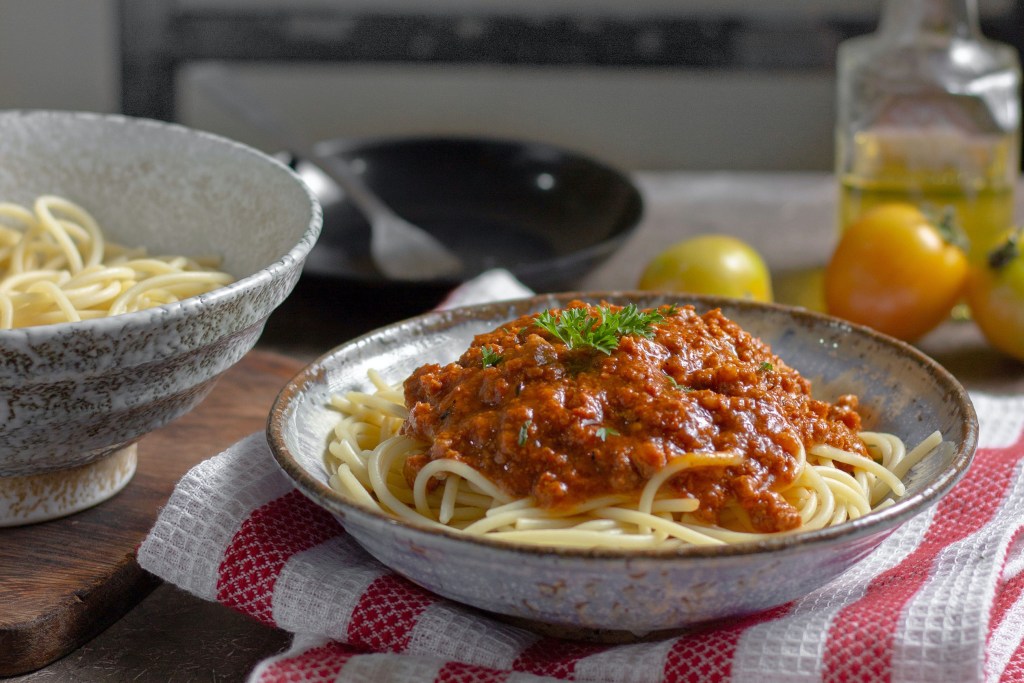 How to cook and serve nduja
Nduja is incredibly versatile and simple to add to dishes at the beginning and end of your cooking, thanks to its soft texture and ability to dissolve when it's heated. You can also enjoy nduja on its own without any additional preparation. The simplest way to enjoy it is spread on toasted bread. It also makes a great addition to any charcuterie board. You can add a few dollops on top of a pizza as a spicy topping. Or incorporate it into your favorite pasta sauce to give it a little kick.
If you are feeling really creative, try one of the most popular dishes in Calabria — fileja con nduja. Here's a great recipe to try from the Pasta Project. You can also use it to add some pizazz to whatever you are cooking. Nduja works as well in scrambled eggs as it does in soups and casseroles. Basically, you can add nduja to any dish that you would like to be a little spicier. Don't be afraid to experiment with some of your favorite dishes; you never know what you may love!
Where to find nduja
Though it's quickly becoming very popular, this salume is still not widely accessible. Real Italian nduja can only be imported to the United States if it is pasteurized, so you'll typically only be able to find Italian nduja in jars. Some American companies make their own in casings using unique recipes. The main difference between Italian and American nduja is the addition of lactic acid. In the USA, the FDA requires lactic acid to be included in fermented sausages since it lowers the pH levels, which slows spoilage and prevents the growth of unsafe bacteria. The only other ingredients in nduja should be pork, salt, and spices like Calabrian chilies. You can typically find nduja at high-end grocery stores and Italian food markets like Eataly. You may also be able to find it online from specialty sellers.
We don't know about you, but we're ready to fill our refrigerators with nduja right now! We're so thankful that this delicious meat is finally getting its due. This multipurpose spreadable salume provides just the right amount of kick for your dishes from breakfast to dinner. But no matter if you're looking for a new toast topping or you want to try a traditional Italian pasta dish, nduja can make all the difference. Start scouring the internet today for tasty nduja so you can start enjoying this incredible salume for every meal.
BlissMark provides information regarding health, wellness, and beauty. The information within this article is not intended to be medical advice. Before starting any diet or exercise routine, consult your physician. If you don't have a primary care physician, the United States Health & Human Services department has a free online tool that can help you locate a clinic in your area. We are not medical professionals, have not verified or vetted any programs, and in no way intend our content to be anything more than informative and inspiring.
Editors' Recommendations