Anyone who has hosted Thanksgiving before can tell you what an incredible amount of work it is. Cooking a turkey is a job on its own, but with sides and appetizers, you'll be sweating in the kitchen all day long. But with an instant pot (or any pressure cooker), you can make holiday cooking a fast and easy process. Check out these five instant pot Thanksgiving recipes so you can start planning your feast today.
Instant Pot Butternut Squash Soup
This creamy soup recipe from Damn Delicious is the perfect side dish or appetizer course for your Thanksgiving dinner.
Ingredients
4 strips of bacon
1 butternut squash, peeled, seeded, and cubed
1/2 medium sweet onion, diced
3 large carrots, chopped into 1-in pieces
1 celery stalk, chopping into 1-in pieces
1 granny smith apple, cored and chopped
4 sage leaves, minced
3 garlic cloves, minced
3 sprigs fresh thyme
4 cups chicken stock
1/3 cup heavy cream
2 tbsp chopped fresh chives
Salt and pepper, to taste
Instructions
Begin by cooking the bacon. Set a 6-quart instant pot to the high sauté setting. Cook the bacon for six to eight minutes or until it's crispy. Place it on a paper towel to soak up the excess grease. When it's cool, chop the bacon into bits. Then, add the onion to the pot and cook it for two to three minutes, stirring often. Stir in the garlic, sage, and thyme for about a minute. Add the butternut squash, carrots, celery, apple, chicken stock, salt, and pepper. Alter the settings to manual, adjusting the pressure to high and the time to 12 minutes. When the mixture is done, quick-release the pressure. Remove the thyme sprigs, then stir in the heavy cream. Puree the soup with an immersion blender until it reaches your desired consistency. Season with salt and pepper and garnish with bacon and chives.
Instant Pot Cranberry Sauce
Cranberry sauce is a divisive holiday dish, but if you're a fan, you'll love this simple recipe from Amy + Jacky.
Ingredients
12 oz cranberries
1/2-1 cup white sugar
1/4 cup freshly squeezed orange juice
2 1/2 tsp orange zest
pinch of salt
2 tbsp maple syrup or honey (optional)
Instructions
Wash the fresh cranberries and remove the stems. Combine the orange juice and maple syrup in a small bowl, then pour the mixture into the instant pot. Add in the orange zest and 10 oz of the cranberries. Set aside the remaining cranberries. Pressure cook the contents of the pot at high pressure for one minute and at natural release for seven minutes. Open the lid, press cancel, and then press the sauté button. Use a wooden spoon to stir the cranberries, breaking them up. Stir in the rest of the cranberries and the sugar to form a thick cranberry sauce. Add a pinch of salt and more sugar if desired.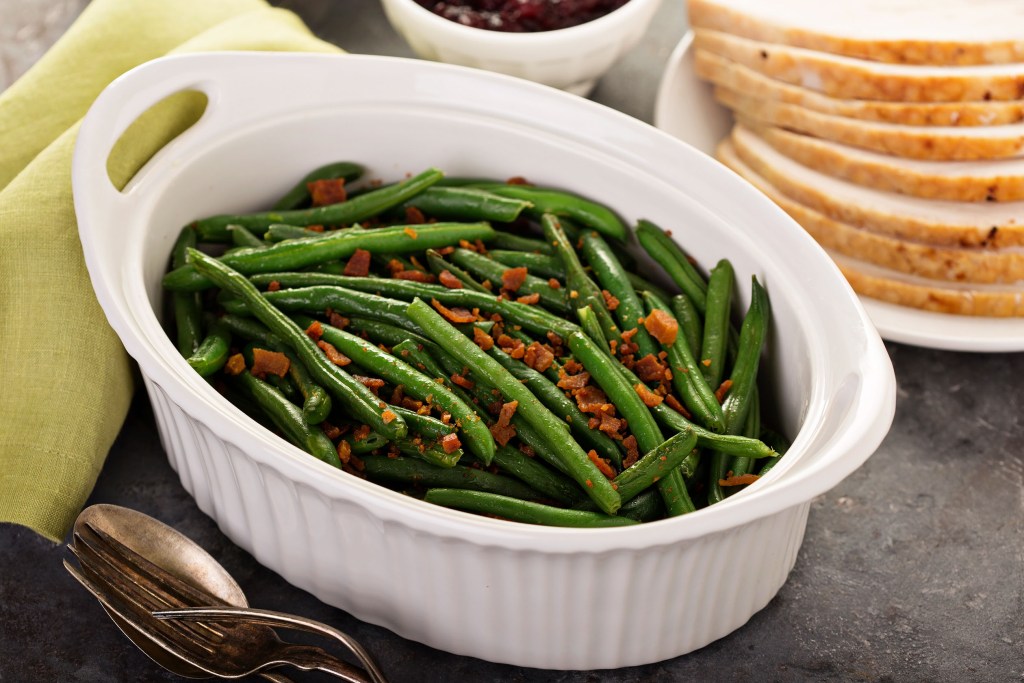 Easy Instant Pot Southern-Style Soul Food Green Beans
Dress up your boring green beans with this Southern-style twist from Stay Snatched.
Ingredients
4 strips of bacon, cubed
1 lb. green beans, stems removed
2 garlic cloves, minced
1 cup white onion, chopped
1 cup chicken broth
1 tsp chicken flavored bouillon
Salt and pepper, to taste
Instructions
Press the sauté button on the instant pot. Add the raw bacon pieces and cook for three to four minutes until it crisps. Drain all but one teaspoon of grease out of the pot. Add in the onions and garlic and cook until it becomes fragrant. Add the chicken broth and deglaze the pot with a spatula. Next, stir in the bouillon, green beans, salt, and pepper. Switch to the manual setting and cook for 15 minutes on the high-pressure setting. Quick-release the steam and serve.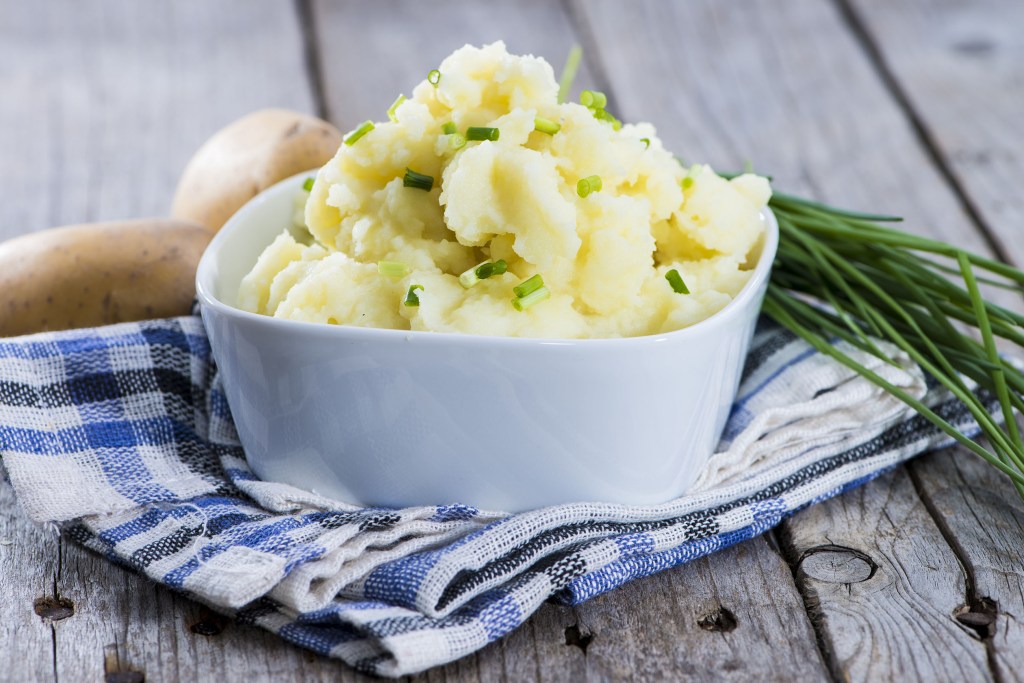 Instant Pot Mashed Potatoes
It wouldn't be Thanksgiving without homemade mashed potatoes! Check out this simple recipe from The Salty Marshmallow.
Ingredients
3 lbs potatoes, peeled and sliced
4-5 cups water
1/4 cup butter
1/4 cup sour cream
1/4 cup milk
2 tsp salt
1/2 tsp pepper
1/2 tsp garlic powder
Instructions
Add the prepped potatoes to the bottom of the instant pot. Cover the potatoes with water and add one tsp of salt. Replace the lid and set the valve to seal. Cook for eight minutes on manual pressure. Then, turn the pressure cooker off and quick-release the steam. Drain the potatoes and pour them back into the pot. Add the butter, sour cream, milk, pepper, garlic powder, and remaining salt to the pot. Mash until the mixture reaches your preferred consistency.
Instant Pot Cornbread
Create moist and delicious cornbread with this recipe from Shugary Sweets.
Ingredients
1 egg
1 cup buttermilk
1 cup all-purpose flour
1 cup yellow cornmeal
1 cup water
2/3 cup granulated sugar
1/3 cup vegetable oil
1 tbsp baking powder
1 tsp salt
Instructions
Grease a round seven-inch cake pan. Crack the egg into a bowl and whisk it until it's fluffy. Stir in the buttermilk and oil. Then, add the flour, cornmeal, sugar, baking powder, and salt and stir until thoroughly combined. Pour the batter into the cake pan. Wrap one piece of tin foil over the top of the pan and one around the bottom. Pour the water into the bottom of the instant pot. Put the foil-wrapped pan on a trivet and lower it into the pot. Lock the lid and seal the valve. Cook the cornbread for 55 minutes on high pressure. When finished, allow the pressure to release naturally for 10 minutes, then quick-release the remaining pressure. Remove the foil and enjoy.
These traditional (and some less traditional) dishes are guaranteed to be hits at your Thanksgiving gathering. And with an instant pot, you can cook them faster and with less effort than when using other methods. In just a few hours, your entire holiday feast will be ready to enjoy! And all you'll have to worry about is spending time with your loved ones.
BlissMark provides information regarding health, wellness, and beauty. The information within this article is not intended to be medical advice. Before starting any diet or exercise routine, consult your physician. If you don't have a primary care physician, the United States Health & Human Services department has a free online tool that can help you locate a clinic in your area. We are not medical professionals, have not verified or vetted any programs, and in no way intend our content to be anything more than informative and inspiring.
Editors' Recommendations