Are you looking for a signature scent? Instead of spending a pretty penny on an expensive perfume or cologne, try making your very own bottle of fragrance by using essential oils. Creating your own scent can guarantee a personalized fragrance made with clean ingredients that won't break the bank. Whether your preference is floral scents or musky aromas, a DIY cologne is the perfect beauty accessory for you or a gift for a loved one.
If you're on board to try creating your fragrance, we've broken down all the steps and materials you need to get started.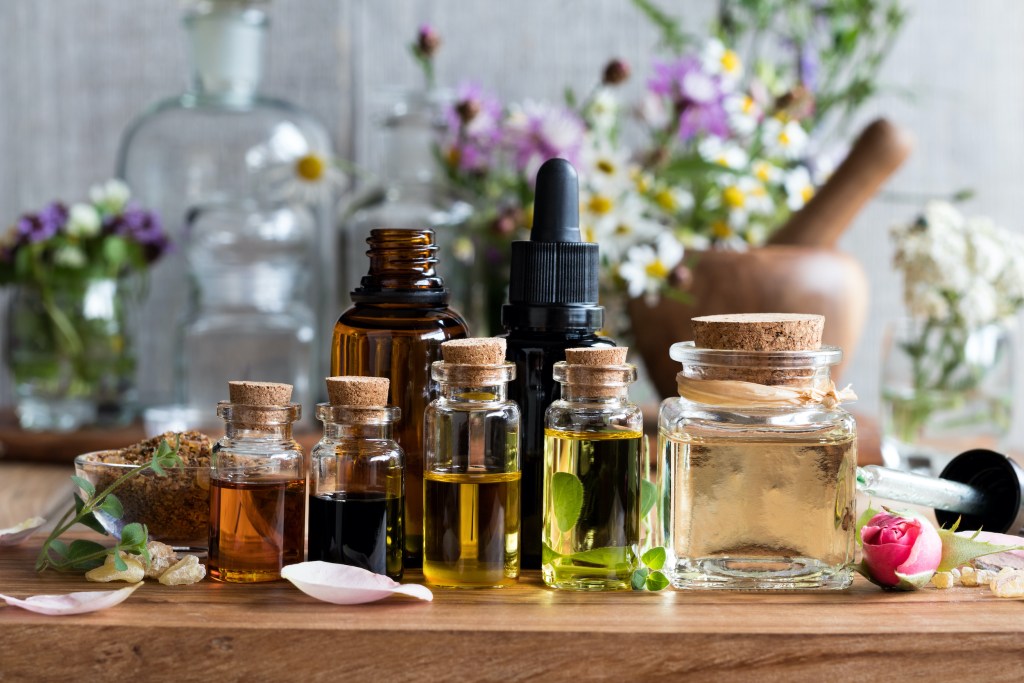 Picking out your essential oils
When thinking of which essential oils to combine, it's vital to first and foremost think of the overarching direction you'd like to take your scent. Ideally, you'd pick 2-3 essential oils, one being the base while the other two supplement the base scent. The remaining two scents are referred to as either the top and middle scents, as well as the head and heart scents. When picking a top and middle scent, pick two fun and complimentary fragrances that play off your base. If creating the perfect perfume was like creating an outfit, the base scent would be your top and bottoms, the middle scent is your shoes, and the top scent is your accessories.
Some of the possibilities for essential oils are:
Floral: Derived from floral notes and reflecting the smell of fresh-cut flowers, floral fragrance essential oils are rose, orange blossom, lavender, lily, and jasmine.
Musk: Referenced as having more of an earthy smell. Some of the best-known scents for musk include myrrh, patchouli, frankincense, and citronella.
Citrus: Scents made from this category of fruits essential oils. Traditionally sweet and deriving a fresh scent, citrus oils are grapefruit, orange, lemon, tangerine, and lemongrass.
Woods: Usually derived from tree and tree leaves. Examples of wood essential oils are pine, cedar, juniper, cypress, cedarwood, and eucalyptus.
Amber: Thanks to social progress, scents previously known by the outdated term "oriental" are now labeled amber. Amber scents (while including the scent of amber) can also include vanilla tonka bean, agarwood, bergamot, and ginger.
What you'll need
Before the mixing and misting can commence, we'll need to assemble all the proper ingredients and tools to properly DIY your cologne.
Tools:
Cologne container (can be a small sprayer or rollerball bottle)
Equipment:
Ingredients:
Carrier oil (examples are jojoba, grapeseed oil, and avocado oil)

Three essential oils


Fixative of choice (can be a specific essential oil, vitamin E capsule, or added premade fixate, which will be discussed more later).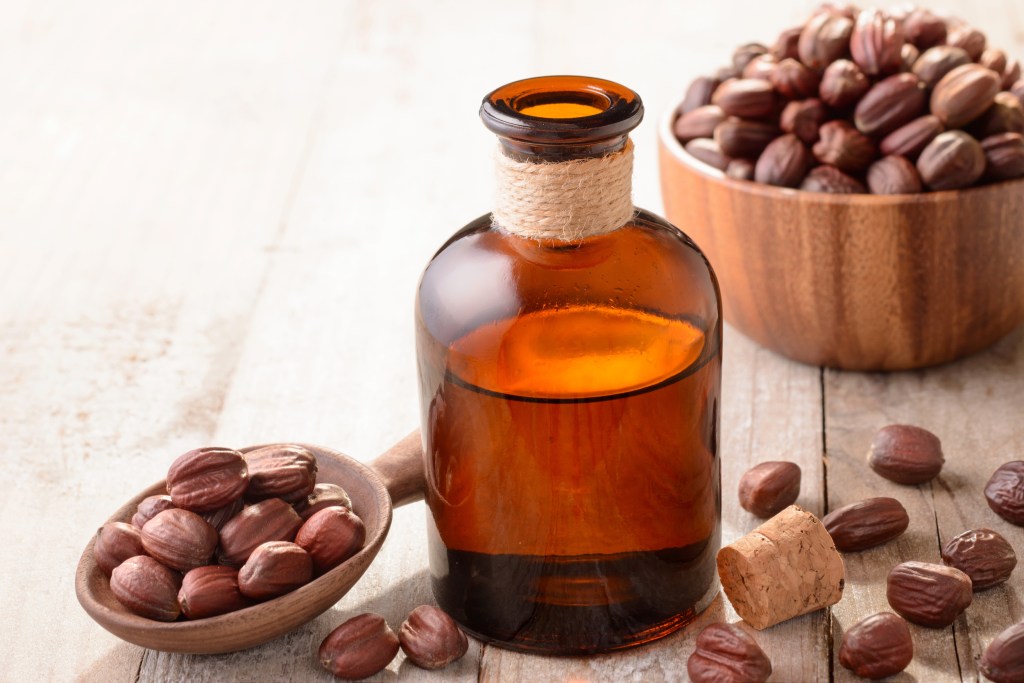 Picking out your carrier oil
When creating your DIY cologne, the foundation of your formula is primarily a carrier oil. This ingredient serves multiple purposes. First and foremost, it dilutes the oil for safe application — as essential oil should not be placed directly on your skin. In addition to making the scent safe for application, the carrier oil acts as a cost-effective, light fragrance to help blend each of the essential oils without overpowering the formula.
Jojoba Oil: Known as the most common carrier oil used when creating a fragrance with essential oil. Jojoba oil offers a few benefits that not all carrier oils have. First and foremost, jojoba oil is odorless, meaning it will not interact or throw off your chosen essential oils, giving you an accurate scent. Secondly, jojoba oil is colorless and absorbs nicely (and quickly) into the skin. This means you won't have any unwanted stains on your clothing or grease on your skin. Lastly, jojoba oil helps moisturize the skin, leaving it silky smooth.

Sweet Almond Oil: Sweet almond oil is loaded with vitamin E and D, as well as calcium and magnesium, making it an A+ skin favorite. While the skin may love sweet almond oil, its scent can interfere with your essential oils. Sweet almond oil has a strong nutty aroma and should be matched with oils that can complement the scent such as lemon, rose, and lavender.

Grapeseed Oil: Another neutral scent carrier oil, grapeseed oil is light in weight and can be quickly absorbed into the skin, making it a great choice for your cologne or perfume. Best of all, using grapeseed oil, can make your skin very soft after use!

Fractionated Coconut Oil: Has all the benefits of traditional coconut oil, but is both completely odorless and liquid at room temperature (whereas un-fractionated oil tends to harden at room temperature). In addition to having an odorless scent and ideal consistency, the benefits of coconut oil are fantastic and have many skin nourishing qualities (thanks to the assortment of saturated fats and fatty acids).
Putting your perfume together
Now that you have all of your equipment, ingredients, and scents picked out, it's time to create.
Using an eyedropper, fill your jar or bottle with your chosen carrier oil. We recommend the ratio of 4:1. For example, if you use 80 drops of carrier oil, add 20 drops of essential oil, which includes all three of your scents.

Add your base essential oil with an eyedropper. The base-middle note-top note ratio of essential oils should be 2:1:1. For example: if your carrier oil is 80 drops, you would add 20 drops of essential oils. Of that 10 drops, 10 would be base, five would be

top scent, and five would be middle scent.


Add your middle note scent with an eyedropper.

Add your top note scent with an eyedropper.

Add your fixative

Close

Shake

Mist (or roll)
Benefits of creating your own DIY cologne
Every person is different and has a unique approach to their fragrance. Take me, for example; I love a scent that is composed of a cardamom base, with notes of vetiver and bergamot. Now, buying this at a store is expensive and the balance of the three fragrances is not what I want. When I create this scent at home, I can control the amount of each oil I use, creating a unique fragrance that suits me. Additionally, with unique customization, you can avoid any fragrances or ingredients you may have an intolerance or bad reaction to, as well as the quality of ingredients you sourced from trusted retailers.
Remember to have fun with it! Learning how to make cologne and fragrances is a fun DIY project. You can make personal scents for yourself, family and friends. All it takes is a few ingredients and a little time to create something that is as unique as you are.

BlissMark provides information regarding health, wellness, and beauty. The information within this article is not intended to be medical advice. Before starting any diet or exercise routine, consult your physician. If you don't have a primary care physician, the United States Health & Human Services department has a free online tool that can help you locate a clinic in your area. We are not medical professionals, have not verified or vetted any programs, and in no way intend our content to be anything more than informative and inspiring.
Editors' Recommendations