While summer still feels like it's ages away, you still need to think about protecting your skin from the sun. Even though the days are shorter, you shouldn't be slacking on the SPF.
According to the Skin Cancer Society, "snow reflects up to 80% of the sun's UV light" making it even more dangerous than the sunlight you are exposed to in the summer. So if you plan on participating in any winter sports, you need to be even more careful.
"Even when it's cold or overcast, UV rays that cause skin aging and skin cancer are reaching your skin," says Deborah S. Sarnoff, MD, president of The Skin Cancer Foundation. "In the right winter weather conditions, you can sustain sun damage just as easily as during the summer."
You read that correctly. The sun is not to be trusted especially when it comes to your skin no matter the season. Consider creating a winter skincare routine that will protect, correct and promote healthy skin renewal throughout the winter. It's the best time to try new products and wear more anti-aging products and creams that will give you clean and healthy skin.
What SPF should you wear in winter?
We all have different concerns when it comes to our skin. With so many options available, it can be overwhelming. So we've put together a comprehensive list of products you should look for by skin type.
For normal skin
If you have normal skin, you want to prevent the sun from drying you out. You can try the Skin Restoring Moisturizer with SPF 50 from Paula's Choice. It works well as a moisturizer that you can wear every day while you run errands. If you prefer to keep your moisturizer separate from your SPF then the Age-Defying Daily Face Lotion + Manuka & Ginger Root by BOTA will give your skin a vibrant glow. If you want a light and sheer product try Black Girl Sunscreen. It is sheer with an SPF of 30. In the cooler months, it's easy to neglect your hands, so make sure to keep a bottle of Gloves In A Bottle near as your hands can suffer from sun damage as well.
For sensitive skin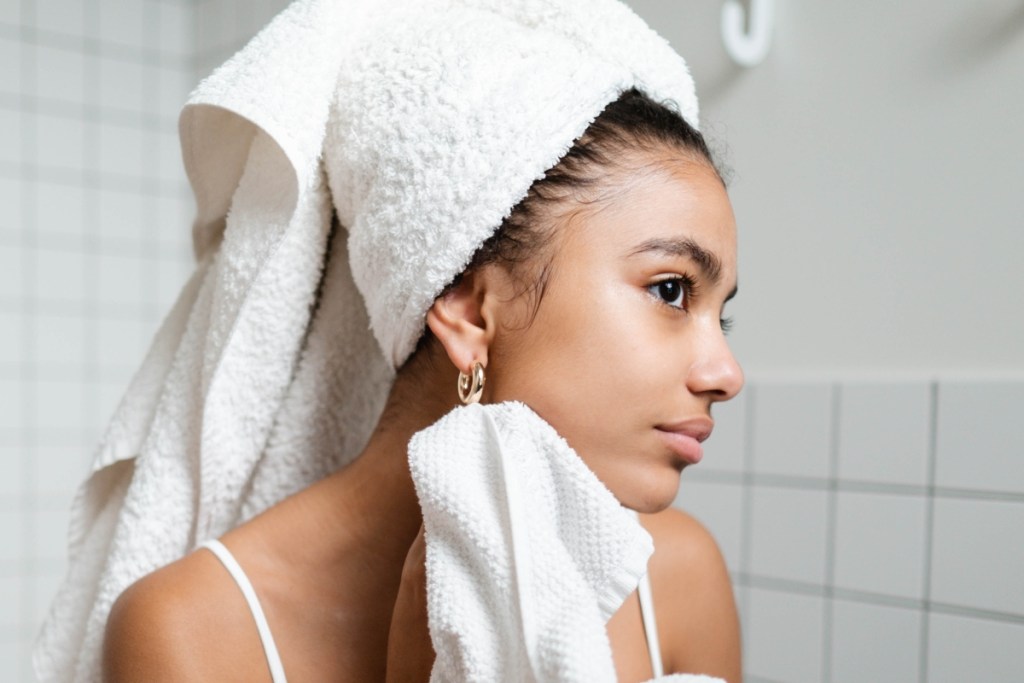 Having sensitive skin means you need products that work without causing breakouts or irritation. The Baby Continuous Protection Zinc Oxide Sunscreen SPF 50 is made for babies but can be used by adults. It offers max protection while not clogging your pores or irritating your skin. After you add your SPF, you have to moisturize. This Rose Geranium Face Moisturizer is ideal for sensitive skin that also needs a delicate recharge for the day.
For oily skin
The Solara SPF 30 Time Traveler Ageless Daily Face Sunscreen is one of the best for people with oily and acne-prone skin. It even leaves the face with a more matte finish without clogging up your pores. This Black Charcoal Peel Off Mask makes for a good cleanser even in the cooler months.

For dry skin
For people with dry skin, the wintertime is the perfect opportunity to work on your skin concerns because you might be able to tolerate heavier products during the day. The C'est Moi Gentle Mineral SPF Sunscreen is not only lightweight but works well for darker skin tones as well. You can wear this Radiance Precious Oil before you apply your SPF to enhance a natural, dewy glow.
People tend to let their guard down in the cooler months because the sun isn't out as long as it is in the summer. But, even in the winter, the sun's rays can wreak havoc on your skin. You can prevent further sun damage by creating a winter skincare routine that includes SPF. Since SPF comes in a number of products you can streamline your routine by opting for BB creams, tinted moisturizers, or foundation balms. Those products can give your skin the coverage you desire while also protecting your face.
Whether you wear full coverage makeup during the winter or want your cheeks to naturally blush as the temperature drops, you always need to be aware of how harmful the sun can be to your skin. You want to protect your skin every day throughout the year and not just in the summer months.
BlissMark provides information regarding health, wellness, and beauty. The information within this article is not intended to be medical advice. Before starting any diet or exercise routine, consult your physician. If you don't have a primary care physician, the United States Health & Human Services department has a free online tool that can help you locate a clinic in your area. We are not medical professionals, have not verified or vetted any programs, and in no way intend our content to be anything more than informative and inspiring.
Editors' Recommendations