If you want your hair to be sleek and smooth, you take a flat iron to it. You can get even the unruliest curls to go pin straight with enough time and patience. But is that all you can do with one? Nope! If all you have is a flat iron and want to change up your look to something other than super straight, you can. It's all about learning a different way to use that iron.
We promise you are going to look at your flat iron in a whole new light after we get done with you. Grab some heat protectant spray, find a plug, and get ready to learn some flat iron hacks that will let you change up your look as often as you want.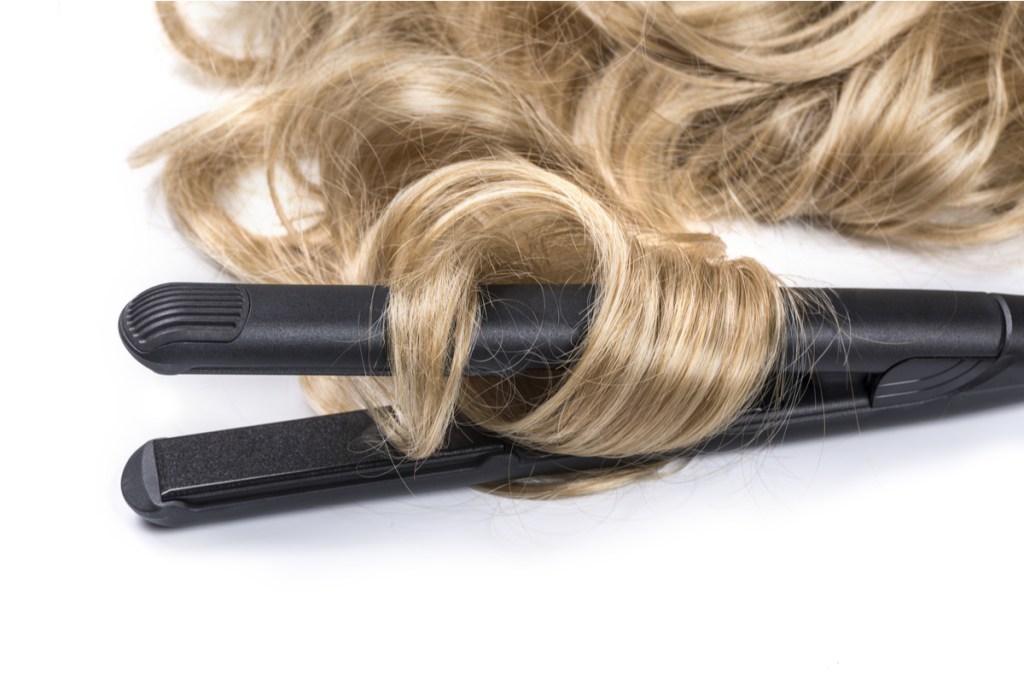 Crimped out
Remember having your friends help you do a dozen small braids on a sleepover so you could wake up to envious crimps? You can get that crimped look in minutes.
First – always spray your hair with a good spray if you are using heat. You might try TRESemme Thermal Creations Heat Tamer to make sure your hair doesn't get dried out and your ends don't get fried.
Braid your hair in however many braids you want. The more braids, the smaller and tighter the crimp. If you want a loose, wavy crimp, you can do one larger braid or two basic pigtail braids.
Then run your flat iron down your braid in sections. Take your time and get the whole braid top to bottom. Wait until your hair is cooled back down before taking the braids out. Spray with your favorite setting spray or mist and you're done.
Beachy waves for days
Love how your hair looks when you get back from a day by the shore? Those sun-kissed, salt-sprayed waves are perfect every time. You can quickly recreate them at home with a flat iron.
You can put the waves wherever you want to. We like slightly higher than halfway up the length of your hair. But have fun with it and play with how it looks when you start at different points along your hair length.
Grab a section to clamp in between the plates. Grab bigger or smaller, depending on how wavy you want your hair to look.
Twist the section around the plates and hold it for a few seconds. Repeat on the next section but twist your hair around the plates in the opposite direction. This is how you get those tousled tresses. Continue until complete your entire head.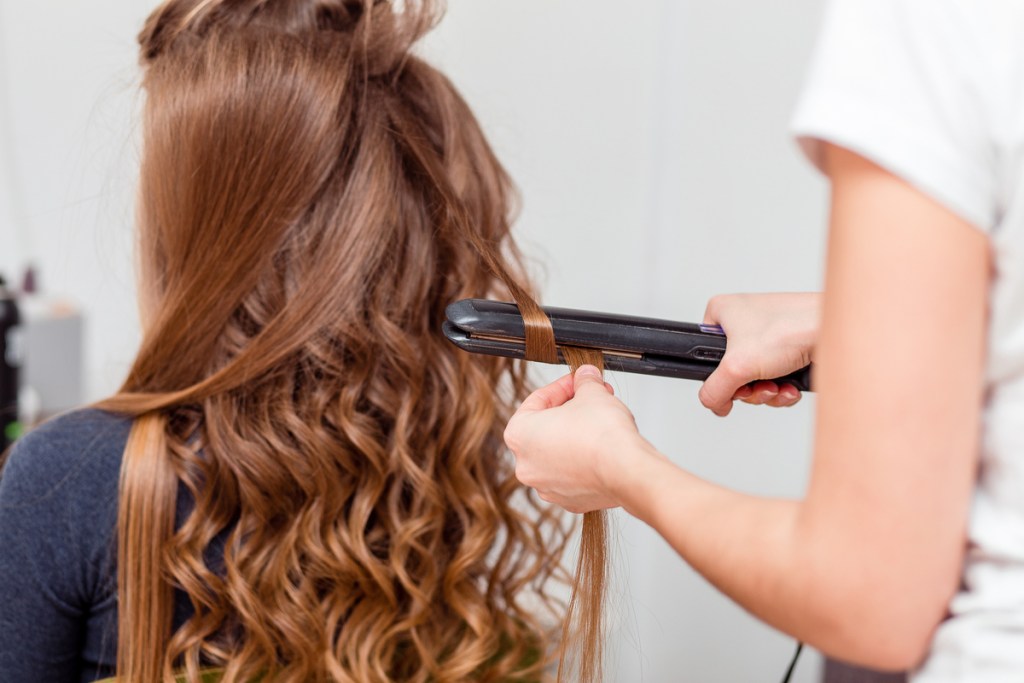 Curly Qs
Sure, a curling iron is kind of made for this job. But if you don't have one, a flat iron can do it just as well.
You are going to use the flat iron in the same manner you would a curling iron. Grab your hair as close to your scalp as you can and start to wind your hair through the plates. You don't want to wrap your hair around the outside.
Hold it like that for a few seconds and then pull the flat iron down or open it up and let your hair bounce out. You'll get a slightly different shape of curl depending on how you release your hair.
If the curls are too tight, gently break them into smaller curls with your fingers before you spray them to set.
Update your ponytail
We all love throwing our hair in a ponytail to run errands. Or just, all of the time. But if you want to look a bit more put together or have your power pony look a little fiercer, you can use your flat iron to get it there.
Once your ponytail is in the place where you want, section your hair out and perform any of the curl methods we just mentioned. Any of them will take your ponytail from gym ready to classically chic.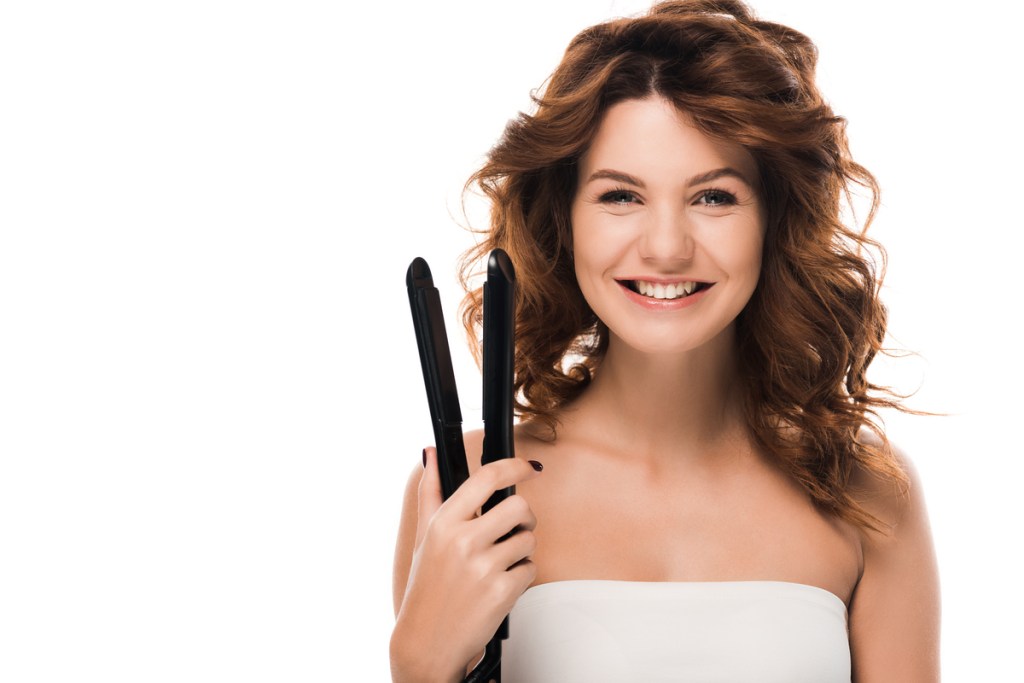 One final hack
This has nothing to do with your hair – but we have to share it. Have you gone to throw on your favorite flannel or a blouse for work and that collar won't stay down? Use your flat iron! Put your unruly collar in the plates and clamp down for a few seconds. You won't have to worry about your collar rolling up and itching your neck all day.
You don't have to break the bank by adding a flat iron to your lineup either. You can get a quality REVLON Perfect Straight Smooth Brilliance Flat Iron for under $20. There's no reason for you not to give it a try.
When you are over the same straight locks and want to mix it up, have fun trying these fun flat iron hacks. Curly hair or straight hair can be transformed with heat spray and a flat iron. Don't let your hair type hold you back from trying something new.
BlissMark provides information regarding health, wellness, and beauty. The information within this article is not intended to be medical advice. Before starting any diet or exercise routine, consult your physician. If you don't have a primary care physician, the United States Health & Human Services department has a free online tool that can help you locate a clinic in your area. We are not medical professionals, have not verified or vetted any programs, and in no way intend our content to be anything more than informative and inspiring.
Editors' Recommendations