As you've probably learned while working from home for the past year, snacking is a huge part of the process. But finding healthy options that don't take forever to make can be difficult. Thankfully, there are plenty of simple recipes online for nutritious snack foods. And now, your work-from-home routine is about to get a lot tastier. Here are six of our favorite easy, healthy work-from-home snacks that you can put together in minutes.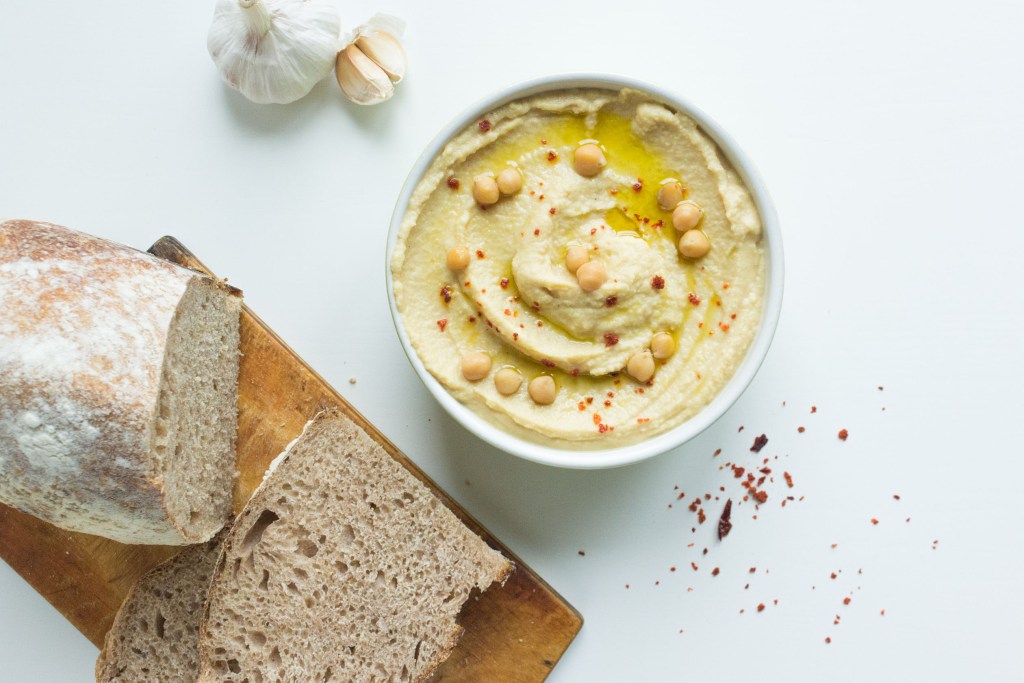 The Best Healthy Hummus
If you're looking for an easy dip to enjoy with your favorite veggies or crackers, try this hummus recipe from Choosing Chia.
Ingredients
• 1 15-oz can chickpeas
• 1/2 tsp baking soda
• 1/2 cup tahini
• 2 garlic cloves
• 1/2 tsp salt
• 1/2 tsp cumin
• 3 tbsp olive oil
• 2 tbsp lemon juice
• 1/2 or 3/4 cup cold water depending on how thick you want the hummus to be
Instructions
Drain, rinse, and remove the skins of the chickpeas. Add the chickpeas to a pot of boiling water with the baking soda, cooking on medium-high heat for eight to 12 minutes until they're soft. Remove from heat and drain the water. Using a food processor or high-speed blender, blend the chickpeas, tahini, garlic, salt, cumin, olive oil, and lemon juice until the mixture is smooth. Slowly incorporate the water 1/4 cup at a time and blend for about five minutes. To serve, you can top the hummus with olive oil, paprika, za'atar spice, or parsley, if desired.
Caprese Salad Kabobs
These Caprese salad kabobs from Taste of Home are a fun and easy afternoon snack.
Ingredients
• 24 grape tomatoes
• 12 cherry-sized mozzarella balls
• 24 fresh basil leaves
• 2 tbsp olive oil
• 2 tsp balsamic vinegar
Instructions
This recipe makes 12 kababs. On each skewer, thread the ingredients in this pattern: tomato, basil leaf, mozzarella ball, basil leaf, and tomato. Whisk the olive oil and balsamic together and drizzle over the kebabs.
Strawberry-Banana-Peanut Butter Smoothie
Smoothies are a great energy-boosting snack to help beat the afternoon slump while working from home. Try this strawberry, banana, and peanut butter smoothie from Southern Living.
Ingredients
• 3 cups strawberries, hulled and halved
• 1 small frozen banana
• 1/2 cup almond milk
• 2 tbsp creamy peanut butter
• 1 tbsp honey
• 1/2 cup ice cubes
Instructions
Smoothies are super simple to make. Add all of the ingredients to your blender. Blend for about a minute or until the mixture is completely smooth.
No-Bake Superfood Energy Bars
While energy bars can give you a much-needed lift, store-bought ones can be expensive. Use this recipe from Food Matters for tasty homemade energy bars.
Ingredients
• 1 cup mixed nuts (almonds and cashews)
• 1 cup mixed seeds (pumpkin and sunflower)
• 1/4 cup Goji berries
• 1 cup shredded coconut
• 3 tbsp Chia seeds
• 3 tbsp Cacao nibs
• 1/4 coconut oil
• 1/4 cup maple syrup or raw honey
Instructions
Place all the ingredients in a food processor and pulse a few times. You don't want to crumble the ingredients completely, but this step helps to mix the ingredients and hold the bars together. In a lined rectangular dish or pan, spread the energy bar mixture evenly. Place the dish in the freezer for 30 minutes to an hour to set. You can also whip up some raw chocolate to dip your bars in!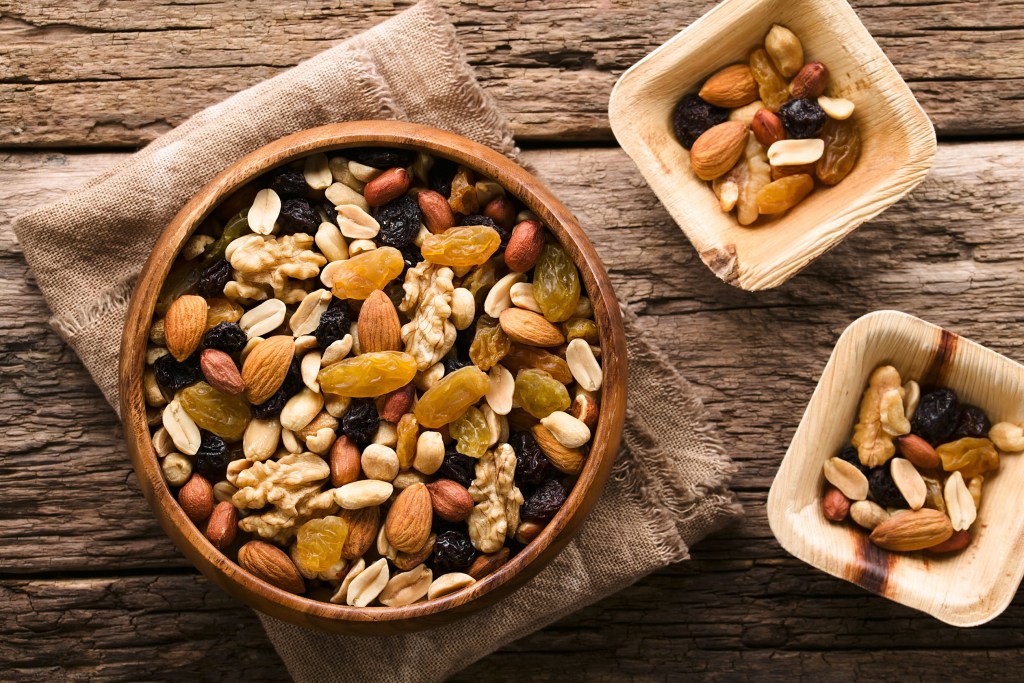 Nuts and Seeds Trail Mix
Check out this recipe from Taste of Home for a super simple trail mix.
Ingredients
• 1 cup halved walnuts
• 1 cup almonds
• 1 cup unsalted sunflower kernels
• 1 cup salted pumpkin seeds
• 1 cup dried apricots
• 1 cup dark chocolate chips
Instructions
In a large bowl, add all the ingredients. Toss to combine thoroughly, then store in an airtight container. The best thing about making your own trail mix is how customizable it is. You can replace any ingredients you dislike with any kind of nut, seed, and dried fruit you love!
Baked Apple Chips
Looking for something sweet to satisfy your afternoon sugar cravings? Check out Forks Over Knives' recipe for baked apple chips.
Ingredients
• 2 large apples (Gala, Pink Lady, or Braeburn), cored
• 1/4 cup date sugar
• 1/2 tsp ground cinnamon
• 1/4 tsp ground nutmeg
Instructions
Preheat the oven to 200 degrees Fahrenheit. Thinly slice the apples crosswise using a mandolin or serrated knife. The slices should be about 1/8-inch thick. Arrange the slices on large baking sheets lined with parchment paper. In a small bowl, mix the cinnamon, sugar, and nutmeg, then sprinkle the mixture on both sides of the apples. Bake for two to two-and-a-half hours or until crispy, flipping the apple slices every half hour. Store the apple chips in an airtight container at room temperature for up to a week.
These are just a few of the greatest healthy fast snacks for work that you can make from your kitchen. Some you'll need to prepare in advance whereas others take just a few minutes to make. But no matter what you're in the mood for, one of these delicious recipes is sure to fulfill your cravings.
BlissMark provides information regarding health, wellness, and beauty. The information within this article is not intended to be medical advice. Before starting any diet or exercise routine, consult your physician. If you don't have a primary care physician, the United States Health & Human Services department has a free online tool that can help you locate a clinic in your area. We are not medical professionals, have not verified or vetted any programs, and in no way intend our content to be anything more than informative and inspiring.
Editors' Recommendations