Few things scream fall as much as pumpkins do. Even after you've carved your jack-o-lantern, there are plenty of things to do with your pumpkin after Halloween. Whether you're looking for a use for your carved pumpkin on November 1st, want to find a use for your carving scraps, or you just bought one too many squashes, many seasonal recipes feature pumpkin and other autumnal flavors. And we're not just talking about pie. You can use fresh pumpkin in a variety of desserts, dinners, and even breakfast foods.
Best of all, pumpkin packs a solid nutritional punch. It's rich in fiber, beta-carotene, vitamins A and C, and the antioxidants lutein and zeaxanthin, which increase satiety, promote eye health, improve immunity and even fight cancer. Here are four of our favorite pumpkin recipes to help you make the most of you leftover gourd while doing your body good.
*Note that many pumpkin recipes call for pumpkin puree, which you can make fresh using this recipe from AllRecipes.
Buttermilk Pumpkin Waffles
There's nothing better on a chilly fall morning than a warm plate of pumpkin waffles. Use this recipe from Taste of Home to take your autumnal brunch to the next level.
Ingredients
• 3/4 cup all-purpose flour
• 1/2 cup whole wheat flour
• 1/2 cup pumpkin puree
• 1 1/4 cups buttermilk
• 2 large eggs
• 2 tbsp melted butter
• 2 tbsp brown sugar
• 1 tsp baking powder
• 1 tsp ground cinnamon
• 1/2 tsp ground ginger
• 1/4 tsp baking soda
• 1/4 tsp salt
• 1/4 tsp ground cloves
Instructions
In a large bowl, combine all the dry ingredients. Add the pumpkin, eggs, buttermilk, and butter to a small bowl and whisk the ingredients together. Pour the wet ingredients into the large bowl and stir until just moistened. Then, add the batter to a preheated waffle maker and follow the manufacturer's instructions for cooking waffles until golden brown. Serve the waffles with butter and maple syrup, if desired.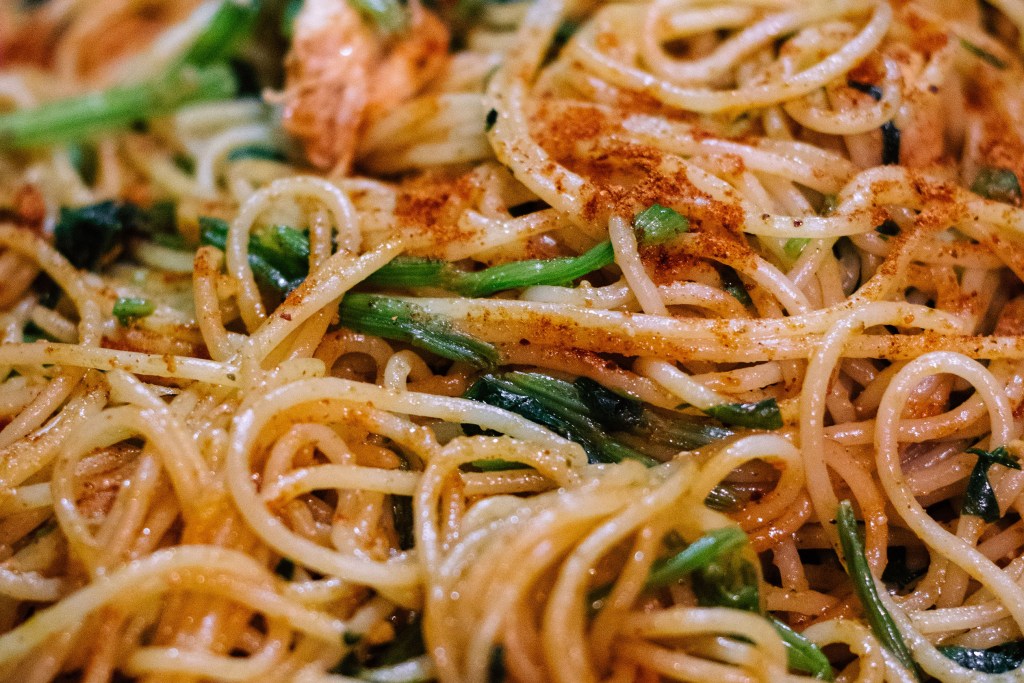 Pumpkin, Spinach, and Walnut Spaghetti
Pumpkin is just as great in savory dishes as it is in sweet desserts. Check out this healthy pasta dinner idea from Lazy Cat Kitchen.
Ingredients
• 7 oz spaghetti
• 2 cups cubed pumpkin (or butternut squash)
• 3 oz spinach
• 3 tbsp olive oil
• 2-3 garlic cloves, finely diced
• 1/2 lemon, juiced and zested
• 1/2-1 tsp chili flakes
• 1 oz walnuts, finely chopped
• Salt and pepper to taste
Instructions
Preheat the oven to 435 degrees Fahrenheit. Layer the pumpkin cubes on a baking sheet, coat with 1 tbsp olive oil, and season with salt. Bake the pumpkin for 40 to 50 minutes or until it becomes caramelized and tender. Cook the pasta for a minute less than you normally would. On the stovetop, heat 2 tbsp of olive oil in a pan over low-medium heat. Add in the garlic and frequently stir, so it doesn't burn. Then, add in the chili flakes and cook for another minute or two. Mash about half of the cooked pumpkin with a fork or place it in the blender or food processor for a smoother texture. Add the mashed and whole pumpkin cubes to the pan with the garlic and chili. Pour the washed spinach and drained pasta into the pan and stir. Season to taste with lemon juice, pepper, salt, and chili. Plate the spaghetti and top with walnuts and lemon zest before serving.
Kale Salad with Butternut Squash and Cranberries
The flesh isn't the only part of the pumpkin you can use while cooking; the pumpkin seeds you removed when carving your jack-o-lantern can be toasted for an easy snack or salad add-in. Here is one of our favorite salad recipes with pumpkin seeds, originally published by Little Broken.
Ingredients
• 4 cups butternut squash, cubed (or pumpkin)
• 2 tbsp extra-virgin olive oil
• 10 cups kale
• 1 cup pomegranate seeds
• 1/3 cup pumpkin seeds, toasted
• 1/3 cup dried cranberries
• 4 oz crumbled feta cheese
• Salt and pepper to taste
Instructions
Begin by roasting the butternut squash cubes. Preheat the oven to 450 degrees Fahrenheit. Coat the squash with olive oil and season with salt and pepper. Then, roast for 25 to 30 minutes or until the pieces are soft. Set the squash aside to cool slightly. In a large bowl, toss the kale with your dressing; the recipe recommends a balsamic dressing. Then, transfer the dressed kale to your serving bowl and add the cooked butternut squash, pomegranate seeds, pumpkin seeds, dried cranberries, and feta. Season with salt and pepper. Drizzle with more dressing if desired.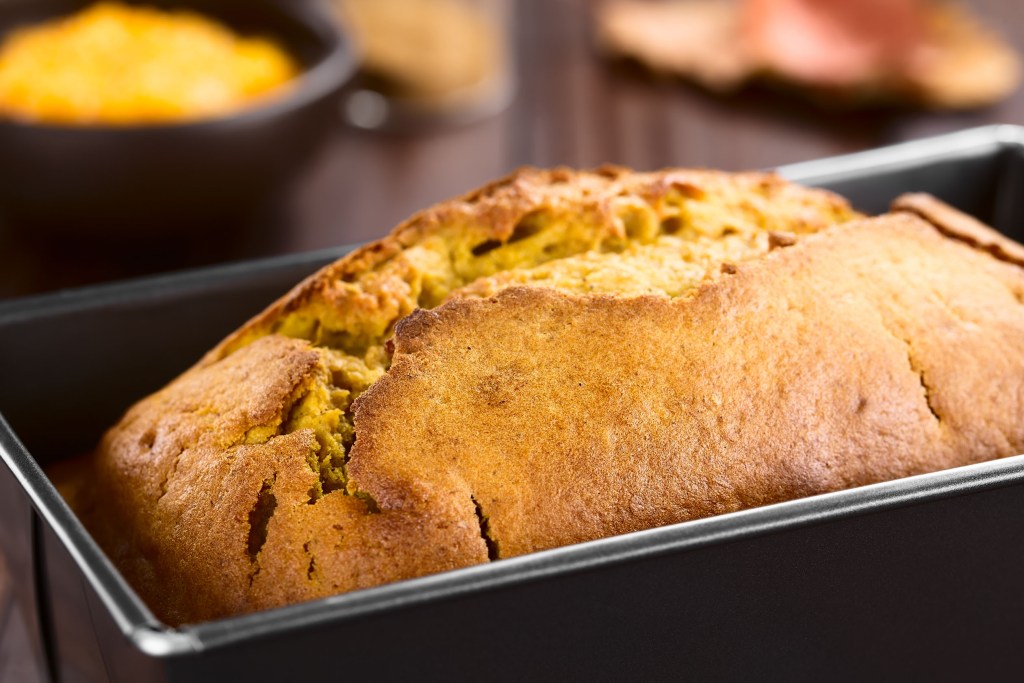 The Best Pumpkin Bread Recipe
Pumpkin bread is perfect for an easy breakfast dish or an after-dinner dessert, thanks to the sweet pumpkin and delicious fall spices. This recipe from Life, Love, and Sugar is, as the name states, the best!
Ingredients
• 2 3/4 cups pumpkin puree
• 3 large eggs
• 3 cups all-purpose flour
• 3 cups sugar
• 1 cup unsalted butter, room temperature
• 1 1/2 tsp baking soda
• 1 1/2 tsp ground cinnamon
• 1 1/2 tsp ground cloves
• 1 1/2 tsp ground nutmeg
• 3/4 tsp baking powder
• 3/4 tsp salt
Instructions
Preheat the oven to 350 degrees Fahrenheit and coat two 9-in by 5-in loaf pans with non-stick spray. Whisk the flour, baking soda, spices, and baking powder in a medium bowl, then set it aside. Using a large bowl and a stand mixer, mix the butter and sugar until it's just combined. Add the eggs one at a time, stirring until well blended after each one. Beat the mixture until it becomes light and fluffy (with a stand mixer, for two to three minutes at medium speed). Pour in the pumpkin puree and mix until it's thoroughly combined. Last, add in the dry ingredients, mixing on low until combined. Divide the batter evenly between the two pans and bake for 60 to 70 minutes. Let the loaves cool before slicing them.
While pumpkins are fun to carve, there's more to this seasonal veggie than just décor. Pumpkin is one of the best flavors of the fall, and there are so many ways you can incorporate fresh pumpkins into your diet this season. From waffles and bread to spaghetti and salad, nearly any dish can benefit from this autumnal twist. So think twice before you toss your jack-o-lantern and give it new life in one of these fantastic recipes.
BlissMark provides information regarding health, wellness, and beauty. The information within this article is not intended to be medical advice. Before starting any diet or exercise routine, consult your physician. If you don't have a primary care physician, the United States Health & Human Services department has a free online tool that can help you locate a clinic in your area. We are not medical professionals, have not verified or vetted any programs, and in no way intend our content to be anything more than informative and inspiring.
Editors' Recommendations