Apple picking season is nearly upon us. And while spending a day at an orchard picking apples with your family and friends is always fun, finding something to do with a whole peck of the fruit is another story. After all, there's only so much apple pie you can eat. Wondering what else you can do with your bounty? Check out some of our favorite unique apple recipes that we found across the web.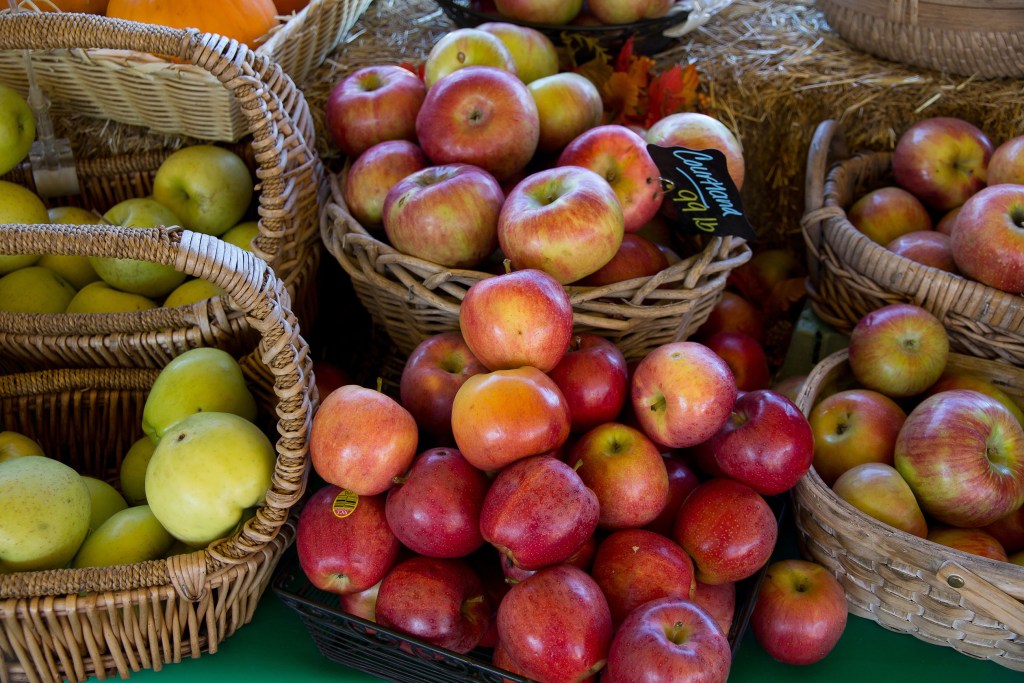 Apple, Caramelized Onion, and Spinach Quesadilla
Looking for an easy lunch idea? Check out this family-friendly quesadilla recipe from The Modern Proper.
Ingredients
8 8-inch flour tortillas
16 oz fontina or white sharp cheddar cheese, grated
1 Honeycrisp apple, sliced thinly
1 cup caramelized onions
2 cups spinach
Instructions
Preheat the oven to 425 degrees Fahrenheit. Grease two large baking sheets with olive oil or cooking spray. Assemble each quesadilla one at a time, layering 1 oz shredded cheese, 1/4 cup spinach, 1/8 cup onions, a few apple slices, and another 1 oz helping of cheese on one half of a tortilla. Fold the tortilla in half and brush with olive oil. Arrange all of the quesadillas on the baking sheets and bake for about 15 minutes or until the outside is crispy and golden brown.
Honey-Mustard Chicken and Apples
This well-reviewed recipe from the Food Network puts a unique twist on regular honey-mustard chicken.
Ingredients
8 bone-in, skin-on chicken thighs
Kosher salt and ground pepper to taste
2 tbsp extra-virgin olive oil
1 large onion, sliced in large chunks
2 cooking apples (Cortland), sliced into chunks
1 cup low-sodium chicken broth
2-3 tbsp honey mustard
1 1/2 tsp unsalted butter, softened
1 tbsp all-purpose flour
1-2 tbsp chopped parsley
Instructions
Preheat the oven to 450 degrees Fahrenheit. Season the chicken thighs with salt and pepper. In a large oven-proof skillet, heat the olive oil over medium-high heat. Cook the chicken skin-side down for about six minutes, then flip and cook for an additional two to three minutes. Set the chicken aside and pour out most of the drippings, leaving 2 tbsp in the pan. Add the onion and apple to the pan and season to taste. Cook for about four minutes until slightly softened. Then, mix the broth with the mustard and add it to the skillet. Bring the liquid to a boil and transfer the chicken, skin-side up, back to the skillet.
Put the pan in the oven and roast for about 15 to 20 minutes until the chicken is cooked completely. Transfer the chicken, apples, and onions to plates using a slotted spoon. Mix the butter and flour to create a paste. Return the pan to the stovetop and bring the juices to a simmer. Whisk in half of the flour-butter mixture and boil for about 2 minutes. Continue to cook, adding more of the mixture as needed to thicken the gravy. Season with salt and pepper, pour over the chicken, and garnish with the parsley.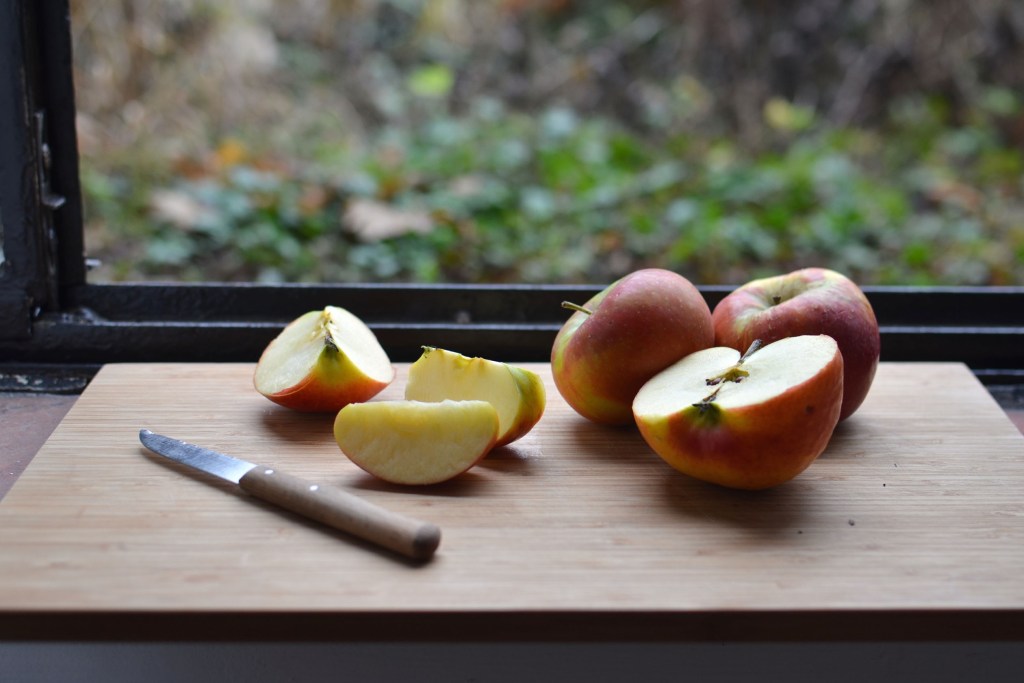 Fresh Apple Salsa
This apple salsa from MyRecipes is the perfect crunchy and acidic addition to grilled pork, roast chicken, or tacos.
Ingredients
2 cups apples (Fuji, Spartan, or Liberty), peeled and diced
1/2 cup red bell pepper, diced
1/4 cup red onion, diced
1/4 cup fresh cilantro, minced
1/3 cup lime juice
1 jalapeno pepper, seeded and minced
1 tbsp honey
1/4 tsp salt
1/4 tsp ground pepper
Instructions
This recipe makes about three cups of apple salsa. Begin by preparing all of your ingredients. Add the ingredients to a bowl and stir to combine. Enjoy!
Shaved Brussels Sprout Salad with Apples and Walnuts
We love this Brussels sprout salad with its tart green apples and tasty maple-mustard dressing. Check out the full recipe from Wholefully.
Ingredients
1 lb Brussels sprouts ends trimmed and thinly sliced
1 medium tart apple (Granny Smith), shredded or thinly sliced
1 medium red onion, thinly sliced
1 cup chopped walnuts
2 tbsp maple syrup
1 tbsp Dijon mustard
3 tsp red wine vinegar
1/2 cup extra virgin olive oil
1 clove garlic, finely minced
Salt and pepper to taste
Instructions
Combine the sliced Brussels sprouts, apple, and onion in a large bowl. Lightly toast the walnuts in a skillet over medium-high heat for about two minutes, stirring often. Add to the salad bowl and toss to combine. In a jar with a fitted lid, combine the maple syrup, mustard, vinegar, olive oil, garlic, salt, and pepper. Close the lid and shake well until combined. Pour the dressing over the salad and toss. Refrigerate for half an hour before serving.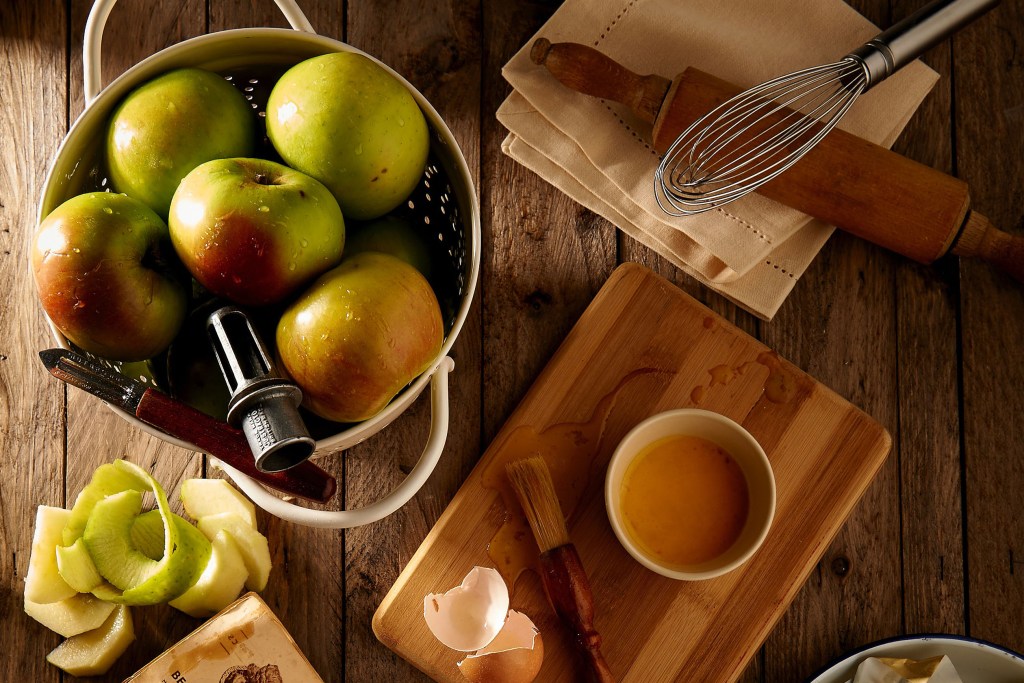 Baked Brie with Apples and Bacon
Serve Restless Chipotle's baked brie with a sliced baguette or water crackers for a delicious, crowd-pleasing appetizer.
Ingredients
8 oz brie cheese
3 strips of bacon
1 apple, diced
2 tbsp butter
2 tbsp brown sugar
1/2 tsp cinnamon
1/4 tsp kosher salt
Instructions
Preheat the oven to 325 degrees Fahrenheit. Dice the bacon and cook over medium heat for about seven minutes until brown. Drain the bacon on paper towels and put it aside. Melt the butter over medium heat. Stir in the diced apples and cook for about two minutes, then season with cinnamon, brown sugar, and salt. Cook for two more minutes or until the apples are tender. Place the cheese on a parchment paper-lined baking pan. Bake for eight to ten minutes, then transfer the brie to a serving dish. Top the baked brie with the apple mixture, then the bacon, and serve.
Apple Squares
Pie is far from the only dessert you can make with apples. Try out these tasty apple squares from AllRecipes that have over 1,000 five-star reviews!
Ingredients
1 cup all-purpose flour, sifted
2 1/4 tsp ground cinnamon
1 tsp baking powder
1/4 tsp salt
1/4 cup butter, melted
1/2 cup packed brown sugar
1/2 cup and 2 tbsp white sugar
1 egg
1 tsp vanilla extract
1/2 cup apple, chopped
1/2 cup walnuts, finely chopped
Instructions
Preheat the oven to 350 degrees Fahrenheit. Grease a 9×9-in pan. Sift together flour, baking powder, salt, and 1/4 tsp cinnamon, then set aside. In a large bowl, mix the melted butter, brown sugar, and 1/2 cup of white sugar until smooth. Next, stir in the egg and vanilla. Add in the flour mixture until just combined, then pour in the apples and walnuts. Spread the mixture evenly in the greased pan. In a small bowl, combine the remaining cinnamon and sugar, then sprinkle over the top of the bars. Bake the bars for 25 to 30 minutes. Let cool before cutting into squares.
Pie is far from the only food you can make with apples. Who knew apples tasted as great with honey-mustard chicken as they do with cinnamon and sugar? You can use these versatile fruits when making any type of dish, from appetizers to desserts. If you want to try something new, check out these fun and unique apple recipes.
BlissMark provides information regarding health, wellness, and beauty. The information within this article is not intended to be medical advice. Before starting any diet or exercise routine, consult your physician. If you don't have a primary care physician, the United States Health & Human Services department has a free online tool that can help you locate a clinic in your area. We are not medical professionals, have not verified or vetted any programs, and in no way intend our content to be anything more than informative and inspiring.
Editors' Recommendations