Who doesn't love a sweet treat from time to time? Unfortunately, excessive sugar consumption can do a number on our health. So, next time those sugar cravings hit, don't reach for the cookie stash in your cabinet. Instead, enjoy a naturally sweet tea instead! These teas taste absolutely delicious both hot and cold, making them ideal for sweltering summer mornings as well as chillier pre-fall evenings. Ready to make the switch to naturally sweet tea? Keep reading to discover five of the best options to try this season.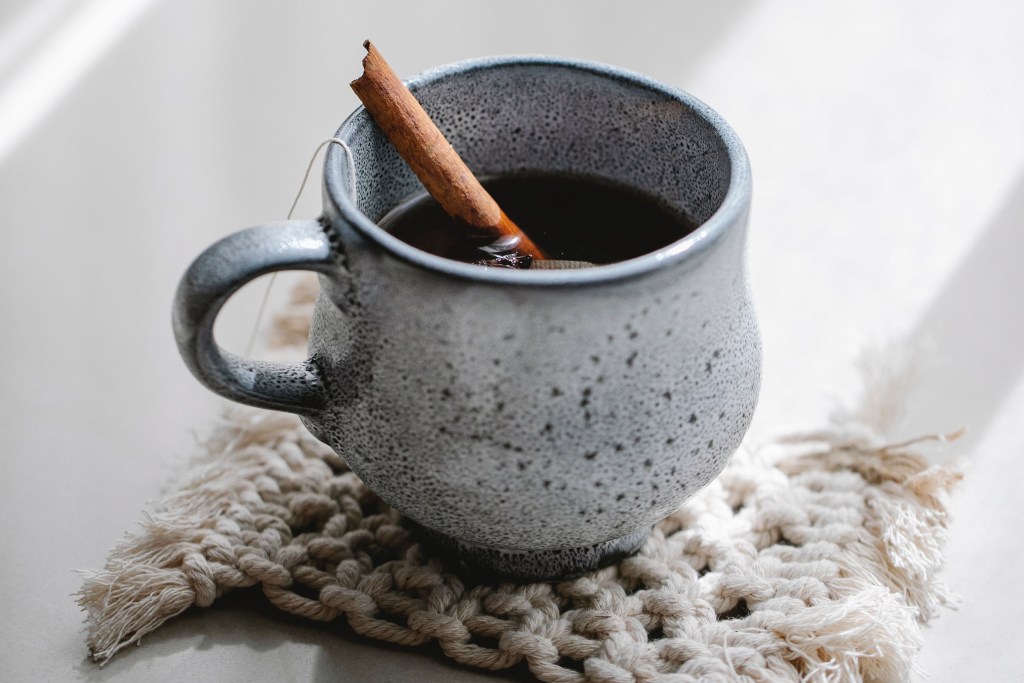 Non-caffeinated
Organic
Kosher
Rooibos is one of the sweetest kinds of tea, and this blend from DAVIDsTEA does not disappoint. All the ingredients in this non-caffeinated blend of rooibos, rosehips, rose petals, apple, and natural oils are organic and kosher. This light, floral loose-leaf tea is great hot or iced and is available for purchase in 2-ounce, 4-ounce, or 10-ounce containers.
Sugar-free
Zero-calorie
Great as a dessert drink (but not too close to bedtime)
A sugar-free, zero-calorie chocolate tea? Yes, please! This chocolatey mint tea from The Tea Spot is about to become your new go-to dessert drink. This black tea is blended with peppermint leaves and chocolate flavoring, giving it a truly decadent flavor that is smooth but not overpowering. However, it does contain high levels of caffeine, so you may not want to drink too much at night. You can buy this tea loose or bagged, depending on your preference.
Caffeine-free
Certified USDA organic
Non-GMO
With more than 42,000 reviews on Amazon, FGO's organic chamomile tea bags are undoubtedly worth a try. Chamomile is a gentle, herbal tea with notes of apple and a touch of natural sweetness. This variety from FGO is caffeine-free and certified USDA organic and non-GMO. It's made of 100% raw, organic chamomile that was imported from Egypt, delivering a strong and fresh flavor similar to that of much more expensive teas.
Great for a snack after dinner
Serving hot or cold brings out different flavors
Available loose or in pre-portioned tea bags
If you're looking for a super sweet tea to curb your dessert craving, you have to try the Vanilla Spice Herbal tea from Maya Tea. The flavor of spicy snickerdoodle cookies inspired this blend, so it has a warm ginger and cinnamon base with a hint of vanilla. It's a super versatile tea that can be brewed hot, if you prefer the ginger flavor, or cold, for those who want to highlight the sweet vanilla. This tea is available loose in quantities of 2 to 16 ounces or in pre-portioned tea bags.
Licorice root tea has a sweet and earthy flavor, but its best selling point is its medicinal properties. This tea can improve respiratory health and ease digestive issues. This blend from Traditional Medicinals is one of the best available, made using only certified organic, non-GMO, kosher ingredients. Plus, as reviews noted, it does not overwhelmingly taste like black licorice.
Sweet teas are perfect for the summer. If you're trying to reduce your sugar intake and still enjoy something sweet after dinner, these five tea blends are all excellent options. They range from simple to decadent, but they all share one thing in common: They are certainly delicious!
BlissMark provides information regarding health, wellness, and beauty. The information within this article is not intended to be medical advice. Before starting any diet or exercise routine, consult your physician. If you don't have a primary care physician, the United States Health & Human Services department has a free online tool that can help you locate a clinic in your area. We are not medical professionals, have not verified or vetted any programs, and in no way intend our content to be anything more than informative and inspiring.
Editors' Recommendations