The Fourth of July is almost here! That means barbeques, burgers, fireworks, parties with friends, and, of course, Fourth of July desserts. No festive gathering is complete without a sweet, tasty treat. If you're hosting a patriotic dinner party or visiting a friend, check out these delicious sweets that will wow the entire crowd.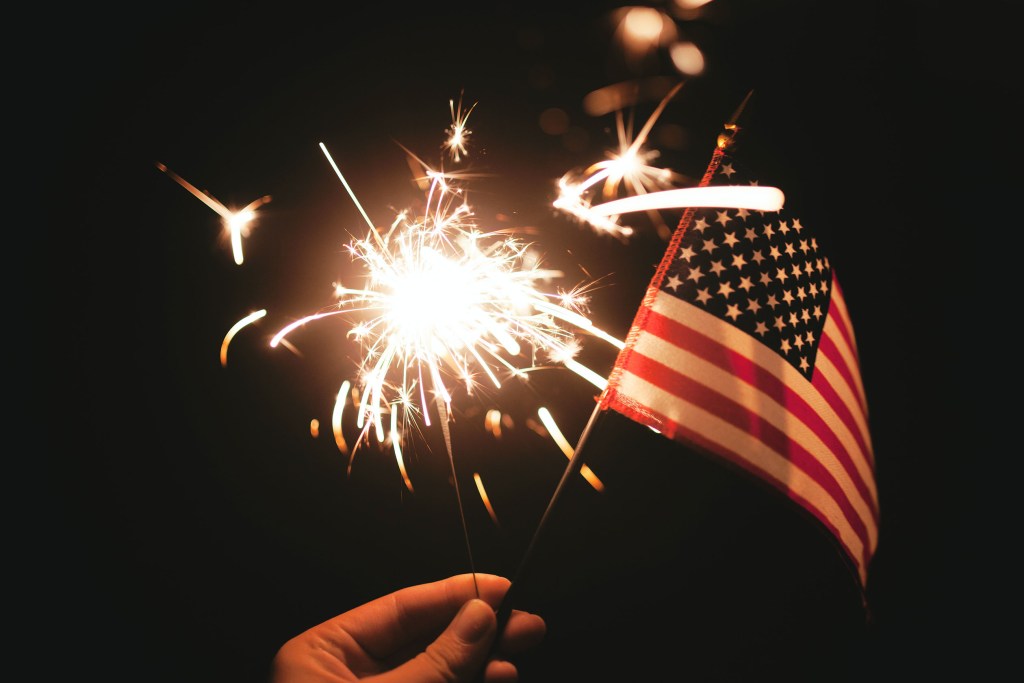 Blueberry almond shortcakes with lemon whipped cream
For this sweet recipe, you can buy pre-made shortcakes from the grocery store or make your own almond shortcakes using the recipe from Sweet Peas and Saffron. For the sake of simplicity, the recipe below is only for the blueberry syrup and lemon whipped cream toppings, but you can view the full recipe here.
Ingredients
Blueberry Syrup
1 lb fresh blueberries
3 tbsp sugar
2 tsp lemon juice
1 tsp corn starch
Lemon whipped cream
1 cup whipping cream
2 tsp lemon zest
1 tsp lemon juice
Instructions
To make the blueberry topping, heat the sugar, lemon juice, and blueberries in a pot over medium heat.
Stir frequently and let it cook for about five minutes or until the blueberries start to pop.
Add the cornstarch and stir until there are no lumps.
Let the syrup cool to room temperature before serving.
For the lemon whipped cream, beat the whipping cream in a bowl until it's light and fluffy. Then, fold in the zest and lemon juice.
To serve, top the shortcake with one spoonful of whipped cream and one spoonful of blueberry syrup.
Chocolate ganache tart
For upscale get-togethers, this chocolate ganache tart is the perfect treat. It looks sophisticated and festive, thanks to the blue and red berries. Plus, it's vegan, gluten-free, and surprisingly simple to make! View the full recipe from Well Plated.
Ingredients
Crust
1 1/2 cups almond flour
3 1/2 tbsp melted coconut oil
1/2 tsp kosher salt
1 tbsp light agave nectar, honey, or maple syrup
Filling
10 oz dark chocolate
3/4 cup coconut milk
1/2 tsp vanilla extract
1/4 tsp instant espresso powder (optional)
Topping
Fresh raspberries
Fresh blueberries
Toasted sliced almonds
Instructions
Coat a 14-by-5-inch tart pan with baking spray.
To make the crust, put the almond flour, salt, coconut oil, and agave in a food processor.
Pulse until it's evenly moist, press the mixture into the tart pan, and put the pan in the freezer to set.
While the crust cools, start on the filling. Add the chocolate to a heatproof bowl on top of a simmering pot of water to melt it.
When it's almost melted, remove the bowl and stir in the coconut milk until the mixture is glossy and smooth. Stir in the espresso and vanilla.
Straightaway, pour the filling into the chilled crust in an even layer.
Decorate with the berries and almonds, and drizzle some extra chocolate over the top.
Put it in the fridge to set for at least four hours, but ideally overnight.
When you're ready to serve the tart, let it rest for five minutes before removing it from the pan.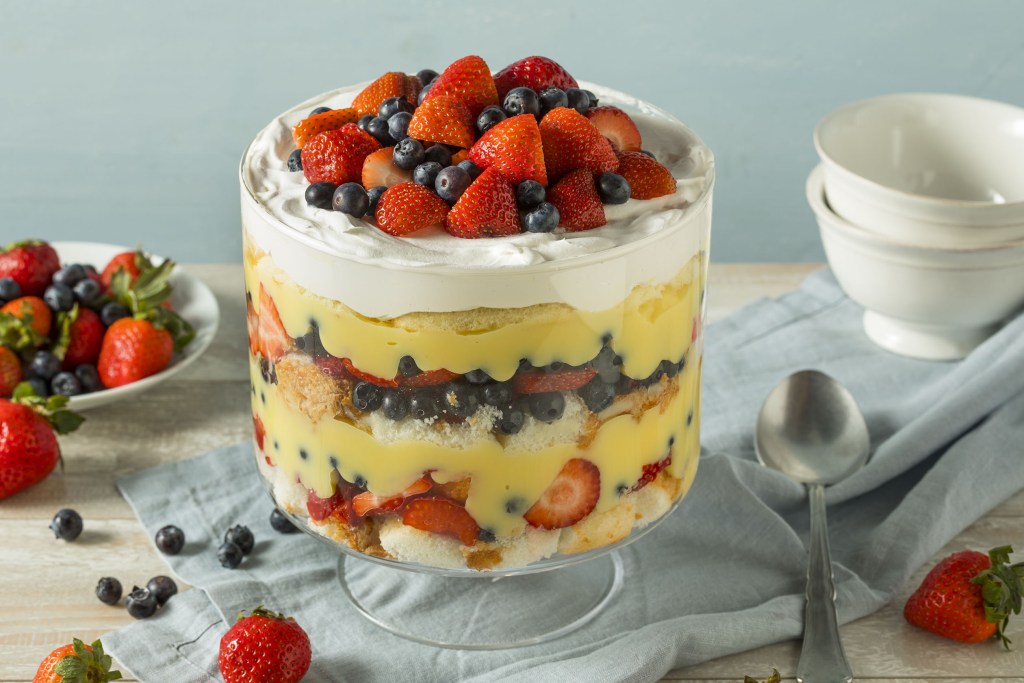 Red, white, and blueberry trifle
A red, white, and blue trifle is the quintessential dessert for the Fourth of July, thanks to its patriotic color scheme and refreshing taste. This Food Network recipe requires a lot of ingredients, but it's fairly straightforward to make.
Ingredients
1 pre-made angel food cake
2 16 oz containers of strawberries
2 6 oz containers of blueberries
1 6 oz container of blackberries
3/4 cup sugar
1/2 tsp lemon zest
2 tbsp lemon juice
1 8oz package cream cheese
2 cups heavy cream
1/2 tsp vanilla extract
A pinch of kosher salt
Instructions
Wash all three varieties of berries, then slice the strawberries in half.
In a medium saucepan, combine the blueberries, blackberries, a half cup of sugar, a third cup of water, lemon zest, lemon juice, and salt.
Heat on medium and bring to a simmer for 15 to 20 minutes until the berries break down.
Remove from heat and let cool.
Then, add the cream cheese, a quarter cup of cream, the rest of the sugar, and vanilla extract to a bowl and beat until smooth.
In a separate bowl, whip the rest of the cream until stiff peaks form.
Fold the whipped cream into the cream cheese mixture.
To assemble the trifle, cut the angel food cake into two-inch pieces and place half of them at the bottom of your dish.
Top with half of the berry sauce, half of the whipped cream, and half of the strawberries.
Repeat the layers with your remaining ingredients.
Chill for eight hours before serving.
Banana split kebabs
This simple dessert from Delish is great for children and adults of all ages. Plus, it's easy enough that your children can have some fun helping you make these festive kebabs.
Ingredients
2 bananas sliced into 1-inch pieces
24 1-inch pineapple chunks
12 strawberries halved
2 cup chocolate chips
1/2 cup chopped peanuts
Instructions
Thread two pieces of strawberry, banana, and pineapple onto each skewer in whatever pattern you prefer.
Place all of the skewers on a parchment-lined baking sheet.
Then, melt the chocolate chips in a microwave-safe bowl, stirring every 30 seconds to ensure the chocolate stays smooth.
Drizzle the melted chocolate on the kebabs and sprinkle the chopped nuts on top, if desired.
Freeze the kebabs until you're ready to serve them.
This is just a small selection of easy-to-make patriotic dessert recipes. Whether you're throwing a family barbeque or an upscale party, your dessert will be a crowd-pleaser, and the Fourth of July party will certainly be a success.
BlissMark provides information regarding health, wellness, and beauty. The information within this article is not intended to be medical advice. Before starting any diet or exercise routine, consult your physician. If you don't have a primary care physician, the United States Health & Human Services department has a free online tool that can help you locate a clinic in your area. We are not medical professionals, have not verified or vetted any programs, and in no way intend our content to be anything more than informative and inspiring.
Editors' Recommendations