The pandemic shut down offices and restaurants, but medical care has remained essential — and for a good reason. Regular visits to your doctor help you live a healthier life and catch issues like high blood pressure before they worsen.
The medical field hasn't been immune to pandemic-related changes, though. Many doctors have moved some appointments online to reduce foot traffic and unnecessary virus exposure to themselves, their staff, and patients. There are some added perks for patients, too. Virtual appointments nix the need for a commute, so people can log on, talk to a doctor, and get right back to work, school, or relaxing. As convenient and safe as they are, virtual appointments can take some getting used to and present a few challenges. Preparing for an online doctor appointment can reduce issues and allow you to make the most of your time with your doctor. Here are some top tips.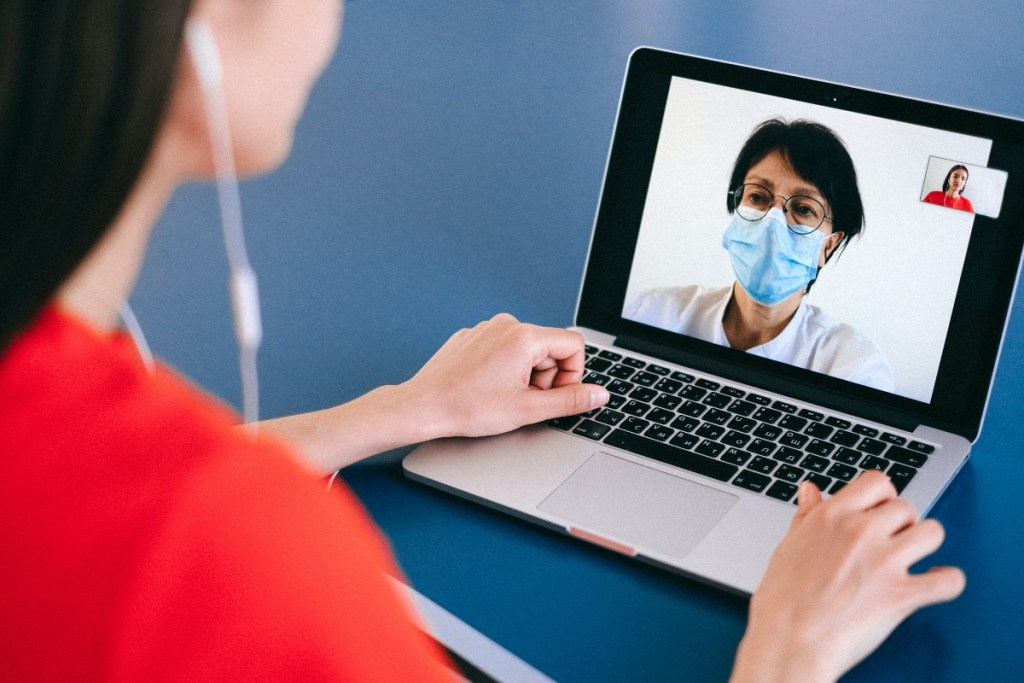 What can I expect during a virtual doctor appointment?
A virtual appointment will be similar to an in-person one — minus sitting in a waiting room or having someone else take your weight and blood pressure. Your provider will hop on the video chat at or around your scheduled time. Since doctors may get behind, some are texting their patients if they're running late and when they are ready.
From there, the doctor will ask you how you are feeling. You'll go over any issues or symptoms, like digestive issues, you're having. If it's a follow-up appointment, the two of you will discuss your progress. They may request vitals usually taken at the office, such as weight and blood pressure. The provider should always give you time to ask questions, and they'll let you know at the end of the appointment if, when, and how you should follow up.
How can I avoid technical difficulties?
Regardless of the location, at the heart of every doctor's appointment is informative and empathetic medical care. You still deserve that online, and having a few items on hand during your appointment can better your experience.
Read your email. You'll often get a confirmation email in advance with instructions on how to log on for your appointment. Read it carefully. It often alerts you to the software you'll need to download. You'll want to do that before the appointment, not right as it's starting.
Do a test run. If this is your first virtual appointment on a specific platform, testing it out can help you feel confident and reduce delays. Some platforms let you test your mic and camera, and others may allow you to schedule a "mock" appointment with a family member or friend.
Log on early. Even if your dress rehearsal went swimmingly, you might get a curveball or two on the day of your appointment. Logging on five to 10 minutes before your scheduled visit can help you ensure you have a good Internet connection and your computer is functioning normally.

Other tips to maximize your virtual appointment
There are steps you can take to ensure your virtual visit goes smoothly and your time is well spent.
Take vitals in advance. Since you won't have a nurse there to help you, taking vitals like your temperature, weight, and blood pressure can give your doctor a clearer picture of your health.
Have records on hand. Though your doctor should have any recent test results and information about prescription refill needs, it's helpful if you have them too so you can advocate for yourself.
Take photos. Your provider won't get the best view of any symptoms, like a rash, online. Sending pictures through your patient portal in advance or through the platform during the appointment can help.
Make a list of questions and concerns. Sometimes, you may get caught up in the novelty of the virtual appointment experience or the new technology and forget you had items you wanted to address. Having a list of questions and concerns can ensure you cover everything.
You still need medical care during the pandemic. Healthcare providers are giving patients a convenient solution via virtual appointments. It may feel a little strange at first, especially if you've been going to the same doctor in person for years, but keep in mind that you can still have a fairly comprehensive appointment with your provider over video chat if you take a few minutes to prepare.
BlissMark provides information regarding health, wellness, and beauty. The information within this article is not intended to be medical advice. Before starting any diet or exercise routine, consult your physician. If you don't have a primary care physician, the United States Health & Human Services department has a free online tool that can help you locate a clinic in your area. We are not medical professionals, have not verified or vetted any programs, and in no way intend our content to be anything more than informative and inspiring.
Editors' Recommendations