The word "snack" can have a bad connotation if you're trying to eat a balanced diet or cut calories. While this may be true if you're stocking up on not-so-good-for-you options like chips and candy, there are also plenty of healthy snacks that can boost your energy in the middle of the day and mitigate the dreaded 3 p.m. crash. Grabbing mid-day snacks that are high in protein and fiber can also prevent you from getting so hungry you overeat later in the day.
If you're looking for fill your pantry with satisfying snacks, keep reading as we dive into the the best foods that will keep your mind and body energized throughout the whole day.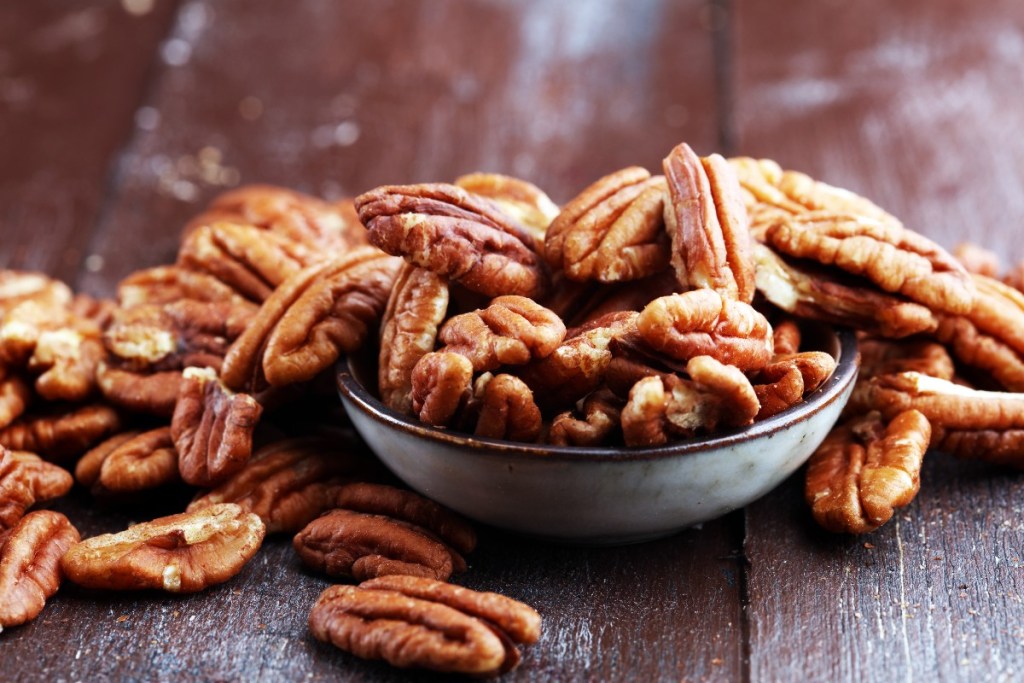 Fisher Chef's Natural Pecan Halves
When you're hungry, your blood sugar is often low, resulting in tiredness and irritability. The solution? Crunchy, sweet pecans. A small study of overweight individuals found that people who ate pecans for four weeks saw their body use insulin more effectively. Pecans can also ward off brain fog because its monounsaturated fatty acids may be related to reductions in cognitive decline in women. We recommend Fisher Chef's natural pecan halves. The sweet crunchiness makes these a perfect swap for chips or candy, and toasting them in the oven for 15 to 20 minutes gives even more crunch.
Gala Apples
You've likely heard the line, "An apple a day keeps the doctor away." Well, this nutritious snack can also keep hunger pains at bay. Apples boast about three grams of fiber, so they keep you feeling full between meals. If you're craving something sweet, opt for a gala apple instead of candy. These apples are full of natural sugars and are crispy and plump so you still get that great crunch you love from potato chips. Apples are a versatile snack, too. They're great on their own or with a spread like peanut butter, Nutella, or jam. For something extra special for dessert, bake them in the oven and add a sprinkle of cinnamon.
Driscoll's Organic Blackberries
If you want something sweet but aren't in the mood for something crunchy, grab a carton of blackberries. They are full of vitamin C, which helps cuts heal more quickly and may even reduce the risk of certain cancers. Blackberries are also full of fiber, may reduce your risk of developing heart disease, and can even combat oral diseases. Driscoll's blackberries have stood the test of time in grocery stores are are well known across the nation for being plump, fresh, and sweet. This fruit can be a little tart on its own, so consider adding them to cereal or yogurt for a sweeter treat.
The Good Bean Crunchy Chickpeas
Crispy chickpeas are another great alternative to chips that are easy to pop in your mouth and munch on during a busy day. It's one of the best ways to satisfy your cravings without reaching for the junk food. Chickpeas are full of nutrients, and one study even found that women who consumed chickpeas ate less junk food. We recommend The Good Bean four-flavor variety pack, where there's something for every taste bud including sea salt, Chile lime, classic hummus, and sweet sunshine. Each flavor has about five grams of fiber and five grams of protein, two things that satisfy hunger pains and provide tons of energy. They also contain as much folate as a cup of spinach, a vitamin that works to prevent cognitive decline.
Snacking is a good thing. In fact, eating, in general, is a good thing especially when you're filling your body with essential nutrients like fiber, protein, and vitamin C to keep your brain sharp and your body in tip-top shape. Look for snacks that are low in saturated fats, cholesterol, sugars, and sodium, which, when excessively consumed, may increase your risk of inflammation, heart disease, and Type 2 diabetes. Instead, opt for healthier snacks like roasted chickpeas, fruits, and nuts. Next time you're at the grocery store, look through the snack food aisle with a more discerning eye, and look out for healthy snacks that you can indulge in whether you're spending a lazy night at home or a long day on the go.
BlissMark provides information regarding health, wellness, and beauty. The information within this article is not intended to be medical advice. Before starting any diet or exercise routine, consult your physician. If you don't have a primary care physician, the United States Health & Human Services department has a free online tool that can help you locate a clinic in your area. We are not medical professionals, have not verified or vetted any programs, and in no way intend our content to be anything more than informative and inspiring.
Editors' Recommendations