Let's be honest. When it comes to nutritious foods, pizza doesn't always make the list. Layers of cheese typically top a pie. This cheese has calcium but also tends to have a ton of fat. The high-carb crust doesn't typically have much fiber, so we digest it more quickly and wind up hungrier sooner.
That said, it's also delicious and convenient, especially when your schedule is too jam-packed to cook. Though pizza parlors are a dime a dozen in many towns, there are also healthy frozen pizza options on the market that are lower in fat, calories, and added sugars than what you might find at a local restaurant. Here are three favorites.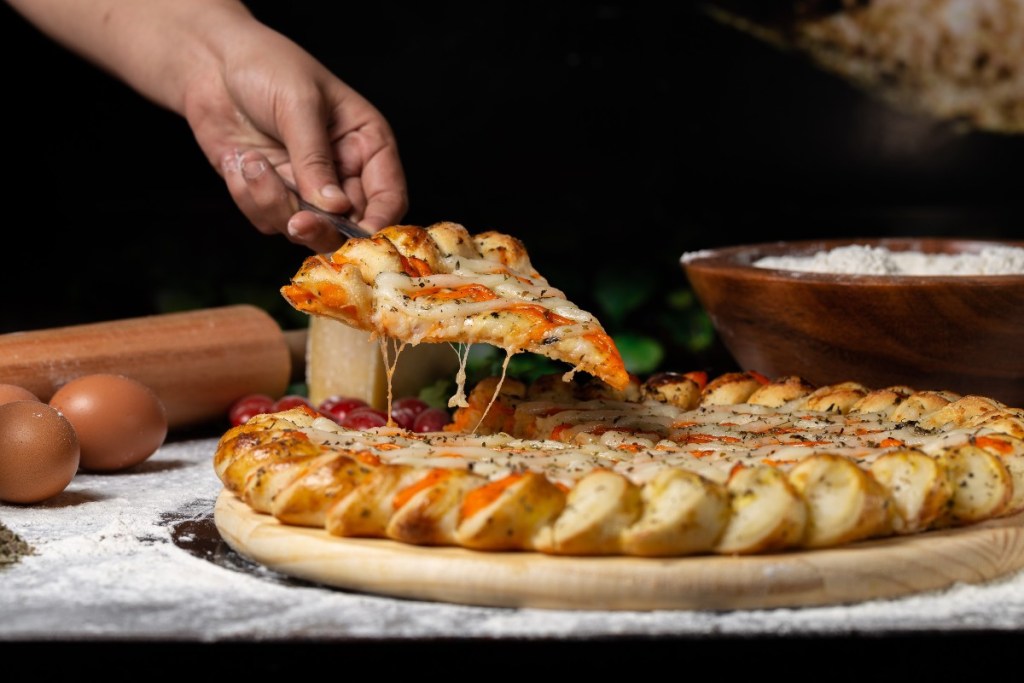 Amy's Margherita Frozen Pizza
Amy's has been a popular name in health food aisles for years, and the brand's Margherita frozen pizza is a favorite. It boasts 4.6 stars out of 5 based on more than 400 ratings on Google. Many repeat customers rave about how easy it is to make and the gooeyness of the cheese. It boasts some health benefits, too. One-third of the pizza is 280 calories, and it has 11 grams of filling protein. There are only two grams of added sugar, and one serving will account for just 3 percent of your daily cholesterol allotment. It's accessible to many eaters because it is soy-free, nut-free, Kosher, vegetarian, and made with non-GMO ingredients. There are a few things to note: It has 32 grams of carbs and only two grams of them are from fiber, and it's sodium-packed, accounting for 23 percent of your daily salt intake allotment. However, the pros make it a healthier option when you need a quick-and-simple meal.
Caulipower Veggie Pizza
Caulipower's cauliflower crust helps the brand keep added sugars to a bare minimum (1 gram), which the brand claims is 30 percent less than leading frozen pizzas. The entire pizza is 650 calories, a decent number for a meal, but half of it will only run you 320 calories. The cheese adds to the fat content (12 grams) but is also full of bone-strengthening calcium and muscle-enhancing protein. Half of a pizza will get you 15 percent of your daily calcium needs and 18 percent of your daily protein needs. A cauliflower-based crust sounds interesting, but is it a gimmick? Many reviewers think it tastes great. It's also vegan and gluten-free, making it a viable option for various people with dietary needs. Perhaps the best part? It cooks in three easy steps. Preheat the oven, take it out of the box, and let it bake for 13 to 16 minutes.
American Flatbread Frozen Premium Cheese and Herb Pizza (Pack of 6)
If you're looking to stock up on frozen pizzas for busy days ahead but want to stay as healthy as possible, we recommend splurging on a six-pack of cheese and herb pies from American Flatbread. American Flatbread creates its specialty from organically-grown wheat. It's an on-the-go family's dream: A pie cooks in eight minutes (if you thaw it for 30 minutes). One-third of the pizza is 370 calories. It's a bit high in fat (15 grams) and sodium (37 percent of your daily allotment), but there's no added sugar. It's also packed with protein (19 grams) and calcium (30 percent of your daily needs). All this, plus a taste many reviewers swear by, helped American Flatbread rack up 4.3 stars out of five on Amazon, with 57 percent of reviews giving it the maximum of five stars.
Labeling food as "good" and "bad" can sometimes backfire. If you deprive yourself of a favorite treat in moderation, you may be more likely to overindulge in it later. These days, many companies are coming up with healthier versions of our favorite comfort foods, including frozen pizza brands. Try to make your pizza healthier by looking for something lower in fat, added sugar, and calories. Pay attention to the serving size as many boxes make multiple servings. Toppings like chicken are high in protein, and vegetables boast essential vitamins and minerals. Make the meal more balanced by adding a small side salad, a piece of fruit, or some raw vegetables. Though these pies are good options for busy nights, it's important to keep in mind that even healthy frozen pizza options have their drawbacks. They're still high in carbs and salt, so it's best not to have them every day.
BlissMark provides information regarding health, wellness, and beauty. The information within this article is not intended to be medical advice. Before starting any diet or exercise routine, consult your physician. If you don't have a primary care physician, the United States Health & Human Services department has a free online tool that can help you locate a clinic in your area. We are not medical professionals, have not verified or vetted any programs, and in no way intend our content to be anything more than informative and inspiring.
Editors' Recommendations