"Please mute" is a common refrain during Zoom meetings. It allows people to listen to the person speaking without someone's dog yapping in the background.
Sometimes, when we're trying to sleep, there's a proverbial dog that keeps clamoring in our heads: the world. Perhaps you have loud neighbors, or you can hear a train or honking cars all night long. Or maybe you live in a quiet and dark area, but you can't get your mind to stop racing.
You know that it's important for your physical and mental health to sleep, but it's not always easy with so much going on around you and in your own head. Consider springing for the best sleep tech so you can finally catch some Zzz's in peace.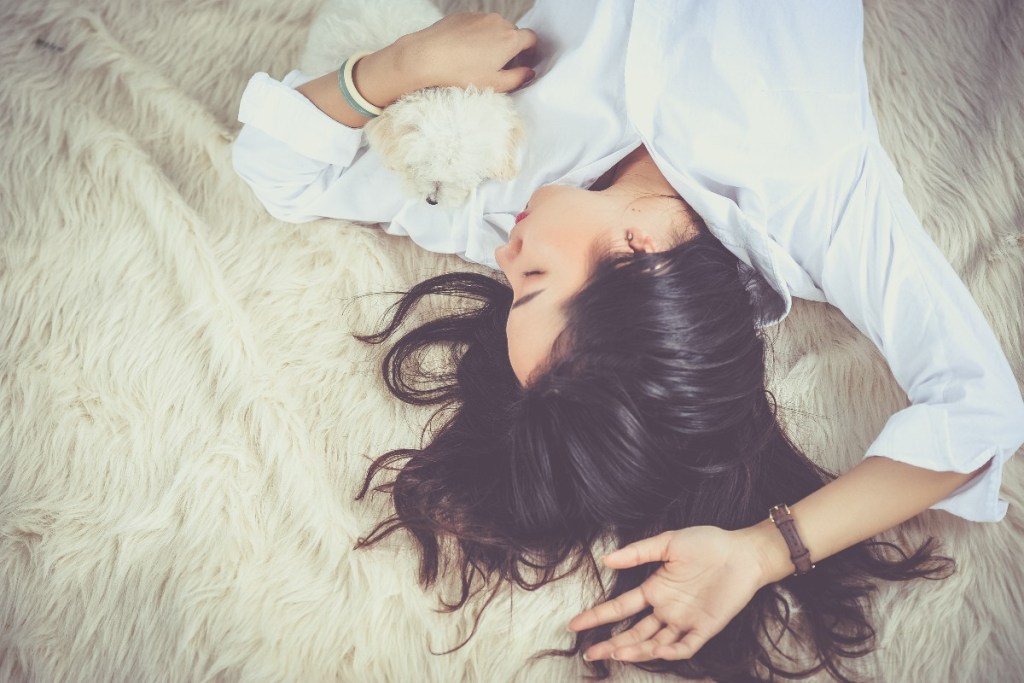 Blocks out light
Can connect to any Bluetooth-enabled device
Washable
Whether it's the sunlight or the city lights, your room can feel a little too bright at times. To add insult to injury, on top of there being too much light in the room, sometimes it's also too noisy around you. Luckily for all of us, SKYEOL created a solution to give both your eyes and ears a rest. The wireless sleep eye mask can block out light, and it also syncs up with any Bluetooth-capable device to play whatever you need to drown out the noise.
Can control via app or touch
Can be programmed for sleep, reading, meditation, and more
User-friendly
New parents love the Hatch sound machine for infants because it ensures their newborns fall asleep like the babies they are. Now, this brand also makes a sound machine that we highly recommend for adults. The device enables you to create a bedtime routine, settling a playlist that will get you in the mood for a good slumber. You can program it for reading (with an included smart light), meditation, relaxing noises, and more. There are also options for a gentle alarm to wake you up in the morning as peacefully as you fall asleep at night. Reviewers love how user-friendly and customizable Hatch Restore is, giving it 4.4 stars out of more than 2,000 reviews on Amazon.
Features touch-sensitive dimmable lights and pink noise
Good for small spaces
Oscillating fan
Warmer temperatures are great and all, but they can make going to sleep so much harder. Typical air conditioning can be loud, and fans sometimes aren't powerful enough to cut through the heat. We recommend Honeywell Dreamweaver Sleep instead. More than a fan, this product also includes touch-sensitive dimmable lights and pink noise. Unlike white noise, which has equal-power frequencies, pink noise includes high and low frequencies, which many people find to be more soothing. It's also small and doesn't take up much room, making it a perfect addition to a nightstand or other small spaces. Reviewers, who give Honeywell Dreamweaver 4.4 stars out of 5 on Amazon, say it promoted deeper, higher quality sleep.
A good night's sleep can do everything from keeping your heart healthy to boosting your emotional wellbeing. However, it can be tough to sleep when the world, your home, or your mind are constantly in hustle-and-bustle mode. If you're having trouble falling and staying asleep, check out these tried-and-true tech products that will have you sleeping like a baby in no time.
If you're struggling to sleep, don't hesitate to talk to your doctor about your concerns, particularly if you think you might have insomnia or are struggling with stress.
BlissMark provides information regarding health, wellness, and beauty. The information within this article is not intended to be medical advice. Before starting any diet or exercise routine, consult your physician. If you don't have a primary care physician, the United States Health & Human Services department has a free online tool that can help you locate a clinic in your area. We are not medical professionals, have not verified or vetted any programs, and in no way intend our content to be anything more than informative and inspiring.
Editors' Recommendations