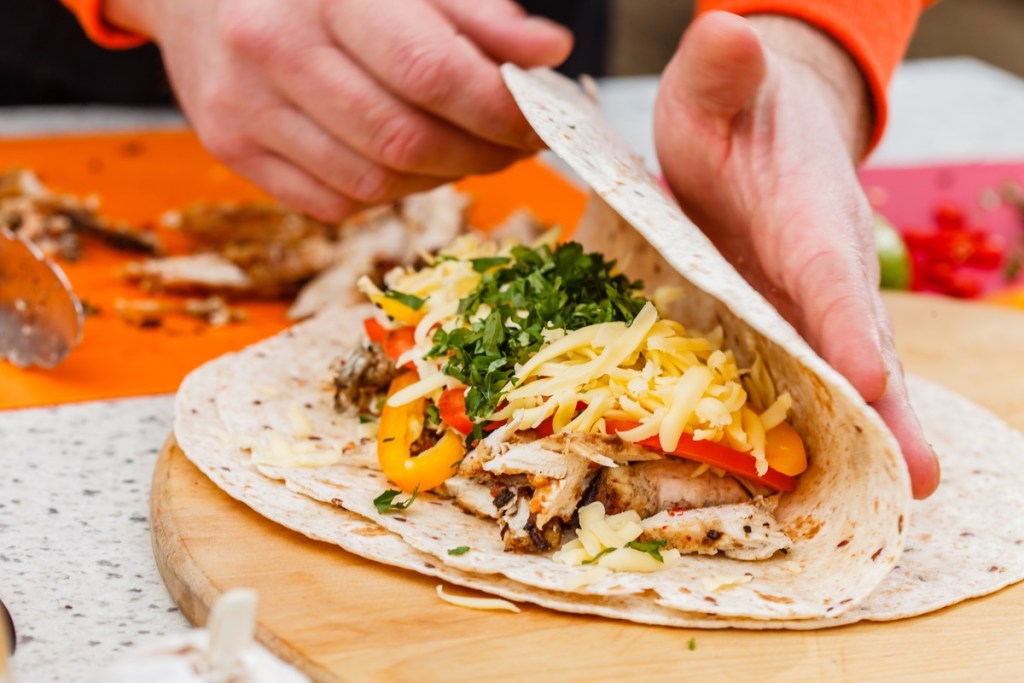 Most people, particularly those who are health- or diet-conscious, are at least somewhat familiar with the different ways to create a healthy lunch — lean protein, whole grains, plenty of vegetables, healthy fats, and so on. Not every lunch is perfect, of course, but these general principles dominate healthy meal prep. Unfortunately, not everyone has time to make a healthy lunch every day from fresh, whole ingredients. If you're on the run, that Mediterranean grilled salmon salad probably won't be on the menu.
For those who want to keep things healthy while keeping one eye on the clock, here are four lunch ideas anyone can make in about ten minutes. They're also perfect for those who are working at home and looking for a quick lunch between video meetings. No complicated recipes needed!
Wrap it up
The tried-and-true wrap is the easiest way to refresh your leftovers or just pile some of your favorite ingredients into a portable, easy lunch. Keep whole-wheat tortillas (or iceberg lettuce leaves) on hand and fill them with all the healthy ingredients lying around your kitchen. Some possibilities include:
Leftover chicken or turkey
Avocado
Cucumbers
Tomatoes
Hummus
Carrots
Onions
Sprouts
Don't be afraid to mix and match these ingredients and top them with your favorite condiments like mayonnaise, honey mustard, or flavored olive oil. Once you've found some winning combinations, you'll have a go-to meal that only takes mere minutes out of your busy day.
It's the slaw
As with wraps, vegetable slaw is the perfect vehicle for using up a mish-mash of ingredients you already have on hand.
Pre-prepared slaw vegetables are available in almost any grocery store. All you need to do is add some lean protein (like salmon or tuna), beans, and chopped vegetables to the slaw mixture. Finally, toss it in the dressing of your choice (that's ideally low in fat, sodium, and added sugar) and enjoy.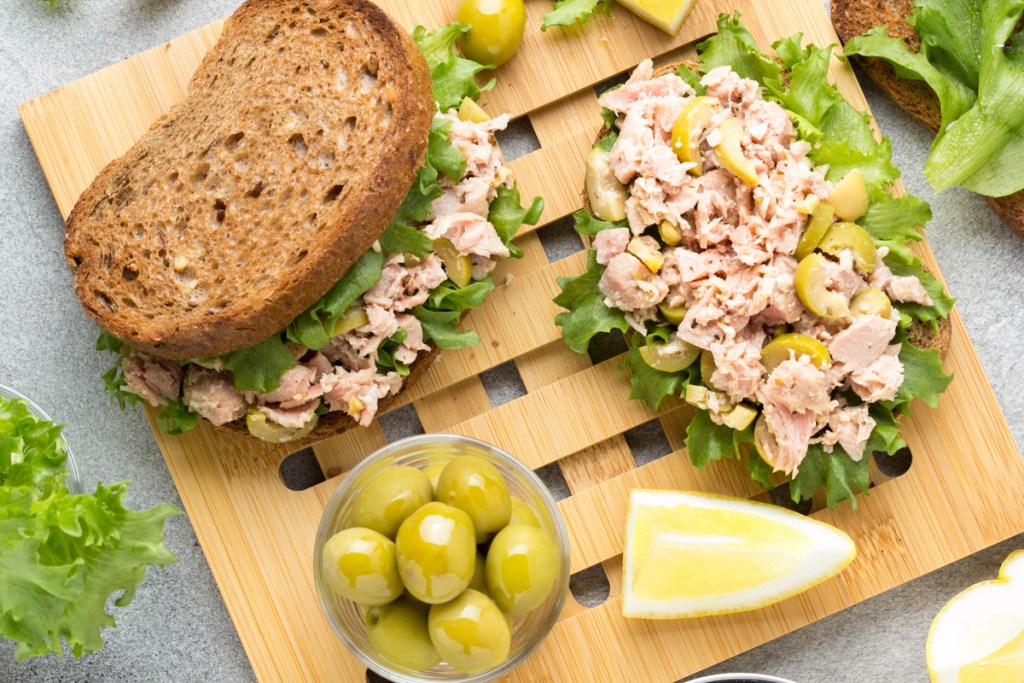 Better tuna salad
Forget about the mayonnaise and pickle relish. We can do better. Instead, dress up your tuna with simple and light ingredients like chopped carrots and celery, lemon juice, and capers. Instead of mayonnaise, mix all your ingredients in plain Greek yogurt to get that creamy texture you love with the added bonus of probiotics. Finally, swap out white toast for a bed of super greens or whole grain flatbread, and you're left with a flavorful meal that will keep you feeling full without bogging you down with excess fats and oils.
Panzanella salad
This easy twist on the classic lunch salad takes you far away from the same old Caesar.
Assemble this Italian salad using the following ingredients:
For the salad:
1 cup cherry tomatoes (cut in half)
2 bell peppers (sliced and seeded)
¼ of large red onion (sliced)
10 basil leaves
For the dressing:
3 tbsp olive oil
1 clove garlic (minced)
1 tbsp lemon juice
1 tsp Dijon mustard
Salt/pepper to taste
For the bread cubes:
4 slices of baguette, sourdough, or similar bread, cut into cubes
2 tbsp olive oil
Salt and dried oregano to taste
Sautee the bread in olive oil until brown, then bake in a 400-degree oven for about ten to fifteen minutes. Toss the croutons with the rest of your ingredients and top off your salad with thinly sliced parmesan cheese, if desired.
Healthy, delicious, and simple are not mutually exclusive. Many people think of a fast lunch as something that comes sealed inside a microwaveable cup or thrown into a fast-food bag. Fortunately for the busiest of us, quick lunches can still be fresh and wholesome. To round out your meal, enjoy lunch with a side of fruit, dried or fresh, a serving or two of nuts, or a boiled egg. This ensures your meal is also packed with all the protein, fiber, and antioxidants you need to take on the day.
Once you find the right rhythm, you'll have lunch ready in mere minutes with minimal prep. Meal prep can save a lot of time throughout the week, but what happens if you don't even have time to meal prep? Don't stress and turn to fast food or that bag of potato chips for a quick pick-me-up. You can whip up balanced, filling meals in minutes that will be much more satisfying than the junk food in your cabinet.
BlissMark provides information regarding health, wellness, and beauty. The information within this article is not intended to be medical advice. Before starting any diet or exercise routine, consult your physician. If you don't have a primary care physician, the United States Health & Human Services department has a free online tool that can help you locate a clinic in your area. We are not medical professionals, have not verified or vetted any programs, and in no way intend our content to be anything more than informative and inspiring.
Editors' Recommendations