At the end of a long, hot summer day, it can be hard to work up the energy to cook dinner (especially if you're as lazy as I am!). But there's no need to spend all your money ordering takeout; try one of these simple summer dinner ideas instead. Not only are these dishes easy to cook at home, but they're also good for you! Whether you are a vegetarian who enjoys using seasonal produce in your meals or a meat-loving barbeque queen, these recipes are sure to pique your interest.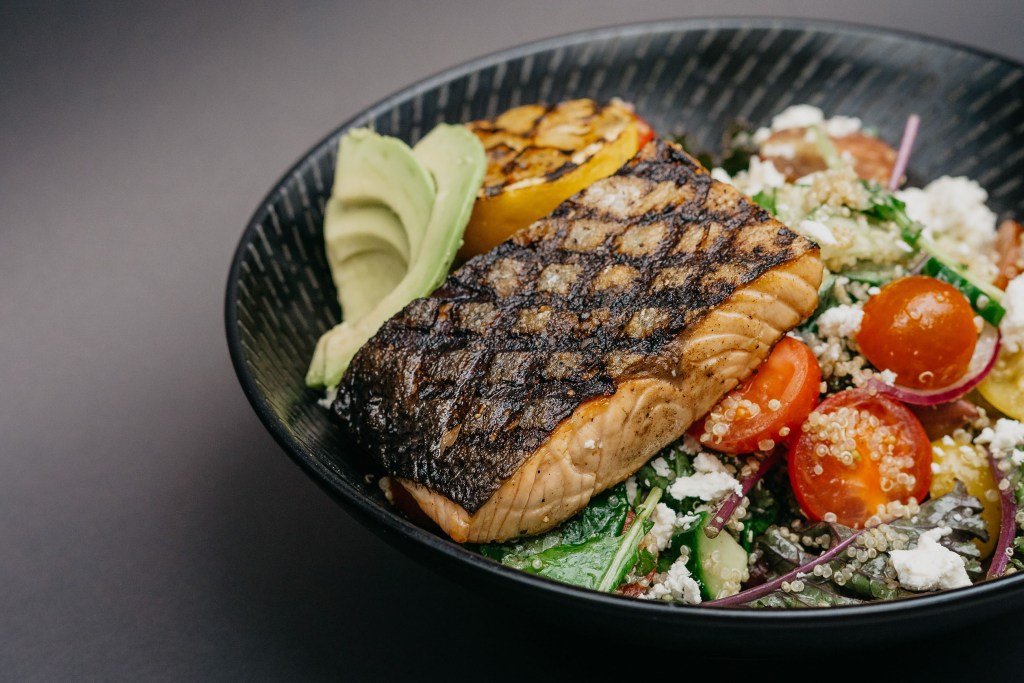 5-Ingredient Marinated Grilled Salmon
Summer is the season for grilling, and this salmon recipe from Cooking Classy is one of the best. Serve it with a side salad or grilled asparagus, squash, and seasonal veggies.
Ingredients
• 3 lb. salmon, skin on
• 1 1/2 tsp minced garlic
• 3 tbsp soy sauce
• 2 tbsp Dijon mustard
• 1/3 cup olive oil
Instructions
Cut the salmon into six evenly sized pieces, and place them in a baking dish with the skin side down. Whisk the soy sauce, mustard, garlic, and olive oil until they completely combine. Set aside about two tbsp of the marinade and spread the rest over the salmon. Let it rest at room temperature for ten minutes. Preheat the grill over medium-high heat. Clean the grill grates and brush them with oil. Put the salmon on the grill skin-side down and cook for four minutes before flipping and cooking for an additional four minutes. Remove the skin (if desired) and brush the salmon with the remaining marinade.
Yellow Tomato Gazpacho
When you don't feel like cooking or grilling, a cold summer soup is the perfect simple dinner idea. Plus, this recipe from PureWow uses in-season fruits and veggies, too.
Ingredients
• 4 large yellow or orange tomatoes, chopped
• 6 basil leaves
• 1 seedless cucumber, peeled and finely chopped
• 1 lb. heirloom tomatoes, finely chopped
• 1 or 2 cloves garlic, chopped
• 1 bell pepper, finely chopped
• 2 peaches, peeled and finely chopped
• 1 small purple onion or shallot, finely chopped (optional)
• Extra-virgin olive oil
• Sea salt
• Black pepper
Instructions
Combine the tomatoes, basil, and garlic in a large bowl and season with salt. Cover the bowl and chill for half an hour. Place individual serving bowls in the fridge as well. Remove the basil from the mixture before pouring it into a blender. Blend for two to three minutes or until the mixture is smooth and frothy. Ladle the soup into the serving bowls. Place some cucumber, heirloom tomatoes, bell pepper, peaches, and onion in the center. Drizzle with olive oil, season with salt and pepper, and garnish with basil leaves and croutons. Serve cold.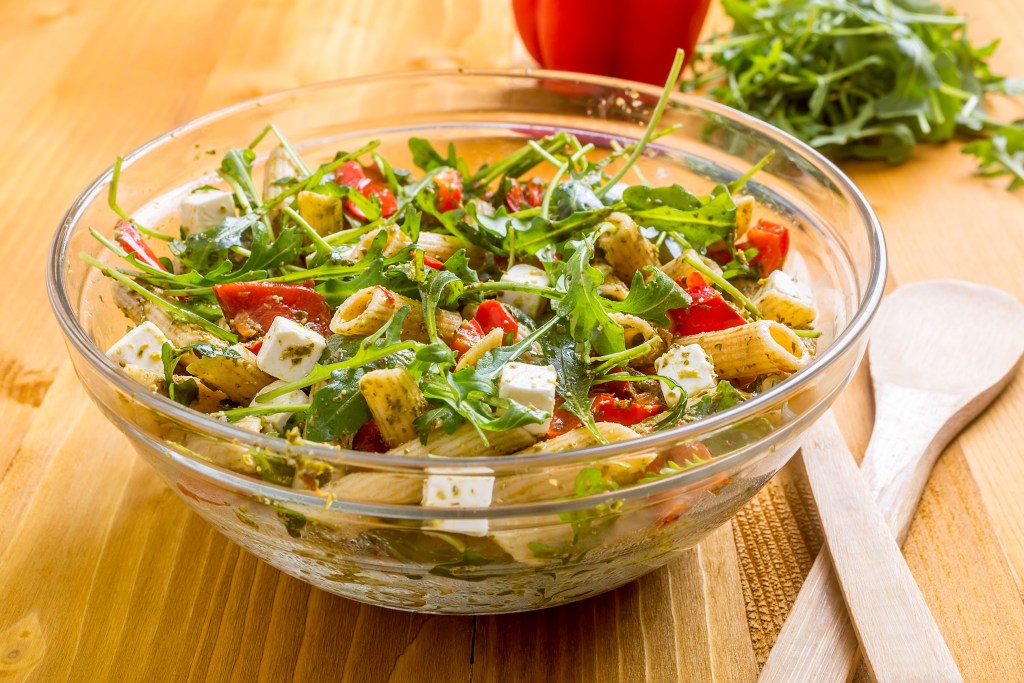 5-Ingredient Pesto Pasta Salad
No matter if you're making it as a side dish for a BBQ or you want a light and easy dinner, this pesto pasta salad from Gimme Some Oven is a perfect choice.
Ingredients
• 1 lb. whole wheat pasta
• 1 12-oz jar roasted red peppers, drained and chopped
• 1 6-oz jar pesto
• 1 ball fresh mozzarella, diced
• 3 handfuls arugula
Instructions
In a large pot of salted boiling water, cook the pasta al dente. Drain the water and rinse the pasta under cold water for about 20-30 seconds until it's not hot anymore. Add the cold pasta to a large serving bowl with the rest of the ingredients. Toss and serve immediately, or store in the refrigerator for up to three days.
Balsamic Grilled Steak Salad with Peaches
This tasty summer salad uses seasonal produce to create the perfect sweet and savory meal. The recipe comes from Delish.
Ingredients
• 1 lb. skirt steak
• 1/4 cup balsamic vinegar
• 1 tbsp brown sugar
• 1 tbsp vegetable oil
• 1 clove garlic, minced
• Kosher salt and black pepper
• 1/4 cup extra-virgin olive oil
• 6 cups baby arugula
• 2 peaches, thinly sliced
• 1 large lemon, juiced
• 1/3 cup feta or crumbled blue cheese
Instructions
Marinate the steak for 20 minutes in a large Ziploc bag with balsamic vinegar, garlic, and brown sugar. Heat a grill pan or grill on high. Rub the steak with vegetable oil and season to taste with salt and pepper. Cook until the steak reaches your preferred doneness (3 minutes per side for medium-rare). Let the steak rest for five minutes before slicing.
To make the dressing, whisk olive oil, lemon juice, salt, and pepper. In a large serving bowl, arrange the salad using the arugula, peaches, steak, and cheese. Add the dressing and toss the salad before serving.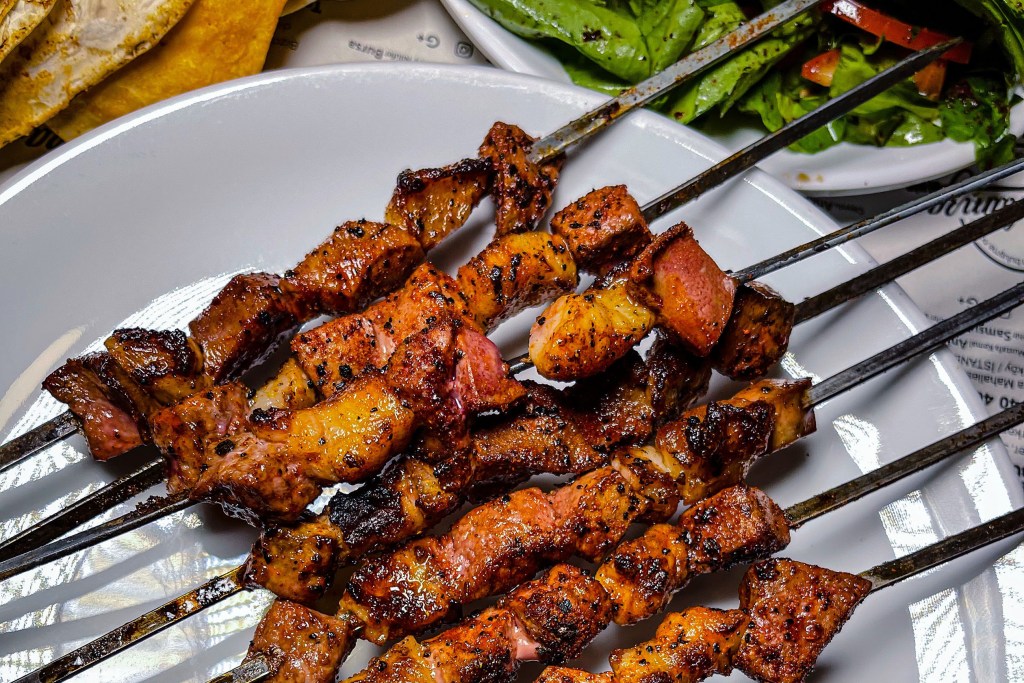 Japanese Chicken Skewers With Scallion (Negima Yakitori)
Bored of hamburgers and hot dogs? Check out this delicious grill recipe from Serious Eats.
Ingredients
• 2 lbs. boneless, skinless chicken thighs, diced in 1-in pieces
• 1 bunch scallions, cut in 1-in pieces
• 1/2 cup teriyaki sauce
• Kosher salt and black pepper to taste
Instructions
Season the chicken pieces evenly with salt and pepper. Thread two or three pieces of chicken on each skewer, followed by one piece of scallion. Continue this pattern on all the skewers until you run out of ingredients. The meat and scallions should be packed as tightly as possible. Preheat a charcoal grill for five minutes or a gas grill for ten. Then, clean and oil the grilling grate.
Put the skewers directly on the hot area of the grill and cover. Turn the skewers often and grill for about 10 minutes until the chicken is browned and the scallions are tender. Add extra seasoning twice during the cooking process. Brush the kebab with teriyaki sauce and cook for 30 seconds before flipping and repeating the process on the other side. Remove the skewers from the grill, let them rest for a minute or two, then brush with extra glaze and serve.
These five light dinner ideas for summer are perfect for any occasion. With minimal ingredients (and effort), these recipes come together to provide a refreshing and nutritious alternative to your regular summer repertoire. You can enjoy these meals during a quiet night at home or stop the show at your next big BBQ. No matter the event, these delicious dishes are sure to please.
BlissMark provides information regarding health, wellness, and beauty. The information within this article is not intended to be medical advice. Before starting any diet or exercise routine, consult your physician. If you don't have a primary care physician, the United States Health & Human Services department has a free online tool that can help you locate a clinic in your area. We are not medical professionals, have not verified or vetted any programs, and in no way intend our content to be anything more than informative and inspiring.
Editors' Recommendations