The fall chill in the air can only mean one thing. No, we're not talking about apple picking or sweater weather; the Halloween season is finally upon us! Spirit Halloween stores are popping up in open storefronts across the country. But there's one classic decoration they don't sell- jack-o-lanterns.
Carving pumpkins offers you the opportunity to express your creativity while having fun with the whole family.
This Halloween tradition dates back to a 19th-century folktale that Irish immigrants brought with them to America. Are you ready to give it a try? To learn some tips and tricks about pumpkin carving for beginners, check out these fantastic YouTube videos.
Picking out the perfect pumpkin
Pumpkin carving begins in the pumpkin patch. Before you choose your design or start cutting, you must pick out the perfect pumpkin. To learn more about selecting an ideal pumpkin, check out this YouTube video from USA TODAY Life. The video is part of the publication's Problem Solved series, and the host dispenses some great tips for choosing a carving pumpkin from a grocery store or farm. He suggests finding a jack-o-lantern style pumpkin, which has thinner walls that are easier to cut through. The host also lets viewers know how to find the freshest pumpkin that will last throughout the Halloween season.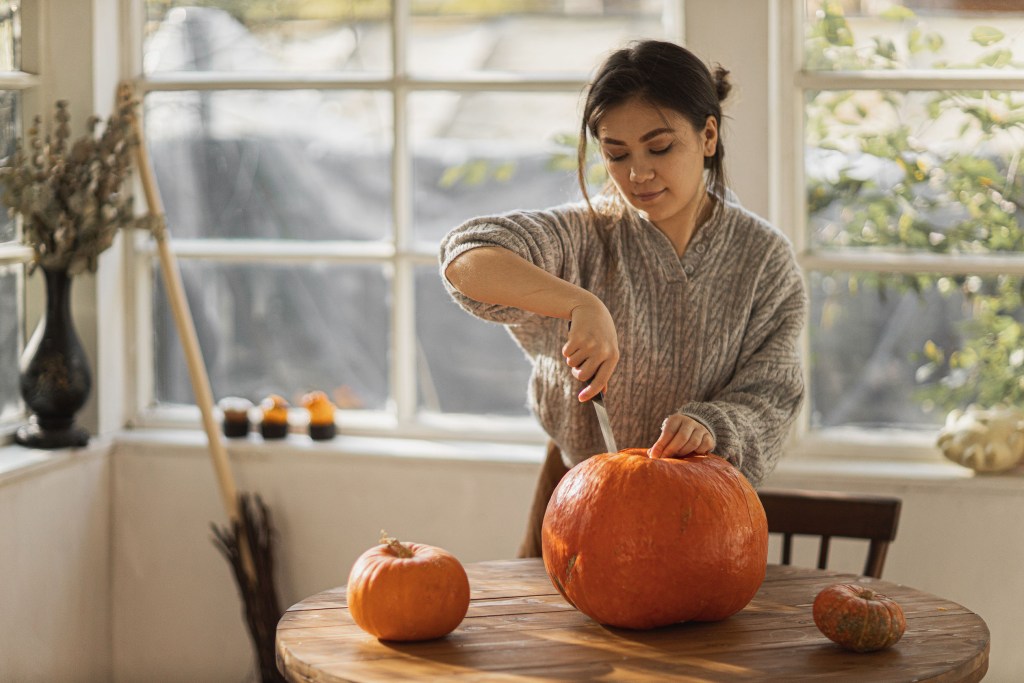 Staying safe while carving
While pumpkin carving can be fun for the whole family, there are always risks when you're using sharp objects. According to the US Consumer Product Safety Commission (CPSC), about 41% of Halloween-related injuries are associated with carving pumpkins. To prevent any accidents while cutting, review the essential safety tips presented in this video by Dr. Grabow of the Grabow Hand to Shoulder Center in Nevada. He recommends wearing safety glasses, using tools made for pumpkin carving, and drying your hands to avoid slippage. The doctor also provides information on what to do if you do cut your hand.
Pumpkin carving 101
Now you're ready to start carving! For an easy-to-follow tutorial that's perfect for beginners, watch this video from Crafts With Ellen. Ellen goes through each step of the pumpkin carving process. She also provides tips for two carving techniques: traditional carving and removing the skin.
If you don't consider yourself an artist or want to simplify the process as much as possible, check out this video from Official Pumpkin Masters. Pumpkin Masters produces carving kits with tools and stencils that are sold at most drug stores, supermarkets, and Halloween stores. The video shows you how to use each of the tools in the kit and one of the most effective ways to use a stencil.
Are you ready to try something a little more complicated? Check out this great tutorial from Sculpture_Geek. The sculptor, Chris Vierra, explains how to easily carve a professional-looking pumpkin, even if you don't have a lot of experience. He reviews the basics and shows you how to make your pumpkin stand out with 3-D eyes.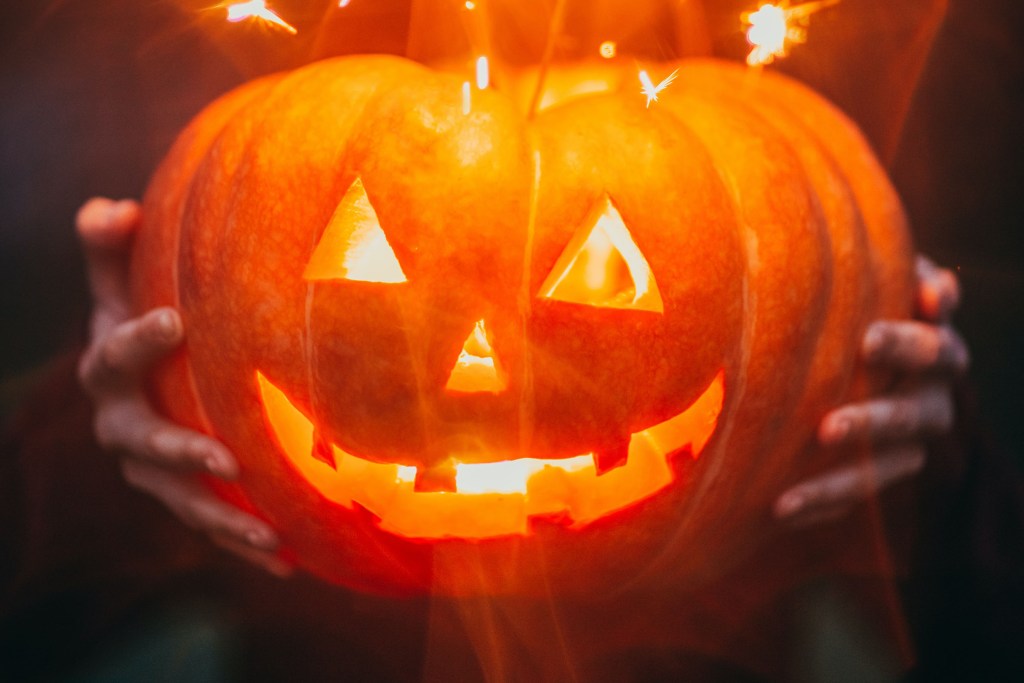 Tips and tricks for the best jack-o-lantern
Once you have the basics down, you can incorporate simple techniques to create unique and impressive jack-o-lanterns. This video from DaveHax shows five different methods for customizing your pumpkin design. He instructs viewers on making pumpkin fangs, using the stem as a nose, and creating a pumpkin disco ball.
Or, if you want to decorate pumpkins that are out-of-the-box, check out this video from Craft Factory. The team reviews a few tips for pumpkin carving and offers other creative ways to decorate a pumpkin. Many of the ideas in the video provide a safer alternative to traditional pumpkin carving, making them great for kids. They suggest painting the pumpkin with blackboard paint and drawing on it with chalk or using glue and glitter to give your pumpkin some sparkle.
Carving pumpkins is not as difficult as it appears to beginners. Once you have the proper tools and know-how to do it safely, making jack-o-lanterns can be an entertaining holiday activity. It's also a family-friendly activity that everyone can have a hand in. And after watching these videos, you'll go from total novice to pumpkin expert in no time. These ideas are just meant to inspire you to get started. Your imagination is limitless; you never know what incredible designs you'll come up with. So, get carving before Halloween night arrives!
BlissMark provides information regarding health, wellness, and beauty. The information within this article is not intended to be medical advice. Before starting any diet or exercise routine, consult your physician. If you don't have a primary care physician, the United States Health & Human Services department has a free online tool that can help you locate a clinic in your area. We are not medical professionals, have not verified or vetted any programs, and in no way intend our content to be anything more than informative and inspiring.
Editors' Recommendations