Eating healthy on Halloween seems like an almost impossible task. The holiday is synonymous with candy! But, with a bit of creativity, you can create some spooky snacks for your Halloween party that are as nutritious as they are creepy. And there's no better place to look to for inspiration than Pinterest. Here are five of our favorite healthy Halloween treats from Pinterest.
Monster Apples for Halloween
For a cute and creepy snack the kids will love, check out these Halloween monster apples.
Ingredients
2 green apples, quartered
Peanut, almond, or hazelnut butter
32 sunflower seeds, unshelled
2-3 strawberries, thinly sliced
Edible googly eyes or marshmallows
Instructions
Cut a wedge out of each apple quarter to create the monster's mouth. You'll be covering the opening with nut butter, so don't worry about making the cut perfect. Coat the gap with peanut or almond butter, then place the sunflower seeds on the top of the mouth to create the monster's teeth. Put one strawberry slice inside the mouth for the tongue. Lastly, add on the eyes by using more nut butter to stick the edible googly eyes or marshmallows on top of the apple.
Crazy Caprese Eyes
Creep out your guests with this eye-opening appetizer. Try the festive take on a Caprese salad.
Ingredients
1 container pearl mozzarella balls
1 package grape tomatoes
Basil leaves
Green olives
Black olives
Olive oil
Salt and pepper to taste
Instructions
Begin by prepping the olives. Slice the green olives into rings. Chop the black olives in half, then cut each half into six or eight pieces. Place the black olive pieces inside the green olive rings to make the irises and pupils. Cut the mozzarella pearls and tomatoes in half. Now you can assemble your eyeballs. Lay the basil leaves on a serving platter. Top each leaf with a tomato half, mozzarella half, and the stuffed green olive in that order. You can top each eyeball with olive oil, salt, and pepper if desired.
Ghost Fruit Skewers
This sweet and healthy treat is straightforward to make. To give the skewers a spooky twist, all you need is a food coloring pen or a black edible marker.
Ingredients
Marshmallows
Grapes
Strawberries
Any other fruit desired
Food coloring pen
Instructions
Start by drawing ghost faces on each of the marshmallows using the food coloring pen. Then, decide which fruit you'd like to include on your skewers. We recommend green grapes and strawberries, but you can use any kind you want. Thread the fruit on each skewer, using the same pattern for each, and place your ghost marshmallow right in the middle.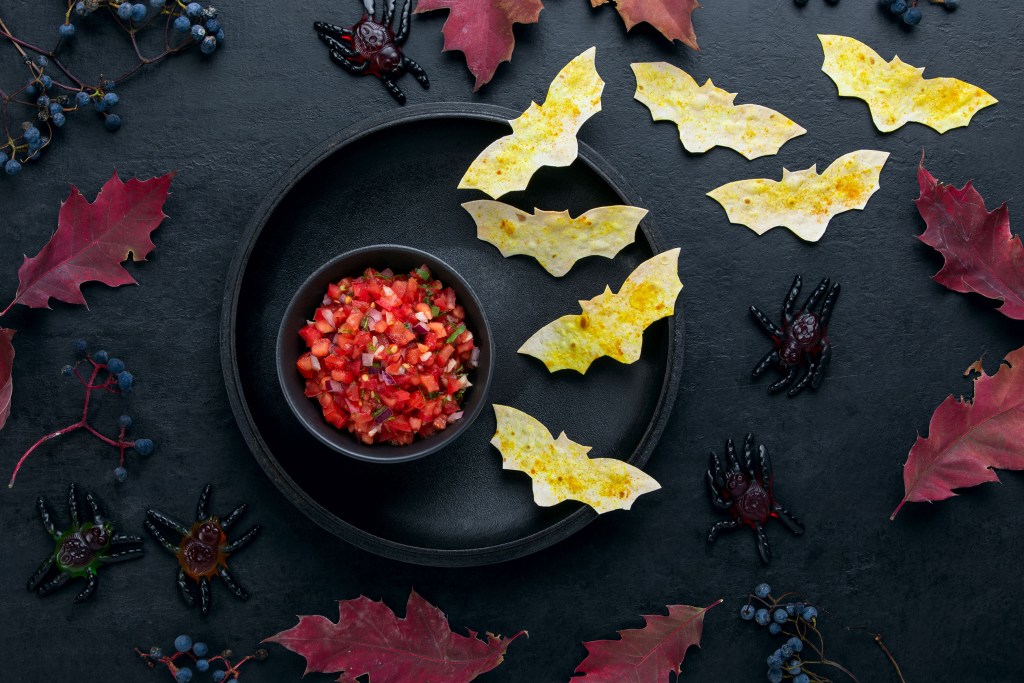 Baked Halloween Chips
Tortilla chips are easy to make at home. With some Halloween cookie cutters, you can create the perfect spooky party snack.
Ingredients
4 flour tortillas
Olive oil or avocado oil spray
Salt
Halloween cookie cutter
Instructions
Preheat the oven to 375 degrees Fahrenheit. Lay out one tortilla and use the cookie cutter to cut out Halloween-shaped chips. Repeat this process with each tortilla. Place the cutouts on a greased baking sheet. Mist the tops of the tortillas with cooking spray and sprinkle them with salt. Bake for five to seven minutes or until crispy. Serve the chips with salsa or guacamole.
Candy Corn Fruit Parfait
Parfait doesn't have to be unhealthy; this version uses fruit to mimic the appearance of candy corn.
Ingredients
2 15oz cans of mandarin oranges
3 cups fresh pineapple chunks
1 cup heavy whipping cream or plain Greek yogurt
3 tbsp powdered sugar
1 tsp vanilla
Candy corn for garnish
4 glasses
Instructions
In each glass, add a layer of pineapple and then mandarin oranges. For the whipped cream (or use store-bought): In a large bowl, combine the vanilla, powdered sugar, and heavy whipping cream. Beat the mixture until peaks form. Add the whipped cream on top of the fruit to create the white layer of the candy corn. Replace the whipped cream with plain Greek yogurt for an even healthier version of this treat. You can use real candy corn to garnish the healthy dessert dish.
There aren't any tricks with this nutritious Halloween party spread. These themed apps and snacks are guaranteed to please your guests this season. After all, you can't go wrong with monster apples for the kids, eyeball Caprese bites for the adults, and a candy corn dessert that everyone will love. The Pinterest recipes are actually healthy, too. Give yourself a little Halloween treat with these crowd-pleasing snacks, and save the candy for another day.
Editors' Recommendations