There is plenty to celebrate on the Fourth of July, and there's no better way to toast the country than with a patriotic-themed cocktail. Whether you're planning to throw a small celebration with your family or plan a BBQ for the whole neighborhood, serving red, white, and blue drinks are essential.
In this article, we'll provide you with six of our favorite Fourth of July cocktails that are sure to fit every palate and occasion, from a sophisticated soiree to a backyard rager. Get ready to flex your bartending skills with these festive drinks.
Raspberry and lemon rosé sparkler
This refreshing summer beverage comes to us from Country Living and produces six servings.
Ingredients
1 bottle sparkling rosé
2 tbsp lemon juice
1.5 pints fresh raspberries
2 tbsp sugar
Instructions
This recipe is super simple to make. In a pitcher, smash the raspberries with lemon juice and sugar, then pour in the sparkling rosé. Serve the drink over ice and garnish each glass with raspberries and lemon slices. Easy (and American) as apple pie.
Red, white, and blue pina colada
Frozen drink? Red, white, and blue? There's nothing better for your Fourth of July party than this colorful piña colada recipe from 3 Yummy Tummies.
Ingredients
3 oz rum
3 oz Blue Curacao
6 oz pineapple juice
4.5 oz cream of coconut
1 cup frozen or fresh strawberries
2 cups ice
Instructions
To begin, add the ice, rum, pineapple juice, and cream of coconut to the blender and blend thoroughly.
In a separate container, pour in about two-thirds of the piña colada mixture, leaving a third in the blender.
Add the strawberries to the blender and mix until smooth.
Pour this mixture into the drinking glasses to create the red layer.
Then, pour a third of the other piña colada mixture into each glass for the white layer.
Add the last third of the white mixture back to the blender with Blue Curacao. Once blended, top off each glass with the blue layer. This recipe yields two delicious cocktails.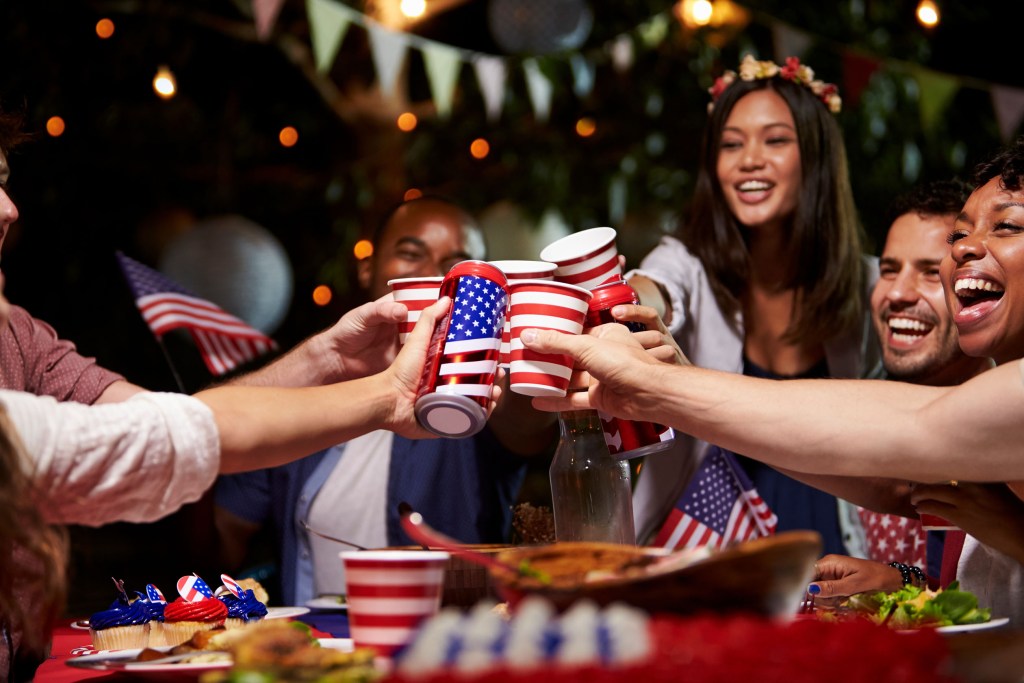 Sparkling red, white, and blue sangria
As one of the easiest festive cocktail recipes, this sparkling red, white, and blue sangria is super fun and tasty, too. Check out the original recipe on Gimme Some Oven.
Ingredients
1 bottle dry white wine
1 bottle sparkling white wine (or Champagne)
0.5 cup brandy or orange liqueur
1 lb sliced strawberries
2 cups fresh blueberries
1 cup fresh raspberries
3-4 Granny Smith apples, sliced
Ice
Instructions
In a large pitcher, stir the white wine, orange liqueur/brandy, strawberries, blueberries, and raspberries.
Cover and chill in the refrigerator for at least an hour to infuse the flavors.
When you're ready to serve the cocktails, stir in the sparkling wine, apple slices, and some ice. This recipe makes about eight to twelve servings.
Rocket Jell-O Shots
What's a party without Jell-O shots? This recipe from Delish makes 20 patriotic shots.
Ingredients
Blue Layer
0.5 cup boiled water
1 box instant blueberry Jell-O
0.5 cup vodka
Red Layer
0.5 cup boiled water
1 box instant cherry Jell-O
0.5 cup vodka
White Layer
1 envelope gelatin
1 cup milk, divided
3 tbsp sugar
0.5 tsp vanilla extract
0.5 cup vodka
Instructions
In a small bowl, combine the water and blueberry Jell-O until it's completely dissolved. Then, stir in the vodka.
In a separate bowl, repeat this with the cherry Jell-O.
While the red and blue Jell-O cools, pour in a quarter cup of milk and gelatin into a medium bowl.
In a small saucepan, simmer the remaining 0.75 cups of milk over medium heat.
Remove from heat and stir in the sugar, vanilla, and vodka.
Pour this mixture over the gelatin and stir until it is dissolved. Cool for ten minutes.
Lightly spray 20 shot glasses with cooking spray.
Scoop one tablespoon of blueberry Jell-O into each cup. Chill until it's set, about 10 to 15 minutes.
Then add a tablespoon of the white gelatin and let it set for another 10 minutes.
Lastly, add a tablespoon of cherry Jell-O and refrigerate for about 2 hours until firm.
Watermelon Texas Margarita
This uniquely American take on the margarita involves adding a few cans of beer to this fruity cocktail. If you want to try out a new kind of marg, check out this recipe from The Candid Appetite.
Ingredients
8 oz tequila
4 oz orange liqueur
4 can pale beer
1 small watermelon, diced
3 limes, juiced
3 tablespoons coarse salt
Instructions
In a blender, puree the watermelon chunks thoroughly. Pour the watermelon juice into a large pitcher, straining through a fine-mesh strainer to get rid of the pulp.
Add the tequila, orange liqueur, and juice of two limes to the pitcher and stir.
Chill the pitcher for at least half an hour.
Prepare the glasses by dipping the rims in the remaining lime juice and lining it with salt.
Pour the watermelon mixture over ice to fill about half the glass. Then, top with beer and garnish with a lime or watermelon slice and repeat to make approximately eight cocktails.
East Bayside Cocktail
This cocktail is a Maine specialty, and its red-ish color and blueberry flavor makes it great for the fourth. This recipe for one cocktail is courtesy of Good Housekeeping.
Ingredients
2 oz gin
1 oz lime juice
1 oz simple syrup
5 blueberries
7 mint leaves
Ice
Instructions
Combine all your ingredients in a cocktail shaker. Shake forcefully and strain the liquid into a cocktail glass. If desired, garnish the glass with a mint leaf.
There you have it. With these recipes, there are options to please everyone. Whether the party sets the mood for a unique margarita or some themed sangria, there is certainly a recipe to match your celebration. It's time to start mixing those drinks and raise a glass to our beautiful nation!
BlissMark provides information regarding health, wellness, and beauty. The information within this article is not intended to be medical advice. Before starting any diet or exercise routine, consult your physician. If you don't have a primary care physician, the United States Health & Human Services department has a free online tool that can help you locate a clinic in your area. We are not medical professionals, have not verified or vetted any programs, and in no way intend our content to be anything more than informative and inspiring.
Editors' Recommendations