Eating your daily servings of vegetables doesn't have to be boring. When steamed or sauteed green beans just aren't cutting it anymore, it's time to get creative. There are tons of ways to prepare green beans beyond simply seasoning them with salt and pepper. Keep reading to learn how to make fresh green beans with these four delicious recipes.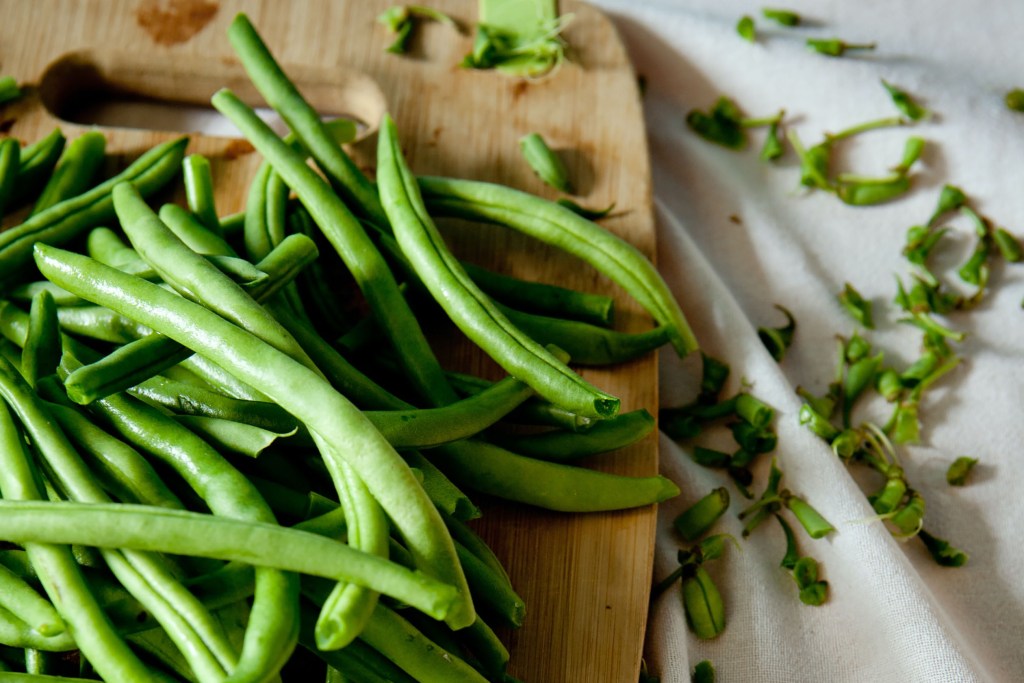 Crispy Parmesan Green Beans
Almost everything tastes better with garlic and parmesan—and green beans are no exception! Check out this recipe for crispy parmesan green beans from Crème de la Crumb.
Ingredients
• 1 1/2 to 2 lbs green beans, trimmed and dry
• 3 tbsps olive oil
• 1 tsp garlic powder
• 1 tsp salt
• 1/2 tsp pepper
• 1/2 tsp dried thyme
• 1/2 cup panko breadcrumbs
• 4 tbsp grated parmesan cheese
Instructions
Preheat the oven to 425 degrees Fahrenheit. In a bowl, toss the green beans with olive oil so it completely coats them. Spread the beans on a large baking sheet and season them with garlic powder, salt, pepper, and thyme. Then, sprinkle the panko and parmesan on top. Bake the beans for 20 to 25 minutes or until the green beans are tender.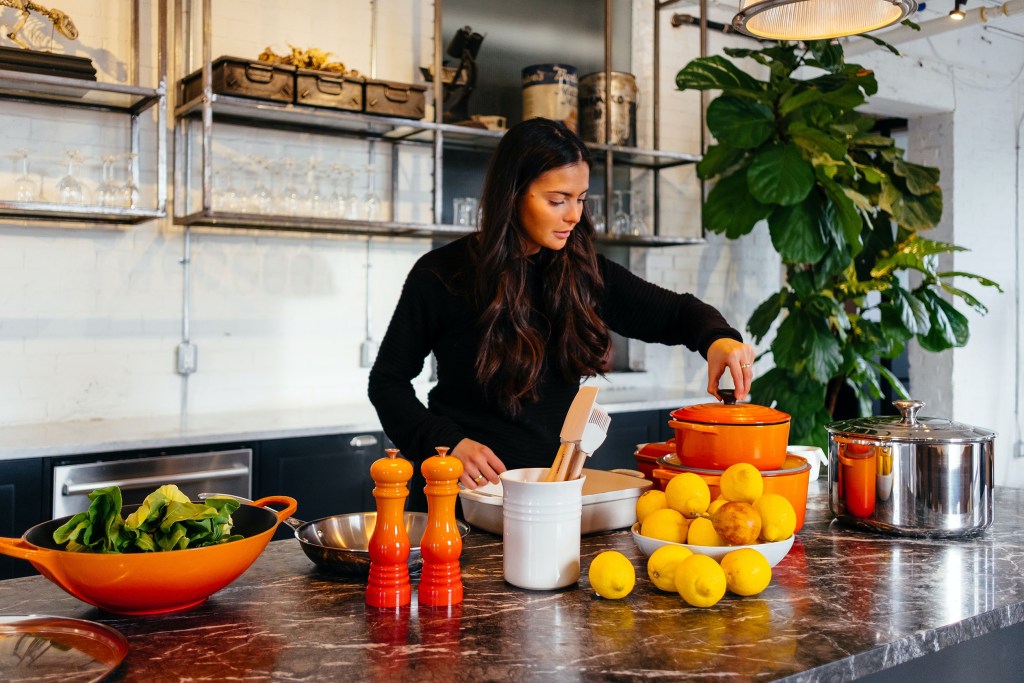 Healthy Makeover: Green Bean Casserole
This dish is a healthier take on the classic green bean casserole, with lower fat and sodium than the traditional recipe. You can find the original recipe on Good Housekeeping.
Ingredients
• Nonstick olive oil cooking spray
• 1 1/2 lb. green beans
• 1 large onion
• 5 tbsp all-purpose flour
• 1 tbsp butter
• 1 large shallot
• 1 container sliced cremini or white mushrooms
• 1 cup reduced-sodium chicken broth
• 1/2 cup low-fat milk
• Salt
• Pepper
Instructions
Preheat the oven to 425 degrees Fahrenheit. Line a large baking sheet with foil and grease with the nonstick spray. Toss the onion with 2 tbsp flour and 1/8 tsp salt in a bowl. Layout the onions on the baking sheet in one layer and spray with the cooking spray. Bake for 14 minutes, toss to flip the onions and spray again. Bake them for an additional 15 minutes or until crispy.
At the same time, bring three quarts of water to a boil on high. Add the green beans and cook uncovered for about five minutes. Drain them and rinse under cold water. In a separate saucepan, melt the butter over medium heat. Add the shallot and cook for two minutes while stirring. Next, add the mushrooms and cook for seven to eight minutes, stirring frequently. Stir in 1/2 tsp salt, 1/4 tsp black pepper, and three tbsp flour and cook for one minute. Pour in the broth and milk, raise the heat to boil on high, and stir. Finally, reduce the heat to low and cook for two minutes. Add in the green beans and transfer the whole mixture to a 2-quart baking dish. Place it in the oven to bake for 15 minutes. Stir and top with the fried onions, then bake for an additional five minutes or until the sauce bubbles.
Apricot-Glazed Green Beans
This recipe from Woman's Day uses apricot jam and bacon to create the perfect sweet and savory combination for this green bean dish.
Ingredients
• 2 lbs. green beans
• 6 slices bacon
• 1/4 cup apricot jam
• 1/4 cup olive oil
• 4 garlic cloves
• 3 tbsp white wine vinegar
• Kosher salt
• Black pepper
Instructions
In a large pot, bring water to a boil. Add 1 tbsp salt and the green beans, and cook for three to four minutes until they're just tender. Drain and rinse them under cold water. Cook the bacon until crispy, let it cool, and break them up into bits. In a skillet, heat the olive oil over medium heat. Toss in the garlic and cook for about two minutes, stirring occasionally. Stir in the vinegar, jam, 1/4 tsp salt, and 1/4 tsp pepper. Then, add in the green beans and toss to coat thoroughly. Fold in the bacon pieces and serve.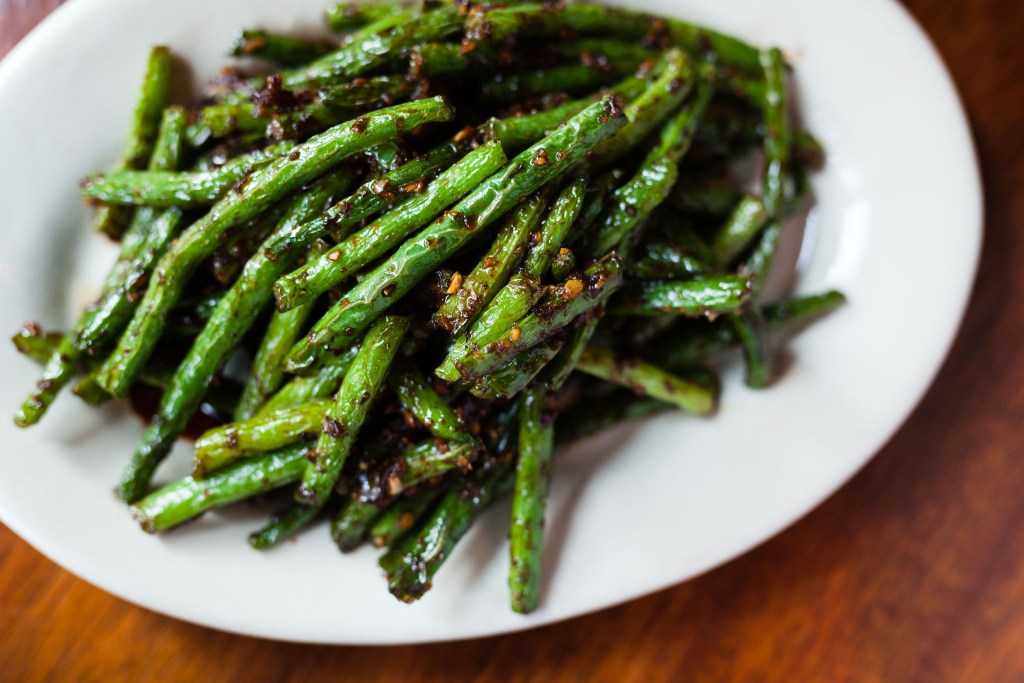 Sichuan Dry Fried Green Beans
Sichuan green beans are a staple at most American Chinese restaurants. This version from The Woks of Life doesn't use oil to fry the beans, making it healthier than most restaurant options.
Ingredients
• 1 lb. green beans
• 1/2 tsp salt
• 2 tbsp oil
• 1/4 cup ground pork
• 2 dried red hot chili peppers, deseeded and diced
• 2 garlic cloves, smashed and diced
• 2 tbsp sui mi ya cai (pickled mustard greens)
• 1 1/2 tsp soy sauce
• 1 tsp sesame oil
• 1 tsp Shaoxing wine
• 1/8 tsp sugar
Instructions
Place the wok over high heat and heat it until it begins to smoke. Add the green beans and salt, then lower the temperature to medium-low. Stirring occasionally, sear the beans for about 20 minutes until you notice scorch marks on them. When the beans become tender, remove them from the wok and set them aside. Over medium-high heat, add the oil and brown the pork. Next, add the chili peppers and garlic, stirring for about 30 seconds. Then, add in the sui mi ya cai and mix it all together. Let the mixture cook for about one more minute. Toss in the seared beans, soy sauce, cooking wine, sugar, and sesame oil. Turn the heat back up to high and stir-fry for a minute. Serve immediately.
Now you know how to cook green beans in four distinct and delicious styles. These recipes make tasty side dishes perfectly suited to complement your favorite main course. Whether you're eating Asian cuisine, Italian, or American, you can add these beans to complete your meal. Once you try these recipes, you'll never look at your farmer's market green beans the same way again!
BlissMark provides information regarding health, wellness, and beauty. The information within this article is not intended to be medical advice. Before starting any diet or exercise routine, consult your physician. If you don't have a primary care physician, the United States Health & Human Services department has a free online tool that can help you locate a clinic in your area. We are not medical professionals, have not verified or vetted any programs, and in no way intend our content to be anything more than informative and inspiring.
Editors' Recommendations